News
Check out what has been happening in Utah Golf.
State Amateur Qualifying at Mountain Dell – Lake Course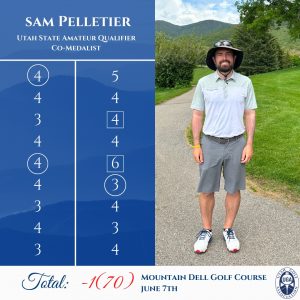 We are on the 7th qualifier for the Utah State Amateur. This qualifier was at Mountain Dell Golf Course on the Lake Course on Wednesday, June 7th. 84 players battled through rain, wind, and a lightning delay. This produced a wide range of scores. 2 players shot under and took home co-medalist honors. Brandon Hargett and Sam Pelletier both shot an impressive -1 (70). The field preformed an well with the cut ending at +3. There were 12 spots with 2 alternates available for this qualifying tournament. There was a playoff with 5 players playing for 2 spots and 2 alternates.
For full results: click here
By: Zaria Thompson