News
Check out what has been happening in Utah Golf.
A Playoff win at the Utah Senior Stroke Play Championship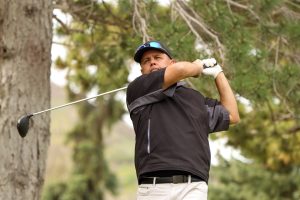 Judging by his reaction as the ball left the clubface, Jeff Jolley was disgusted with his second shot on the par-4 No. 17. That was not the only time Saturday when Jolley looked like the most unexpected winner of the Utah Senior Stoke Play Championship in his threesome.
To his surprise, Jolley's shot turned out perfectly, leading to a tying birdie. And thanks partly to another unlikely birdie on the first hole of a three-way playoff, Jolley emerged as the champion over Zack Orton and Shane McMillan at Bountiful Ridge Golf Course.
A longtime Utah Golf Association competitor who now lives in Las Vegas, the 51-year-old Jolley earned his first UGA trophy since a victory in the Tournament of Champions, no longer contested.
Jolley's hard-earned bogeys on Nos. 13 and 14 in the final round kept him going. He finished with an even-par 71 and a 5-over-par total for three days, having started the round one stroke behind McMillan, a home-course golfer and the UGA's reigning Senior Men's Player of the Year, and Zack Orton of Provo's Riverside Country Club.
McMillan was eliminated on the first playoff hole, then Jolley's par was good enough on the par-3 No. 2.
Bob Mitchell (78-71-71) finished fourth, two strokes out of the playoff, and Chris Hermansen (73-74-74) was another shot behind.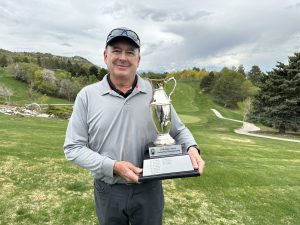 Jeff Powars won the Super Senior division (adjusted this year to a 60-over flight, from 65), played from different tees. Powars, who won the Senior Stroke Play overall title in 2014, shot 71-73-71 for a 2-over-par total and one-shot victory over Randy Hicken (73-71-72).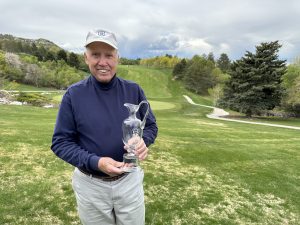 In the Legends event (70-over), Doug Marriott posted 75-81-75 for a two-stroke win over Dale Christensen. Marriott had lost in a playoff last year after winning the first Legends competition in 2021.
Utah Senior Stroke Play Championship final leaderboard.
Story by Fairways Media senior writer Kurt Kragthorpe. Photos by Fairways Media/Garrit Johnson