News
Check out what has been happening in Utah Golf.
UGA Gold Club Award – Karen Gardiner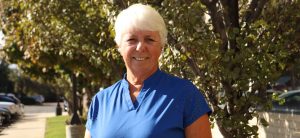 Being paired with Karen Gardiner for the first time in a tournament helped Sally Milbank produce the best round of her life. Gardiner's effect on every golfer may not be quite that dramatic, yet there's no doubt that thousands of women have benefited from her organizing ability.
Gardiner's work with six local and statewide golf groups validates her selection as the 2022 Gold Club Award winner, presented by the Utah Golf Association.
How do you describe a worthy recipient of the Gold Club Award? The UGA's definition is a good starting point, identifying a person "who through significant achievement or unselfish service has contributed to the history and tradition of the game of golf in Utah, and whose personal integrity, sportsmanship, common courtesy, loyalty and friendship earn the love of fellow golfers."
Another way of framing it? "Because I never say no," Gardiner observed, laughing.
Well, that explains why she's always being asked to launch and administer golf leagues at various levels.
"I'm very organized and I truly like people and I want things to be the best they could be," added Gardiner, who received the UGA Lady Award in 2013. "I kind of look at myself as a cheerleader, more than anything."
While working at Hill Air Force Base, she directed a league for Boeing employees for 22 years. Perhaps not surprisingly, that group dissolved upon Gardiner's retirement. Her influence expanded, though. Gardiner is involved with associations at Schneiter's Riverside, Hill AFB, The Barn GC, Eagle Lake GC, the Northern Utah Golf Association (an alliance of eight courses, with team matches) and the UGA, as a third-year board member.
Informally, "She has always been the source of information about women's golf, tournaments, league play and, of course, the Rules of Golf," Milbank said in nominating Gardiner for the Gold Club Award.
Gardiner loves golf. Her husband, Ron, no longer plays, but "I'm making up for him," Gardiner said, by playing six days a week.
That reflects commitment beyond her personal interest in the game, as the members of those golf associations would attest. Remember, "loyalty" is one of those Golf Club Award traits. Mary Amidan long ago was one of Gardiner's first golf partners, and they played together again in the recent Joyce Billings Memorial tournament in Hurricane. And then there's Milbank, who acknowledges her golf performance never has matched that initial success with Gardiner. But "fortunately," she said, my friendship with Karen has been unfailing ever since."
Read more from Fairways Media senior writer Kurt Kragthorpe in the November issue of Fairways magazine.