News
Check out what has been happening in Utah Golf.
Shah's record-setting performance cashes first place purse at Sand Hollow Leavitt Group Open.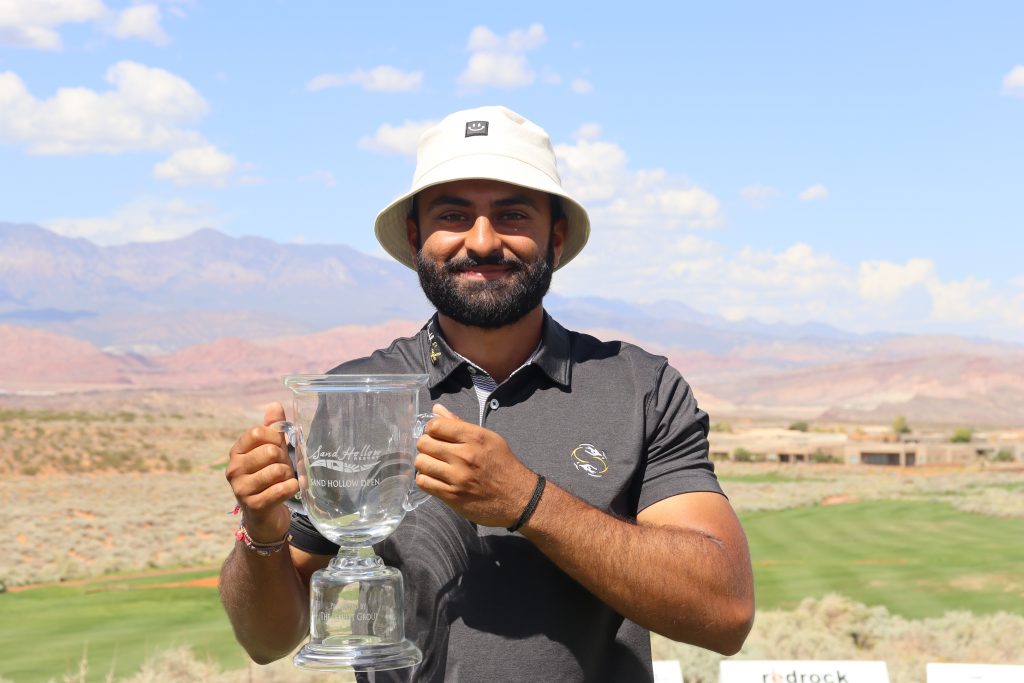 Photo: California golf professional Manav Shah shot a tournament record 22-under par to win the Sand Hollow Leavitt Group Open at Sand Hollow Resort in Hurricane, Utah.
By Randy Dodson
Bakersfield, California professional Manav Shaw collected the Sand Hollow Leavitt Group Open first place purse of $20,000 Saturday with a tournament record-setting score of (-22) 60-67-67 – 194. 
Shah was pushed in the final round by Brian Mogg's final (-7) 65. Mogg finished as the runner-up, one-shot shy at (-21). Mogg had good chances to catch Shah with a birdie putt on the par 5 13th and an eagle putt on the par 5 16th but both putts just slid by the hole.
"Both of those putts should have dropped," Mogg said. "I'd like the one on 15 back. I hit such a good shot in there to about five feet and I knew the line. It just didn't fall."
Former BYU player and 2020 Utah Open champ Peter Kuest also made a final round run at Shah with a (-8) 64 day at the Championship Course in Hurricane, Utah. Kuest finished (-20) 196. 
2016 Utah Open champion Zahkai Brown's 19-under 197 was good for solo fourth place. Hayden Wood and Matt Snyder round out the top 5 at (-18) 198.
Like many players in the field, Shah, Mogg and Kuest now set their sights on the upcoming Korn Ferry Tour First Stage Q-school being played across the country, including at SunRiver GC near St. George, Utah.
The win is Shah's third of the season having also collected a $20,000 first place check early in the season at the Bakersfield Open. 
"It feels really good to win this one. I made some great putts down the stretch to hold off Brian to get this win. The thing I am most proud of this week is my putting. I made a lot of important par putts and the birdie putt on 17 was really good to keep the lead."
This was the seventh playing of the Sand Hollow Leavitt Group Open at Sand Hollow Resort. Tyler Aldridge set the previous tournament record at 21-under in the inaugural 2014 event. Previous winners include PGA Tour member Zac Blair (2015 & 2016), Korn Ferry Tour members Tom Whitney (2017) and Taylor Montgomery (2018 & 2019).
Final round leaderboard and purse: https://tinyurl.com/854y24c8
FOR MORE INFORMATION CONTACT:
Randy Dodson/Fairways Media (801) 360-2440
Photo Credit: Fairways Media/Randy Dodson