News
Check out what has been happening in Utah Golf.
Shah heads into Sand Hollow Open final round Saturday with a one-shot lead.
By Randy Dodson
Following second round play at the Sand Hollow Leavitt Group Open in Hurricane, Utah, first round leader Manav Shaw, a PGA TOUR Latin America professional from Bakersfield, California, will take a one-shot lead at 17-under 127 into Saturday's final round at Sand Hollow Resort's Championship Course. 
The leaderboard tightened-up considerably during Friday's second round as the golf course gave up under par rounds for every player in top 20 of the 36-hole leaderboard. 
Low round of the day went to Hayden Wood, a Forme Tour player out of Oklahoma State University, whose 10-under 62 included an eagle on the par 5 No. 7 and a hole-in-one on the par 3 No.11 hole, which played to 178-yards. Woods is (-12) 132 and tied for fifth place with former BYU golfer Peter Kuest. Kuest, the 2020 Utah Open champion, has carded two rounds of 6-under 66. 
Las Vegas professional Phillip Reedy had an ace of his own Friday, on the par 3 175-yard No.11.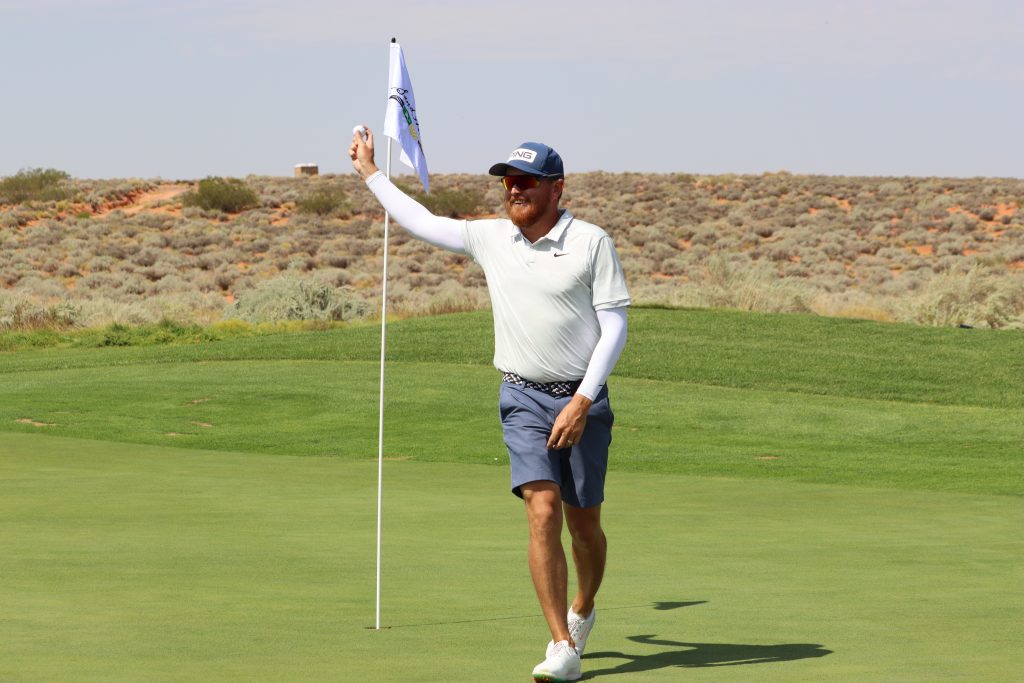 A third hole-in-one, this one made in spectacular fashion by Las Vegas professional Matt Snyder on the par 4 No.16 with a driver, boosted him into second place. Snyder has turned in two consecutive rounds of 8-under 64 for a 16-under total. He's one-shot back of Shah's leading score of 17-under 127. Snyder's 36-holes include 13 birdies, today's double-eagle hole-in-one, and no bogeys. 
Arizona professional Brian Mogg is (-14) 130 and tied for third with former Utah Open champion Zahkai Brown. Mogg will join Shah and Snyder in the final pairing that will tee off Saturday morning at 9:50 a.m. on the Championship Course. 
Opening the tournament with a course record 12-under 60, all eyes Friday were on Shah who admitted, "One of the hardest things to do in golf is follow up a really low round with a second one." Shah shot a great round of 5-under 67 but lost a couple shots of his lead which is now down to just one-stroke to start the final round. 
The 36-hole cut came at 6-under 138, the low 30 players and ties will play the final round. Players with Utah ties under the cutline include Kuest T5 (-12) 132, Austen Christiansen T7 (-11) 133, two-time defending champion Taylor Montgomery T18 136, Jordan Costello T21, while Brandon Kida and 2012 U.S. Public Links (at Soldier Hollow GC) champion TJ Vogel are T28 138. 
The Sand Hollow Leavitt Group Open offers a $20,000 first place purse.
Sand Hollow Leavitt Group Open Top 10 after 36-holes:
1 Manav Shah (-17) 127
2 Matt Snyder (-16) 128
T3 Brian Mogg (-14) 130
T3 Zahkai Brown (-14) 130
T5 Hayden Wood (-12) 132
T5 Peter Kuest (-12) 132
T7 Benjamin Geyer (-11) 133
T7 Austen Christiansen (-11) 133
T7 Eddie Stewart (-11) 133
T10 Trevor Lampson (-10) 134
T10 Grant Booth (-10) 134
T10 Sam Gillis (-10) 134
T10 Mark Anguiano (-10) 134
T10 Chris Korte (-10) 134
FOR MORE INFORMATION PLEASE CALL
Randy Dodson, Fairways Media (801) 360-2440
Sand Hollow Leavitt Group Open 36-hole leaderboard URL: https://tinyurl.com/854y24c8
Photo attached: Las Vegas professional Matt Snyder celebrates his hole-in-one on the Par 4 No.16 hole of the Championship Course at Sand Hollow Resort during the second round of the Sand Hollow Leavitt Group Open.
Photo Credit: Fairways Media/Randy Dodson