News
Check out what has been happening in Utah Golf.
UGA Retains the Shootout Trophy at Bloomington CC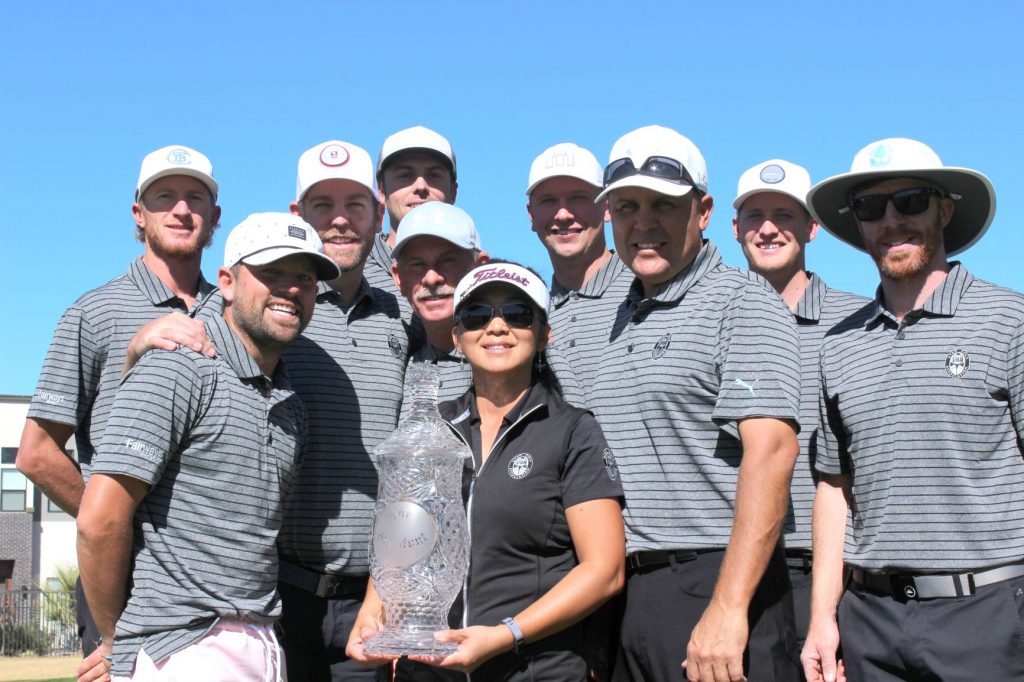 (2019 Utah Shootout team (Left to Right) Denny Job, Derek Penman, Kurt Owen, David Jennings, Randy Hicken, Nuny Khamkin, Reed Nielsen, Jeff Jolley, Luke Crapo and Dan Horner. Missing from photo: Kurt Jamison and Annette Gaiotti)
By Randy Dodson
Every half point counted this year at the Utah Arizona Shootout.
The Utah Golf Association and Arizona Golf Association teams finished deadlocked at 36 points a piece after two days of Ryder Cup style competition at Bloomington Country Club Oct. 21-22 in St. George, Utah.
It's just the second tie in the 28-year history of the event with the UGA dominating the series at 19-8-2 in the home and home competition.
This year's version was played out over two days of Foursome (alternate shot), Four-Ball (best-ball) and Singles, in match-play formats, with a point for the front, back and overall available in each match, at the newly renovated country club course.
The morning Foursome matches on day one resulted in a slight 9.5 to 8.50 lead for Arizona with Arizona's women, Madison Kerley and Sofia Anokhina, a pair of former Arizona State University golfers, securing all three points in their match against Utah's Annette Gaiotti and Nuny Khamken. Utah's Dan Horner and David Jennings also failed to secure any points as Arizona's Chris Thomas and Adam Walicki carded another shutout, collecting three points. Utah's Mid-Am champ Reed Neilsen and Luke Crapo carded a 3-point win for the UGA.
After the afternoon Four-Ball competition it was evident that Arizona's women had just too much firepower as they collected another 3-0 shutout over their UGA counterparts. Utah's Neilson, now paired with Kurt Owen, proved to be the day one MVP for Utah as they won with another 3-0 score in the Four-Ball format. With Randy Hicken/Kurt Jamison and David Jennings/Jeff Jolley grabbing 2.5 points each, Team UGA won the afternoon 10 to 8 and took a 1-point lead into the following day Singles matches at 18.5 to 17.5.
The AGA's Anokhina, a former junior champion from Moscow, Russia and a competitor in this year's Augusta Women's Amateur championship, and partner Kerley, a former Arizona High School State Champion, U.S. Women's Open competitor and four-year player for the Sun Devils, stole the show once again for Team AGA as the both carded 3-0 wins in the final day Singles matches before most of the men even made the turn.
But it wasn't enough for Arizona to take home the trophy as Utah won the Singles portion of the event 18.5 to 17.5.
The UGA's Dan Horner got a 3-0 win on the final day with Denny Job and Jennings carding 2.5 point wins in their matches. Crapo and Neilsen and Owen won with 2 points each. The UGA lost only two matches on the day which was just enough to secure a 36 to 36 tie and keep the trophy in the UGA office for another year.
Horner said, "Arizona had a very talented team this year which included two really good women who won all their points. For us to retain the cup, even if it was a tie, says a lot about the quality of players we have."
The 12-person UGA team included: Nuny Khamken, Annette Gaiotti, Kurt Jamison, Randy Hicken, Luke Crapo, Denny Job, Reed Nielsen, Kurt Owen, Derek Penman, Dan Horner, Jeff Jolley and David Jennings.
The Utah Arizona Shootout will be contested next year in Arizona and then return to Utah in 2021 for the 30th anniversary of the competition
Full Results CLICK HERE: