News
Check out what has been happening in Utah Golf.
The Friendship Cup – Golf Diplomacy at its Finest
By Randy Dodson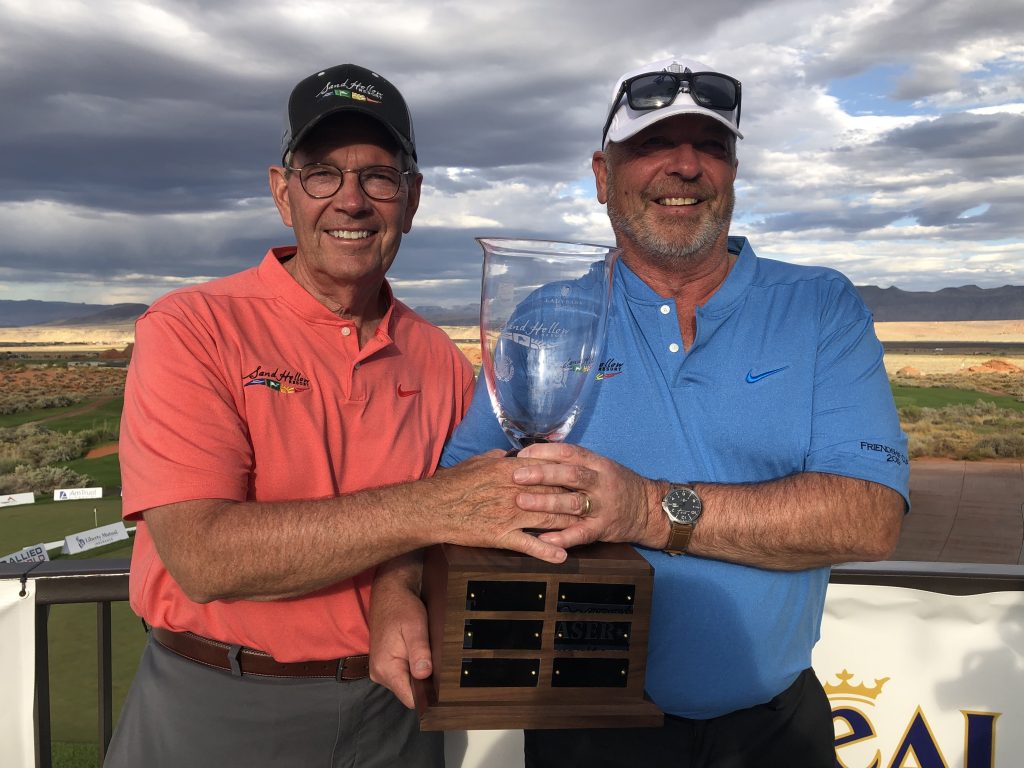 (Mike Leavitt (left) and Rod Sturrock present the Friendship Cup trophy to inaugural champions, Team Sand Hollow, who defeated Team St. Andrews 19.5 to 12.5 Monday at Sand Hollow Resort to kick off Sand Hollow Open Golf Week.)
If you've played the Old Course at St.Andrews you have likely spoken with Rod Sturrock the starter. If so, good for you for the man with a photo graphic-like memory will most likely remember you. That may come in handy next time you're on the Old Course "ballot." 
Or, mentioning you've played a round or two at Sand Hollow Resort will most likely trigger a smile from Sturrock and his favor for your next round in Scotland. 
Seven years in the making, the Friendship Cup, a modified Ryder Cup style tournament, launched a full week of golf events Monday at Sand Hollow Resort. The brain-child of Mark Leavitt (of Cedar City's Leavitt Group) and Dave Wilkey (one of the founding developers of Sand Hollow Resort) the Friendship Cup tees off Team Sand Hollow versus Team St.Andrews, Scotland for a full day of golf designed to foster friendships of multiple golf clubs in Scotland with Sand Hollow Resort. 
Created as a home and home schedule, much like the annual Utah Arizona Shootout, the tournament crowns a champion, but also hopes to build friendships that will foster a "golf diplomacy," as organizers like to call it, that will serve as a launching pad for golfing memories for years to come.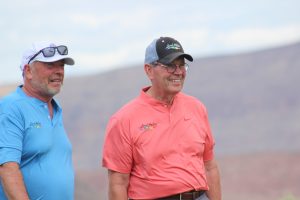 (St. Andrews Captain Rod Sturrock (left) and former Utah Governor Mike Leavitt led 16-man teams in the inaugural Sand Hollow Golf Week Friendship Cup, Monday at Sand Hollow Resort.)
The teams first met each other for a round of golf last Friday at the Country Club as Utah Governor Gary Herbert, along with Utah's allied golf association representatives, welcomed the St. Andrews team, which is made-up of low handicap members from at least four different golf clubs, including St. Andrews, to Utah golf. 
After a weekend-long list of activities, including visits to Utah's national parks and experiencing  the sights and sounds and red rocks of Southern Utah, the teams teed it up Monday, playing all 27-holes at Sand Hollow Resort. After Four-Ball on the back nine of the Championship Course, Greensomes (best-drive off the tee then alternate shot) on the Links Course and Singles matches on the Championship Course front nine, Team Sand Hollow was crowned the inaugural champions 19.5 to 12.5.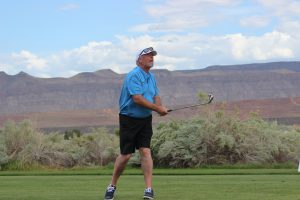 (Team St. Andrews Captain Rod Sturrock, a starter at the Old Course in St. Andrews, Scotland tees off on the par 3 8th hole at Sand Hollow Resort.)
At the trophy presentation Captain Sturrock was quick to point out that it was apparent that Team Sand Hollow's strategy of, "wearing us out with non-golf activities before the competition officially began" paid-off. A toast was made to the commitment of building friendships and "revenge" next year in Scotland. 
Members of Team St. Andrews will stick around for two more days and participate in the Leavitt Group Charity Cup, another team competition with former Utah Jazz, Real Salt Lake, Los Angeles (soon to be Las Vegas) Raiders players as the captains of a four-team competition. All proceeds of the tournament will benefit Utah's Juvenile Diabetes Research Foundation to fund a cure for Type 1 Diabetes. 
The sixth annual Leavitt Group Sand Hollow Open then takes center stage of "Sand Hollow Golf Week" Thursday with opening round play of the 54-hole championship that awards $20,000 and a Korn Ferry Tour Utah Championship exemption to the champion, Saturday. 
Photo Credit: Fairways Media