News
Check out what has been happening in Utah Golf.
Governor's Cup – 2019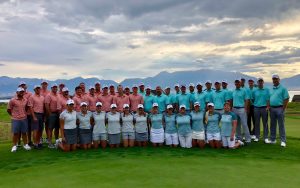 By: Abii Johnson
On a perfect day for golf, Professionals and amateurs from across the state gathered this year at TalonsCove Golf Course in Saratoga Springs to compete in the annual Governor's Cup. This year, the event was held in conjunction with the Jeannie Goddard Cup, which is typically held at a separate location and features only amateur players. For the first time this year, the professionals fielded a team of women as well as a team of men. This combination went over well with all players and only improved the atmosphere of the tournament.
Every year since 1984, the professionals and amateurs have met annually to compete against each other in this event. The event mimics the format of the Ryder Cup, consisting of morning foursome matches followed by afternoon singles and four-ball matches. Since the event began, the professionals have taken home the trophy 23 times, while the amateurs have come away victorious 8 times.
The professionals took charge of both the morning and afternoon matches, winning 6 of 8 foursome matches. In the afternoon, they won 5 of 8 four-ball matches and 10 of 16 singles matches. Despite their defeat, the amateur team enjoyed the event and the chance to play against some tough competition. Austin Banz said, "The event was really fun, it was fun to get out and play against the professionals and see… how we stack up". Hunter Howe described his experience as positive as well saying "it was fun to play with the pros and kind of learn a little bit from them".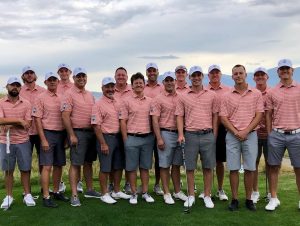 Patrick Murphy played in the senior group of the event and also loved the tough competition presented at the tournament. "It was awesome", says Murphy, "I love playing against the pros. You know, the amateur getting the chance to spend the day with the pros, it's a wonderful event. You know, it's a lot of good comradery with guys we see all the time in Opens and tournaments so it's kind of fun to go against them".
Although storm clouds hovered overhead throughout the day, rain was minimal, and the sun was shining on the course by the end of the event. Play was elevated by the course conditions which were tough but in great shape. Banz described course conditions as "playing good" with "great scoring conditions". Howe also praised course conditions, relaying that "the course was super, it was in good shape".
The final score for the tournament was 22-10, with the professionals taking home the trophy. Full tournament results can be found at https://www.golfgenius.com/pages/2140718