News
Check out what has been happening in Utah Golf.
A Review of Media Day and Champions Dinner for the 121st Utah State Amateur
MIDWAY/SALT LAKE CITY, Utah – July 2nd, 2019 – Another State Am Media Day is in the books and the day belonged to Fairways Media's own Jesse Dodson as he was co-champion of the Gross Division with Real Golf Radio's Bob Casper.  He was also co-champion of the Net Division with ABC 4's Wesley Ruff. (Pictured below with former UGA Executive Director Joe Watts)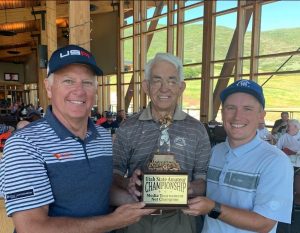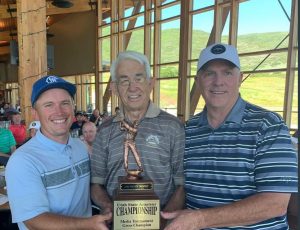 A number of past Utah State Am champions were at Media Day.  Dan Horner, who won in 2008 at Soldier Hollow, knows the importance of accurate tee shots.
"You have to drive it in the fairway," Horner said.  "That's the biggest thing, you have to be able to find your ball out there.  Depending on how tall the fescue is, you might not be able to find your ball or be able to play out of it."
Also winning at Soldier Hollow in 2013 was former BYU golfer Cole Ogden.  Having recently regained his amateur status, he is going into the 121st State Am with a unique perspective.
"It's a different mindset than I ever have had going into a tournament," Ogden said.  "Today was the first time I touched a club in two and a half months.  I still have the skill set to win, but it's not as consistent as it once was."
Ogden highlighted short game as the key to being successful at Soldier Hollow.
"Short game, putting, speed control, little chips and bunker shots will make the difference," Ogden said.  "Especially in match play.  Hopefully I can make some magic happen.  If not, it's still a really fun event I like to play in."
2015's State Am champion, Kelton Hirsch, who won at Ogden Golf & Country Club, echoed both Horner's and Ogden's sentiments.
"I need to keep working on the short game.  If I chip and put well, it shouldn't be a problem to get into match play," Hirsch said.  "I usually don't have a problem hitting the driver and hitting greens.  As long as I keep the driver straight and dial in my short game, I'll be good to go."
A lot of attention will be paid to the defending champion (as well as the youngest ever champion) in Utah State Amateur history, Preston Summerhays, and his sister, Grace Summerhays, who is the youngest ever woman to qualify for the State Am and only the 4th in history to do so.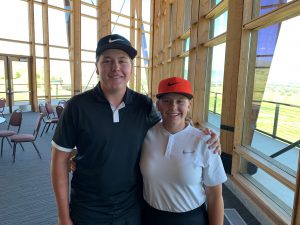 "It's really special," Preston said smiling when asked about what it's like to be the defending champion.  "This is one of the tournaments I look forward to playing every single year."
He was also asked about getting a sponsor exemption and playing in the Utah Championship this past week on the Korn Ferry Tour.
"I didn't play my greatest," Preston said.  "But I knew going into the event I would take something away from it, good or bad, and it was a great experience."
When asked about qualifying for the State Am, Grace responded with enthusiasm about achieving something she had made a major focus of.
"I've had the goal for a while," Grace said.  "Nobody expected me to do it.  I went out there and played.  I felt calm and confident and it was great to have Preston on the bag for me during the qualifier."
The Champions Dinner was held at The Country Club in Salt Lake City and 13 former champions were in attendance.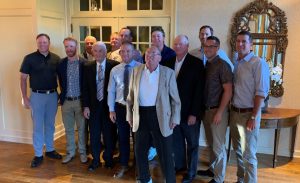 From left to right including the year(s) they won:  Darrin Overson (1998), Dan Horner (2008), Craig Ridd (1967), Arlen Peacock (1977), Glen Spencer (1983), Jon Wright (2012, 2014), Daniel Summerhays (2000, 2001), Tom Christensen (1968), Preston Summerhays (2018), Todd Barker (1997), Mike McRae (2005), Cole Ogden (2013), Tommy Sharp (2003).