News
Check out what has been happening in Utah Golf.
14-Year Old Grace Summerhays Qualifies for 121st Utah State Amateur
SALT LAKE CITY, Utah – June 19, 2019 – Grace Summerhays, daughter of former PGA Tour member Boyd Summerhays, became the fourth woman to qualify for the Utah State Amateur and is the youngest female qualifier in the state championship's 121-year history.
Playing Wednesday in the Glen Eagle Golf Course State Amateur Qualifier, the 14-year old teen sensation from Arizona, who spends her summers in Utah, shot a 1-over round of 73 to finish tied for the 15th spot to easily qualify, playing from the same yardage as the men. The qualifying medalist was Ryan Budge at 4-under 68.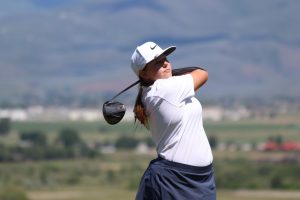 Summerhays follows the footsteps of Annie Young, the first female to qualify for the Utah Golf Association's marquee championship, who was given a special UGA exemption to the 2004 State Amateur following her participation on the victorious USA Curtis Cup team that same year. Young then qualified on her own as co-medalist at the 2005 Wasatch Mountain Qualifier. Other women to qualify for the State Amateur through stroke play qualifying tournaments include BYU's Naomi Soifua in 2017 and UVU's Carly Dehlin-Hirsch in 2018.
Of her accomplishment Summerhays said, "It feels great to join the women that have played in the State Am before me. This has been one of my goals for a while and it feels amazing and is so special to me. It is so great to be one of four women to qualify for the Utah State Amateur and be named alongside such great golfers."
Deepening the Summerhays name as a Utah golf hallmark, Summerhays is the brother of 2018 State Amateur champion Preston Summerhays who is the youngest champion, as a 16-year old, in the tournament's history. The youngest male to ever qualify for the State Amateur is her father Boyd, who did so as a 12-year old in 1992. Grace is also the niece of two-time State Amateur champion Daniel Summerhays, who won the historic event in 2000 and again in 2001.
This year the Utah State Amateur returns for the sixth time to Soldier Hollow Golf Course in Midway, Utah, July 8-13th. A total of 288 qualifiers will make it to championship week. Following 36-holes of Stroke Play qualifying, the low 64 players will advance into the Match Play bracket with the championship match scheduled for Saturday, July 13 on Soldier Hollow's Gold course.
FOR MORE INFORMATION:
Jacob Miller, Utah Golf Association Executive Director (902) 621-4170
Randy Dodson, Fairways Media President (801) 360-2440