News
Check out what has been happening in Utah Golf.
UGA sweeps podium at Southwest Team Challenge
Millcreek, UT – Sitting on the banks of Lake Las Vegas, Southwest Team Challengers looked on as the Utah Golf Association figuratively claimed gold, silver and bronze.
Just on the northern outskirts of Henderson, Nevada, Reflection Bay Golf Club hosted eleven teams on Dec. 2-5 from across the country for the 2018 Southwest Team Challenge. Put together and ran by the Arizona Golf Association, players – both at large and senior – competed in a modified stableford format for bragging rights. After three highly competitive rounds, UGA Team 2 – Ryan Brimley, Darrin Overson, Randy Hicken and Ron Davis – claimed the coveted trophy by finishing with a tournament high, 48 points. UGA Team 3 finished in second place with 42 points, while UGA Team 1 finished in third with 41 points.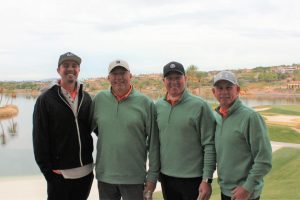 Easton Folster, Director of Rules and Competitions for the UGA, said: "I think it is a great event for some of our most competitive players that not only support UGA events, but also other amateur events throughout the state.  This was the first year it has ever been at Reflection Bay and I thought they did a fantastic job.  The course was in great shape all week and I think the players really enjoyed being out there.  My main hope is that this event continues to be a yearly reward for having played great golf throughout the year."
Creating a demand for hit fairways and solid putting, Reflection Bay Golf Club posed as much of a challenge as it could for some of the top amateur players around this part of the country. With weather fluctuating each day, players experienced three different versions from the high-end resort course.
With day one and three providing descent scoring conditions, UGA Team 2 capitalized on each chance they got – scoring 18 points on day one and 25 points on day two. Dropping in 10 birdies on each of those two days, plus two eagles during the final round, the victors demonstrated they were the team to beat.
"I think this type of format, having a golf course that you can score on, is a little bit more fun," Overson said when comparing Reflection Bay GC to past venues.
Day two proved to be the anomaly for each team, especially the winners – having only posted a total of 5 points. Dealing with colder than normal temperatures and wind speeds of around 20 mph, Overson, Brimley, Hicken and Davis were left trying to salvage pars instead of shooting for flagsticks.
"There were definitely some challenging holes, for sure," Overson stated. "A couple of days when the wind was blowing a little bit, made some of those holes very difficult. The second day was way harder than any other day we played."
Giving credit when credit is due, Overson said it was the strong and consistent play of Hicken and Davis, which helped keep the team afloat on a day that could have easily swept them sideways and out of contention.
"The second day, the seniors definitely held their own," Overson said. "[Then], those guys cleaned house the last day."
With golf in northern Utah hard to come by in the winter months, this tournament provided players a chance to get in one last event with fun, friendly competition.
By sweeping the podium, the UGA teams showed that amateur golf in Utah is strong and a force to be reckoned with.
CLICK HERE for complete results.