News
Check out what has been happening in Utah Golf.
UWGA Lady of the Year: Margaret McDonough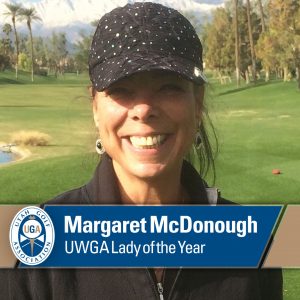 By Kurt Kragthorpe
Margaret McDonough Nay's work on the book "100 Years of History – The Utah State Women's Amateur" could be quantified in hours, but there may be a better illustration. She spent so much time in The Salt Lake Tribune's office poring over microfilm that people thought she was a staff member.
That's just one example of her dedication to the game and ability to immerse herself in projects such as organizing and staging tournaments. Speaking from 45 years of her own involvement in the game, Patty Brimley said McDonough "has done more in this state to promote women's golf than anyone else I know."
That's why she will receive the UWGA Lady Award for 2018, recognition that she described as "a wonderful surprise."
"It's been a very rewarding experience all these years," Nay said. "It's just a meant a lot to me. The people I've had an opportunity to work with have just been awesome."
The same could be said of her, with the 100-year anniversary of the Women's Am serving as a career highlight. Being able to stage the tournament at The Country Club of Salt Lake City, with LPGA Tour legend Patty Sheehan appearing at the Champions Dinner, created a "magical" moment in Utah golf history. "It was something that I felt was important to celebrate," she said. "It was awesome to be part of that."
The tournaments that McDonough has staged at the Homestead Resort's Crater Springs Golf Course and other venues are on a somewhat smaller scale, but no less meaningful to the participants. She's known for thoroughly organizing the events for every level of player. "I've enjoyed it," she said. "I'll continue doing it as long as the women enjoy it."
That's likely to be for a long time, continuing her nearly lifelong involvement in golf, while making lifelong friends.