News
Check out what has been happening in Utah Golf.
Larson, Galea'i, Banglas and Pronghorn Utah Women's Four-Ball Championship at Toana Vista GC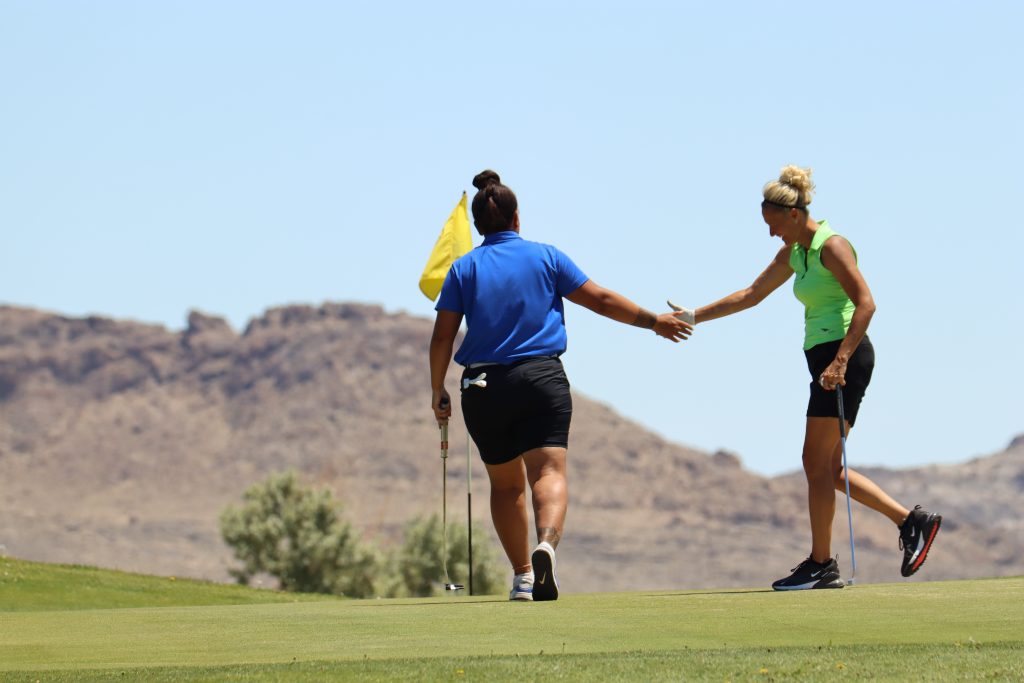 By Randy Dodson
This thought from BYU's Lila Galea'i may be all you need to know about the Utah Women's Four-Ball Championship, held June 2-3 at Toana Vista Golf Course in West Wendover, Nevada. 
"Anytime I have a chance to get myself on the green, on a par 4, and I trust that I can get it there, I never hold back."
Add to that Kareen Larson's steady play and "safe" tee shots allowing Galea'i to unleash, and it's not surprising that the duo ran away from the field to capture the Utah Golf Association women's championship title. 
Larson and Galea'i won the annual event with a two day total of (-11) 64-69 – 133. They were 13-shots ahead of the Idaho State University Bangals team of Tyler Erickson and Lindsey Lloyd.
To the read the complete Utah Women's Four-Ball Championship tournament recap from Faiwrays Photo Journal please click here: https://tinyurl.com/tyw7a2e9
News
Check out what has been happening in Utah Golf.
Dana Nelson Dominates Green Spring Qualifier
Temperatures hit triple digits at the first Utah State Amateur Qualifier of the 2021 season.  Green Spring Golf Course, a notoriously difficult track, played to its reputation with only three players shooting under par.  Former Senior State Amateur champion, Dana Nelson, led the field with a -4 (68).  Brock Goyen -2 (70) and Spencer Wallace -1 (71) were the other players to finish under par.  The cut/playoff came at +7 (79).
Full Results:  https://www.golfgenius.com/pages/2810644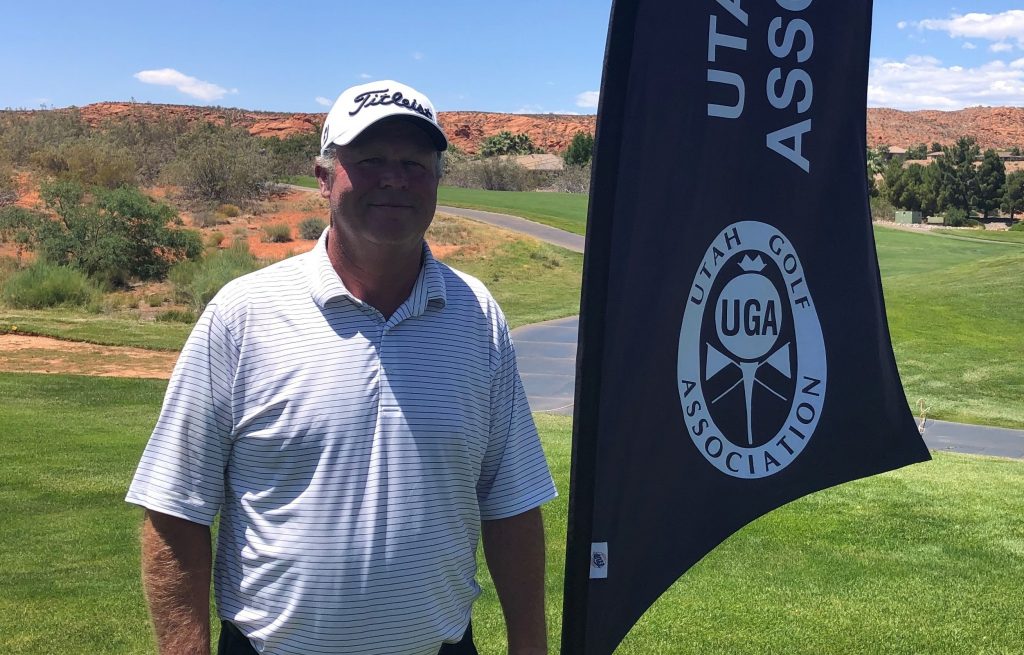 News
Check out what has been happening in Utah Golf.
Jennings Goes Back to Back at Utah Mid-Amateur

By Mike Sorensen
This time Dave Jennings didn't have to shoot a 60 in the final round to claim the UGA Mid-Amateur Championship.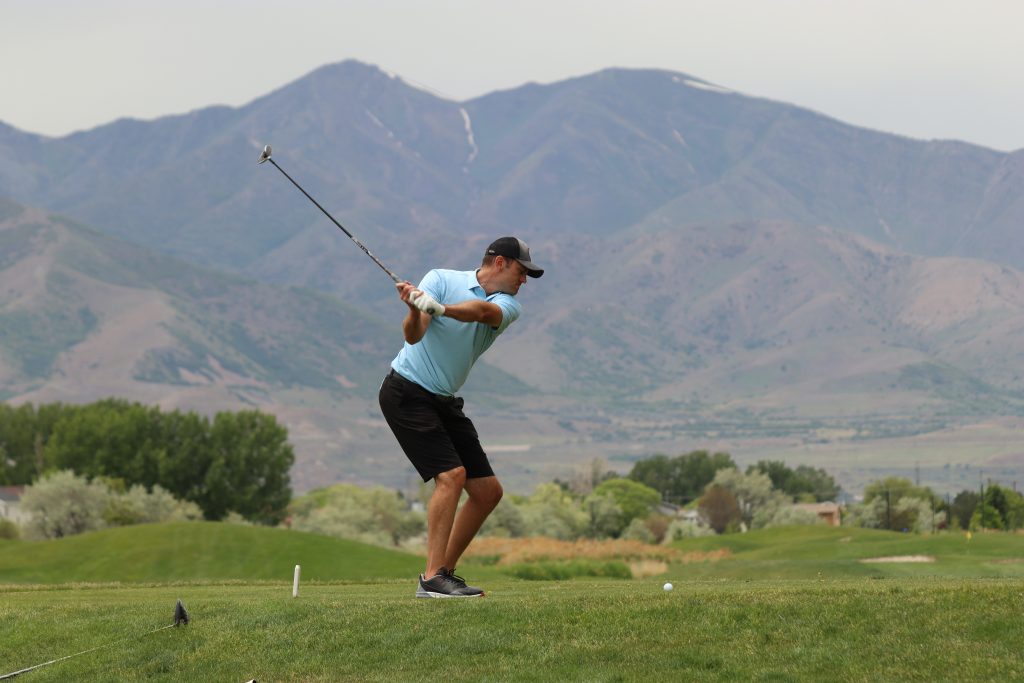 Jennings, a 36-year-old air traffic controller from Layton, won the annual Utah Golf Association event for non-college golfers over age 25 for the second straight year, taking control in the first round, and never letting up.
He led with a first-round 68 at Stonebridge Golf Course, increased his lead to three with a 69, then capped things off with a 71, which gave him a five-shot victory over Willow Creek CC's Patrick Horstmann in the 54-hole tournament.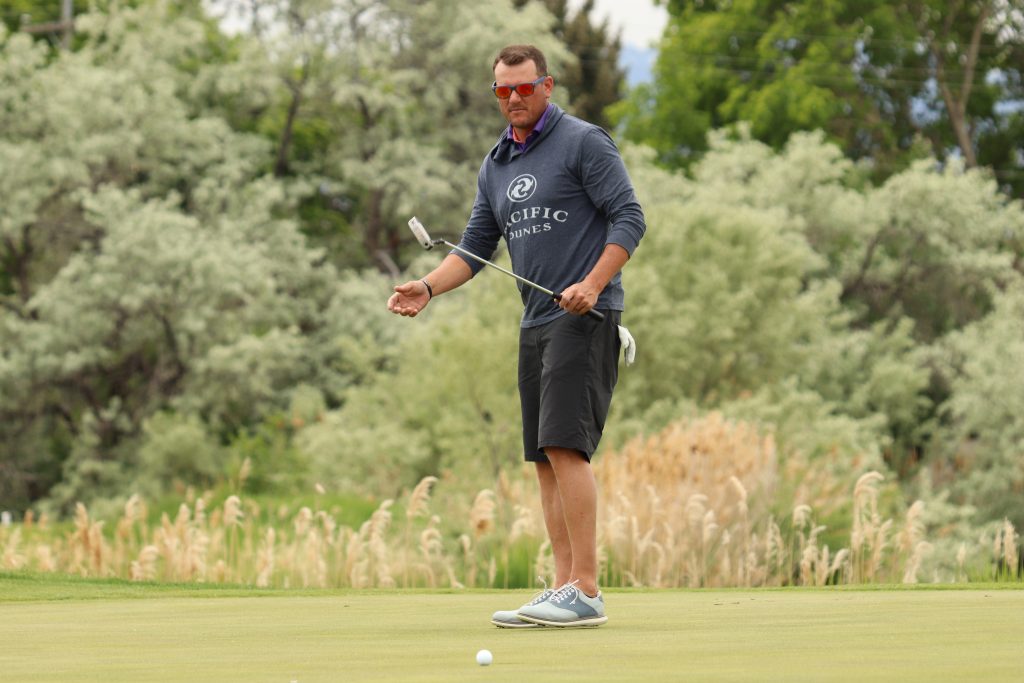 "It was a lot different this time," Jennings said after being awarded the large Mid-Am trophy. "I was being hunted this time instead of hunting. I was just trying to beat the guys in my group."
Last year, Jennings fired a final-round 60 at Davis Park to come from 10 shots behind to defeat Kirk Siddens by two strokes. With this victory, he became the first back-to-back winner since Scott Clark in 2004-05.
"The big thing for me this week was my putting," Jennings said. "It was really bad a month ago — off the charts bad — and I decided I needed to really work on it. I'm a feel player and I tried to get a little more mechanical and it's been really good."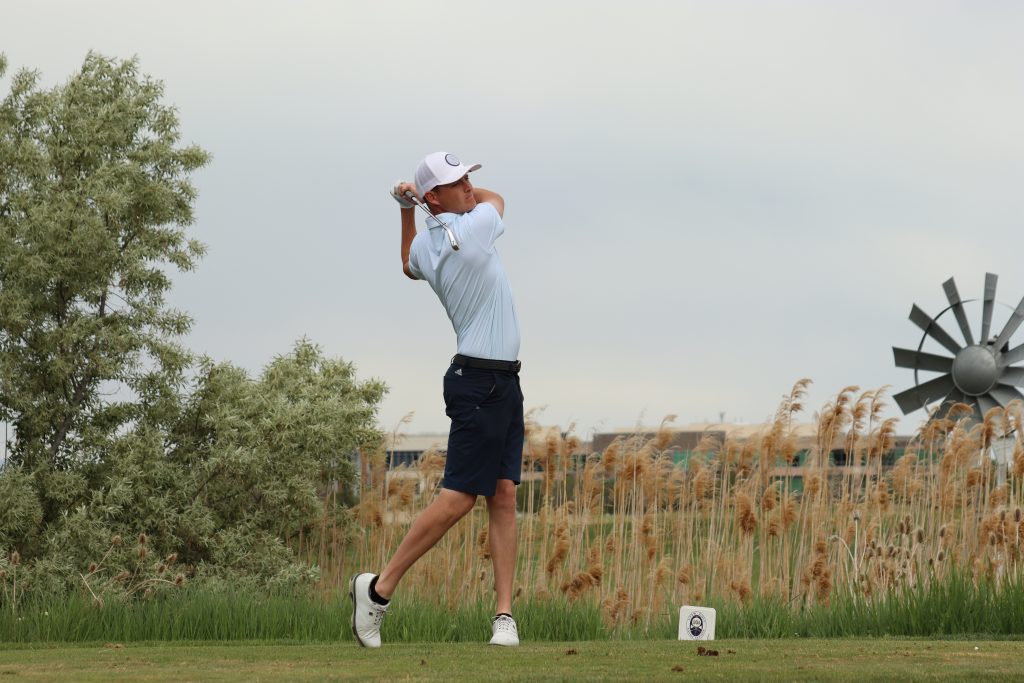 Following Horstmann at 213 was Ogden's Luke Crapo at 214 and Richfield's Ben Jorgensen at 215. Two-time champion Dan Horner finished fifth at 216.
CLICK HERE for full results.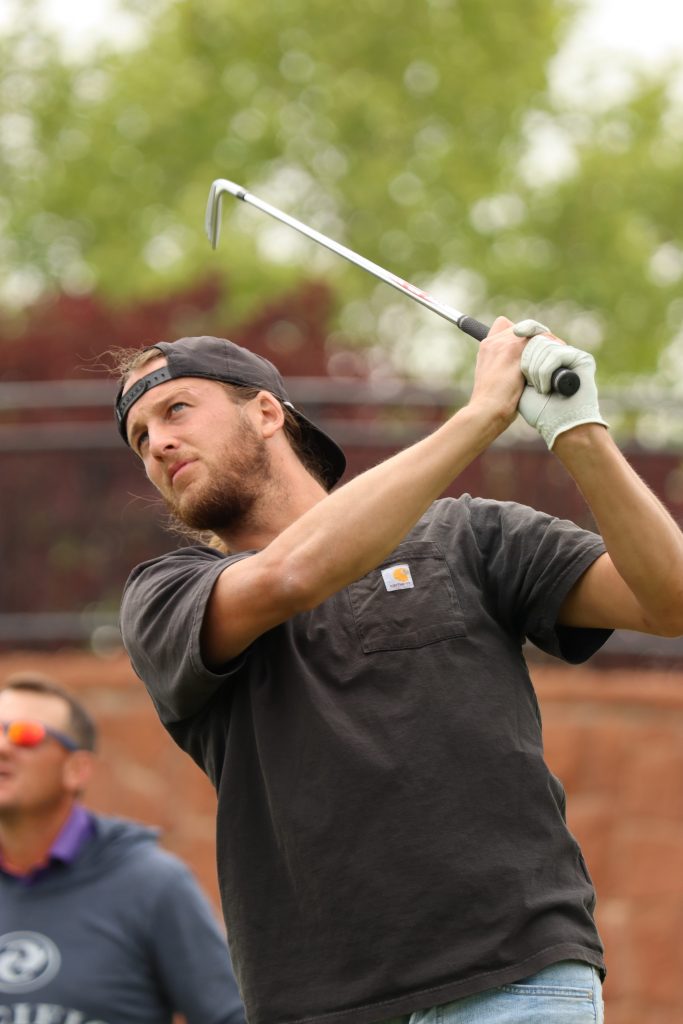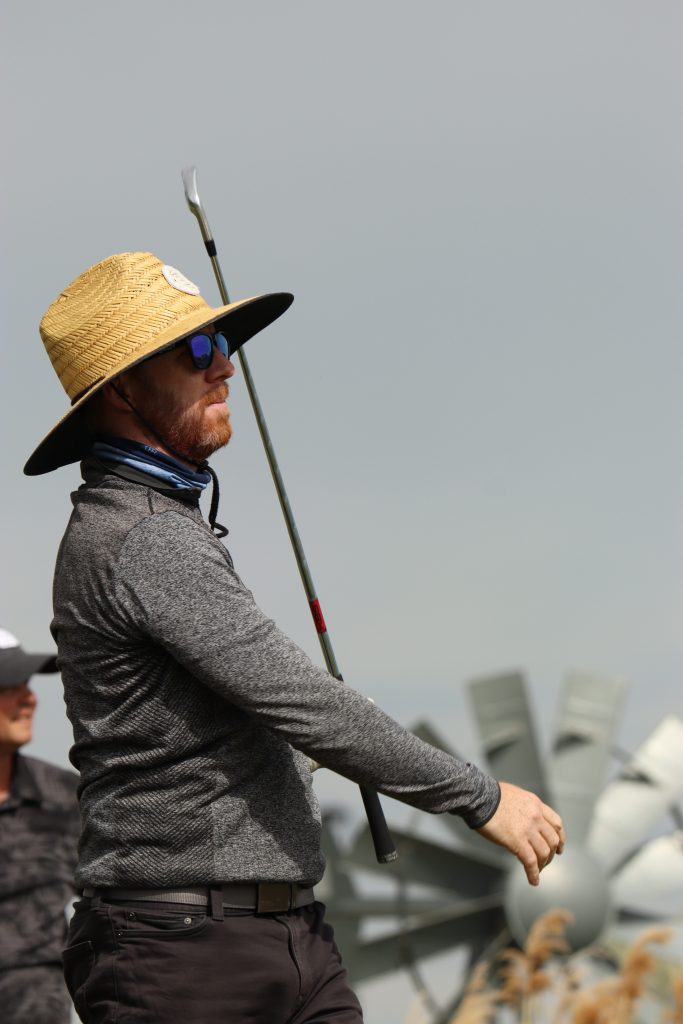 News
Check out what has been happening in Utah Golf.
A Season of Experience BYU freshman walk-on Keanu Akina is making big strides in Utah amateur golf.
By Randy Dodson
He'd probably would rather be making three-pointers and running up and down basketball courts but BYU men's golf six-foot walk-on freshman Keanu Akina, a Pleasant Grove high school product by way of Kahuku, Hawaii, is now turning heads by getting up and down on Utah's fairways.
And if the amateur portion of the Gladstan Open is any indication, you will be seeing Akina on Utah golf's amateur leaderboards frequently.
Akina shot (-5) 67 May 22nd to win at Gladstan by six shots over former professional now veteran amateur Tommy Johnson, former Utah State Am and Mid-Am champ Darrin Overson and Eli Rogers who finished (+1) 73.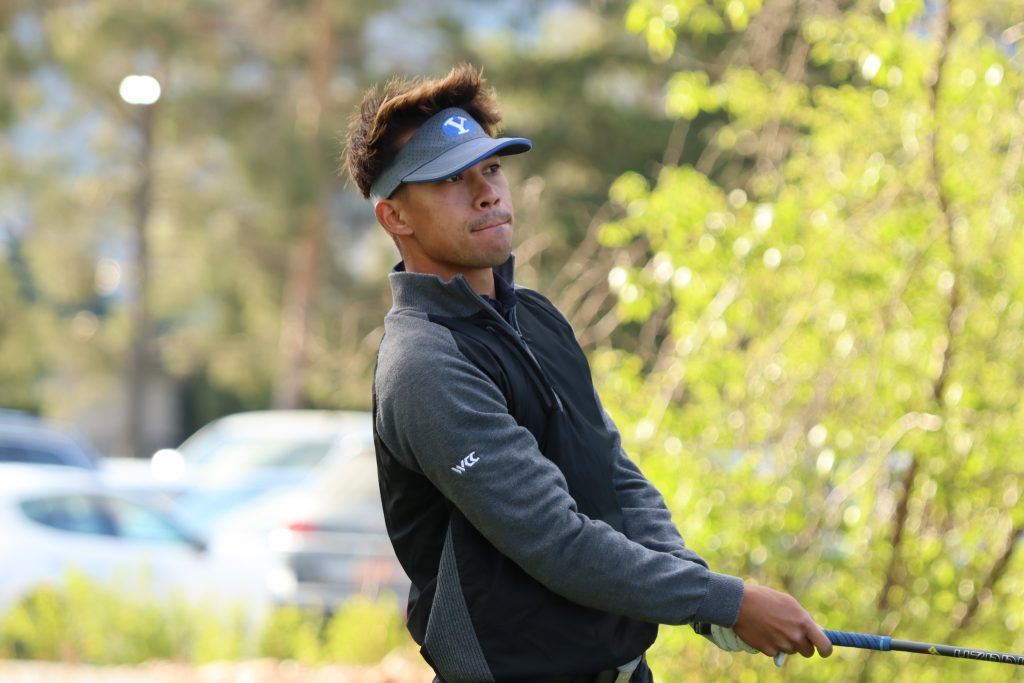 The amateurs played the blue tees at the Gladstan Open while the Utah Section PGA Professionals played the black tees, about a 390-yard difference. Teaching professionals Matt Baird andTommy Sharp finished in a tie for first place in the pro division at (-1) 71.
Scores: https://tinyurl.com/yfdrft6v
"I hit the ball well off the tee and putted well," Akina said. "I got the ball up and down when I needed to save par too. Playing from the blue tees threw me off a bit. But, I just tried to take advantage of it, especially on the par fives."
Akina birdied three of the four par fives and added three more birdies against just one bogey for the day.
"On all the par fours on the back, I hit an iron off the tee but had one less than I probably would've from the black tees, which was nice. I actually played the course for the first time Monday before the tournament with my swing coach Matt Baird and I told him then that Gladstan is my new favorite course in Utah because of how pretty it is and how fun it is to play."
Growing up basketball was Akina's sport. "I never thought I'd play college golf because I wanted to play basketball. I met Coach (Bruce) Brockbank when I played with Max Brenchley and Elijah Turner, when he came to watch them play. I only played high school golf events since I was so focused on basketball, I really had no kind of golf resume. Walking on was tough but at the tryouts and qualifying I was able to play well enough to show that I at least had some potential to contribute. And I feel like I did that this year."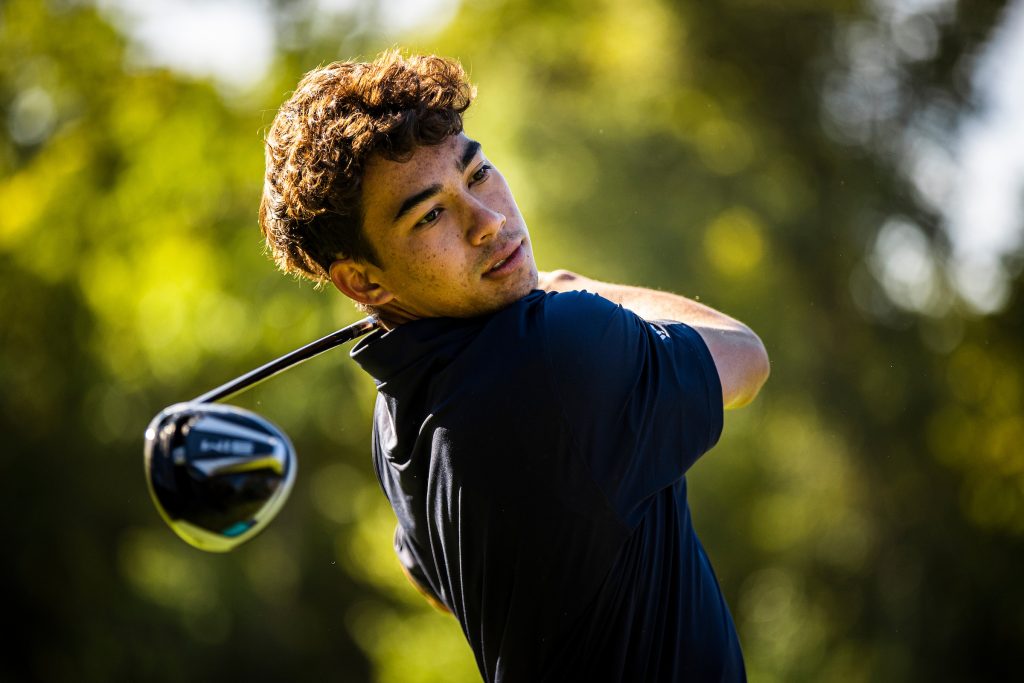 When asked about Akina Brockbank said, "He has made a nice addition to our team. He wants to win, loves to compete and works hard. He loves to be the underdog and will find a way to beat you. We always want a guy like Keanu on our team. He makes everyone better because he brings it every day."
Akina played in five events for the Cougars, including the Western Intercollegiate and West Coast Conference Championship. His low round this season was a 70 at the Conference Championship where he also carded his low finish for the season at T22.
"I felt great about my BYU season. I was glad that my coaches believed in me and took me to a couple big tournaments at Pasatiempo and the Conference Championship. It gave me a lot of confidence because I worked hard all of last year to make some big improvements and I felt like the work is starting to pay off."
Akina has become good friends with fellow walk-on David Timmins who won the Thanksgiving Point Amateur a week prior. "I learned so much from my coaches and my teammates and got some good experience, which I hope will help our team next year."
Looking to build on his momentum, Akina will return to Hawaii for the Manoa Cup and plans to be back in Utah for the State Amateur and Utah Open.
News
Check out what has been happening in Utah Golf.
University of Utah Golf, UVU's Gabe Lysen, BYU's Carson Lundell and SUU's Jake Vincent take a shot at moving on to the NCAA Championship
By Kurt Kragthorpe
The University of Utah men's golf team clearly is not satisfied with making the program's first appearance in an NCAA Regional in nearly 30 years. After the opening round of the 54-hole tournament Monday in Cle Elum, Washington, the Utes are allowed to have visions of competing in the NCAA Championship later this month.
Maybe the best news emerging from the first round on the Tumble Creek Club course at Suncadia Resort is the Utes stand in seventh place, even while counting a 75 from No. 1 player Mitchell Schow, the reigning State Amateur champion. Schow deserves credit for his comeback Monday, after three straight bogeys left him at 5 over par through 11 holes. He played the last seven holes in 1 under to keep his team in contention to become one of the five teams advancing to Grayhawk GC in Scottsdale, Arizona.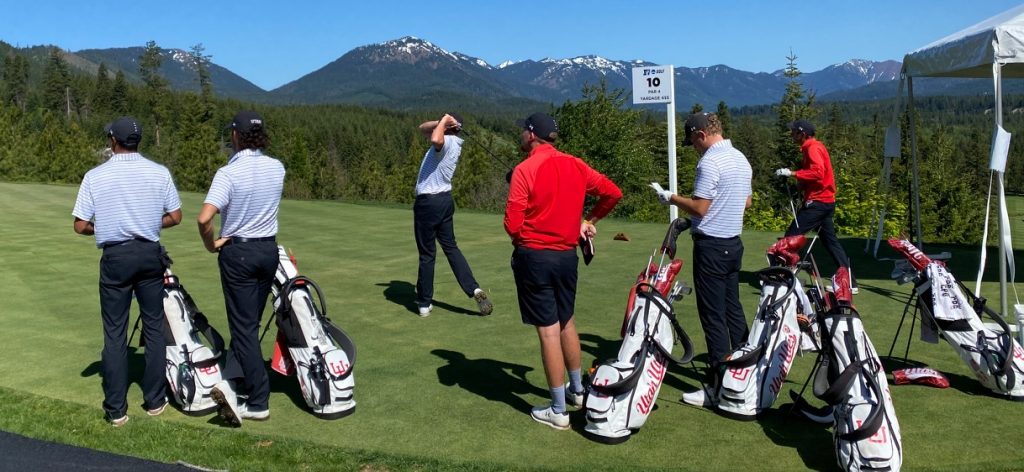 The Utes are only three strokes below the top five (Wake Forest and San Francisco are tied for first, followed by Pepperdine, East Tennessee State and Washington), beginning Tuesday's play. And Schow is very likely to shoot lower than 75 in each of the last two rounds…
Click here to read more from Fairways Photo Journal: https://tinyurl.com/3v9p8bts
News
Check out what has been happening in Utah Golf.
USGA Welcomes 135 P.J. Boatwright Interns in 30th Anniversary Class
Annual internship program has created a pathway to a career in golf for more than 3,000 men and women of all backgrounds
LIBERTY CORNER, N.J. (May 18, 2021) – The USGA will fund 135 internships across its network of 59 Allied Golf Associations (AGAs) in 2021 through the P.J. Boatwright Jr. Internship Program, which is celebrating its 30th anniversary this year.

Since the program's inception in 1991, the USGA has invested more than $30 million into cultivating future leaders of the golf industry by providing college students and other qualified applicants with paid, hands-on experience as staff members at state and regional golf associations. The program has helped launch the careers of more than 3,000 individuals, with alumni holding leadership positions throughout the golf and broader sports industries and beyond.

The value of the internship funding in 2021 totals $1.7 million.

"Providing a pathway to a career in golf through the P.J. Boatwright Internship Program is one of the most important annual investments the USGA makes in the game's long-term sustainability," said Mike Davis, CEO of the USGA. "Our 59 AGAs play a critical role in advancing the game at the local level and provide interns with some of the most valuable experience our industry has to offer."

All 59 AGAs in the United States and Puerto Rico were granted funding for the 2021 class. Lasting between three and 12 months, the internships provide experience in managing all aspects of the game, including conducting competitions and junior golf programs, and supporting membership initiatives.

One-third of all current state and regional golf association staff members are Boatwright alumni, including 21 AGA executive directors, as well as 16 USGA staff members.

The internship program includes a two-day summit, in which interns from across the country visit the USGA campus for interactive professional development sessions and to network with USGA staff and each other. Due to the circumstances caused by COVID-19, the 2021 summit is being conducted virtually for the second straight year through a series of sessions running from May 19-26. The sessions are led by USGA staff members and include firsthand introductions to each of the association's key service functions, including Championships, Rules, the Museum and Library, Green Section, and Equipment Standards, as well as Communications and Marketing.

The program honors the contributions of P.J. Boatwright Jr., the USGA's third executive director, who played a pivotal role in the development of both the USGA and golf in the United States. An accomplished amateur player and one of the game's foremost Rules experts, he served as executive director of the Carolinas Golf Association for five years before joining the USGA in 1959. He served the association until his death in 1991, leaving a legacy of sportsmanship and service.

In addition to being a recipient of the Bob Jones Award, the USGA's highest honor, Boatwright's legacy is celebrated through his enshrinement in the South Carolina Athletic Hall of Fame, Wofford College Hall of Fame and Carolinas Golf Hall of Fame, among others. In 1990, the Golf Writers Association of America presented him with the William D. Richardson Award in recognition of his outstanding contributions to golf.

The internship program is part of the USGA's annual $70 million investment back into the game fueled by revenues generated by the U.S. Open Championship.

About the USGA
The USGA is a nonprofit organization that celebrates, serves and advances the game of golf. Founded in 1894, we conduct many of golf's premier professional and amateur championships, including the U.S. Open and U.S. Women's Open. With The R&A, we govern the sport via a global set of playing, equipment, handicapping and amateur status rules. The USGA campus in Liberty Corner, New Jersey, is home to the Association's Research and Test Center, where science and innovation are fueling a healthy and sustainable game for the future. The campus is also home to the USGA Golf Museum, where we honor the game by curating the world's most comprehensive archive of golf artifacts. To learn more, visit usga.org.
News
Check out what has been happening in Utah Golf.
Utah Senior Stroke Play Championship
By Mike Sorensen
It got a little dicey toward the end, but Brigham Gibbs hung on to win the Utah Senior and Super Senior Stroke Play Championship at Glenmoor Golf Course.
The 56-year-old Gibbs finished with a three-day total of 6-under-par 210 to defeat Bountiful's Shane McMillan by four strokes.
Gibbs, who plays out of the The Country Club in Salt Lake City, had started the day with a six-stroke lead after a pair of 69s, but saw his lead dwindle to as little as two shots with two holes left as McMillan made a final-day charge. 
At the par-4 17th hole, the lead went back to three when Gibbs bogeyed and McMillan made a double bogey after a couple of poor shots.
However, at the par-5 18th, Gibbs' drive nearly went out of bounds and ended up against a fence. A two-stroke penalty could have opened the door for McMillan. But Gibbs was able to punch out, and his 5-iron ended up 8 feet away where he polished off the victory with a birdie.
Gibbs credited his "really good ball-striking" as the key to his victory, saying he missed numerous putts inside 10 feet, including four inside three feet during the tourney. 
Gibbs had earlier won the senior event at the Winterchamps in St. George and says he plans to play in a few Golfweek national events this summer.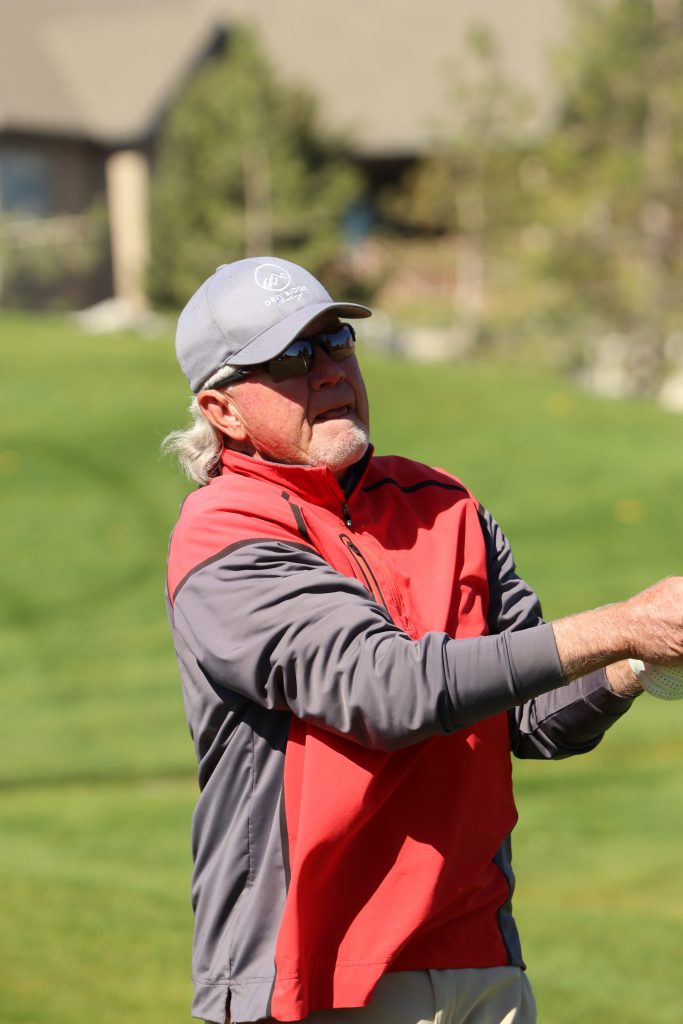 Bill Probst, from Wasatch Mountain State Park Golf Course won the Super Senior division (65+) with a 223 total, four strokes ahead of Dan Parkinson (Alpine, while Doug Marriott and Jon Memmott tied for low honors in the Legends division (70+) at 229, four shots ahead of Dan Telford.
News
Check out what has been happening in Utah Golf.
News
Check out what has been happening in Utah Golf.
BYU's Carson Lundell ties for medalist at Ping Cougar Classic
Lundell's win gives him his third win of the season for the Cougars
BYU's Carson Lundell and University of San Francisco's Tim Widing fired 13-under par 203s to share individual honors in the 54-hole Ping Cougar Classic at Riverside Country Club in Provo on Saturday.
San Francisco, who will join BYU at the WCC championships next week in Henderson, Nev., shot a blistering team score of 21-under par in Saturday's final round to win the annual classic by 13 shots over Boise State. Host BYU finished third in the team standings two shots behind Boise State at 26-under.
Utah finished in sixth place at 17-under. Utah Valley finished plus-30 in 18th place.
"We started the day just seven shots off the lead and I was very encouraged and proud of where we stood going int the final round," said BYU head coach Bruce Brockbank Jr. "Unfortunately, we did not make enough birdies on the back holes 13, 14, 15 and 16 to make a real charge."
Lundell and Widing made birdies on the final hole, their No. 1 par 4 to get to 13-under. A sudden-death playoff was planned until both San Francisco and BYU decided to award a co-championship trophy to the two low players in respect of San Francisco's travel plans and courtesy to club members who were waiting to take their turn on the course.
"I'm alright with that and so was San Francisco," said Brockbank.
University of San Francisco's Tim Widing fired 13-under par 203 to share individual honors in the 54-hole Ping Cougar Classic at Riverside Country Club in Provo on Saturday, April 24, 2021.
It marked the third medalist honor this season for Lundell who won at Fresno and was in a three-way playoff at the Western Intercollegiate a week ago. "Golfstat counts a tie as an individual title," said Brockbank, "So, this was a great win for Carson who has really come on late in the season and has carried this team on his back. I'm very proud of him."
Widing missed very makeable birdie putts on No. 15, 16, 17 and was an inch from putting in an eagle on his final hole, No. 1. He drove the green and had a 30-footer that just hung on the lip for eagle. On that hole, Lundell drove pin high in the fringe cut right of the green and chipped inside three feet for his birdie make.
"This was a great win for Carson (Lundell) who has really come on late in the season and has carried this team on his back. I'm very proud of him." — BYU head coach Bruce Brockbank Jr.
While Widing's putting abandoned him in crucial final holes Saturday, Lundell made remarkable scrambles out of the sand on 9, 11, and the right fairway bunker on his tee shot on 15 to keep his hopes alive after falling behind Widing by a stroke on the back nine in the final round.
Lundell hit a tree on No. 14 and his drive ricocheted hard into a fairway bunker near the dogleg par 4 and buried itself in the bunker upslope. "I took out a pitching wedge and hit it as hard as I could to get it out," he said. His recovery shot ended up font left about 30 yards from the pin where he chipped to within four feet and saved his bar.
On No. 16 his drive hit a tree and bounced to the middle of No/ 12 fairway. He hit a 60-degree wedge over a pine tree to within 30 feet and got up and down for par. His birdie putt on the par-3 17th came up three inches short. "It was right in the jaws," said Lundell. He makes that and he wins medalist honors outright.
Read Story on Deseret.com HERE
News
Check out what has been happening in Utah Golf.
Bailey Tardy, Hurricane's winds, rule the final round at Copper Rock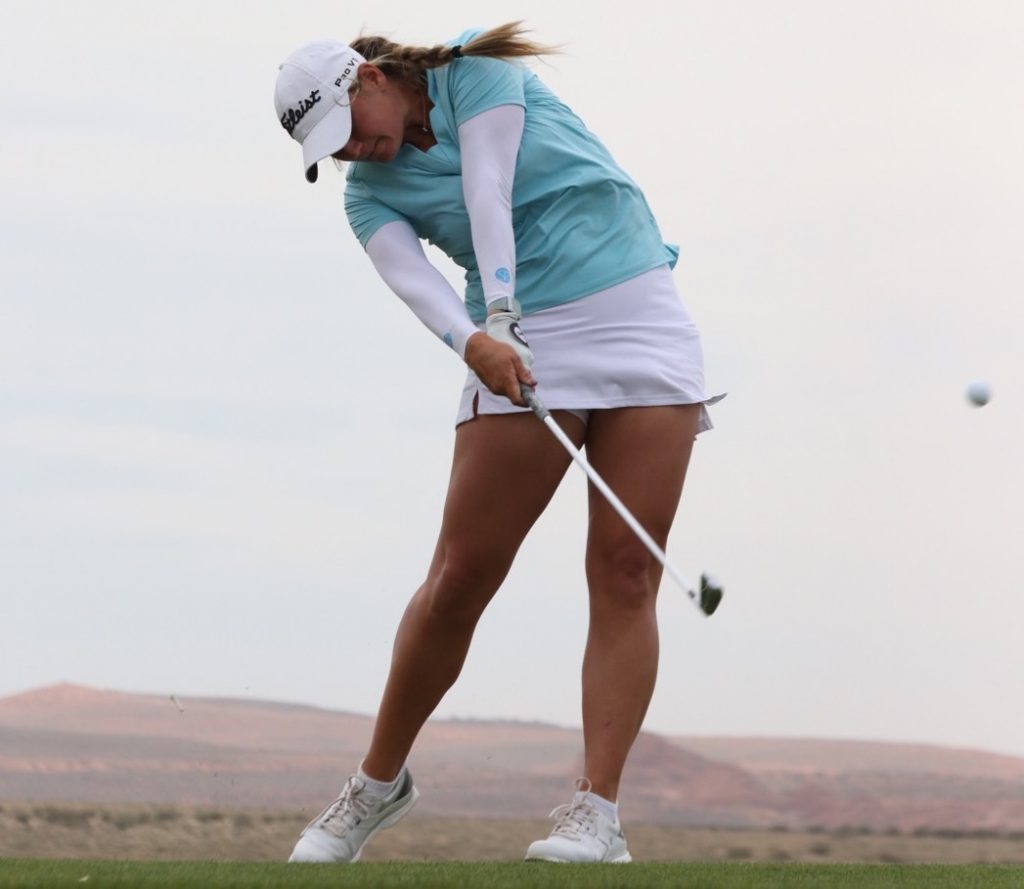 By Kurt Kragthorpe
The inaugural Copper Rock Championship came with a soundtrack. As the final threesome approached he 18th green, "Rock You Like a Hurricane" played on the loudspeaker.
The title had multiple meanings. Bailey Tardy will always remember Hurricane, Utah, as the site of her first Symetra Tour victory. And the other players who contended less successfully with Saturday's conditions will remember the hurricane-style gusting winds that framed the competition at Copper Rock Golf Club.
"That's real wind out there," said former BYU golfer Kendra Dalton. "Now we know why it's called Hurricane."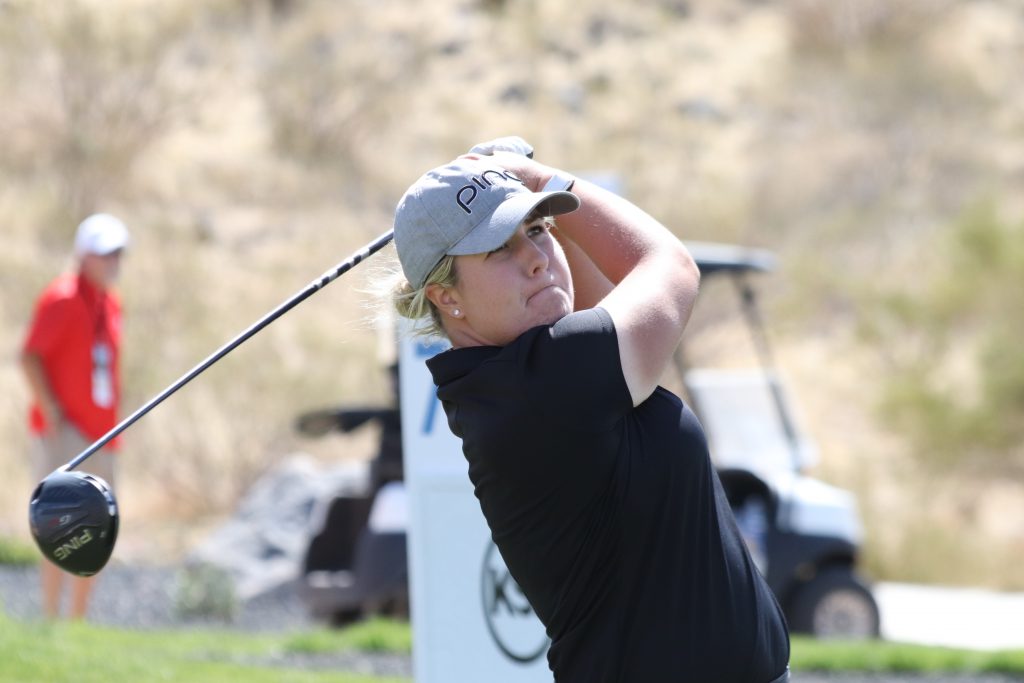 Tardy, a University of Georgia product, was more concerned about controlling her nerves and holding off an early challenge from Maude-Aimee Leblanc, who birdied four of the first five holes. Tardy started Saturday's final round of the 54-hole championship with a four-stroke lead and never lost it. And a surge in the middle of the round carried her to a three-stroke win over Leblanc and Samatha Wagner, as she posted 66-70-70 for a 10-under-par total.
Dalton made two sets of three straight bogeys over her last 11 holes, as the wind affected her putting and chipping even more than on her full-swing shots. Dalton's 78 dropped her to a tie for 45th place, after she started the final round tied for 25th. After four tournaments, she's 36th on the money list with $5,751.
Tardy earned $30,000 for the win, after a year when she just needed another $343. That's how close she came to making the top five in the 2020 Symetra Tour standings, in a pandemic-shortened season when only five LPGA Tour cards were awarded, instead of the usual 10.
"I was so close last year so many times," Tardy said. "To pull through and come out on top, it just means a lot to boost my confidence."
Tardy's key stretch came when she birdied the par-4 No. 10 and the par-5 No. 12, with a par save on No. 11 in between. Even after Leblanc cut the lead to one stroke, Tardy said, "I just stayed within my game and didn't freak out."
As for Dalton, she described herself as "a little disappointed with that finish," amid some consolation of a lot of other high scores being posted.
"I definitely have a lot of room to grow," she said. "I like to play in the wind, but this much wind, definitely there's a learning curve."
Dalton's troubles started on the par-5 No. 8, where she missed a short par putt after the gusting wind caused her to remark her ball multiple times, worrying that it may have moved. Having scrambled well the first two days, she then developed chipping problems, leading to bogeys on the par-4 No. 10 and the par-5 No. 12. Each of those bogeys came after perfect drives.
Her misadventures on No. 12 began after her downwind second shot rolled to the back of the gigantic, serpentine green, with the hole located at the front – more than 50 yards away. Her mishit chip shot traveled only about 10 yards, and then she tried to chip from the green and that didn't work much better into the wind.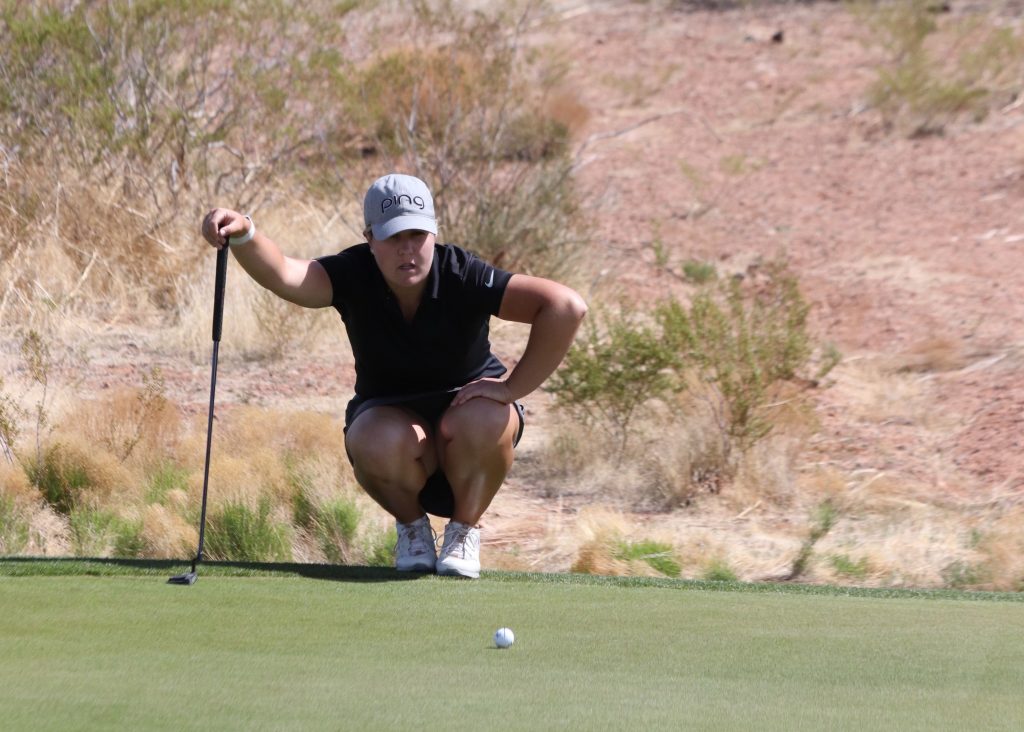 And on Nos. 17 and 18, having hit the greens in regulation, Dalton misjudged how the wind might affect her ball and she three-putted each time.
Dalton's final-round fade extended her pattern through the Symetra Tour's first four events of the season. Yet as the schedule continues this week in Garden City, Kansas, she still likes the way she's playing.
"Today didn't look like it, (but) I felt like the first two days, I did everything pretty well. … For the most part, my games feels pretty solid all around."
The wind will be the biggest takeaway for many of the tour players, but they otherwise seemed to like the Copper Rock Championship's atmosphere. "I thought it was actually so fun," Dalton said. "I mean, a lot of weeks we have no one (watching) on tour. And so to have the grandstands and the people on the first tee and 18th green, it's so fun."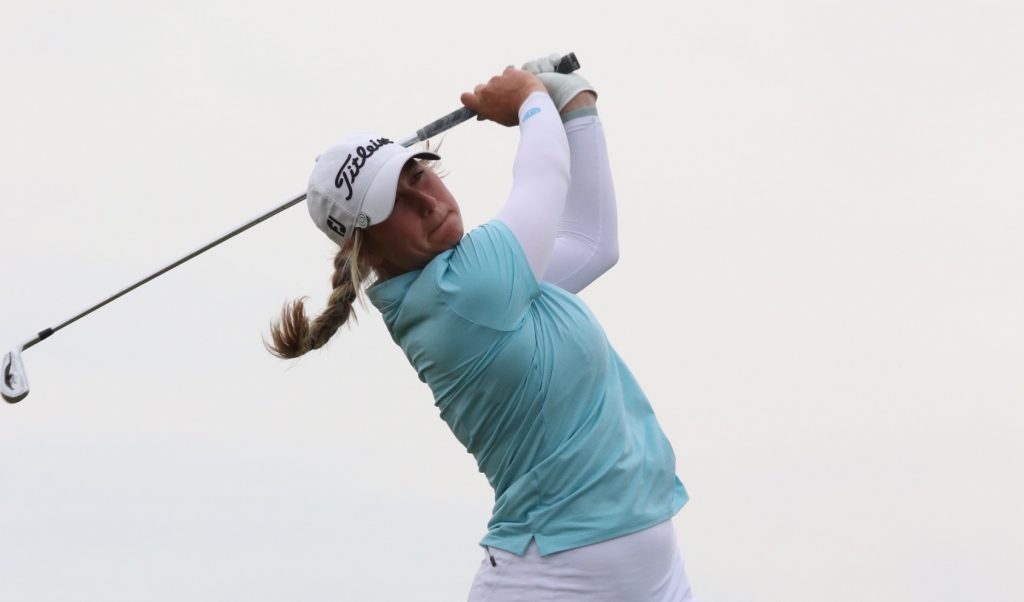 During the trophy presentation, Copper Rock's Kenneth Knudson announced that the tournament will return to Hurricane through at least 2023.