News
Check out what has been happening in Utah Golf.
Personal, Professional, Pioneering – Women in Utah Golf
They grew up in an era when playing high school golf meant challenging the boys and picturing a career in the golf industry required some imagination.
Thanks to a combination of personal drive, professional help and pioneering spirit, women occupy prominent positions throughout the management and administration of Utah golf. They're bonded together and inspired by seeing one another perform in these jobs and are proud to know they're showing the next generation of golfers what's available to them in the future.
"Golf in Utah is more popular than ever, and I think that female PGA professionals and golf administrators will play a key role in creating an inclusive environment for all players," said Lynsey Myers, the head pro of Willow Creek Country Club.
Read the complete feature story from long-time Utah sports journalist and Fairways Media senior writer Kurt Kragthorpe in this issue of HER Fairways, Click Here.
News
Check out what has been happening in Utah Golf.
Utah PGA Professionals Win Governor's Cup; UGA Ladies Secure Goddard Cup in Annual Ryder Cup Style Events
By Jesse Dodson
Every year the top Utah Section PGA Professionals and Utah Golf Association amateurs compete in the Governor's Cup and Goddard Cup, a Ryder Cup styled event at TalonsCove Golf Course in Saratoga Springs, Utah.
For the first time since 2019, Team Utah PGA secured the Governor's Cup earning 21.5 points to the UGA's 10.5, earning one point per match Sept. 27th.
"I feel ecstatic about it," Team Utah PGA Captain and Sunset View Head Pro Casey Fowles said. "It was fun to play like we did, it's been a hard event for us, playing against the young kids, college kids and the others that are amazing players."
The morning consisted of Foursome matches where the PGA Pros picked up a big lead, winning five matches out right and earning half-points it two other matches – earning a 6-2 lead going into afternoon Four-Ball and Singles matches.
The Utah PGA seniors Tracy Zobell, Ryan Rhees, Henry White and Paul Phillips took care of business, winning each of the Foursome and Four-Ball matches and only losing one Singles match.
Of the 24 points available in the afternoon matches, Utah PGA earned 15.5, leading to the 20.5 to 10.5 victory.
Highlighting the Four-Ball matches were Fowles and Bonneville Head Pro Jordan Gibbs, who defeated Utah State Amateur champion Zac Jones and top Utah junior golfer Cooper Jones 4&3.
Davis County Golf Professionals Zach Johnson and Dustin Volk also won their match against Brody Childs and Devin Tovey 4&3.
Gibbs won his Singles match against Cooper 5&4 while Rhees and Phillips also claimed 5&4 victories.
In the Goddard Cup, Team UGA essentially had control of the lead the whole day from the opening tee shots.
Team UGA had a clean sweep of the morning Foursome matches, earning a 3-0 lead. BYU freshmen Sunbin Seo and Berlin Long won their morning match 6&5 over Golftec's Xena Motes and Utah PGA's Cassie Campos.
The Utah Section professionals made a surge in the afternoon Four-Ball and Singles matches with Motes and Utah Golf Hall of Fame member Sue Nyhus earning a point with a 4&3 victory over Seo and TalonsCove General Manager Kareen Larson, while Carly Dehlin-Hirsch, Motes, Nyhus and Campos all won their singles matches, earning another 4 points.
However, the UGA ladies earned key victories with BYU's Adeline Anderson and Long winning their Four-Ball match and Sarah Salvo and Annette Gaiotti securing their Four-Ball point as well.
Anderson and Salvo's afternoon play helped carry the UGA to a 7-5 victory over Team Utah PGA, their third win in four years.
"The Goddard and Governor's Cups are such a fun day of camaraderie between the UGA and PGA," said UGA Operations Manager Colin Clawson. "While we were disappointed that our three-peat bid fell short in the Governor's Cup, we are thrilled to be able to bring the Goddard Cup back to the UGA. The ladies were disappointed last year so it was fun to see their excitement as they came out victorious."
Governor's Cup Results: Click Here
Goddard Cup Results: Click Here
News
Check out what has been happening in Utah Golf.
Utah Golf Association announces "Excellence in Golf Promotion" special recognition honor
In an effort to recognize people throughout Utah who have made a significant contribution to the development, growth, improvement, or promotion of golf facilities, programs, events, or organizations, the Utah Golf Association (UGA) is pleased to announce the addition of a special recognition honor to be known as "Excellence in Golf Promotion".
Former UGA board member and Gold Club award winner David Terry said, "This special recognition honor will recognize individuals or organizations that have significantly added to Utah's efforts to grow and protect the game of golf especially at the local club level."
The accomplishments to be recognized may be associated with facilities, programs, events, or organizations that are either publicly or privately owned and operated. This honor will be presented in the category of "Recent Accomplishment" for living nominees, or "Historically Significant Achievement" to posthumously recognize people for contributions to the game dating back to the earliest days of golf in Utah.
The individual or group submitting a nomination must provide all information requested on the UGA's "Excellence in Golf Promotion" nomination form which will be made available on UGA's website, UGA.org under the awards menu button.
While honorees will be recognized at the UGA's annual awards banquet, the official presentation of the "Excellence in Golf Promotion" honor will take place in the recipient's home community. Whenever possible, the presentation will be conducted by a member of the UGA's executive committee and will take place at a public meeting of local elected officials.
In explaining the purpose of this special recognition honor, UGA president, Brian Hulse, said, "When this "Excellence in Golf Promotion" program was presented to our board of directors in 2019 by David Terry, we were unanimous in our support given the many passionate local golf promoters throughout the state, whose tireless efforts to grow the game we love otherwise have largely gone unrecognized."
The UGA will present its inaugural "Excellence in Golf Promotion" honor posthumously to Charles Nibley. This honor is in recognition of Nibley's property donation to Salt Lake City resulting in the creation of Utah's first public golf course, one hundred years ago, in 1922. Nibley Park Golf Course paved the way for Utah to become a national leader in the availability of quality, affordable publicly owned golf courses.
Nibley was a prominent businessman and Church of Jesus Christ of Latter Day Saints general authority. He was born in Hunterfield, Scotland, to James and Jean Wilson Nibley on 5 February 1849, the sixth of eight children. In 1855 the family emigrated to America, and after a five-year stay in the East came to Utah and settled in Wellsville.
Nibley was a well-known philanthropist. Much of his philanthropy was accomplished quietly; however, one of his public contributions was the donation of Wandamere Park, now Nibley Park Golf Course, to Salt Lake City as a Christmas present in 1921. The Park was officially designated as the Nibley Park Golf Course in May of 1922.
In a formal ceremony in May 1922, Nibley said: "When I think that this generation and the generations of men and women yet to come shall find healthful enjoyment and rare pleasure here in playing that splendid outdoor Scotch game known as golf, that thought gives me the highest satisfaction and most genuine pleasure."
He refused to allow a memorial to be erected in his honor, saying that the money could be better spent to "improve one of the greens." The City Commission, however, had already passed a resolution recognizing the gift, guaranteeing to maintain the park, and naming it in honor of the donor. Nibley Park thus became the first public golf course in the state.
Charles Nibley died in Salt Lake City on 11 December 1931 at the age of eighty-two.
The centennial celebration of Nibley Park Golf Course will be held Sept. 23-24th at Nibley Park.
Photos provided by Utah Section PGA professional, Jeff Waters.
News
Check out what has been happening in Utah Golf.
Utah Golf Association names Easton Folster, new executive director
Sept. 20, 2022, Salt Lake City, Utah: Utah Golf Association (UGA) President Brian Hulse has announced Utah native Easton Folster as the new executive director effective immediately.
Folster fills the executive director position left vacant with Jacob Miller's move earlier this year to the United States Golf Association as a regional director.
Hulse said, "The Utah Golf Association has a long history of excellence maintained by the commitment and dedication of its board members, volunteers and many talented executive directors. We are pleased to have Easton Folster continue that tradition as our new executive director. Our board and executive committee are excited about the future possibilities that Easton promises to bring to the UGA. His relationships with other stakeholders in Utah golf are an invaluable asset as we strive to meet the challenges faced by our organization and the game of golf in the coming years."
Folster joined the UGA in February of 2018 as the director of rules and competitions, a position he held until 2022 when he became the assistant executive director under Miller.
Miller said, "Easton has been a great addition to the UGA team since he started in 2018. He has a passion for the game and the Utah golf community.  It is wonderful to see him get the opportunity and he will be an excellent leader for the UGA for many years to come."
Born and raised in Mapleton, Utah, Folster is a graduate of Springville High School. Prior to joining the UGA Folster spent three years as the director of rules and competitions for the Sun Country Amateur Golf Association in Rio Rancho, New Mexico.
Prior to his golf industry career Folster attended Brigham Young University before earning a Bachelor of Arts Degree in Spanish from Campbell University in North Carolina. Less than two years later, Folster earned a Master of Professional Studies Degree in Sports Industry Management from Georgetown University in Washington D.C.. During his time in graduate school, Easton worked in the athletic departments at both Georgetown University and George Washington University.
Folster discovered his passion for the golf business while working at the Virginia State Golf Association as a USGA Boatwright intern before accepting a full-time position with the Sun Country Amateur Golf Association.
Folster said, "I am honored to be selected as executive director of the Utah Golf Association. When I look at those that have come before me, I am humbled to follow the legacy they have established. The Utah golf community is strong and enjoys a cohesion not seen in many states. I look forward to collaborating with Utah's allied golf organizations' leadership to build upon important established traditions, while creating new ones. It will be important to me that the game remains accessible to the greater population of Utah, while looking for ways to introduce the game to new golfers. It is my hope that my time as executive director is remembered for expansion, inclusion, and community outreach."
News
Check out what has been happening in Utah Golf.
Utah's beauty, culture exposed to golfers from Scotland in Friendship Cup final at Sand Hollow
HURRICANE, Washington County — While the coffin of Queen Elizabeth II was lying-in-state in Edinburgh, Scotland, before being taken to London, a dozen amateur golfers from Scotland, many of whom live near Edinburgh's Palace of Holy Roodhouse, were at Sand Hollow Resort in Utah to compete in the Friendship Cup, a Ryder Cup-type competition with players from Utah.
The Scots spoke in hallowed tones of the legendary monarch, but they also had golf to play in Utah and had planned on this trip for months, some for years. These players were actually in the air flying to America when word came that she died and her casket was viewed at St. Giles Cathedral in The Royal Mile in Edinburgh.
Team Sand Hollow defeated Team St. Andrews 25.5 to 15.5 after singles finished on Tuesday. Most of the participants were involved in a Charity Cup match on Wednesday. The first part of this match was played in Scotland in June.
This is the second time the Scots have made the trip to Utah as Utahns reciprocated earlier by playing in Scotland in June. The biggest part of the event, dreamed up and created by Utah natives Mark Leavitt and Dave Wilkey, is organic natural diplomacy and brotherhood created between the group of Americans and Scots.  
Read more from Deseret News sports columnist Dick Harmon, CLICK HERE.
News
Check out what has been happening in Utah Golf.
Utah's alumni golf team wins University Cup at Sand Hollow
Former Utah golfer Jordan Costello fired a 7-under-par 65 to win medalist honors and lead his Ute team to the Zions Bank University Cup title at Sand Hollow Golf Resort on Tuesday, a part of Golf Week in southern Utah.
Utah's Mitchell Schow finished second, two shots back with a 67. The Utah team, comprised of former Utes and friends of the program, earned a $40,000 check for the golf program. Other Utah team members were Garrett Clegg (photo), Michael Blackman, Chad Pettingill and Blake Tomlinson.
"It's just great to get out and represent something again, something besides yourself. … It was great to see some of the guys," said Costello, who is a professional player and tried to find a spot on the Korn Ferry Tour.
Read the complete Deseret News feature from sportswriter Dick Harmon, CLICK HERE.
News
Check out what has been happening in Utah Golf.
Team McMillan Defeats Team Gibbs to Secure Captain's Cup Victory
Team McMillan Defeats Team Gibbs to Secure Captain's Cup Victory
What is the Captain's Cup?
The Utah Golf Association's annual Captain's Cup features the best senior and super-senior players in Utah. Two teams square off in a Ryder Cup-style match. Teams are chosen by the top-two players on the Senior Player Performance Rankings who serve as captains. Their teammates are the top 10 seniors and the top four super-seniors on the Senior Player Performance Rankings.
This year's competition was held at Jeremy Ranch Golf & Country Club and included morning matches, lunch and afternoon four-ball and singles matches. 
Team McMillan started the competition off strong winning three of the four matches and finishing with a nine to three (points) victory in the alternate shot portion of the event. Team captain Shane McMillan and partner Jon Rhodes earned 3 points to increase the lead. 
In the afternoon, Team Gibbs took control of the four-ball portion winning 6.5 to 5.5. The matches went all square at two wins per team. Team McMillan took the points in the singles match portion ending in a 28.5 to 18.5 final victory for Team McMillan.
The UGA thanks Jeremy Ranch Golf & Country Club for hosting the event.
For full results, CLICK HERE
News
Check out what has been happening in Utah Golf.
Southern Utah Women's Golf 2022-23 Season Preview
CEDAR CITY, Utah – The Southern Utah University women's golf team will begin their 2022-23 season this Monday in Springville, Utah at the Hobble Creek Fall Classic, hosted by Utah Valley.
SUU returns five golfers from last season, and Head Coach 
Richard Church
 has brought in three very talented freshmen ahead of the start of the season.
CLICK HERE for a breakdown of each player by class.
News
Check out what has been happening in Utah Golf.
Southern Utah Men's Golf 2022-23 Season Preview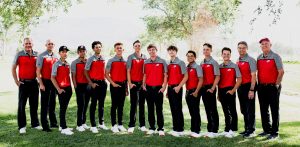 CEDAR CITY, Utah – The Southern Utah University men's golf team will begin their 2022-23 season this Friday, as they travel to Colorado Springs, Colorado to compete in the Gene Miranda Falcon Invitational hosted by Air Force at the Eisenhower Golf Course.
Head Coach Richard Church has added some strong new talent to surround a solid core of returning players from last season. Southern Utah returns seven golfers from last season's team, and Church has brought in one transfer player in addition to two freshmen newcomers.
A difficult schedule that includes tournaments hosted by Colorado, Wyoming, UC Santa Barbara, UC San Diego, and CSUN awaits the Thunderbirds, as they prepare to compete for a conference championship in their inaugural season as a member of the Western Athletic Conference.
CLICK HERE for player bios by class.
News
Check out what has been happening in Utah Golf.
Strong Finish from Barcos Highlights Final Day of Fighting Irish Classic
SOUTH BEND, Ill. – Javier Barcos ended the day with three straight birdies to finish at 1-under and earn a share of 21st while the University of Utah men's golf team placed 13th on the final day of the Fighting Irish Classic, which took place on Monday at the Warren Golf Course.
"Javi had a really good finish, birdieing his final three holes," said coach Garrett Clegg. "We had some good moments, but overall, this was not close to how we expect to compete. We have a lot of lessons to learn and a lot of growth has to happen this year. We're excited for what's ahead and will work to make sure we are better at the Husky Invitational."
 
Barcos' 69 was the Utes' lowest third round score and he reached that number despite logging three early bogeys. Over his final 12 holes, however, the junior from Estella, Spain shot 3-under, including birdies on the seventh, eighth and ninth holes to close out his day. This strong finish resulted in Barcos jumping up 13 spots and sharing 21st with four other competitors.
CLICK HERE for more.