News
Check out what has been happening in Utah Golf.
Changes Coming to 2023 UGA Championship Season
In 2023 players should expect a few changes to the format of some UGA Championships. These changes are being made after careful consideration, factoring in the current needs of the championship, and UGA member input. Here is what to expect in 2023:
Super-Senior Age Change & Player of the Year:
In an effort to increase the level of competition in both the Super-Senior and Legends divisions, the age for the Super-Senior division has been reduced from 65 to 60. This age bracket now matches the age brackets at the Utah Section PGA and creates a more natural progression for players to advance from Senior (50), to Super-Senior (60), and finally to the Legends (70) Division. In addition to this change, the UGA has added a Super-Senior Player of the Year Award.
Winterchamps:
This championship will now feature maximum capacities per division. These were calculated based on historical data and are intended to allow all UGA Members with a chance to play in this popular event. Additionally, with ever increasing popularity in the state, it has become more difficult to obtain golf courses as host sites. With that in mind, Winterchamps will be reduced from 3 sites to 2 sites.
Spring Open & Women's Four-Ball:
Similar to Winterchamps, teams will now be able to choose their pairing for Round 1 of each competition. Teams will be re-paired for Round 2 based on results from Round 1.
Utah Mid-Amateur Championship:
Given the historical success and popularity of this event, this event will now expand to two separate one-day 18-hole qualifiers to be able to compete in the championship proper.
Utah State Amateur Championship:
Going forward, the field size for the Utah State Amateur will be reduced to 156 players. As such, the UGA has greatly reduced the exemptions for this event. To review this list, please Click Here.
Utah Senior State Amateur Championship:
This championship will now feature a Legends Division. 48 senior players, 24 super-senior players, and 12 legends players will qualify to championship week through regional qualifying or through exemption.
Utah Senior Women's Amateur Championship:
New in 2023, the four-lady match play bracket will be played with the semifinals on day 3 and the final match on day 4.
News
Check out what has been happening in Utah Golf.
The Country Club in Salt Lake City to Make USGA Championship Debut
The United States Golf Association (USGA) announced that The Country Club, in Salt Lake City, Utah, will host the 2034 U.S. Women's Amateur Championship. It will be the first USGA championship held at the club and only the second conducted in the state of Utah.
"As one of the oldest clubs in the western United States, The Country Club is steeped in golf history and is sure to provide a spectacular setting for the 134th U.S. Women's Amateur," said Mark Hill, USGA managing director, Championships. "We are eager to bring USGA championship golf back to Utah and are thrilled to add The Country Club to the list of national championship host venues."
Founded in 1899, The Country Club sits on the southeast side of Salt Lake City, a 10-minute drive from downtown. Originally located in what is now the Gilmer Park neighborhood, the club relocated once in the early 1900s before settling into its present location in the foothills of the Wasatch Mountain range in 1920. William Watson and Harold Lamb designed the 18-hole golf course on 175 acres near the mouth of Parley's Canyon.
"It is an honor for The Country Club to have been selected to host the 134th U.S. Women's Amateur, and to bring this distinguished championship to Utah for the first time," said Chris Gose, club president. "This is an exciting opportunity for our membership and the entire Salt Lake City community, and we look forward to hosting the world's top female amateur golfers in 2034."
The Country Club restored the original 1924 clubhouse in 2002 and completed a golf course renovation in 2007 led by John Harbottle, which included new bunkers, teeing areas and greens. The club will host the Utah State Amateur for the 42nd time in 2023 and has hosted the Utah Women's State Amateur 26 times, most recently in 2006. It also hosted the 1947 Western Open and the 2016 Pac-12 Men's Golf Championships.
The Beehive State previously held the 2012 U.S. Amateur Public Links at Soldier Hollow Golf Club in Midway, which was won by T.J. Vogel. Vogel's 12-and-10 victory over Kevin Aylwin in the final was the second-largest margin of victory in U.S. Amateur Public Links history.
News
Check out what has been happening in Utah Golf.
Cameron Gray manages Sky Mountain the best at the Hurricane City Amateur
Mother Nature threw a hard winter blast at the Hurricane City Amateur, Jan. 20-21st, canceling the
opening
round with snow on the ground.
Scotland native and Weber State junior Cameron Gray took it all in stride carding a final round 4-under 68 at Sky Mountain GC.
Gray said, "I've always played quite well in the wind because I hit the ball straight. But (dealing with) the cold was a mixture of growing up in Scotland and living in Ogden, it's just as cold up there, as a whole."
Read more in Fairways Media Photo Journal's recap of the Hurricane City Amateur, Click Here
News
Check out what has been happening in Utah Golf.
Playoff Win for Boston Bracken at the Southern Swing's St. George Amateur
Crimson Cliffs High's Boston Bracken and BYU's Zac Jones finish T1 (-17) in Utah's second Southern Swing event at the 36-hole St. George Amateur, Jan.13-14th. Playing St.George Club's par 73 course, Bracken and Jones finished one-shot better than Utah Tech golf's Davis Heslington and were two-shots better than Lone Peak High's Cooper Jones.
Following regulation play Bracken and Zac Jones tied the 10th hole, the first hole of a sudden death playoff. Then on the par 5 18th hole, Bracken made a five foot birdie to win the playoff.
Bracken shot 67-62 to match Jones' rounds of 65-64 -129 total. He started three shots back to begin the final round with Cooper Jones and Heslington as the first round leaders at 9-under 64.
For the complete St. George Amateur championship recap from Fairways Photo Journal CLICK HERE.
News
Check out what has been happening in Utah Golf.
Lone Peak's Kihei Akina lands the Coral Canyon Amateur, the first UGA PPR tournament of the new year
The Coral Canyon Amateur featured a full field and a healthy wait list to begin Utah's amateur golf season but when it came down to the back nine of final round Saturday, it was just three of the top five players on the Utah Golf Association's Player Performance Ranking list battling it out for the champion's trophy.
Lone Peak sophomore Kihei Akina had a one shot lead going into the final round over last year's Utah State Amateur champ, Zac Jones. Akina made three birdies on his final five holes (on the front 9) in Friday's (Jan. 6) opening round to shoot (-6) 66.
Click here to read the complete Coral Canyon Amateur feature from Fairways Media Photo Journal.
News
Check out what has been happening in Utah Golf.
Chase Hansen chosen by UGA for Director, Marketing & Membership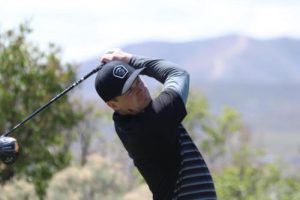 Easton Folster, the recently hired executive director of the Utah Golf Association, announced that he, with the support of the UGA Board of Directors, has hired Chase Hansen to fill the role of Director, Marketing & Membership.
Hansen, an assistant at the Eagle Mountain Golf Course and a Utah PGA Apprentice, will fill the office left vacant with William Michetti's departure earlier this year.
"I am very excited about what Chase will bring to the Utah Golf Association," Folster said.  "His background in marketing along with his experience in the golf industry makes him an ideal fit for this role. Being a member of the Utah Section PGA will provide a unique angle and approach to our membership and marketing efforts that we have not had prior.  He understands the golf industry at a profound level, and I am excited to have him head our Marketing & Membership department.  He is going to do great things for the UGA membership."
Moving from golf course operations to golf administration has always been "very intriguing to me," Hansen said. "One thing that is important to me, is to strive to grow the game of golf for everyone in Utah."
Hansen plans to complete his work with the PGA of America to become a Class A Professional within the next year.
"I really enjoy working as a golf professional on the green grass side but my favorite part of being a golf professional is the business and administration portion of golf," said Hansen. "Though this position may be very different than what many golf course professionals do day to day, I believe that many of the goals and challenges are similar … I hope to continue to elevate golf in many different areas in Utah."
Hansen will join the staff of the UGA in January.
News
Check out what has been happening in Utah Golf.
Mike Weir named International Team Captain for 2024 Presidents Cup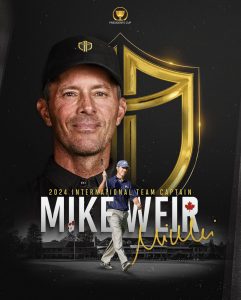 Presidents Cup and PGA TOUR officials announced this week, 2003 Masters champion Mike Weir has been named captain of the International Team for the 2024 Presidents Cup, to be contested at Royal Montreal Golf Club in Montreal, Quebec, Canada for the first time since 2007.
The President's Cup's return to Royal Montreal marks a career highlight for the BYU golf alum as the site of his individual win over Tiger Woods in the Singles matches on the final day of the 2007 event. Weir defeated Woods 1up after Woods just missed a chip-in on the final hole.
Weir said, "When I look back, I have so many incredible memories associated with this event whether it be my debut in 2000; winning my Singles match against Tiger in 2007 at Royal Montreal (photo above); witnessing Ernie create the shield in 2019; and then seeing Trevor carry that momentum in 2022. Now as I look with anticipation toward 2024, I couldn't be more excited to lead the International Team into my home country of Canada for what will surely be the experience of a lifetime."
Read more from Fairways Photo Journal, CLICK HERE.
News
Check out what has been happening in Utah Golf.
UGA Names Colin Clawson as new Director, Championships and Golf Operations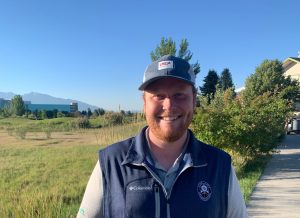 The last line of the job posting for the Utah Golf Association's director of championships and golf operations was cautionary. Candidates needed the "ability to work an extensive schedule during the tournament season."
That's exactly what attracted Colin Clawson to the position.
Clawson was promoted to that job within the UGA staff, extending a series of upward transactions that started when former executive director Jacob Miller moved to the United States Golf Association in May. After an extensive search, Easton Folster was elevated to succeed Miller in September, then Clawson moved into Folster's role in November.
"I had my sights set on it, really all year," Clawson said, hoping the sequence of promotions would materialize.
Clawson may be a beginning golfer, but "he is a fast riser in the golf industry," Folster said.
His ascent has happened quickly. As Clawson observed to his wife, Emily (photo above), he was a UGA intern only a year ago. He accepted a full-time job as operations manager in January, and was promoted within 11 months.
Two developments in 2022 made that possible: Clawson proved himself amid the UGA's temporary staffing shortage after Miller's departure, and the game continued to make quite an impression on him. He discovered how much he loved administering UGA events, while being primarily responsible for all of the women's championships.
In early August, a COVID-19 diagnosis sidelined Folster for the Women's State Amateur. That news came 36 hours before the stroke-play qualifying round commenced. Clawson realized, "OK, this is my show."
The production was a hit, as the 116th Women's State Am at the Ogden Golf & Country Club became memorable with Kelsey Chugg's fifth career victory. "Not necessarily because of me, but that was just the smoothest week," said Clawson, who experienced the satisfaction of having staged a successful tournament during a celebratory dinner with the UGA interns who helped him.
That week was one more example of how Clawson "quickly gained the respect of his colleagues," Folster said.
Later in August, on a cool morning in Parleys Canyon, Clawson was placing the markers on tee boxes as the sun was rising spectacularly over Mountain Dell Golf Course. He thought to himself, "This is my job?"
And it fully is his job now. He's responsible for the UGA's annual calendar of 12 championships, with the premier events of 2023 including the 125th Utah State Amateur at The Country Club in Salt Lake City and the 117th Women's State Amateur at Jeremy Ranch Golf & Country Club.
The job description covers USGA qualifying events in Utah, plus "site selection, registration, qualifying events, volunteer coordination, course marking and all aspects of tournament-day logistics" for the UGA championship schedule.
As a UVU student majoring in public relations, Clawson interned in the athletic department and knew he wanted to work in sports. Golf entered the picture when a friend encouraged him to apply for a UGA internship. He missed the deadline for 2020, but got that opportunity in 2021 and embraced it, asking Miller and Folster to mentor him. Clawson soon recognized that he liked "administering a game that brought people so much joy," he said. "It's not hard for me to wake up at 4 a.m., because I want to go to the golf course."
Feature written by Fairways Media senior writer Kurt Kragthorpe.
News
Check out what has been happening in Utah Golf.
Summerhays earns Korn Ferry Tour status to begin 2023
Approaching his 39th birthday in December, Daniel Summerhays is eliminating "retirement" and "comeback" from his vocabulary. A two-year detour from his touring pro life, time spent as a Davis High school teacher and BYU volunteer assistant coach, has led him back to Korn Ferry Tour membership.
His outlook? Enjoying what he's doing in the moment.
Summerhays earned Korn Ferry Tour full membership to begin the 2023 season by tying for 17th place in the final stage of qualifying at Savannah, Georgia, in mid-November. The top-40 finish gives the graduate of Davis High School and BYU eight guaranteed starts as the season begins in January in the Bahamas. As of mid-April, he'll be subject to periodic, performance-based reordering of golfers' access to tournaments.
Summerhays will join BYU alumnus Patrick Fishburn, who earned full status for a third KFT season with a top-75 finish in the 2022 standings. Another ex-Cougar, Peter Kuest, will have low conditional status in 2023 after tying for 125th in the final stage.
Summerhays (65-69-72-72) finished two strokes out of the top 10, which would  have given him 12 guaranteed starts. He deserves credit, though, for steadying himself during the final round, playing the last seven holes in 1 under par. Summerhays stayed comfortably inside the top 40, a goal he targeted this past summer.
"I wasn't planning and scheming for a PGA Tour comeback or anything," he said. "I just wanted to keep the goal short term and put in my best effort in preparation. (The final stage) was so fun and terrifying at the same time. I was nervous the entire week, which is so healthy and natural when you work hard for something and when you want to perform at a high level. … I was able to deal with some adversity and anxiety and finish how I wanted to."
Summerhays added, "Now, I will reevaluate what my next short-term plans are and work toward that."
Feature written by Fairways Media Senior Writer, Kurt Kragthorpe. Photos by Fairways Media.
News
Check out what has been happening in Utah Golf.
UGA Gold Club Award – Karen Gardiner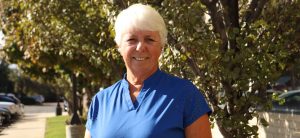 Being paired with Karen Gardiner for the first time in a tournament helped Sally Milbank produce the best round of her life. Gardiner's effect on every golfer may not be quite that dramatic, yet there's no doubt that thousands of women have benefited from her organizing ability.
Gardiner's work with six local and statewide golf groups validates her selection as the 2022 Gold Club Award winner, presented by the Utah Golf Association.
How do you describe a worthy recipient of the Gold Club Award? The UGA's definition is a good starting point, identifying a person "who through significant achievement or unselfish service has contributed to the history and tradition of the game of golf in Utah, and whose personal integrity, sportsmanship, common courtesy, loyalty and friendship earn the love of fellow golfers."
Another way of framing it? "Because I never say no," Gardiner observed, laughing.
Well, that explains why she's always being asked to launch and administer golf leagues at various levels.
"I'm very organized and I truly like people and I want things to be the best they could be," added Gardiner, who received the UGA Lady Award in 2013. "I kind of look at myself as a cheerleader, more than anything."
While working at Hill Air Force Base, she directed a league for Boeing employees for 22 years. Perhaps not surprisingly, that group dissolved upon Gardiner's retirement. Her influence expanded, though. Gardiner is involved with associations at Schneiter's Riverside, Hill AFB, The Barn GC, Eagle Lake GC, the Northern Utah Golf Association (an alliance of eight courses, with team matches) and the UGA, as a third-year board member.
Informally, "She has always been the source of information about women's golf, tournaments, league play and, of course, the Rules of Golf," Milbank said in nominating Gardiner for the Gold Club Award.
Gardiner loves golf. Her husband, Ron, no longer plays, but "I'm making up for him," Gardiner said, by playing six days a week.
That reflects commitment beyond her personal interest in the game, as the members of those golf associations would attest. Remember, "loyalty" is one of those Golf Club Award traits. Mary Amidan long ago was one of Gardiner's first golf partners, and they played together again in the recent Joyce Billings Memorial tournament in Hurricane. And then there's Milbank, who acknowledges her golf performance never has matched that initial success with Gardiner. But "fortunately," she said, my friendship with Karen has been unfailing ever since."
Read more from Fairways Media senior writer Kurt Kragthorpe in the November issue of Fairways magazine.