News
Check out what has been happening in Utah Golf.
The Future of Golf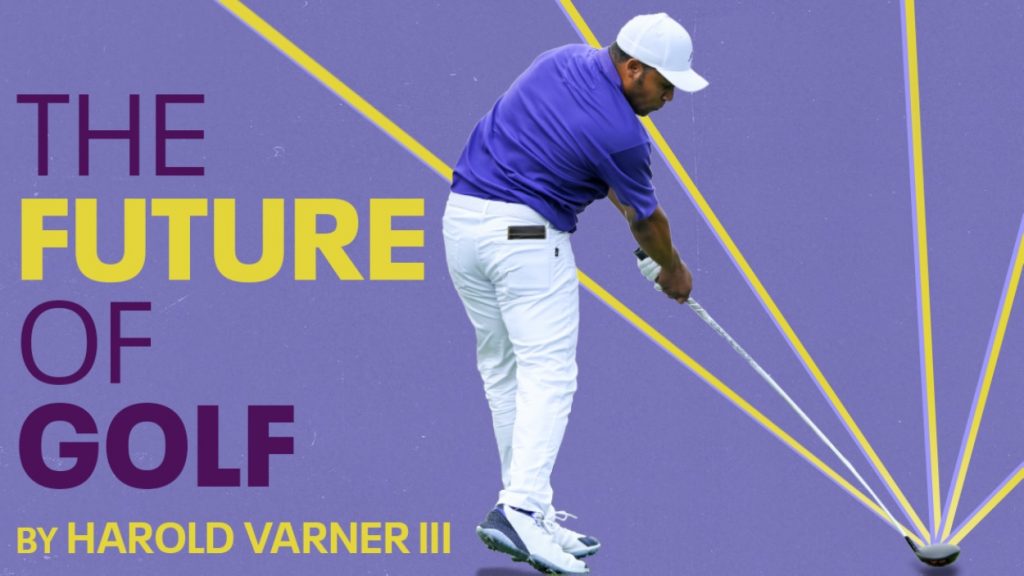 By: Harold Varner III
I'm not supposed to be writing articles for Golf Digest.
I'm not supposed to have made my way to the PGA TOUR.
I'm not supposed to be here, you know? For so many reasons, I'm just not.
But the reality is, I am. It's the culmination of luck and a heck of a lot of work … and over the
past few years, I've realized it's given me a bigger purpose. It's not about trying to win on the
PGA TOUR, though that day is coming. It's about something bigger than that.
It's about the collective WE.
Look, I'm always gonna keep it real with you. I learned that from my parents at an early age, to
always be true to who I am, even if there's pressure to act a certain way or say certain things to
fit into a social construct.
That isn't me. If you want the same old story, there's a little X mark in the top corner of your
screen that you can click. But if we're REALLY talking about growing the game — if we REALLY
want to change the narrative around access to golf — you should settle in and keep reading.
I've written about it before: We're not growing the game enough for Black kids. I realize that I'm
in a position to help the Black community because of who I am and what I look like — and I'm
going to do everything in my power to be that guy to bring more of us into the game. But in that
same breath, I want to acknowledge that we're also not growing the game enough for Hispanics,
Whites and Asians alike. Everyone deserves an opportunity to play golf, and dollar signs should
never be a hindrance to putting a tee in the ground.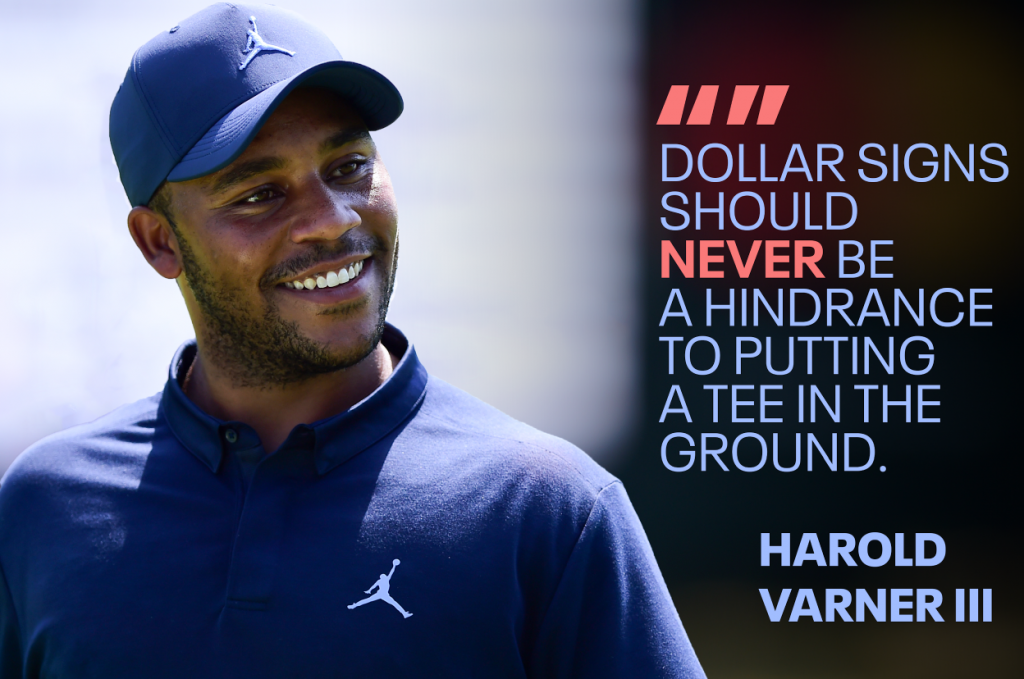 I know that, because my parents laid it all on the line for me, giving me the chance to do
something significant with my life. When I was 9 years old, my mom and dad dipped into their
bank account and wrote a check for $100 to Gastonia Municipal Golf Course, our local course in
North Carolina. That money allowed me to play golf all summer long, as many times as I
wanted. It was legit. I met some of the greatest friends from all backgrounds — rich and poor,
Black and White — who I'm still boys with today. For the next few years of my life, I spent every
summer on that $100 program, learning how to fine-tune my swing, trash talk and whatnot. I
even remember playing some 30-year-old guys and beating them when I was only 12. Honestly,
it was the greatest way for me to enter the game, because I was allowed to play with people of all
ages, ethnicities and social statuses.
I can't say for certain — and I didn't know it at the time — but shelling out that 100 bucks
couldn't have been an easy decision for my parents. I mean, in one sense, I'm sure it was: My
parents would do anything for me and my younger sister to make us happy. And they knew that
spending my summers learning to compete on a golf course was something that I wanted to do.
But that $100 had ripple effects, you know?
I've never really thought much of it, but there'd be times when I'd come home at dusk after
riding my bike all around town, run into my room, flip on the light switch … and nothing would
happen. I'd try again. Click, click. No lights. As a kid, these things roll off your back like it's no
biggie. I was probably just like, Oh, well, time to go outside and shoot some hoops under the
streetlight. It didn't affect me. Now, as an adult, I can look back and see that, dang, my parents
would put my passion ahead of paying an electric bill. Ahead of their wellbeing. Sometimes they
had to pay their bills late just to make sure I had the money to eat lunch at school.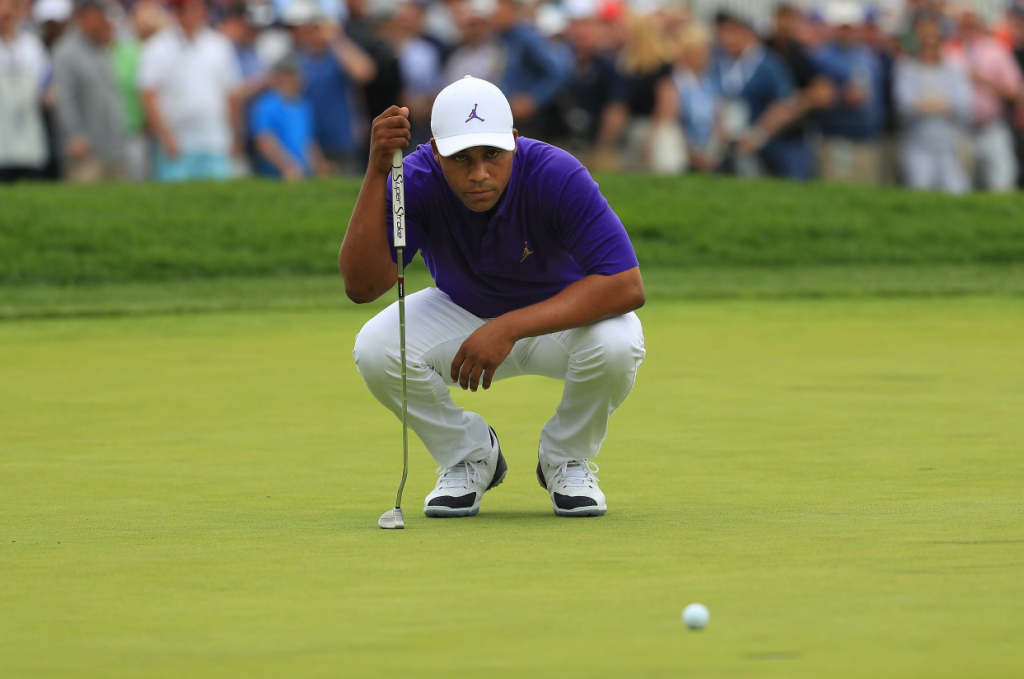 I was six years old when my parents picked up their lives and moved me and my sister to
Gastonia. Up until then, we had lived in Akron, Ohio, but better job prospects and a lower cost of
living attracted my mom and dad to the South. To this day, my mom still works as a nursing
assistant. My dad has been a car salesman for over 40 years. There's a reason why you've
probably heard me talking about going home and cutting my parents' lawn after a PGA TOUR
event. See, that 900-square-foot home wasn't much, but it was home, you know? It was the
product of my parents' hard work. No matter how many tournaments I'll play in, I'll never
— never — lose sight of how I got to where I am today.
I owe everything I have to my mom and dad. They don't care about how I finish in a tournament.
Nah. I'll come home, sit down at our kitchen table, and they'll ask me how my wife, Amanda,
and I have been doing. And it's funny — I'm gonna be a dad soon, too. Amanda is expecting in
October, and I've been thinking a lot about my role as a parent — about how I want to mimic my
parents and instill the values of humility and kindness in my kid (we'll be announcing whether
Baby Varner will be rockin' pink or blue Jordans soon). Those values were nurtured out there in
the blazing summer heat at Gastonia Municipal Golf Course, where I learned what it meant to be
a golfer. Through hard work, my game developed to a point where I could earn a scholarship to
East Carolina and fight my way from mini tours to the Big Time.
Without having access to golf from an early age, these Jordans you see me rocking? These words
you're reading right now?
None of it would be possible.
I've thought a long time about how to help other kids have the same opportunities I had. I've
started the HV3 Foundation which funds an entry-fee assistance program with the Carolina Golf
Association. Each year, we host a number of golf tournaments for kids in North Carolina in
which a certain percentage of kids come in through the program, and we're hoping to expand on
that.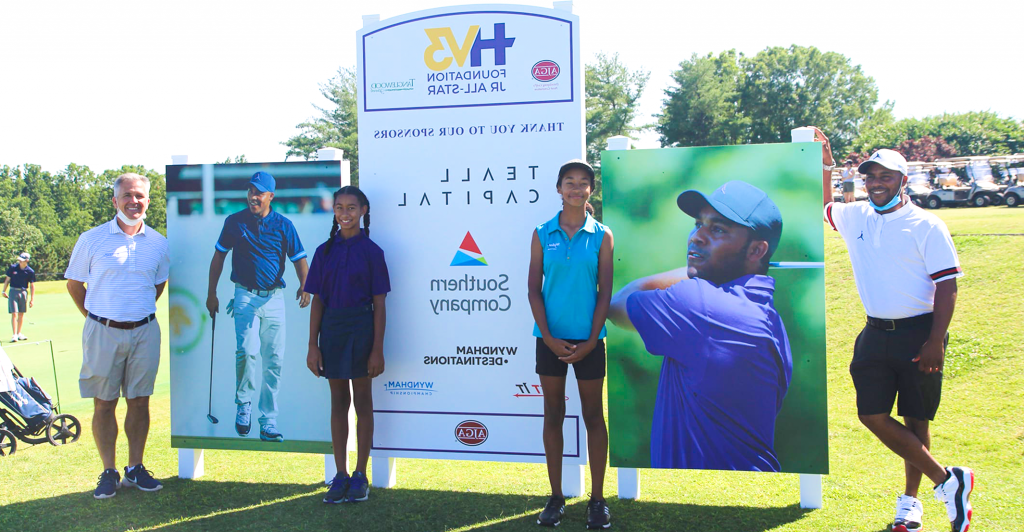 But I want to do more. So, today, I'm announcing that I've decided to partner with an
organization called Youth on Course in order to accelerate this movement into the game. Go
ahead and show them some love. The basic premise of the organization is to help young people
of all ethnicities and socioeconomic statuses through the prism of golf. Youth on Course allows
kids to have a safe space to play, gain a scholarship for college and access opportunities through
connections made on the course. The main tenant of their mission is a replica of mine: to
provide kids affordable access to the game.
The future of golf is with this program. Let me say that again: the future of golf is with this
program.
Youth on Course has partnered with over 1,400 golf courses across the U.S. and Canada to allow
kids to play for only $5. Five dollars! Think about that. They've subsidized over 1 million rounds
of golf for their growing membership, which has created an impressive network of young stars in
their caddie program and recipients of paid internships — something that is incredibly
important since half of the program's 100,000 members are over the age of 14.
Youth on Course works as an extension of other programs that have introduced kids to the game
such as the First Tee (which I've been proud to work with). These kids come to Youth on Course
armed with the skills to succeed on the course and are also aided in the next step in their journey
to be competitive off of it. Over 260 high school students have received more than $2 million in
scholarships through the program, and I'm excited to say that number is growing. By providing
affordable access, they're not just setting up kids to succeed on the course. This is about giving
kids an opportunity in life.
Sounds a lot like my childhood at Gastonia Municipal Golf Course, doesn't it? See, I want to take
that kid whose parents can't pay their electric bill, and the kid who's grown up in a fancy
neighborhood and bring them together on the golf course. Because I've lived it, man. Good
things can happen. It ain't corny. It ain't cheesy. It's real life.
I'm happy to say that we've made some inroads in North Carolina so far. But, to me, that's just
the beginning. I feel like Youth on Course is going to allow me to change the country. I know
some of y'all may be shaking your head and rolling your eyes at that, like, This guy thinks he's
going to change the country? Harold's out of his dang mind. Listen, if trying to improve kids'
lives across the world makes me crazy, then I'm certifiable, man.
But if I'm being honest, I know that I can't do it alone. I'm going to need your help getting the
word out.
Like I said earlier, I believe that I'm here for a reason bigger than myself. It's about the collective
WE. We're going to bring more kids into the game through Youth on Course, and I encourage
everyone to explore ways they can get involved. With the structure of an international program,
more and more kids will be set up for something greater than professional golf. We're already
seeing those who participated in the program graduate from college and start successful careers
across a number of different industries. And it's like, Dang, me, the kid who sometimes had no
lights … I'M the one who can continue to help young people find a path to success?
Not even a question. I'm in.
It's time to go to work. If you want to chat about the program and what we're all about, hit me up
on Twitter. I'll do my best to reply to each one of y'all.
Much love, and always remember:
#WeHere. For each other.
The price of a round of golf shouldn't be a barrier for a young person who wants to play –
that's where Youth on Course comes in. Youth on Course provides its 100,000+ members with
access to play over 1,400 golf courses for $5 or less, giving them opportunities to learn lessons
that can be taught in a way only a golf course can.
If you want to learn more about Youth on Course, please visit this link.
News
Check out what has been happening in Utah Golf.
Former BYU Cougars and Utah Utes headed to Mackenzie Tour-PGA Tour Canada season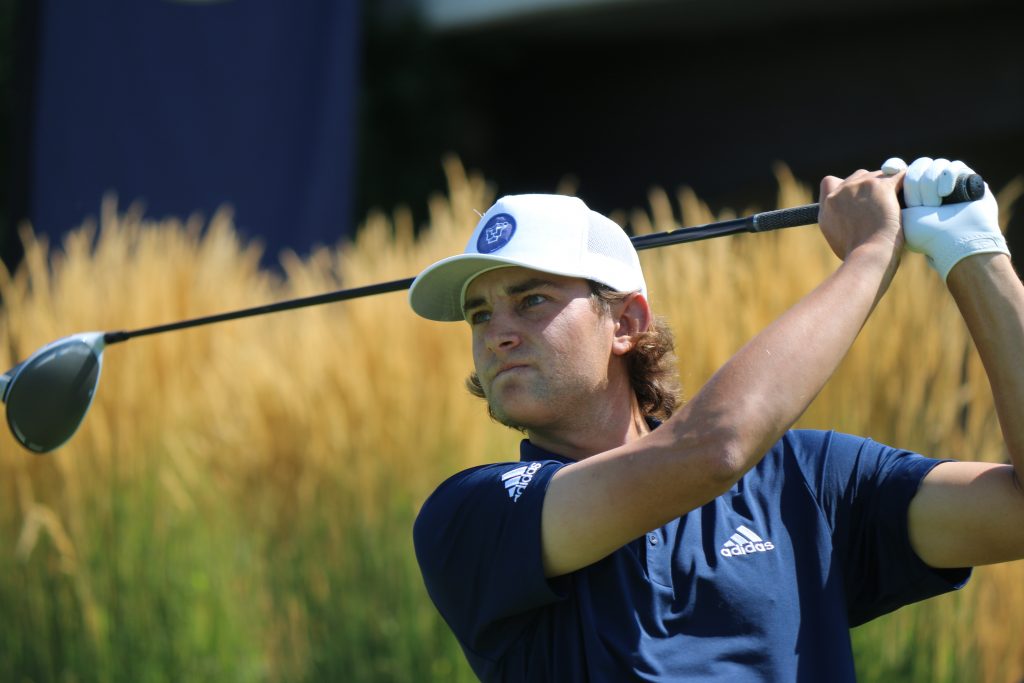 Kuest, Schow have conditional status to start the new season
By Kurt Kragthorpe
Finishing their rounds at about the same time on two different greens, Peter Kuest and Mitchell Schow each birdied his last hole of a four-day qualifying tournament for the Mackenzie Tour-PGA Tour Canada. The conclusions were both satisfying and disappointing to them.
Those birdies meant that Kuest, a former BYU All-American, and Schow, the reigning State Amateur champion and a current University of Utah golfer, finished one stroke out of a playoff for the final 2021 exemption in the event staged March 23-26 in San Jacinto, California. Moving up the leaderboard to a tie for eighth place. though, also gave Kuest and Schow hope of finding room in some tournament fields once the tour schedule begins.
In another twist, the tour may move to sites in the United States for 2021, avoiding issues with quarantining in Canada due to COVID-19.
Read the complete story by Fairways Media Photo Journal here: https://tinyurl.com/hfvp8eze
News
Check out what has been happening in Utah Golf.
Utah Golf Association PPR Schedule Heads to Northern Utah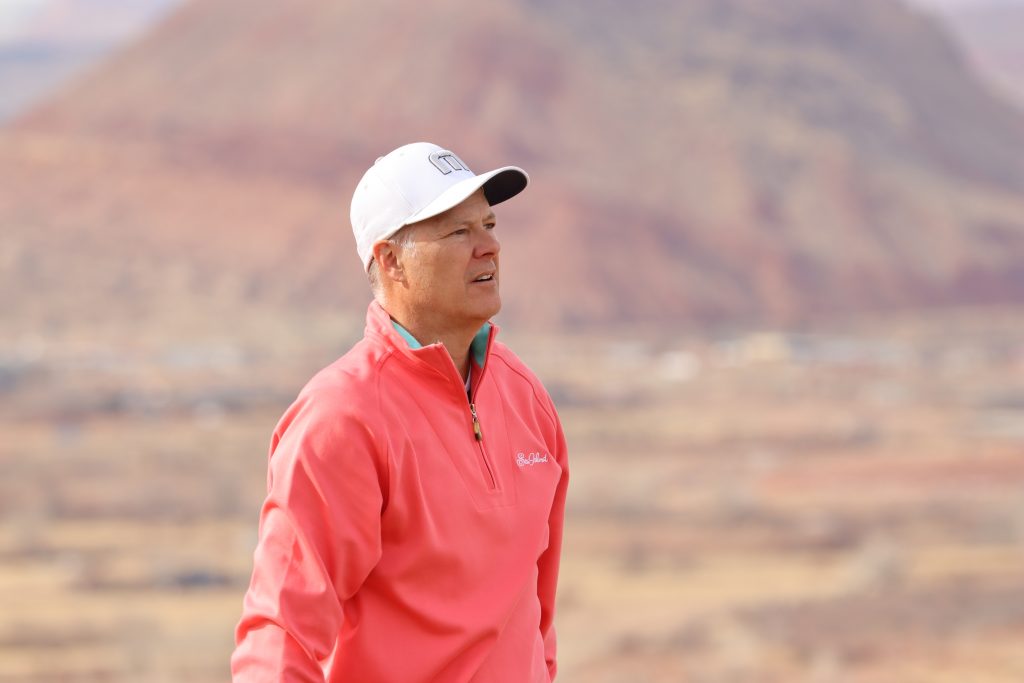 After three months of tournament play in Southern Utah, golfers set their sights on Northern Utah courses.
Following Shane Flowers' win last week of the Red Hills Amateur at Dixie Red Hills Golf Course (cover photo courtesy of St. George City Golf) in St. George, Utah, many tournament players, professional and amateur, will now play closer to home in Northern Utah. 
Flowers, a senior player and St. George resident, defeated two of Utah's hottest junior golfers in Cooper Jones and Boston Bracken by the slimmest of margins. But one shot is all you need and that was good enough for Flowers.
To read the complete Fairways Media Photo Journal story, CLICK HERE: https://tinyurl.com/7kent8
News
Check out what has been happening in Utah Golf.
Chambers Bay to host 2021 Pacific Coast Amateur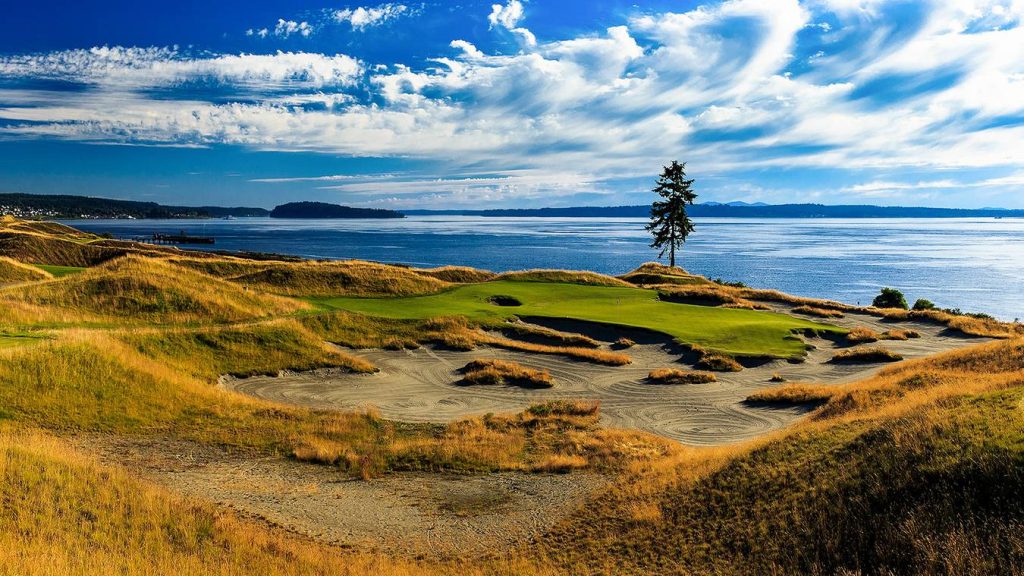 Federal Way, Wash. – The 54th Pacific Coast Amateur Championship will be held July 20-23, 2021 at Chambers Bay in University Place, Wash. This will be the second time Chambers Bay has hosted the championship, with it previously being held there in 2017. Washington Golf will serve as the championship's host association.
This year's championship had been scheduled to be held at historic Royal Colwood Golf Club in Victoria, B.C., but the continued restrictions and uncertainties in crossing the U.S.-Canada border due to the ongoing COVID-19 pandemic made it necessary to find a venue in the U.S.
Last year's championship, which had also been scheduled to be held at Royal Colwood, was canceled completely due to the pandemic.
"The brief but rich history of Chambers Bay makes it an ideal venue for this championship," said Troy Andrew, executive director of the Pacific Coast Golf Association. "As it has in the past, it will do its part in identifying the best player as champion. The quality of our field and our ability to continuously recruit the game's best amateurs is directly attributed to the reputation and quality of the venue selected to host. We are extremely grateful to Chambers Bay, Pierce County Parks, and the Pierce County Executive's office for their continued support and hosting this championship again."
The Pacific Coast Amateur routinely attracts players from around the world with resumés boasting illustrious victories in other jewel amateur golf events. It remains the West Coast's elite-level event that is circled on all amateur golf calendars in North America and around the globe. The Pacific Coast Amateur has regularly received an "A" strength ranking by the World Amateur Golf Rankings (WAGR), provided by The R&A and USGA.
Recent champions include Aaron Wise (2015), Will Zalatoris (2016), Doug Ghim (2017), Isaiah Salinda (2018) and Quade Cummins (2019). Other past champions that went on to have success on the PGA Tour include Andrew Putnam, Michael Putnam, Jason Gore, Billy Mayfair and Ben Crane, among others. Ghim and Wise are currently in the top 70 on the PGA Tour's FedExCup Standings.
Much of the recent success of the championship can be directly attributed to the quality of the venue, and 2021 will continue that tradition. Chambers Bay opened in 2007, and has already held such high-profile events as the 2015 U.S. Open Championship, 2010 U.S. Amateur Championship, 2013 and 2020 Washington Amateur championships, and numerous collegiate events. Prior to this year's Pacific Coast Amateur, Chambers Bay will host the 6th U.S. Amateur Four-Ball Championship on May 22-26.
"We are honored to welcome the return of the Pacific Coast Amateur to Chambers Bay," said Zac Keener, general manager of Chambers Bay. "We are ready to test the incredible caliber of players attracted to this event and crown another champion in 2021. We are thankful to the Pacific Coast Golf Association for their consideration and to Pierce County for their commitment to host championship golf at Chambers Bay."
Along with Royal Colwood in 2008 and Chambers Bay in 2017, past host sites for the event include The Olympic Club, Eugene Country Club, Seattle Golf Club, Capilano Golf and Country Club, Bandon Dunes and Martis Camp, to name a few.
ABOUT CHAMBERS BAY
Designed by Robert Trent Jones Jr. and opened in 2007, Chambers Bay is a links-style layout along the shores of Puget Sound. The venue made history by hosting the first U.S. Open ever held in the Pacific Northwest, in 2015. It has also been the site of the 2010 U.S. Amateur, and this year will host the 2021 U.S. Amateur Four-Ball Championship. Chambers Bay is a municipal facility, owned by Pierce County, and is open to the public. The facility has been designated by Audubon International as a Silver Signature Sanctuary, the first golf course in the Pacific Northwest to receive this certification.  More information can be found at chambersbaygolf.com.
ABOUT THE PACIFIC COAST GOLF ASSOCIATION
The Pacific Coast Amateur Championship is one of the oldest and most prestigious amateur golf championships in North America. The first tournament was held on the links of San Francisco Golf Club at The Presidio in 1901. After being played until 1911, the Pacific Coast Amateur then ceased to exist, only to be reconstituted at Seattle Golf Club in 1967. Today, 15 member Pacific Rim golf associations comprise the Pacific Coast Golf Association. More information about the association and the Pacific Coast Amateur can be found at pacificcoastamateur.com.
News
Check out what has been happening in Utah Golf.
The Utah golf community has suffered heartbreak
.
Kenna Goodman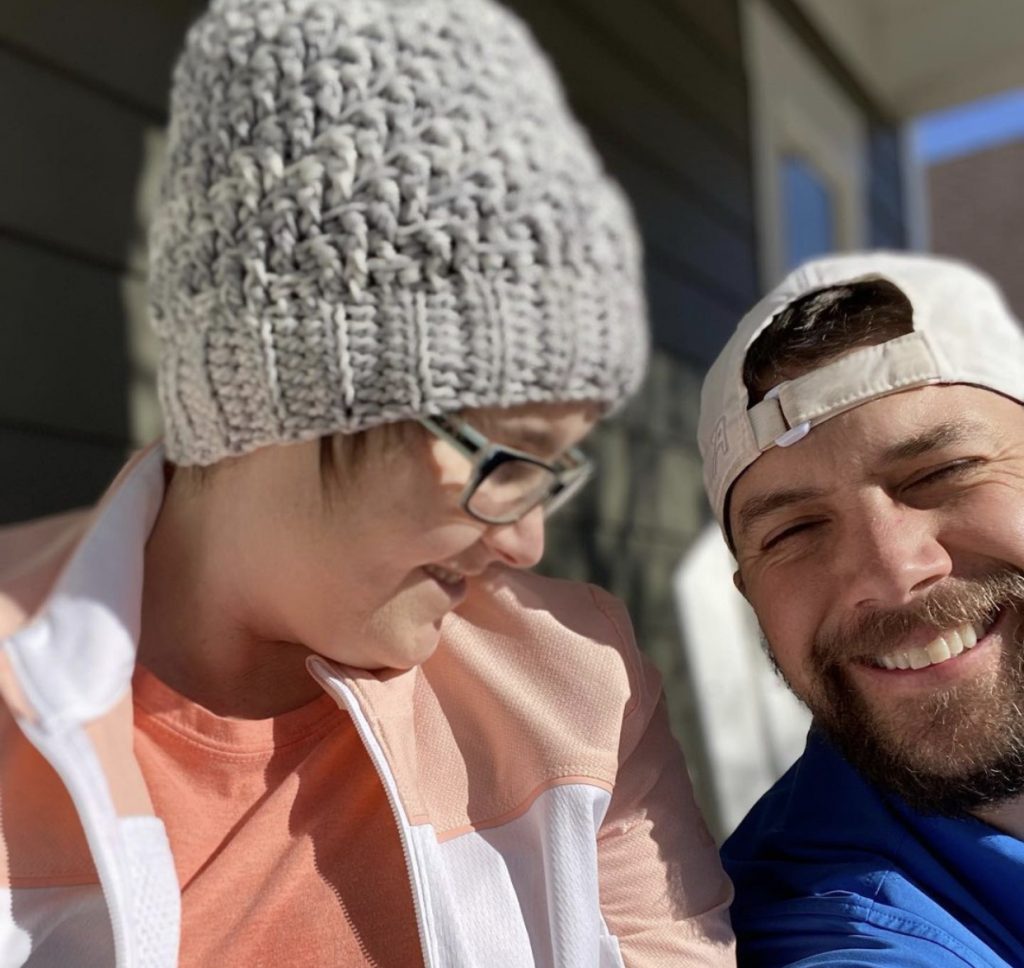 Kenna Goodman, (wife of the Utah Section PGA's Aaron Goodman), who has courageously fought cancer for many years, passed away last night.
Aaron (@pgapoolboy on Instagram) posted this photo and said, "I lost my best friend and my kids lost their mom last night. We love you Kenna! We know you'll be watching over us and we'll be a family forever."
Utah PGA Executive Director Devin Dehlin said, "It is with profound sadness and a heavy heart that we announce the passing of Aaron Goodman's sweet wife Kenna. As most of you know, she has gracefully suffered for the past seven years with a rare form of brain cancer. As always our Utah PGA family has been extremely supportive in this situation. More information will follow concerning memorial services and how we can continue to support Aaron and his three children. Our thoughts and prayers go out to the entire Goodman family. May we all take time to reflect and cherish the time we have with those we love."
Mike Smith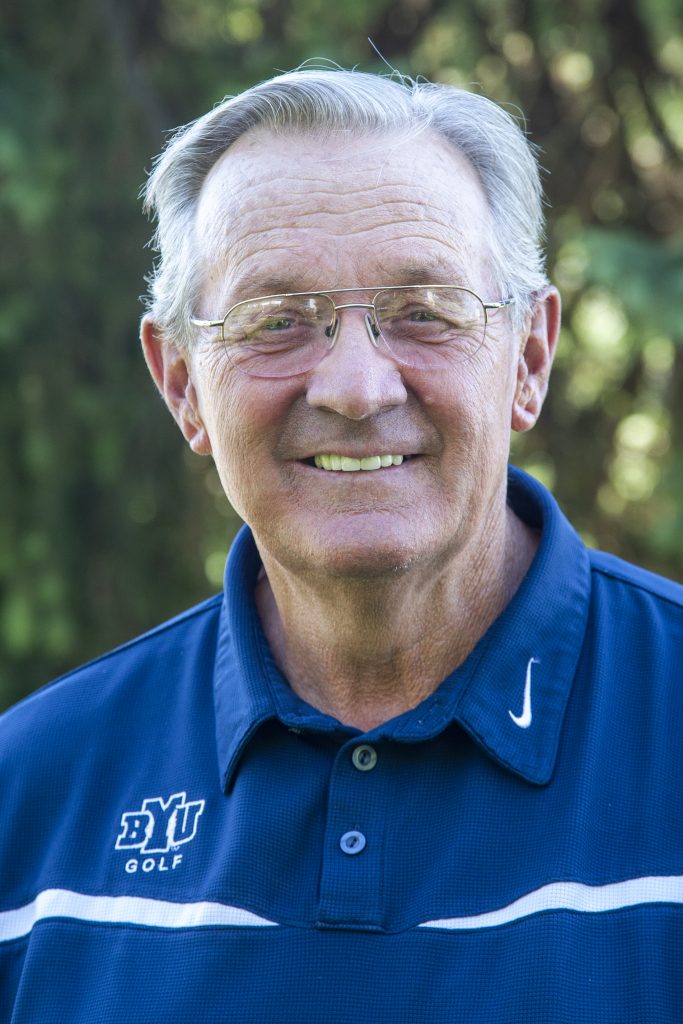 Utah golf lost a legend on Thursday, March 11th with the passing of Mike Smith who had been battling health issues the past several months.
Mike was elected to PGA membership in 1977 and could be found from sunup to sundown teaching the game of golf for the past 43 years. Mike was well respected as a top teacher here in Utah and across the country. Mike's personality was perfect for all golfers, whether they were new to the game or played at high level. Mike was a great mentor to many PGA Professionals in Utah and loved helping other professionals become better instructors. Mike was selected as the Utah PGA Section Teacher of the Year in 1988 & 1998.
We will miss his kind demeanor and the opportunity to chat about the game he loved. His passion for the game and his genuine smile were contagious. Mike was a great teacher of the game of golf, but a better person.
Kelly Woodland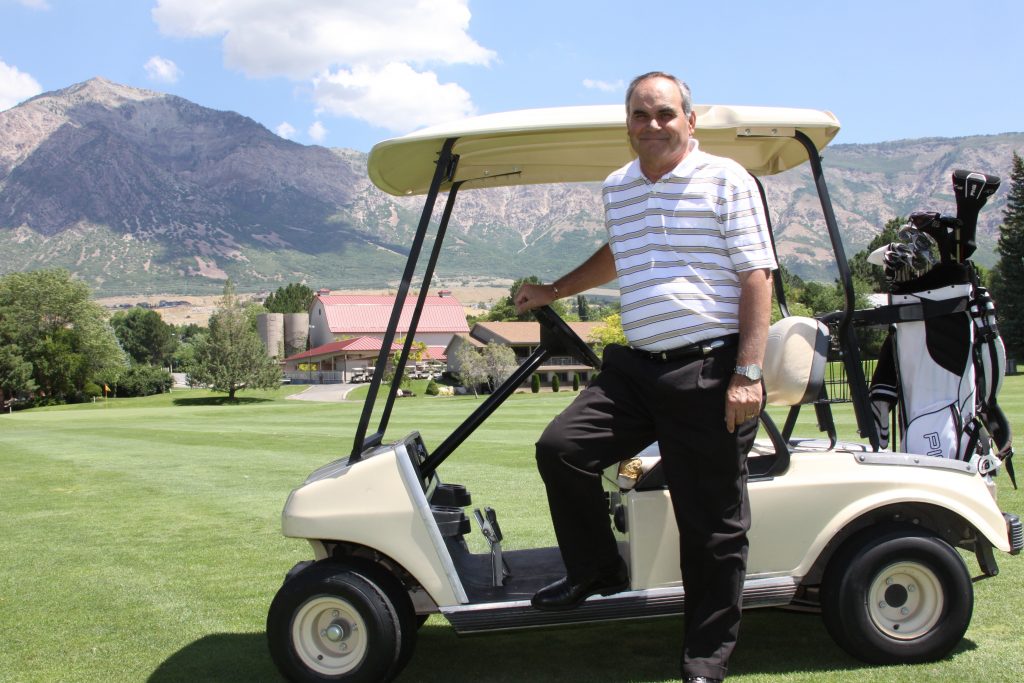 After a three-week fight with Covid-19 secondary pneumonia, Kelly Woodland passed away on March 19th.
Kelly was known for his humor and contagious kindness to all. We will all miss those friendly eyebrows with that infamous squint, always followed by a warm and friendly comment that without a doubt, lifted your spirits!
Post from "The Barn" written by Kory Woodland, PGA
It is with the heaviest of hearts that we announce the passing of one of the best guys we've ever known.
Kelly had a special way of befriending everyone he knew. He pulled into work every day for nearly 50 years to be with people he genuinely loved. His customers were his friends and he dedicated his life to providing a place for his friends to call home.
Thank you for many great memories!
Love ya Pro, Pops, Dad, Kel
You will be missed by many
Kelly and the entire Woodland family have left an incredible mark on the Utah Golf Community and this will continue for generations to come. He will be missed, but not forgotten.
Our thoughts and prayers go out to all of the families and friends during this difficult time.
News
Check out what has been happening in Utah Golf.
Utah State Men's Golf Wins Inaugural UC San Diego Invitational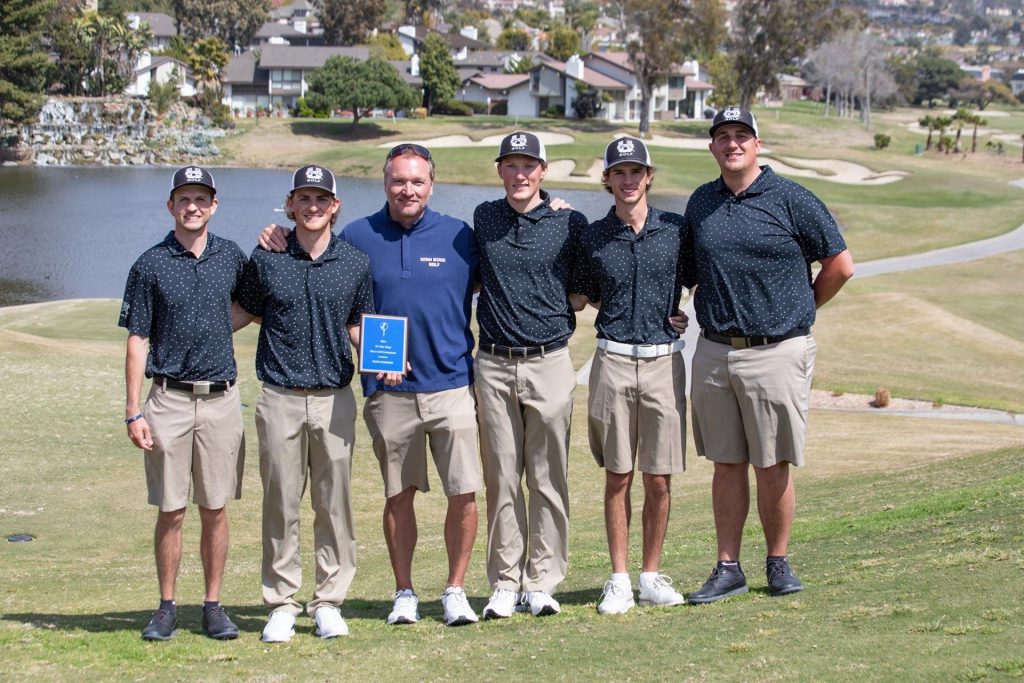 CARLSBAD, Calif. – Senior Colten Cordingley entered the final day of the inaugural UC San Diego Invitational at La Costa (Champions Course) one shot off the lead, but carded a final-round of 74 (+2) to finish tied for first with San Diego State's Liam Koeneke.
Koeneke went on to beat Cordingley on the third playoff hole to earn medalist honors, but the solid play on Tuesday from the native of Rexburg, Idaho, helped guide Utah State to a first-place finish with a 29-over par 893 (299-294-300) on the difficult champions course. Southern Utah finished three strokes back of the Aggies at 33-over 897 (306-294-297).
"Winning a college event has always been a goal of mine," Cordingley said. "I don't love that it has a T next to the 1, but at the same time, I worked hard all week and am happy with the outcome. The highlight of the week is definitely taking home some hardware. It is always a great feeling when you see hard work pay off. I am proud of the team and I know we are going to take a lot of confidence away from this."
Overall, this is Utah State's first tournament victory since Feb. 11, 2020, when the Aggies won the SUU-hosted Pat Hicks Thunderbird Invitational. According to available records, it is also just the second time Utah State has ever won a tournament on California soil, along with its victory at the CSUN-hosted Bill Cullum Invitational in October, 2017.
"Spring seasons are tough and always have been," Cordingley said. "The guys have been very good at using all possible resources we have to try and practice and get better. It's not very convenient to be able to work hard, and we were having to drive 30 minutes to an hour south just to find grass earlier in the year before the Logan courses opened up. However, we have been diligent and eager to get better."
It is certainly paying off this spring for the Aggies as they have finished no worse than fourth in the three tournaments they have played in.
Andy Hess also finished in the top 10 for Utah State at the UC San Diego invite. The senior shot a 5-over 77 on Tuesday to put him at 6-over 222 (72-73-77) to finish the tournament tied for sixth. He ranked second in par-3 scoring at 1-under (2.92 average).
"I am extremely happy for them," USU head coach Dean Johansen said. "I was telling the guys the other day that they work so hard to work hard, if that makes sense. They have had to hit balls at 7:30 in the indoor facility and drive an hour just to find grass to play on.
"All their hard work is paying off, though. This is probably the sharpest I have seen them come out of winter time. They have worked hard and deserve this team title."
The Aggies led the field in par-5 scoring and tied CSUN for the most birdies with 35. Individually, Cordingley led the field in par-5 scoring at 5-under (4.38 average), and tied for fourth with 10 birdies.
Cordingley carded rounds of 73 (+1) and 71 (-1) on Monday's 36-hole day, giving him a 3-day total of 2-over 218.
Freshman Javier Vazquez shot the lowest score of the third round by an Aggie at 1-under 71, which is his best one-round score this season, to bring his final total to 10-over 226 (80-75-71). Vazquez tied for 15th, climbing 10 spots on Tuesday, for his best-ever finish during his young Utah State career.
"He played great," Johansen said of Vazquez. "He's finally setting in and learning to play team golf."
Also for the Aggies, fifth-year Chase Lansford carded a 6-over 78 on Tuesday and finished the tournament tied for 27th at 15-over 231, while redshirt junior Jesse Henderson finished tied for 36th at 24-over 240.
The Aggies' next tournament will be on Monday and Tuesday, April 5-6, at the Wyoming Cowboy Classic in Scottsdale, Ariz.
Fans can follow Utah State's golf program on Facebook at facebook.com/USUMensGolf and on Twitter at @USUMensGolf.
UC San Diego Invitational
Date: March 22-23
Host Course: La Costa (Champions Course)
Par: 72
Yardage: 7,151
TEAM RESULTS
1. UTAH STATE – 299-294-300=893 (+29)
2. Southern Utah – 306-294-297=897 (+33)
T3. UC Santa Barbara – 308-292-304=904 (+40)
T3. UC Irvine – 310-295-299=904 (+40)
5. CSUN – 313-301-307=921 (+57)
INDIVIDUAL RESULTS
T1. Colten Cordingley, USU – 73-71-74=218 (+2)
T1. Liam Koeneke, SDSU – 70-73-75=218(+2)
T3. Amadeo Figus, SDSU – 74-73-73=220 (+4)
T3. Jake Vincent, SUU – 74-71-75=220 (+4)
T3. Brandon Bueno, UCSB – 72-73-75=220 (+4)
UTAH STATE INDIVIDUAL RESULTS
T1. Colten Cordingley – 73-71-74=218 (+2)
T6. Andy Hess – 72-73-77=222 (+6)
T15. Javier Vazquez – 80-75-71=226 (+10)
T27. Chase Lansford – 78-75-78=231 (+15)
T36. Jesse Henderson – 76-81-83=240 (+24)
Courtesy: USU Athletics Department
News
Check out what has been happening in Utah Golf.
Jones, Gibbs, Bachman, Fischer & Lund Victorious at Winterchamps
The UGA opened its 2021 championship season with the 35th playing of Winterchamps presented by Wingers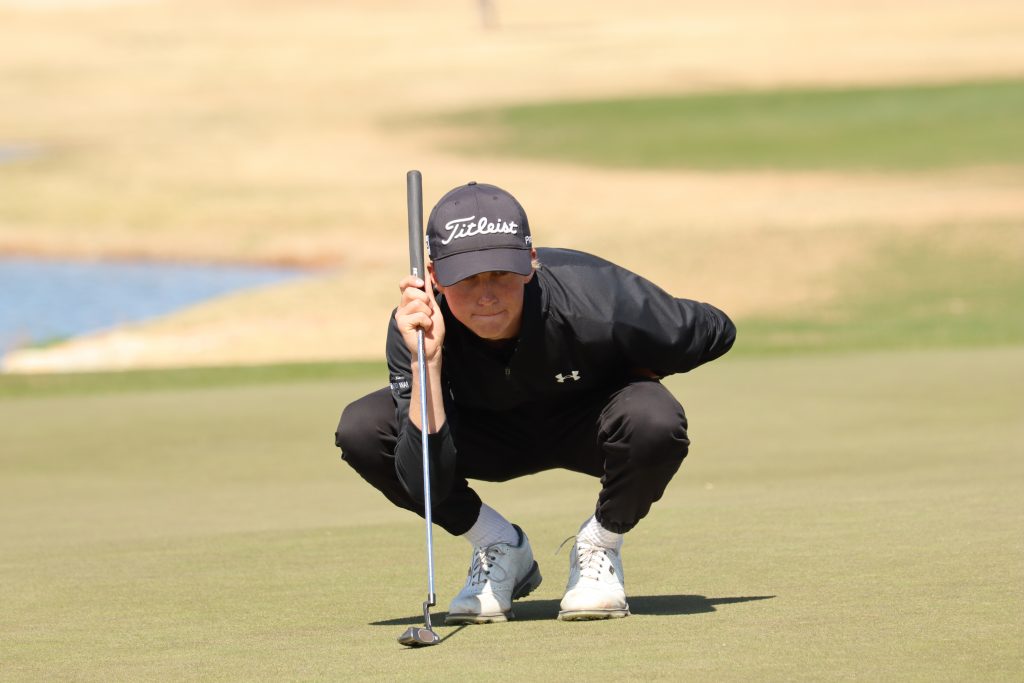 While the Utah Golf Association successfully introduced the Legends division for golfers 70 and older into Winterchamps, three teenagers became some of the tournament's biggest stars.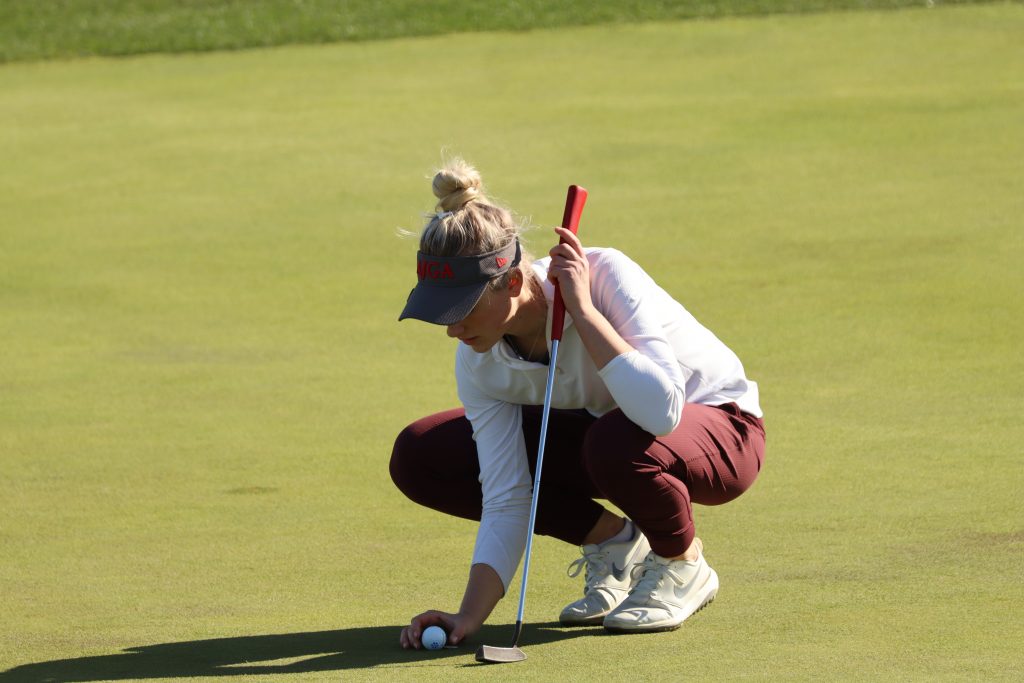 High school sophomores Cooper Jones and Gigi Lund won the Men's and Women's titles and eighth-grader Aadyn Long followed her 2019 victory with another title in the Women's Division 2 as the UGA's 2021 championship schedule began Saturday and Sunday in Southern Utah with the annual event presented by Wingers.
David Fischer will have a place in Winterchamps history as the first Legends champion, while Rob Bachman extended his run of Super Senior victories in Utah golf and Brigham Gibbs rallied to win the Senior title.
The event was staged for the 35th time, after a one-year interruption due to the COVID-19 outbreak. The new Copper Rock Golf Course in Hurricane joined the rotation of venues. Part of the appeal of Winterchamps is its inclusiveness, with competition in multiple flights of each division.
Read Fairways Media's Photo Journal Winterchamps recap story by Kurt Kragthorpe here: https://tinyurl.com/48zumfym
A big thank you to our tournament sponsor, Wingers, for their continued support of the Utah Golf Association.

Check out the recap video on Instagram: https://www.instagram.com/tv/CMx5IaEAfWR/?utm_source=ig_web_button_share_sheet 
News
Check out what has been happening in Utah Golf.
The Utah Golf Association Championship Season begins with Winterchamps
From teenagers to super-seniors, hundreds of UGA members tee it up this weekend in the first UGA championship of the new season. 
By Kurt Kragthorpe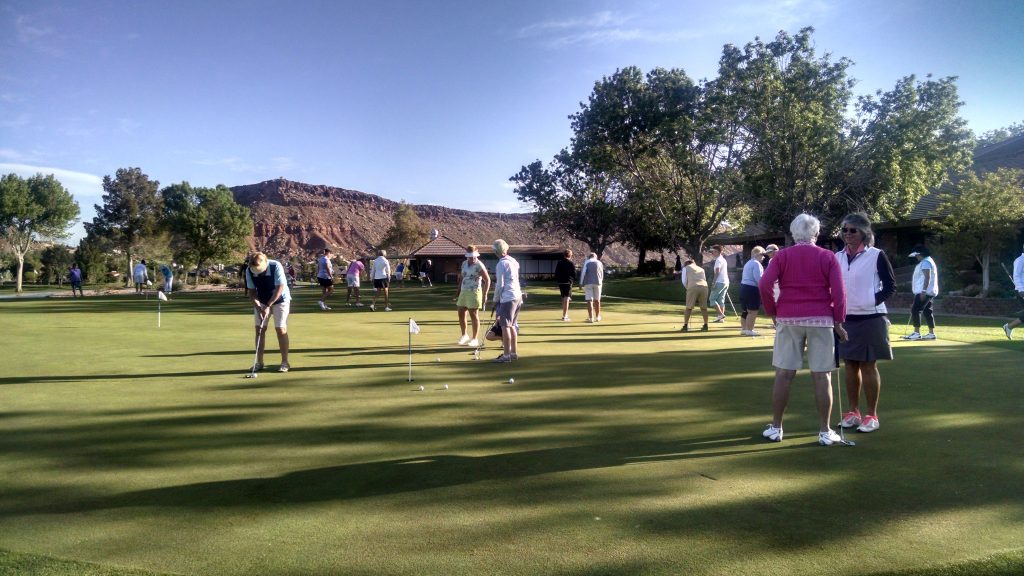 The tournament's name was borrowed from auto racing. This year's opening round will be staged on the first day of spring. And as always, the highest score will determine the winner.
Winterchamps is one of the Utah Golf Association's most popular events, for reasons that go beyond the obvious explanation of spring fever.
The 35th annual Winterchamps, a number that factors in how the 2020 event was canceled the day before the first round, due to the COVID-19 outbreak, will be staged Saturday and Sunday with men's and women's divisions spread across three courses in the St. George area: Bloomington Country Club, Copper Rock Golf Course and SunRiver GC. The weather forecast? Just about ideal, with temperatures in the low 70s.
Click here to read Kurt Kragthorpe's Winterchamps preview story by Fairways Media Photo Journal: https://tinyurl.com/c9axxv3j
News
Check out what has been happening in Utah Golf.
Griffins Win SMSU Invitational With Four In The Top-10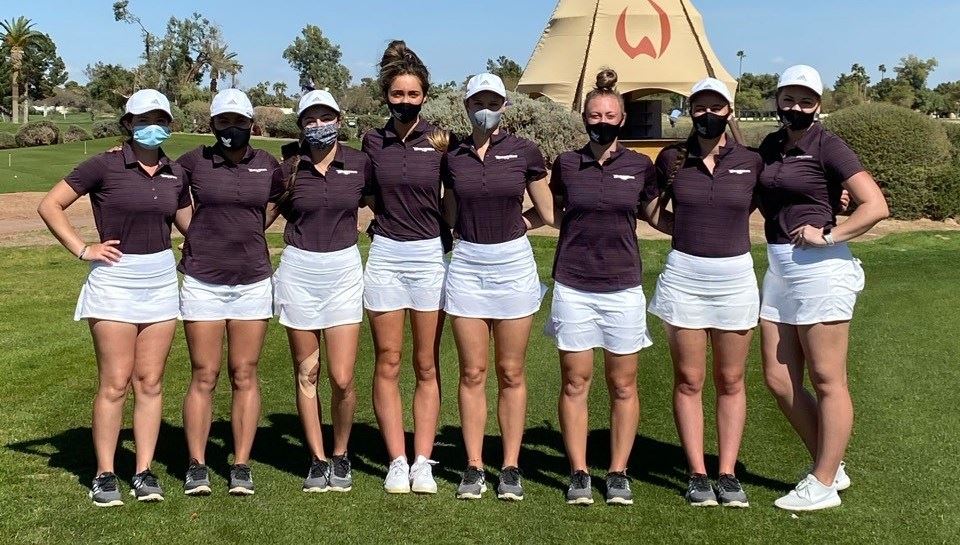 LITCHFIELD PARK, Ariz.—The start of the spring season could hardly have gone better for the Griffins who won the SMSU Spring Invitational with four golfers finishing in the top-10.
 
Westminster made nine birdies in the opening seven holes and finished three over on the final four holes to improve four shots (304) from the first round for a two-round score of 612. The Griffins finished 18 strokes ahead of second place Colorado Mesa and 30 strokes ahead of third place Western New Mexico.
 
"I'm really happy with our performance," Cassie Campos said. "It is good preparation for our RMAC Conference tournament at the same course next month."
 
"I'm so proud of this team and I can't wait to see what we accomplish this season," Whitney Banz said.
 
Whitney Banz carded 3-over-74 to hold on to her first-round lead for the individual medalist honors with a two-round total of 145. Banz made birdie three times in the front nine and only two bogies on the back nine.
 
Cassie Campos shot a two-round score of 151 to finish second—one stroke ahead of Crystal Querol of Colorado Mesa. Campos made birdie three times for a second-round score of 4-over-75.
 
Cailyn Clayton and Tuesday Epperson rounded out the Griffins' top-10 finishers. Clayton carded 6-over-77 to finish fifth (156), three spots up from round one. Epperson shot 7-over-78 to improve six places finishing tied ninth (160).
 
"This is a special team, and it is going to be a fun season," Head Coach Denise Larson said. "I'm proud of the work they are doing to improve mentally, and we are seeing the results."
 
The Griffins have two tournaments before returning to Wigwam Golf Course for the RMAC Championships on April 19-21. They play the Palm Valley Classic, April 2-3, in Goodyear, Ariz., and the West Texas A&M Desert Invitational, April 5-6, in Tucson, Ariz.
 
Courtesy: Westminster Athletics
News
Check out what has been happening in Utah Golf.
Vincent Wins Fourth Individual Title, Thunderbirds Finish Second At Jackrabbit Invitational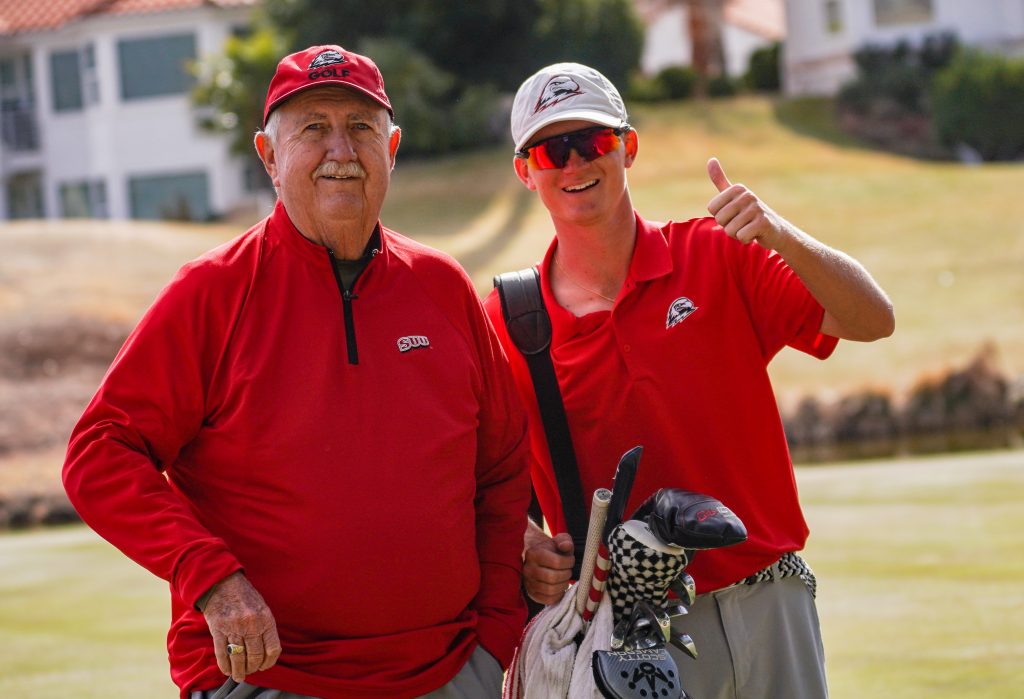 BOULDER CITY, Nev. — For the fourth time of his impressive career at Southern Utah University, Thunderbird senior Jake Vincent claimed an individual title on Saturday afternoon, as he was the top player in the field at the 2021 Jackrabbit Invitational. This title was won at Boulder Creek Golf Club, the same site Vincent claimed the 2019 Big Sky Conference Championship.
Along with the individual win, the Thunderbirds finished as runners-up at the tournament, claiming the second-place slot.
"As a group we played really good golf this weekend," SUU Director of Golf Richard Church said following the round. "Jake was fantastic all week. He knows this course so well, and he more than showed that this week."
Vincent shot a five-under 67 in all three rounds, finishing play at 15-under par.
His first individual victory came at the 2019 Pizza Hut-Pat Hicks Thunderbird Invitational, and a few months later claimed the 2019 Big Sky Conference Championship.
During the shortened 2019-20 season, Vincent won the 2019 Gene Miranda Falcon Invitation Idea for his third victory.
Ali Hameed finished play in eighth place overall, shooting a two-under 214 (73, 70, 71). He was the second-best finisher for SUU on the day.
Tyler Jones closed out play with a 69, bringing his three round total to 217 (74, 74, 69). That was enough to put him in a tie for 12th on the leaderboard.
Freshman Atthasit (Anfield) Srichun shot a 69 on Saturday as well, carding a 223 (75, 79, 69) for the tournament. He finished in a tie for 26th.
Ryker Smith was fifth for SUU, shooting a 228 (80, 74, 74). He finished 36th on the individual leaderboard.
As a team the Thunderbirds finished in second place with an 850 (289, 285, 276). They shot their lowest round of the event as a group on Saturday when it mattered most.
They finished 14 shots behind UNLV for the team title, but finished 28 shots ahead of Utah State, who finished in third.
Playing as an individual, Jaxon Long finished in 17th place with a 219 (69, 75, 75).
Next up for Southern Utah will be the USD Invitational, which will be played at Lacosta in San Diego, California from March 19-20.
Stay current on all things SUU Golf by following @SUUGolf on Twitter and Instagram, and by liking the Southern Utah Golf page on Facebook.
Read all about the Thunderbirds on www.suutbirds.com.
SUU MEN'S GOLF
SUU ATHLETICS STRATEGIC COMMUNICATION