News
Check out what has been happening in Utah Golf.
AJGA Names 2020 Scholastic Junior All-Americans, Park City senior, Wyatt Petersen, selected to the national honors list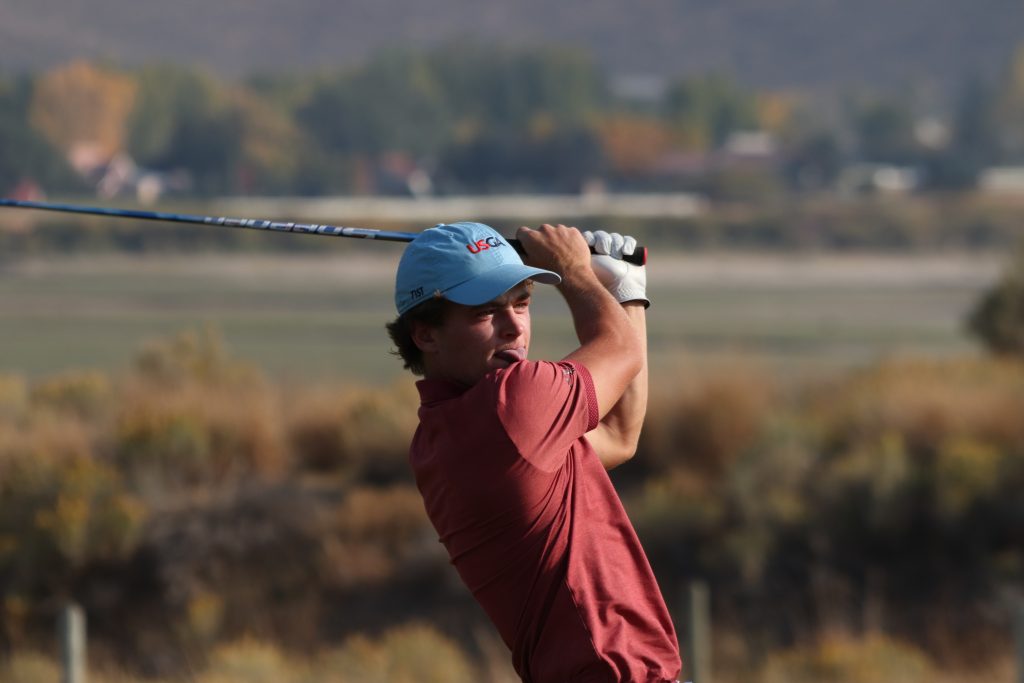 By Randy Dodson
The American Junior Golf Association announced on November 17 its annual list of AJGA Scholastic Junior All-Americans, the 2020 list recognizes the achievements of top junior golfers who also demonstrated excellence in academics.
Making the list from Park City, Utah is Wyatt Petersen a senior at Park City High School with a GPA of 4.780 and ACT score of 34. Petersen played three 2020 AJGA tournaments with two top 20 finishes including a T9 at the Sung Hyun Park Junior Championship.
"For me, being selected to the AJGA Scholastic All-American list is a recognition of lots of hard work. I've put in hours and hours of work into my golf game and in the classroom, and it's extremely rewarding to have that recognized, especially on a national level," Petersen said.  "It's a select group of guys, and I'm proud to be a part of it. I worked very hard to achieve this, but would not be where I am without a lot of people around me, especially my parents and swing coach Clay Ogden. Golf is an individual sport, but it takes a team of support around you to have success."
Petersen played in 12 Utah Junior Golf Association events in 2020 with six top 5 finishes including three 3rd place finishes at the Fairways Preview/FCG International Qualifier, the Spring Opener/Utah State Amateur Qualifier and the Utah State Junior Amateur.
Petersen gave credit to Utah's allied golf associations for the ability to compete at a high level in 2020. "My senior year of golf was a lot of fun. Despite the COVID pandemic, I still was able to play tournament golf from the spring through the fall, thanks to a lot of work from organizations like UJGA, AJGA and the Utah PGA. It was a great learning experience this year, as it was the first time I was really able to perform well in national events. I also had my best season in UJGA, and continued that success into high school, having lots of fun with my Park City teammates, finishing in second both as a team and individually at the 5A State Championship."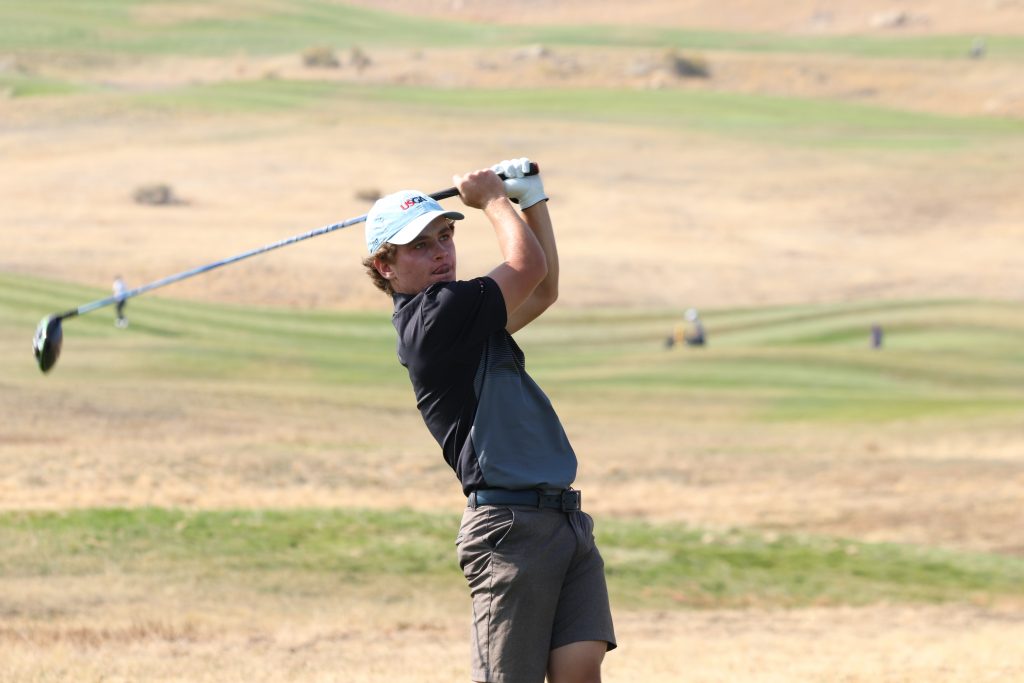 Petersen, who has verbally committed to Colgate University, is the 2020 Region 8 medalist with a 70.1 scoring average. Park City finished first in the Region 8 final team standings. At the State Championship, Petersen shot consecutive rounds of 66-66 – 132 on Soldier Hollow's Silver Course Oct 5-6, 2020 to claim the second spot on the Utah High School Activities Association record book for individual low 36-hole scores. Skyline High's Tyson Shelley holds the top spot at 128, also recorded at the 2020 State Championship at Soldier Hollow GC. Park City finished second to Skyline in the State Championship this year.
"I will be playing for Colgate University in New York in 2021 and hope to continue to have success on the course and in the classroom. I am not sure what I will be majoring in yet, but am considering mathematics, economics, or business," Petersen said.
Former AJGA Scholastic Junior All-Americans from Utah that have gone on to successful amateur and professional golf careers include Boyd Summerhays in 1994. Boyd, was once the top-ranked junior in the country. He played college golf at Oklahoma State, and was a PGA Tour member from 2004-06. Summerhays is the swing coach for PGA Tour star Tony Finau, Scott Harrington and Wyndham Clark.
Looking back at his time playing AJGA events Summerhays said, "My parents always made sure that as I was focusing on my golf and goal of being a professional golfer, that I took learning and school work seriously. More so now as an adult, I look back and take a lot of pride in being a Scholastic All-American."
For more information on the boys and girls 2020 AJGA Scholastic Junior All-Americans selections please visit: https://tinyurl.com/yxavze96
Photos: Fairways Media/Jesse Dodson
News
Check out what has been happening in Utah Golf.
Golfer Digital Profile & Guardian Management coming in January 2021
To improve data security and privacy, we will be introducing Golfer Digital Profiles in early January 2021. Each golfer will need a unique email address in GHIN to create a profile in order to access the GHIN Mobile App and ghin.com. Additionally, all minor golfers (under the age of 13) will require a guardian to manage their accounts.
Beginning in January 2021, USGA will require digital profiles for all golfers accessing the GHIN Mobile App and ghin.com.
Per the Children's Online Privacy Protection Act (COPPA), golfers designated as minors (under 13 years of age) will not be able to provide an email address, create a digital profile, or directly access GHIN Golfer Products (Kiosk, GHIN Mobile App, ghin.com).  Their profile must be linked to a guardian who can access the products and post on their behalf.  A minor is defined as a golfer who is under 13 years of age per the date of birth in their golfer profile.
For Minor and Guardian Frequently Asked Questions click the link below:
https://usgasupport.zendesk.com/hc/en-us/articles/360049345811-Minor-Guardian-FAQ-s
Please fill One of the below forms below for Guardianship. This first form is if the Guardian has a GHIN number and the second form is if the Guardian does not have a GHIN number.
News
Check out what has been happening in Utah Golf.
Utah Golf Association // Men's Player of the Year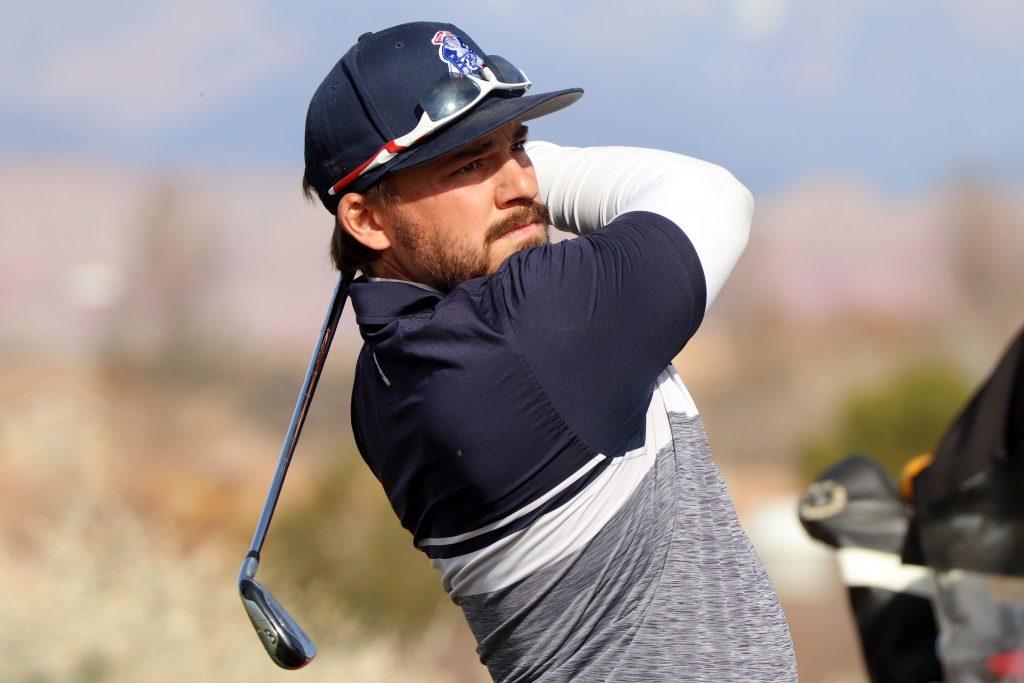 By Kurt Kragthorpe
Men's Player of the Year: Hayden Christensen
Hayden Christensen was disappointed as he stood alongside Jeremy Ranch Golf & Country Club's No. 3 green in the September twilight, having lost to Mitchell Schow on the 21st hole of a semifinal match in the State Amateur. The consolation? Christensen had done just enough to earn the Utah Golf Association's 2020 Men's Player of the Year award and validate the sponsorship of his second shot as a professional golfer.
Christensen finished with 372.5 points to edge Schow (362.7), the State Am champion, as they played together in the Utah Four-Ball Championship (losing in the first round). Christensen's run to the State Am semifinals kept him ahead in the standings, following his surge to low amateur honors in the Siegfried & Jensen Utah Open with a final-round 65. His father-in-law, Paul Battista, had challenged him to perform well in those big events "and then we'll talk" about funding his pro pursuits, Christensen recounted.
So he's traveling and competing in various events this fall, backed by the Virginia-based Brothers Concrete & Paving. That's the latest element of Christensen's golf story that has a lot of layers. The short version is that after coming from Vancouver, Washington, to Dixie State University for a college golf career that ended in 2015, he tried for 2½ years to play professionally. That proved difficult, as is often the case, so Christensen went to work as a job-site supervisor for a custom homes builder in St. George and eventually returned to amateur status in January 2019.
Christensen won the Southern Utah Open last November, launching him into a Player of the Year season. He played well on the UGA's Dixie Swing in January, winning the St. George Men's Amateur and finishing second in a playoff in the Coral Canyon Amateur. Christensen lost his job in the COVID-19 fallout, but his game kept improving to where he could think about turning pro again.
Christensen spent two months in northern Utah in the summer, making changes through equipment, coaching and training. All of that work paid off in the Utah Open at Riverside Country Club, where he played the first seven holes of the final round in 7 under par. And then he tied for medalist honors in the State Am before winning three matches and taking Schow into extra holes in the semifinals.
We'll see where pro golf takes Christensen this time. He already has come a long way.
News
Check out what has been happening in Utah Golf.
Utah Golf Association // Women's Player of the Year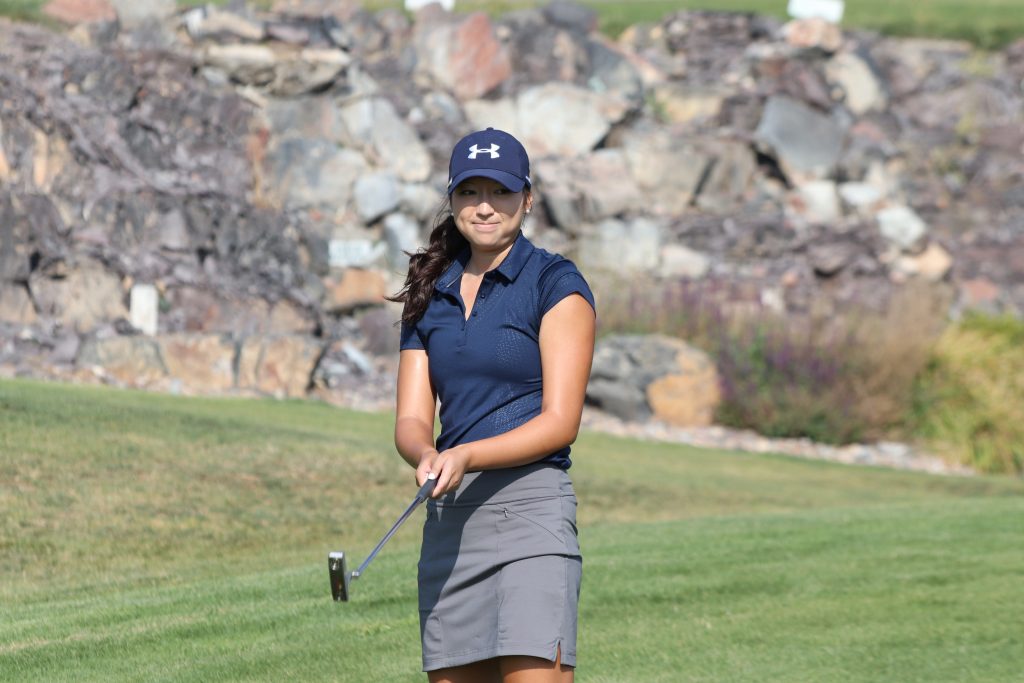 By Kurt Kragthorpe
Women's Player of the Year: Tess Blair
Tess Blair will always wish she would have won a Utah Golf Association championship in 2020, after repeatedly coming close.
As she said, "I'd be lying to say it wasn't frustrating."
Even so, those near-misses in the Women's State Amateur, the Women's Stroke Play Championship and the Siegfried & Jensen Utah Women's Open added up to a UGA Women's Player of the Year award. She posted 127.5 points to 120 for State Am winner Grace Summerhays.
And although the UGA's 2020 schedule was significantly reduced, especially in women's golf, Blair is appreciative that the organization managed to conduct as many events as it did. That point is being driven home to Blair this fall, as she continues her college career at Sacramento State in an altered situation due to COVID-19. Her classes are strictly on-line and the Big Sky Conference schools are not competing, but coach David Sutherland wanted his players to be on campus, for the sake of team building.
Blair has thrived in Sacramento, earning Big Sky Player of the Year honors as a freshman in 2019-20, before the NCAA golf season ended in March. The Bingham High School graduate chose an out-of-state school to "try to push myself and learn how to be independent," she said.
Blair wanted to elevate her game in college and she has succeeded, as shown by her performances at home in Utah in the summer of 2020, with limited opportunities. She shot 67-69 at Soldier Hollow's Gold Course to earn medalist honors by four strokes in the Women's State Amateur, then won two matches before losing in the semifinals to four-time champion Kelsey Chugg, 1 up.
The Utah Women's Open proved critical to Blair's Player of the Year effort. Summerhays received points for playing in the U.S. Women's Amateur that week, although she missed an opportunity to make match play and add to that total. Blair shot 71-72 to tie for second place among the amateurs (and third overall).
The following week, Blair came even closer to winning the Utah Women's Stroke Play Championship. She posted 69-68 at Bountiful Ridge Golf Course. Her 18th-hole birdie forced a playoff with BYU golfer Allysha Mae Mateo, whose 30-foot birdie putt on the third extra hole was good for the victory. The second-place finish gave Blair some important points, though. And the 2018 Women's State Am champion just keeps improving, while adding to her family's Utah golf achievements. Blair's sister, Sirene, was the UGA Women's Player of the Year in 2012 and '14.
News
Check out what has been happening in Utah Golf.
Utah Golf Association // Senior Women's Player of the Year
By Kurt Kragthorpe
Senior Women's Player of the Year: Annette Gaiotti
The surprise of the Senior Women's Stroke Play Championship was not that Annette Gaiotti won the 36-hole event by five strokes, even with a wobbly finish. The bigger discovery was found on another page of the tournament scoreboard, listing the Super Senior results.
Same name, much bigger margin of victory. Really, though? Gaiotti is a Super Senior? Actually, she has been in that category for a couple of years, and that's another compliment to the state of her game at age 67.
The first part of that sentence seems disputable. Gaiotti is the Utah Golf Association's Senior Women's Player of the Year for the fifth time since the UGA's 2012 merger with the Women's State Golf Association (Sue Nyhus, who has turned professional, won the other four awards). Gaiotti's Senior Stroke Play victory in late September highlighted her year. She also collected points with respectable performances in fields filled with much younger players in the Women's State Amateur, the Women's Stroke Play Championship and the Siegfried & Jensen Utah Women's Open. Her willingness to keep competing at that level helps explain why she keeps winning the Player of the Year award.
Gaiotti lost in the semifinals of the Women's Senior State Amateur, via Marie Needham's remarkable comeback. Yet she posted 170 points for the season to 147.5 for Elizabeth Jones, who became the other finalist in that tournament.
It is evident that Utah women's golfers in their 50s are having a tough enough time keeping up with Gaiotti and it might be a while before those in their mid 60s can compete with her, as she continues to age gracefully.
News
Check out what has been happening in Utah Golf.
Utah Golf Association // Senior Men's Player of the Year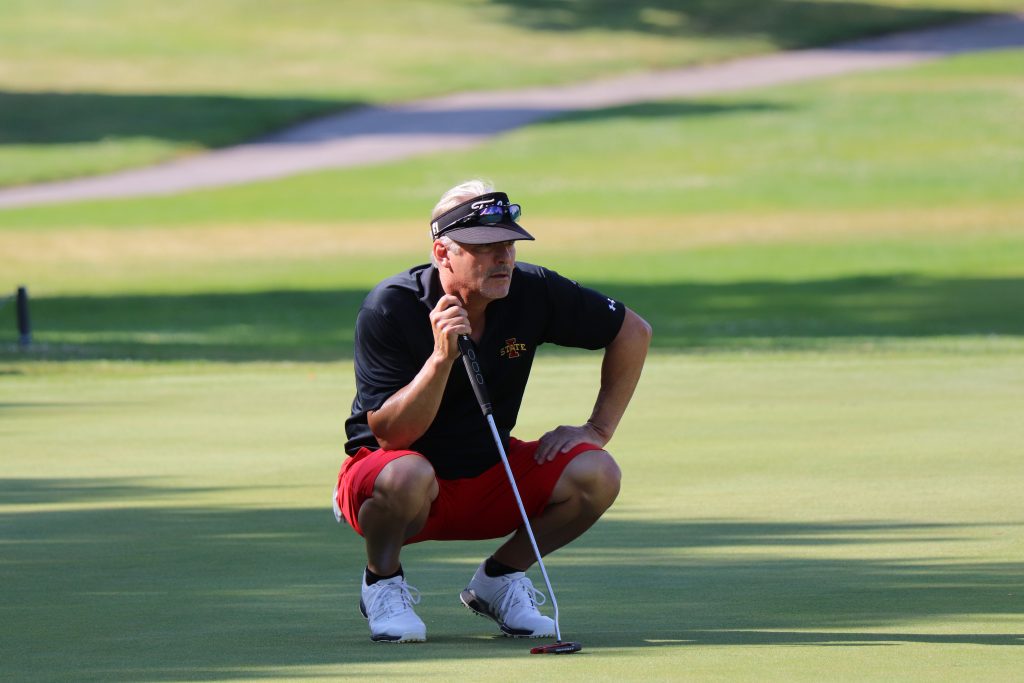 By Kurt Kragthorpe
Senior Men's Player of the Year: Kirk Siddens
The biggest flaw of Kirk Siddens' golf game is he's so consistently good that he often walks away disappointed.
No golfer wins everything. And the way Siddens gives himself a shot to win seemingly every event in Utah senior golf inevitably makes him dwell on the ones that got away. In 2020, though, the combination of some impressive wins and strong finishes made Siddens the convincing winner of the Utah Golf Association's Senior Men's Player of the Year award.
Siddens, who turned 58 on Oct. 19, compiled 375 points to Randy Hicken's 258.3, earning his second title in a row and fourth award in his eight years of eligibility.
He just has high standards of performance, and repeatedly coming close can be draining. Then again, that's what Siddens gets for always contending. David Jennings' closing 60 tied Siddens' course-record round of the previous day at Davis Park and topped him in the Utah Mid-Amateur Championship (although Siddens was the low senior, by far). Thanks to a slightly errant drive, Siddens lost a one-stroke lead on the final hole of the Utah Senior Stroke Play. Kurt Jamison's 18th-hole birdie edged Siddens and Guy Child in the Utah Four-Ball Championship.
Siddens also made a good showing in the State Amateur as the only senior golfer to qualify for match play. He defeated University of Utah golfer Tristan Mandur 1 up in the first round before losing 2 and 1 to Hayden Christensen in the round of 16.
Some of those recent shortcomings will stick with him, but the truth is that Siddens keeps improving in his late 50s. He played very well as usual in the Dixie Swing to begin 2020 and beat the Utah Section PGA's senior pros in the Wayne Volk Utah Senior Open, shooting 66-69 at Toana Vista in Wendover. His handicap index improved by nearly four strokes to +4.7 during a year when he reassessed his mental approach and also improved his putting, via a commitment to practicing at Davis Park near his home.
News
Check out what has been happening in Utah Golf.
Utah Golf Association // Gold Club Award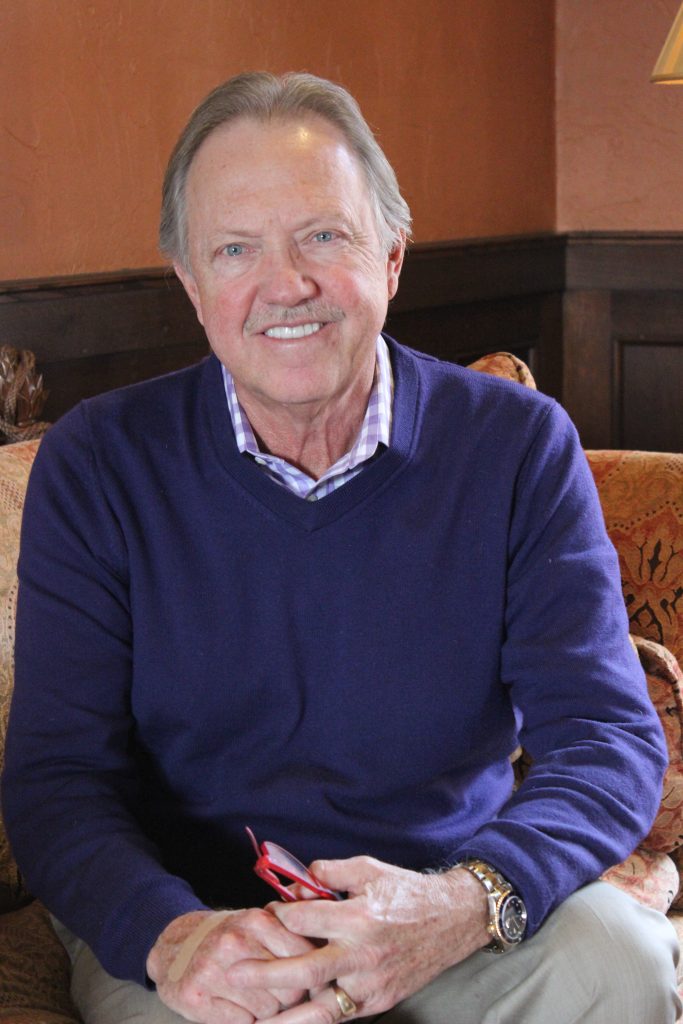 By Kurt Kragthorpe
UGA Gold Club Award: Steve Brinton
Finding a thread among winners of the Utah Golf Association's Gold Club Award is fairly easy. That's especially true in 2020. Steve Brinton's history of service to the game is directly connected to George Marks, who received the first such award 32 years ago.
Marks got Brinton involved in the United States Golf Association soon after that, and Brinton has remained dedicated to golf on multiple levels. While operating a three-generation office of the New York Life insurance company in Salt Lake City, Brinton also has maintained a high-level golf game and served both the UGA and the USGA. "For me, it's been a big part of my life," he said, thanking his wife, Joan, for authorizing his devotion to golf. "It is a great game."
The Gold Club Award annually recognizes an "individual who through significant achievement or unselfish service has contributed traditions and history of the game of golf in Utah and whose personal integrity, sportsmanship, common courtesy, loyalty and friendship earn the love and respect of fellow golfers."
In 2014, Brinton received the USGA's Ike Grainger Award for 25 years of service. He's likely the best golfer ever to receive the Gold Club Award. He has qualified for match play in the State Amateur in five different decades, including reaching final match of the 100th State Am in 1999 at age 47. He played for Highland High School's legendary golf teams of the 1960s, contributing to four state championships, then played one year at Utah State before entering military service and then transferring to the University of Utah, where he chose to focus on academics.
His golf swing remained intact, explaining how he won club championships at both Willow Creek Country Club and The Country Club of Salt Lake City, where he grew up playing. He served as tournament chairman of the State Am in 2012, when the event returned to the historic Country Club.
When he became the UGA president in 2016, Brinton promised to emphasize the Youth on Course program that provided inexpensive access to golf. The success of that initiative is a big part of his legacy locally. Nationally, Brinton has created a lot of memories for himself as a USGA committee member and rules official, working at many major events. In that role, he said, "You're very conspicuous, when you're needed."
It's all about being prepared to make the call in those moments. As he tells those stories, Brinton sounds both proud and relived to have provided the right answers. Brinton has always been there when the UGA or the USGA needed him, and Marks would be proud of the way his protege has served the game.
News
Check out what has been happening in Utah Golf.
Utah Golf Association // UGA Lady Award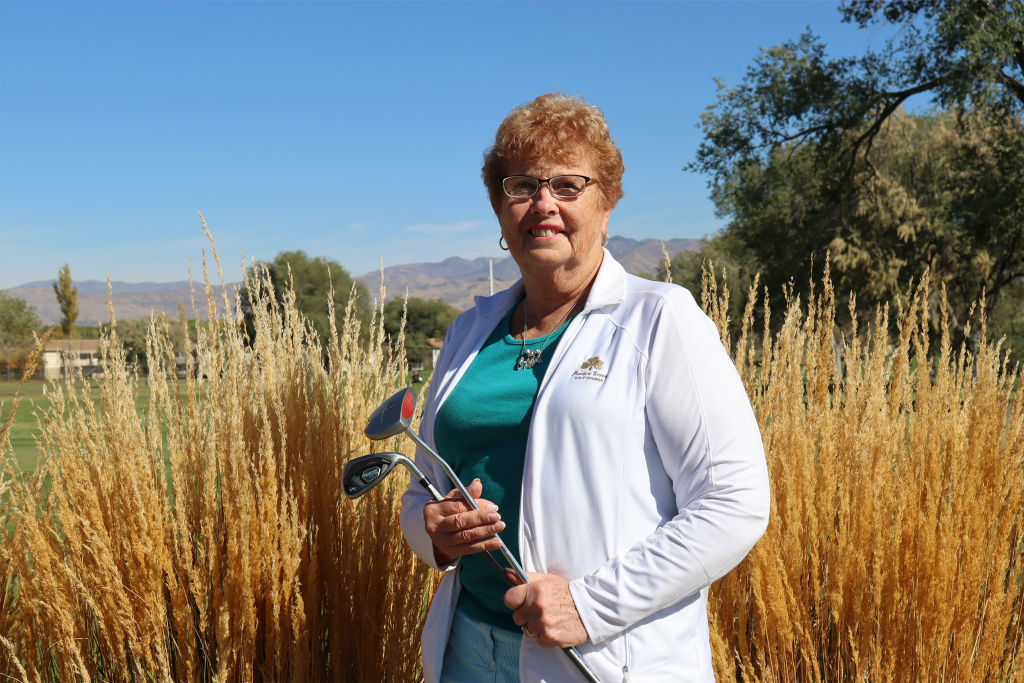 By Kurt Kragthorpe
UGA Lady Award: Karen Miller
One of the themes of golf in Utah and beyond in 2020 is how the game thrived amid COVID-19, with some adjustments such as prepaid tee times. One of Karen Miller's innovations as president of the Women's Association of Meadow Brook Golf Course in Taylorsville was a clever work-around of that policy, illustrating how she tries to make golf as social as possible.
With the help of Pat Riley, Meadow Brook's tournament coordinator, Miller arranged to have credit card information kept on file, enabling her to mix up the weekly pairings and have more golfers get to know one another during the season.
It worked. The association kept adding members and, even in an era of social distancing, Miller advanced what she views as one of the primary purposes of golf: camaraderie.
That trait is among the reasons Miller is the 2020 recipient of the UGA Lady Award. The award honors someone "based solely on what she gives back to the game locally," recognizing "passion, love and respect for the game, teamwork that makes a difference and being a friend, leader and inspiration to your peers."
Miller, full of energy at age 75, was nominated for the award by the UGA's Shauna Newren, who described her as "a person who brings people together … She sees that someone needs something, and she just steps in and helps."
She's certainly dedicated to Meadow Brook and the Women's Association. She's determined to involve golfers of all ages, having worked with the Murray Heritage Senior Center to recruit golfers and keep them active. Any conversation with her eventually turns into a membership pitch for Meadow Brook, using any networking methods she can. Her simple message: "Come play with us."
News
Check out what has been happening in Utah Golf.
Utah Golf Association // Volunteer of the Year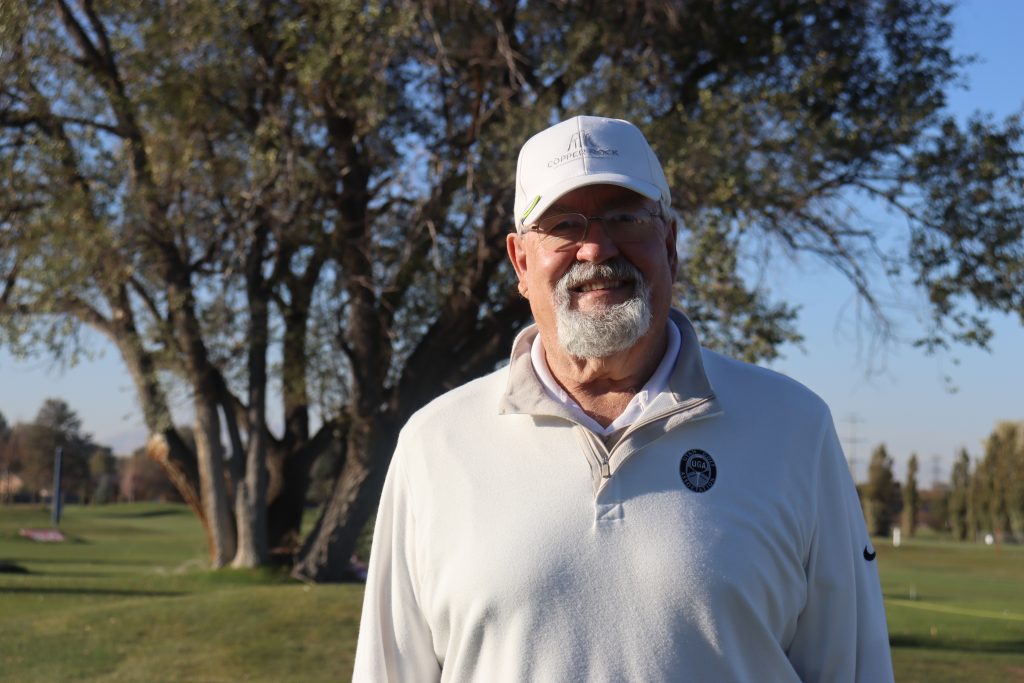 By Kurt Kragthorpe
Volunteer of the Year: Ted McGregor
In his youth, Ted McGregor occasionally sneaked onto the Ogden Golf & Country Club and played a few holes. Influenced by his career in law enforcement, he has found more approved ways to access exclusive golf courses in Utah.
McGregor's current method is serving as a course rater for the Utah Golf Association, and he's a devoted member of that team. His commitment and proficiency in that role have made him the UGA's 2020 Volunteer of the Year.
McGregor, 73, credits golf for having "probably kept me alive" and "giving me a reason to get up in the morning."
He clearly loves the game. From caddying at his hometown country club to launching the Utah Highway Patrol Golf Association and volunteering at PGA Tour-brand events in Utah, McGregor has been immersed in golf most of his life. The Roy resident plays with regular groups every week at Eagle Mountain in Brigham City and Schneiter's Riverside in Riverdale and eagerly responds when Reese Nielsen asks him to join a team of course raters. In 2020, he has analyzed courses from Bear Lake to Hurricane, joining in the important task of rating courses for handicap purposes.
Nielsen, who leads the UGA's course rating operation and received the Gold Club Award in 2018, nominated McGregor as Volunteer of the Year. With the PGA Tour Champions tournament at Jeremy Ranch and the original Hogan Tour stop in Provo, McGregor "was there when help was needed at a golf event," Nielsen wrote. "and he continues with that spirit as a course rating volunteer."
McGregor readily acknowledges that getting to play Jeremy Ranch as a reward for volunteering initially motivated him to work in security and transportation during the tournament. He especially liked being on the course as a marshal, "watching golf and interacting with people," McGregor said.
By 1992, he had played every golf course in Utah. More recently, the course rating opportunity has enabled him to get on the private courses in the Park City area, keeping his list up to date.
Married to his wife, Silver, for 47 years, McGregor can tell detailed stories about everything that goes into rating a golf course. In the law enforcement tradition, he enjoys the teamwork involved in it and says that any of his colleagues could have been named Volunteer of the Year.
News
Check out what has been happening in Utah Golf.
U.S. Men's & Women's Amateur Four-Ball Qualifying
The U.S. Men's & Women's Four-Ball Qualifiers were contested on Monday, November 8th at SunRiver Golf Club.  The players were met with colder than usual temperatures in St. George for this time of year.  The Utah Golf Association, who conducted the qualifiers, felt fortunate to avoid any frost delays or rain throughout the day, and finish the qualifiers with daylight to spare.
The weather was not the only challenge the players had to face during the qualifier.  Despite the moisture the course received leading up to qualifier, it was in great shape, and proved to be a challenging setup.  In the Women's Qualifier, Riley Lewis and Gracie Piar from Illinois, edged out the competition by one stroke, with a score of 68, three under par, and claiming the only qualifying spot for the ladies.  The U.S. Women's Amateur Four-Ball Championship will take place in April of 2021 at Maridoe Golf Club in Carrollton, TX.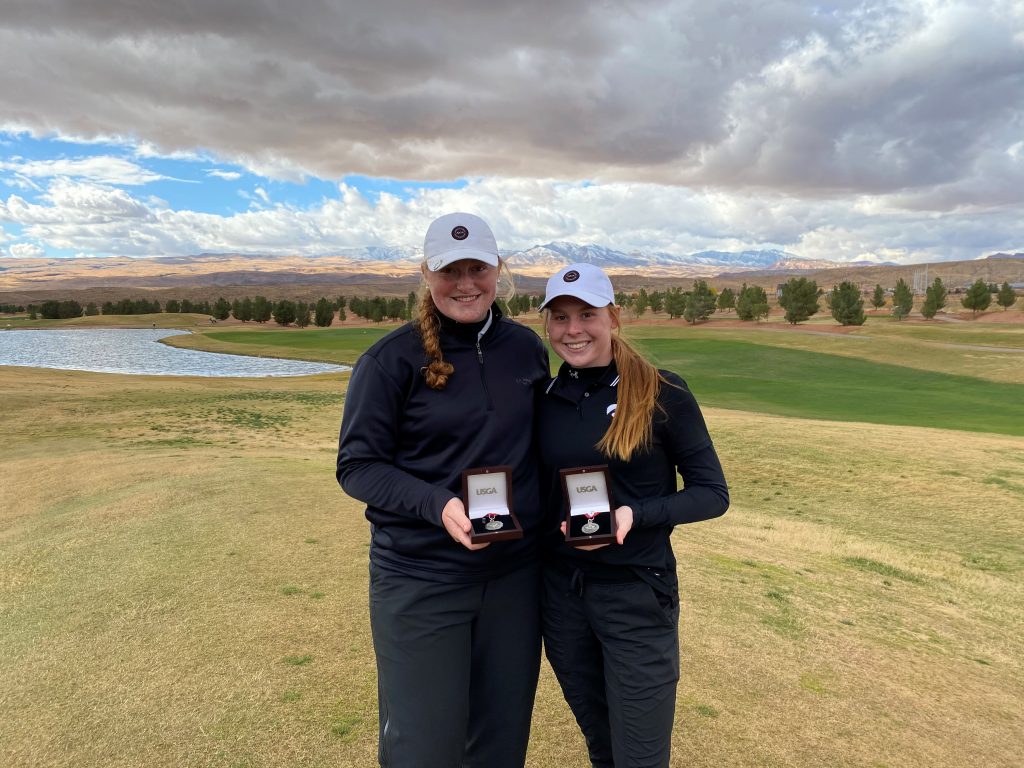 On the men's side, two local golfers, Jeff Jolley and Tyson Lund claimed one of the two qualifying spots available and tying for medalist honors, shooting a 64, with nine birdies and two bogies.  Two Las Vegas golfers, Chris Emanuel and Craig Erickson took the final qualifying spot and were co-medalists shooting a bogey free 64.   The U.S. Amateur Four-Ball Championship will take place in May of 2021 at Chambers Bay in Dupont, Washington.