News
Check out what has been happening in Utah Golf.
Utah Golf Association // Past President's Message
Yea Golf!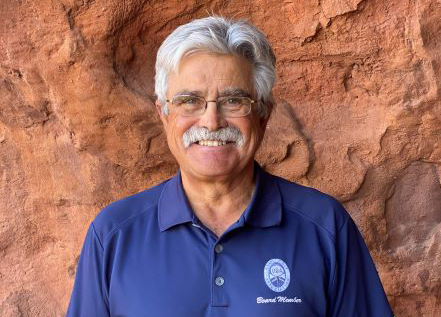 By Stewart Walz,
In 2021 the Board of Directors adopted a mission statement for the UGA; "The mission of the Utah Golf Association is to promote and advance golf.  The Utah Golf Association provides its members with golf related benefits, supports golf-related programs, and conduct championships."  Despite being very simple, that statement contains many concepts worth a little amplification.
Has the UGA furthered its mission in the last year?  I think so, but as the term "advance" connotes, there will always be more to do.  The old saying applies, "If you are not moving forward, you are moving backward."  So, what have we done over the last year, and what still needs to be done?
The UGA fulfilled its obligation to conduct championships. Last year the pandemic prevented us from putting on a full slate of championships, but our staff, interns and volunteers exceed all expectations in hosting the tournaments we did.    This year we returned to a complete calendar.  We scheduled a Net Championship for early October, but not enough golfers entered to conduct a championship with four divisions.  Hopefully, the UGA can find a date more appealing to a larger number of players next season so this tournament can be held.  I believe that we should maximize the opportunities for players of different skill levels,  genders and ages, to claim the title of  UGA champion.  To that end, the UGA added a Legends Division for golfers over seventy to Winterchamps and the Senior Stroke play.
One other change bears mention.  In the Women's Sate Amateur we expanded he match play bracket from 16 to 32 players.   This created the thrill of match play for more women players; it seemed to be a well received modification which will continue in the future.   That said, we had fewer than 70 registrants for the Women's State Am while almost 900 registered for the State Amateur.  I hope that that gap will close in the future.
These  changes helped fulfill our obligation to advance the game in Utah through our championships.  But, you might ask, how does our Association with a full time staff of only five conduct seven men's and eight women's championships in a season?  (Don't forget that the State Amateur has 11 qualifiers, the Senior Amateur 4, and the UGA conducts 9 qualifiers for the United States Golf Association).  It starts with our incredible staff.  Jake Miller, Easton Folster, Lisa Immamura, William Michetti and  Colin Clawson.  These people are dedicated to putting in the hours and effort it takes to organize and run our tournaments.
Two other groups of people are essential to running our tournaments, interns and volunteers.  Jake and Easton are perspicacious recruiters; they have done a fantastic job in hiring superb interns.  These women and men put in hours marking courses, coordinating volunteers, schlepping equipment, manning scoring areas, and doing whatever else their mentors require.   I hope you had an opportunity to read my column in Fairways Magazine because it was about our volunteers.  They work many days and long hours to ensure the players are introduced on the first tee each day, that the competitions are conducted according to the Rules of Golf, and Utah courses are rated properly so the handicap system will work as designed.   These men and women deserve thanks from all Utah golfers.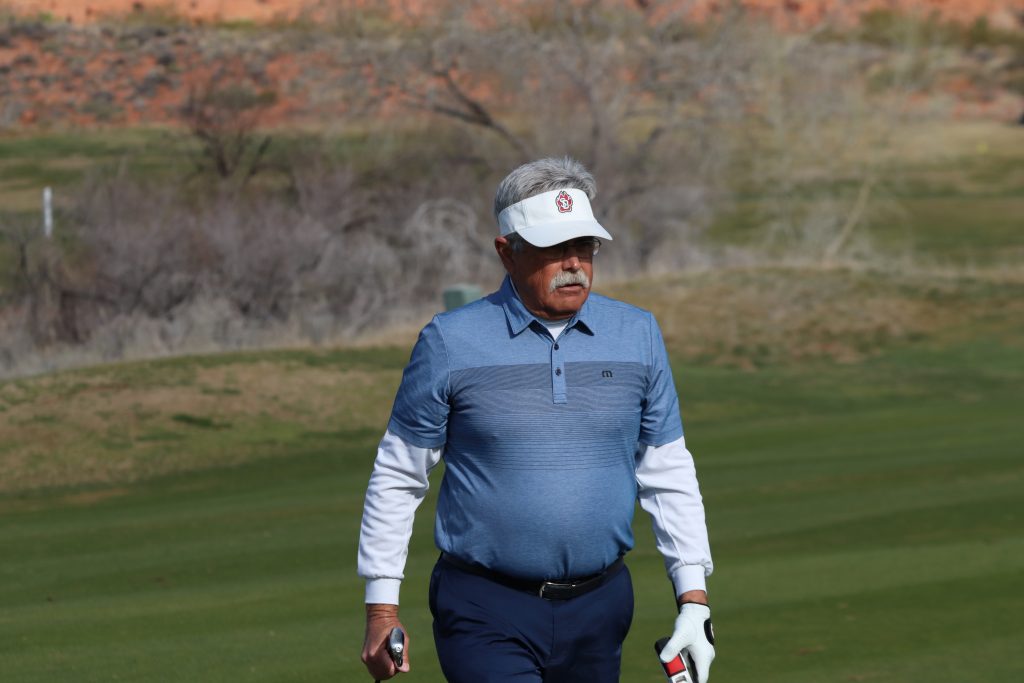 Does the UGA provide its members benefits?  Yes, and one way is by providing each member with a handicap index.  In fact, for many this is the major benefit the UGA provides its members.   Administering  the index is the exclusive province of the UGA.  Golf is a competitive game.  Bernard Darwin wrote, "It is the undying hope of improvement that makes the game so exquisitely worth the playing."   That index is the truest measure of improvement, measured either against yourself or your opponents.  All golfers who have an index realize it is the handicap system that allows players of different skill levels to compete in a fair match with others of different skill levels.  Of course, to be effective, the handicap system must be honest, and the UGA helps professionals police the handicap system so that it is honest.
This year the UGA has decided to provide the clubs in the state another significant benefit, continued access to the Golf Genius software.  The USGA decided to cease paying for Golf Genius after 2022. Golf Genius is a  tournament software program the UGA and many courses in the state employ to efficiently run tournaments.  The UGA decided that paying for the basic Golf Genius package for courses in the state is part of its mission, and will do so through 2025.
In addition,  the UGA's mission is to support golf related programs.  One way  it does that is through its charitable arm, the Utah Golf Foundation.  The Foundation has two very successful programs, Youth on Course and Vets on Course.  Youth on Course allows junior UGA members to play at over thirty course in the state for maximum of $5 for nine holes.   Vets on Course provides Veterans with afternoons of clinics and nine hole scrambles so veterans can associate with each other.  The UGA has helped raise money to assist these programs and provided administrative assistance  for them this  year and in the past.   (Before Youth on Course, there were approximately 900 junior members of the UGA. Now there are about 4500). Additionally, the UGA helps support the Utah Junior Golf Association and provides money to the PGA earmarked for junior golf.  The staff and board members of the UGA also enjoy a warm relationship with the First Tee of Utah.
The UGA also supports the Golf Alliance of Utah, which provides lobbying efforts and public information that protect and hopefully advance golf within the state.   As Utah grows, the Alliance, and the organizations mentioned in the preceding paragraph, are essential to encourage public entities and the public to support golf.  This is something that clearly is within the mission of the UGA.  It is also something that is within the mission of all members of the UGA.
We golfers know that our game is valuable recreation. We also know our game provides health benefits for its players.  We know our game teaches valuable lessons in honesty, fair play and courtesy toward others.  We know that most can play golf for a lifetime.  Some think that golf is only for the well to do, or is not welcoming to women and certain ethnicities.   To a degree some of that is true.   Golf will never be free.  But there are things we all can do to help golf and help the mission of the UGA.  Donate money to the UGF and The First Tee.  Donate used clubs, balls and other equipment to the First Tee at Golf the Round.  Encourage the junior at the driving range by simply saying nice shot.  Take your daughter, granddaughter or or junior of any gender to the driving range. And extol the achievements of golfers of color, particularly Utah golfers of color.  Apelila Galeai is our Women's State Amateur Champion, Tess Blair is a former champion, Kerstin Fotu made the cut at the Utah Open, and Tony Finau won on tour and is a two time Ryder Cupper.  The game is growing in all quarters and must continue to do so.
YEA GOLF!
Stewart Walz is the immediate past president of the Utah Golf Association who has completed his term on the Utah Golf Association Board of Directors.
News
Check out what has been happening in Utah Golf.
Scott Erling Named Big Sky Conference Coach of the Year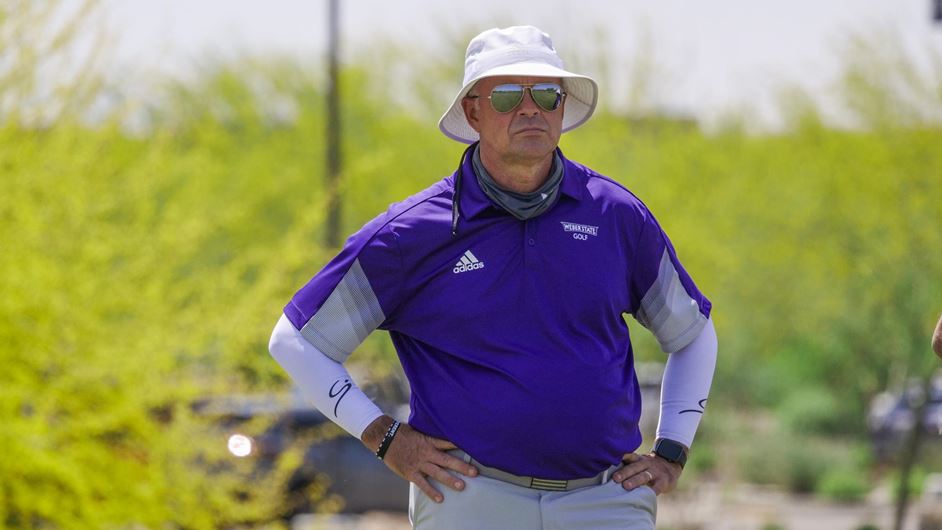 FARMINGTON, Utah – Following his team's run to claim the 2022 Big Sky Conference Men's Golf Championship in Scottsdale, Arizona, Weber State's Scott Erling has been named Men's Golf Coach of the Year the league office announced today.
The Wildcats won the league title by a single stroke, carding a 286 as a team in the final round of play. They outpaced Northern Colorado down the stretch of an incredibly tight tournament.
WSU also featured the league's individual champion, as Reese Fisher finished play on top of the leaderboard by shooting a 4-under 206, including a 64 in the second round.
The squad from Ogden will be continuing their 2022 campaign in Stockton, California at NCAA Regional competition with a chance to qualify for the NCAA National Championships.
Erling, who serves as the Director of Golf for Weber State, started coaching with the Wildcats in January of 2012. He was a four-year letterwinner at Utah State University as a collegiate athlete.
This is Erling's first Big Sky Men's Golf Coach of the Year honor, and the first for Weber State since the league brought back the sport. WSU's last men's golf coach of the year was in 2002 when Dave Kearl earned the title.
News
Check out what has been happening in Utah Golf.
Wildcats, Fisher Win Big Sky Men's Golf Championship Titles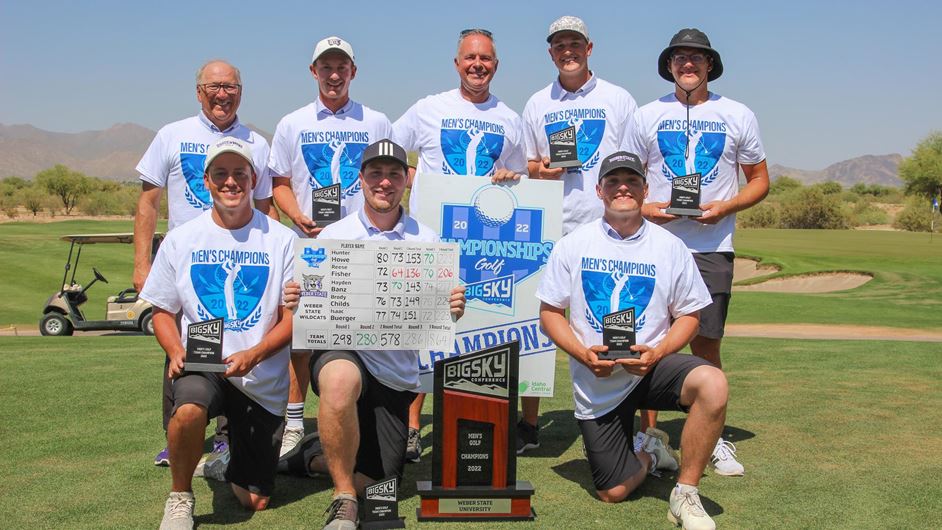 SCOTTSDALE, Ariz. – Weber State shot a final round 286 to hold off the field and win the 2022 Big Sky Conference Men's Golf Championship on Wednesday at Talking Stick Golf Club. Reese Fisher finished off the championship for the Wildcats on the final hole and finished with a 4-under par total of 206 to win the individual medalist title.
"I am so happy for this squad," said WSU head coach Scott Erling. "They have worked so hard all year and really deserved this. I couldn't be prouder to coach this team."
The Wildcats opened the tournament with a first round score of 298, and then surged to the lead on Tuesday with an even-par 280 for a two-shot lead over Idaho heading into the final day. Idaho faded to a fifth place finish on Wednesday, but Northern Colorado and Sacramento State each pressured for the lead, shooting final round 284's, while Binghamton shot the best score of the final round with a 282.
Weber State wrapped up the tournament with a final score of 864, one shot ahead of Northern Colorado and two shots clear of Sacramento State. Binghamton finished fourth at 869, followed by Idaho (871), Southern Utah (880) and Hartford (887).
Fisher became the first Wildcat to win individual medalist honors at the Big Sky Championships since Blair Bingham won the 2002 tournament, and the first Wildcat to win a conference individual title since Nick Despain took medalist honors in leading Weber State to the 2011 America Sky Conference title. He opened the tournament with a 2-over par 72 on Monday and then surged to the lead with six birdies in a bogey-free 64 on Tuesday. He then shot carded a single birdie against a single bogey for an even-par 70 to hold onto the lead. A bogey on hole 15 in the final round ended a streak of 33-consecutive bogey-free holes.
Fisher came to the final hole with the Wildcats leading Northern Colorado by a single shot and matched pars with the Bears' Blake Danni to give Weber State the win.
Hayden Banz joined Fisher in the tournament's top-10 with a 7-over par total of 217 to tie for 8th place. He shot rounds of 73 and 70 on Monday and Tuesday, respectively, before finishing off the event with a final round 74.
Hunter Howe shot his best round of the championship on Wednesday, offsetting two bogeys with a pair of birdies for an even-par 70. Howe finished the tournament with a three-round total of 223 to tie for 22nd overall. His final round 70 came after rounds of 80 and 73 over the first two days.
Isaac Buerger matched Howe at 223 and in a tie for 22nd place after posting rounds of 77, 74 and 72 for the tournament. Brody Childs, meanwhile shot rounds of 76, 73 and 75 for a total of 224 to finish in a tie for 24th place.
Binghamton's Justin Lane shot a final round 68 to join Idaho's Jose Suryadinata in a tie for second place on the individual leaderboard with a total of 212, six shots off the pace set by Fisher.
The team title is the 18th Big Sky Conference championship in the program's history and is the 20th overall conference title for the Wildcats as they twice won the America Sky title during the period when the Big Sky Conference did not sponsor men's golf.
The Wildcats will receive the Big Sky Conference automatic berth into the NCAA Men's Golf Regionals, which will be held May 15-18.
News
Check out what has been happening in Utah Golf.
Future Wolverine teammates Annabelle Millard and Millie Terrion run away with UGA Spring Open
High school seniors and UVU Women's Golf commits Annabelle Millard and Millie Terrion went wire-to-wire to win the UGA Spring Open at Sunbrook Golf Club. The duo posted back-to-back rounds of 67 points in the team stableford tournament to hold off defending champion Kareen Larsen and her partner Jessica Smith.
Up to this point, Millard and Terrion had never played as partners in a team event. With both girls searching for opportunities to prepare for the upcoming collegiate season, they were able to connect through their parents. After a runaway victory and a future as college teammates, it's safe to say this won't be the last time they team up.
"Today, Millie (Terrion) put in several good holes to piece everything together," said Millard, "We had a lot of birdies that fell and we were consistent throughout the day."
This was the first win at a UGA event for both Millard and Terrion. They are each planning to play more UGA events this summer and hope this is the first of many victories.
The Spring Open was the second event in the UGA's Women's Championship schedule. The next event will be the Utah Women's Four-Ball Championship at Toana Vista Golf Club on June 1-2.
To see full results for the UGA Spring Open, please CLICK HERE.
By Colin Clawson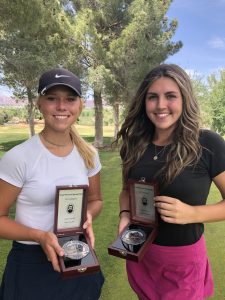 News
Check out what has been happening in Utah Golf.
USGA, The Country Club and the Town of Brookline Lead Action Toward Greater Environmental Sustainability at U.S. Open Championship
Significant efforts will drive greater community impact for National Championship,
scheduled June 13-19
LIBERTY CORNER, N.J. (April 25, 2022) – Golf fans, players, vendors, volunteers and others from Massachusetts and around the world will take part in delivering the most sustainable U.S. Open Championship on-site experience to date, thanks to a collaborative effort among the United States Golf Association, the Town of Brookline and The Country Club.

In line with the UN's Sports for Climate Action framework, the sustainability plan for the 122nd U.S. Open will significantly reduce the championship's carbon footprint and reinvest dollars in the Town's proactive environmental programs, leaving a lasting legacy well beyond this year's event.

For the first time in its history, the USGA has also committed to baseline measurement and analysis of the 2022 championship's carbon impact through third-party experts, which will lead to continuous improvement of the USGA's operations and ultimately further reduce the environmental impact of the championship, scheduled for June 13-19.

"This is one of the many ways we're acting on our commitment to advance the game and leave the planet better than we found it, so the next generation can enjoy playing outdoors as much as we do," said Mike Whan, CEO of the USGA. "The U.S. Open is a great week to spotlight what we do to sustain the game today, to show how collaboration can lead to greater action long into the future, and to illustrate that every step forward leaves an incredible impact."

"We are proud to partner as one of the five founding members of the United States Golf Association and as a neighbor within the Town of Brookline, to implement and promote joint sustainability initiatives that will produce the greenest U.S. Open to date," said Lyman Bullard, president of The Country Club.

"Sustainability is a core principle and a top priority for our whole community," said Heather Hamilton, chair of the Brookline Select Board. "We are grateful to the USGA for its deep commitment to ensuring that the U.S. Open not only takes meaningful steps throughout the championship to promote sustainability but leaves behind a lasting positive impact."

The 2022 U.S. Open sustainability plan is rooted in three main areas of focus:

Reduce: Significant energy and fossil-fuel conservation measures will be employed throughout the U.S. Open, combined with a program to divert landfill waste and dramatically reduce single-use plastics. Direct efforts include:
Reducing the use of diesel-powered generators, promoting open-air vs. air-conditioned spaces
Promoting efficient mass transit to the championship to reduce single vehicle emissions
Introducing all-digital ticketing and app-based fan information, as well as LED signage to reduce paper waste
Incorporating efficient lighting sources, including those powered through solar panels
Eliminating more than 500,000 single-use plastics from the U.S. Open and replacing them with more easily recycled aluminum cans or take-home collectible aluminum cups
Delivering more than 100 hybrid vehicles into the courtesy transportation fleet through USGA partner, Lexus
Encouraging fans to use recycling receptacles for food and beverage waste
Renew: The USGA will invest in community renewable energy projects and purchase Renewable Energy Credits to reduce the U.S. Open's footprint.
Re-invest: The USGA has collaborated with the Town of Brookline, local citizens groups and The Country Club to identify three community programs to improve the Town's owned green spaces, increase its tree canopy and advance carbon sequestration plans:
Planting 122 new trees in the Town of Brookline – The championship will add to the community's tree canopy by planting hearty deciduous trees in Brookline in tandem with its Urban Forest Climate Resiliency Master Plan. The trees will be planted in Environmental Justice Zones determined by the Commonwealth of Massachusetts along various streetscapes, providing cooling zones and promoting healthy green spaces in the area.

Seventeen trees – honoring the USGA's 17th national championship at The Country Club – will be planted this spring through a unique partnership with reforestation experts at One Tree Planted, the USGA and the Town of Brookline. The remaining trees will be planted in the fall, for a total of 122 new trees signifying the 122nd U.S. Open Championship.

Restoring the Lost Pond Trail: Identified by the Town of Brookline as a greenspace in need of action, the Lost Pond Trail will be cleaned and resurfaced through championship investment, which will also make it more accessible for visitors. Damaged by weather, erosion and overgrowth, the trail will be restored as a viable public asset that can connect Brookline citizens with valuable community green spaces.
Ecological Enhancement of the public Robert T. Lynch Municipal Golf Course: Following the U.S. Open, the town will initiate an ecological restoration project at an unusable area of the golf course. Currently a dumping ground for natural debris from fallen trees and other plant materials, the area will be remediated to directly improve the natural habitat, stormwater retention and water quality. Natural debris will be recycled, creating wood chips and organic material to help restore pathways and other recreational facilities throughout the town.
The USGA is committed to educate key stakeholders and fans about our sustainability programs. Fans attending the championship will be able to play an active role in sustainability efforts through:
Taking the MBTA subway, commuter rail service or bus lines directly to the championship
Riding a bicycle, walking or carpooling to the championship, to limit single-rider vehicle use
Using digital ticketing and official U.S. Open apps for course maps, pairings and fan experience sites, in lieu of printed materials to reduce paper waste
Bringing an empty 32-oz. (or less, non-glass) refillable water bottle and using championship hydration stations to further reduce waste
Taking advantage of open-air hospitality areas that reduce the number of generator-powered air conditioning units
Enjoying on-site food and beverage items served in recyclable/compostable containers
Following signs and disposing of waste in designated bins to ensure that those items are diverted from landfills
Sharing their sustainability ideas and stories during championship week to raise awareness about climate change and community programs
Completing the on-site U.S. Open survey to share how they traveled to the U.S. Open as part of the USGA's goal of measuring its overall greenhouse gases emissions impact
The 2022 plan aligns with the United Nations' Sports for Climate Action framework, which provides global leadership and commitment from more than 275 sports organizations to take responsibility for their climate impact. The program is rooted in five principles that commit to undertaking systematic efforts to promote environmental responsibility, reduce overall climate impact, educate for climate action, promote sustainable consumption and advocate for climate action through communication. The USGA has served as a signatory of Sports for Climate Action since 2020.
The U.S. Open sustainability plan also advances the Association's deep commitment and proven work in sustainability for more than 100 years. The USGA invests $10 million each year in science, research, agronomy and course consulting that has been independently proven to provide more than $1.9 billion in savings back to golf each year. These savings are realized through more efficient water, fuel, labor and nutrient management practices from which the entire game has benefited. Drought and pest-resistant turfgrasses developed through USGA funding are used on athletic fields, parks, lawns and golf courses worldwide.
About the USGA
The USGA is a nonprofit organization that celebrates, serves and advances the game of golf. Founded in 1894, we conduct many of golf's premier professional and amateur championships, including the U.S. Open and U.S. Women's Open Presented by ProMedica. With The R&A, we govern the sport via a global set of playing, equipment, handicapping and amateur status rules. The USGA campus in Liberty Corner, New Jersey, is home to the Association's Research and Test Center, where science and innovation are fueling a healthy and sustainable game for the future. The campus is also home to the USGA Golf Museum & Library, where we honor the game by curating the world's most comprehensive archive of golf artifacts. To learn more, visit usga.org.
News
Check out what has been happening in Utah Golf.
Round two of the Copper Rock Championship
By Kurt Kragthorpe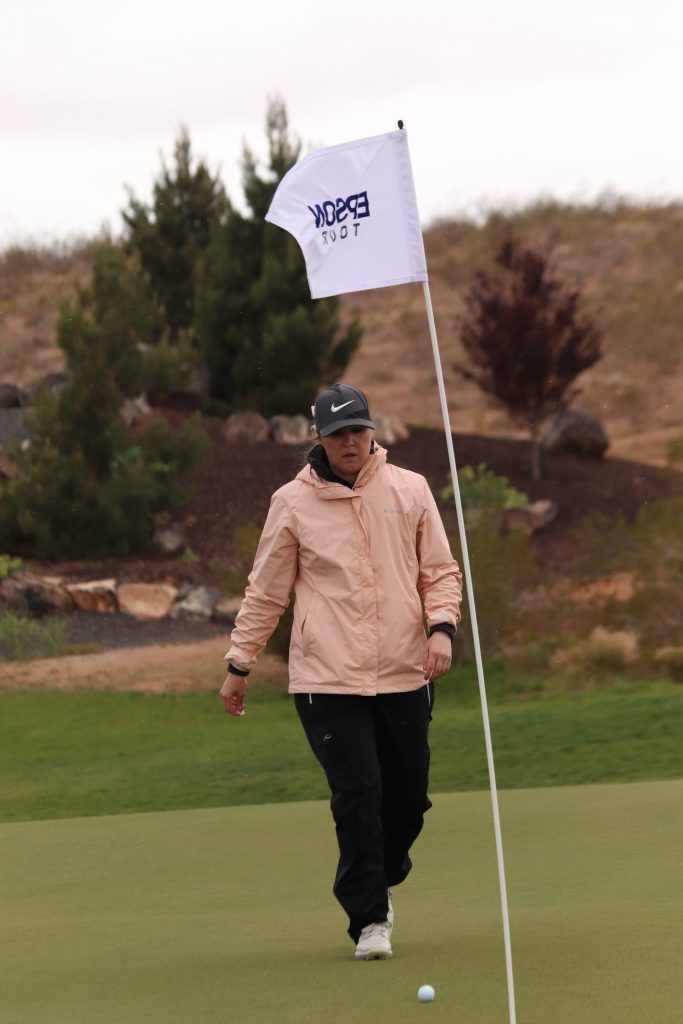 Kendra Dalton says she's a better golfer than ever. That statement covers last season, when her third missed cut of the Epson Tour schedule didn't come until September.
Now that she has failed to play the final round in three of five tournaments in 2022, including the Copper Rock Championship, she recognizes that her degree of self-belief lacks supporting evidence on her scorecards.
The numbers added up to 77 and 78 for the former BYU golfer this week at Copper Rock Golf Course, the second-year host of the event presented by KSLSPORTS.com. Friday's variable weather pattern in Hurricane produced cold, windy, rainy and, finally, sunny conditions just before sunset. By then, it was too late for Dalton and Haley Sturgeon to rally and earn a place in the final-round field Saturday, when conditions are expected to be much more pleasant.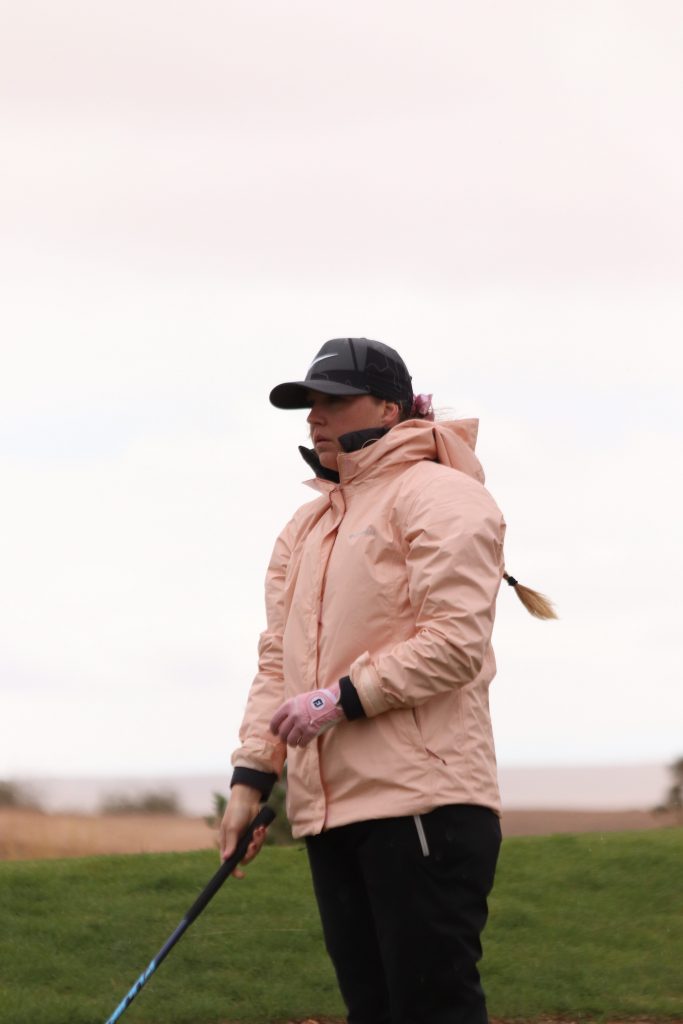 Sturgeon, an assistant pro at The Country Club in Salt Lake City, performed better in the second round to extend her trend of last April, when she also received a sponsor exemption into the LPGA Tour-brand stop at Copper Rock. Sturgeon (81-76) bogeyed the last two holes Friday, after a birdie on the par-4 No. 13 (No. 6 for regular play) had tied her with Dalton, an Epson Tour regular.
Emma Broze, a former Oklahoma State golfer from France, has posted 73-68 for a 3-under-par total and a two-stroke lead over three players. The rest of the field is over par for the tournament.
The cut came at 8 over par, four shots higher than last year (before the wind became the story of the final round and scores soared). Dalton missed by three strokes this week, even though she played the back nine in even par for two days.
Defending champion Bailey Tardy (78-75) missed by one shot, thanks to a bogey on the par-4 No. 17 (usually No. 10), where she partially shanked a short-iron approach shot into a bunker that's seemingly not even in play on the other side of the creek from the green.
Two former amateur stars advanced, though. In her pro debut, 17-year-old Alexa Pano (79-73) made the cut on the number. Gabriela Ruffels, the 2019 U.S. Women's Amateur champion, bounced back from an 81 with a 66 that included an eagle on the par-4 No. 10 (usually No. 3), where she drove the green.
As for Dalton, she bogeyed six of the first 11 holes Friday in a round that seemed doomed from the start, even while a 75 would have been sufficient to keep playing. Heavy rain stopped just in time for Dalton to tee off in the mid-afternoon, but cost her a warmup session. Her tee shot on the par-5 No. 1 went into the desert to the right of the fairway, leading to a bogey. Dalton's iron game was off all day, although she was more disappointed with a short game that's "really killing me" and couldn't overcome those ball-striking issues.
"I feel like I'm better than I've ever been," Dalton said, "but I'm not scoring."
So she'll travel to Garden City, Kansas, next week, hoping that the remaining three-fourths of the tour schedule will evoke better results. "Everything's there," she said of her game. "You just keep moving forward and learning. I know it sounds crazy, but I know it's there, and I'm going to do it."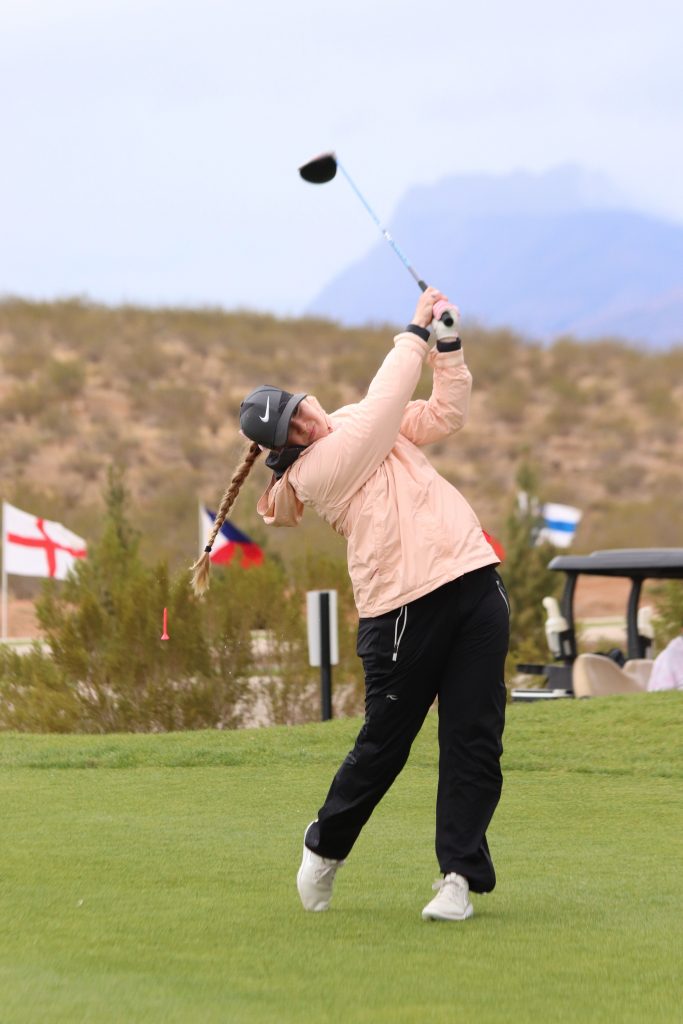 Sturgeon also left Copper Rock feeling encouraged, while wishing she could have done more with her limited tour exposure for 2022. "I have the game," she said. "It's mental, and then it's just accepting the elements. And, I think, belief in yourself is a big part of it."
She'll keep working on her game and on her Class A PGA membership. Sturgeon wants to use that status to become eligible for the Utah Section PGA Player of the Year award. She means overall, not only among female pros, as a three-time Women's Player of the Year.
News
Check out what has been happening in Utah Golf.
Round One of the Copper Rock Championship
By Kurt Kragthorpe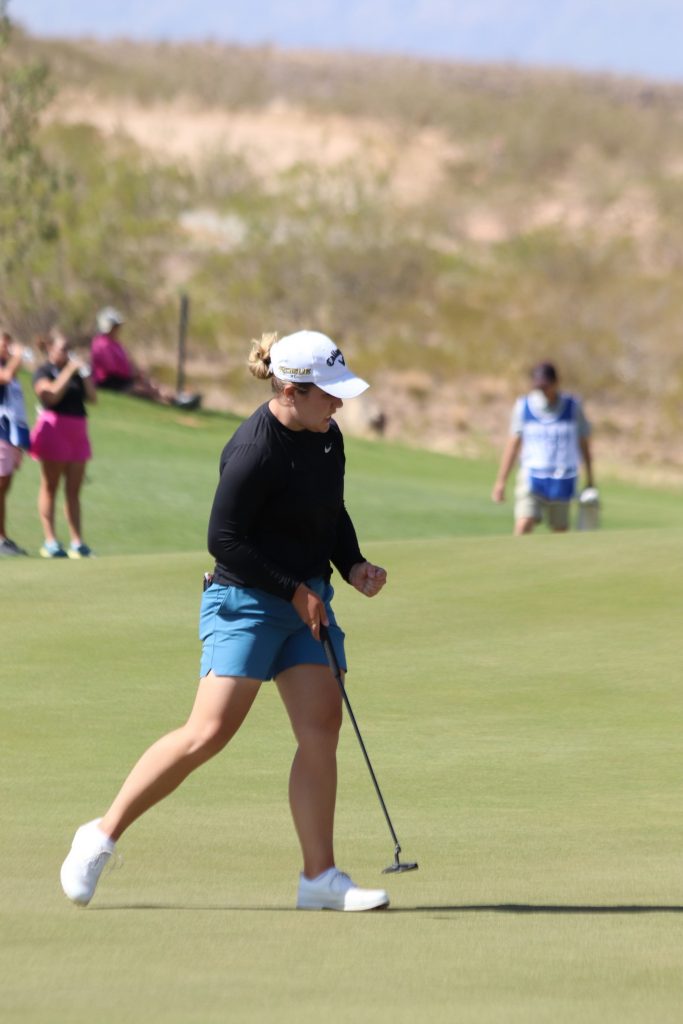 Smiles have varying styles. Kendra Dalton's wry grin came with a shake of her head and an expression of exasperation Thursday as she stood on the No. 9 tee of Copper Rock Golf Course, buffeted by the wind in her face.
The second Copper Rock Championship resumed in the same, relentlessly windy conditions as the inaugural tournament ended last April. The scores told the story in the opening round of the 54-hole Epson Tour event presented by KSLSPORTS.com: LPGA Tour veteran Kim Kaufman's 2-under-par 70 was good for a one-stroke lead and, even more remarkably, only three other golfers shot par or better.
"You can get punished out here," Dalton said, after absorbing two double bogeys on the front nine. The former BYU golfer rallied by playing the back nine in 1 under par, posting a 77 that "sounds awful," she acknowledged, although that number looked a lot better as the afternoon progressed.
Dalton is inside this weekend's projected cut line, which came at 6 over par for 36 holes last year. Copper Rock was much more playable in the first two rounds of 2021, before the sustained winds of 30-plus mph arrived for the finish.
Bailey Tardy, who posted 66-70-70 in winning last April's title, opened with a 78. Alexa Pano, making her pro debut at age 17 after recently appearing in the Augusta National Women's Amateur, played the last four holes in 1 under just to shoot a 79.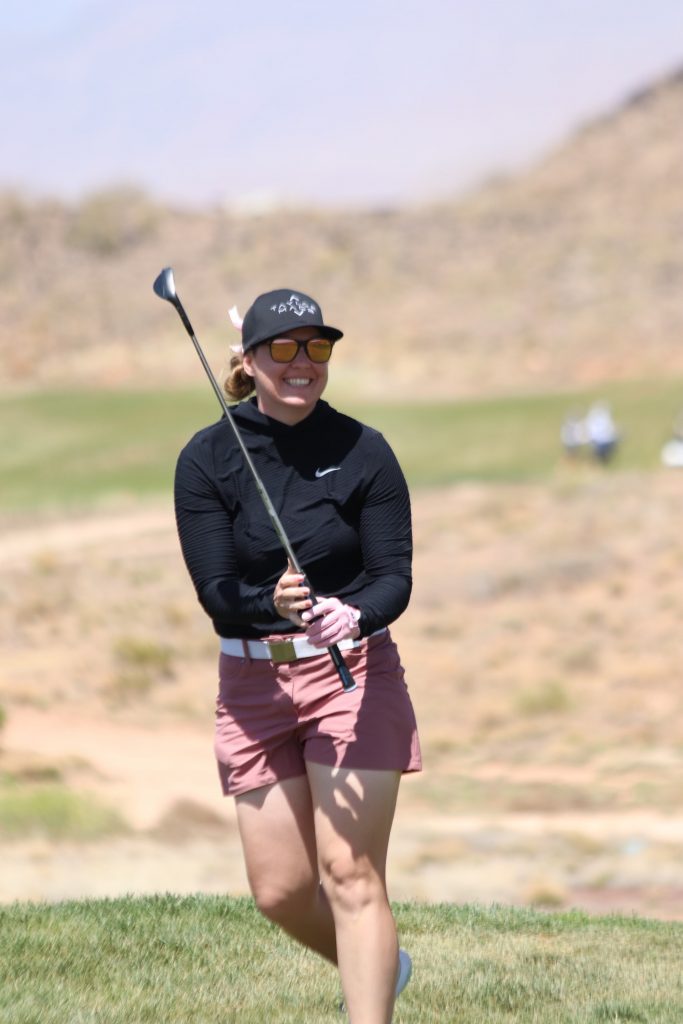 Haley Sturgeon missed the cut by one stroke last year. In Thursday's case, she got to experience everything she missed in that final round as the wind took its toll on the 120-player field.
Playing on another sponsor exemption, the assistant pro from The Country Club in Salt Lake City shot an 81, slightly worse than the 79 she opened with last year before responding with a 70.
Sturgeon hopes to make a similar comeback, the biggest question being when she'll get to play. Thunderstorms are in the forecast for Friday afternoon, when Dalton and Sturgeon are scheduled to tee off among the last few threesomes. If there's any delay at all, the second round will spill over into Saturday.
Thursday's average round lasted nearly 6 hours, with the wind requiring an agonizing process on every shot, even (or especially) short putts.
Dalton, in her fourth year on the newly renamed Epson Tour, missed the cut in the first two tournaments of 2022 before advancing in the last two events and ranking 64th on the money list. Her adventurous front nine Thursday included two swings from a greenside bunker on the par-5 No. 1 (No. 12 for regular play), followed by two good par saves and two missed birdie chances. The most exposed parts of the course then caused her trouble.
Her tee shot on the par-3 No. 6 hit "a wall" of wind, she said, leading to a penalty stroke and a double bogey. On the par-4 No. 9 (usually No. 2), her well-struck approach shot went through the green, then she chipped poorly and three-putted from 15 feet for another double bogey. At that point, she was 6 over and "a little frustrated," she said, ducking her head on the green of the same hole where she had tried to laugh off the rough conditions just moments earlier.
But she regrouped. Dalton played solidly on the back nine, birdieing the par-5 No. 12 after a great shot out of a fairway bunker, hitting seven greens in regulation and saving pars when necessary.
"A lot of it's your attitude," she said of salvaging a round. "You can get pretty mad and keep that angry energy, but that's something I'm really trying to do, is not react in my mind. I think that just comes with experience."
Sturgeon knew what she was getting into this week, as a club pro temporarily experiencing life in an LPGA Tour-brand event. Yet the wind and the environment still worked against her.
"You're just trying to get mentally ready for (the wind)," she said. "Unfortunately, I just couldn't settle into it and accept it. I feel like I was fighting it a lot. I knew it was coming, but I just couldn't wrap my head around it."
Same with performing in a tour setting. Sturgeon labeled herself as "a little bit more prepared" than last year, but she "still had a lot of nerves going."
News
Check out what has been happening in Utah Golf.
The 7th U.S. Women's Amateur Four-Ball Championship Tees Off
Utah's Kelsey Chugg, a former U.S. Women's Mid-Amateur champion and a four-time winner of the Utah State Women's Amateur, heads to the Grand Reserve Resort in Puerto Rico.
By Kurt Kragthorpe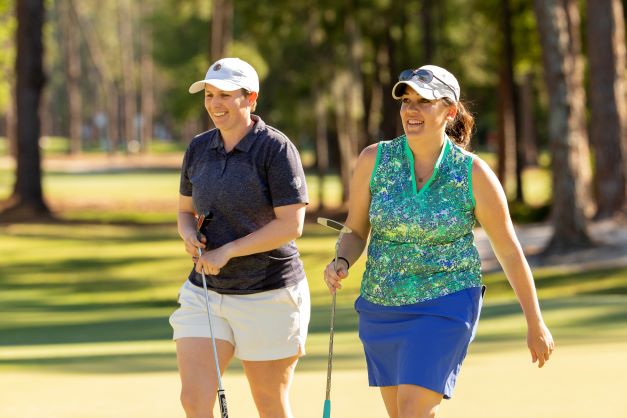 The story of how a baby boy altered Kelsey Chugg's golf schedule requires some explanation.
And while there's nothing wrong with playing in a Dallas suburb, little Auggie Bobb gets the credit for sending his mother to Puerto Rico this week to compete alongside Chugg again in the seventh U.S. Women's Amateur Four-Ball Championship.
Here's what happened: In October 2020, Chugg, the four-time Utah Women's State Amateur champion, and her friend Julia Potter-Bobb qualified in Illinois for the following year's Four-Ball, staged last April in Carrollton, Texas.
A few weeks later, Potter-Bobb announced she was pregnant. Her initial plan was to compete in Texas, barely more than two months prior to her due date (August David Bobb was born July 2). She checked with the United States Golf Association, though, and learned that a maternity exemption was an option, deferring their participation. The 2022 venue of Grand Reserve Golf Club in Rio Grande, Puerto Rico made that decision even easier.
Rain is in the daily forecast this week, but that's better than last week's snow that closed Forest Dale Golf Course, where Chugg occupies a clubhouse office as the associate director of Salt Lake City Golf.
"I'm just looking forward to playing, getting down there and being able to focus on my game for a few days," Chugg said.
Read the complete Fairways Media Photo Journal story here: https://tinyurl.com/2p9srsn5
News
Check out what has been happening in Utah Golf.
Utah's PGA TOUR Canada Qualifiers from USA West 2
Former Southern Utah University golfer Jake Vincent is fully exempt with a win at the USA West 2 Qualifier. Former Utah State Amateur champ Mitchell Schow will join him. 
By Randy Dodson, Laury Livsey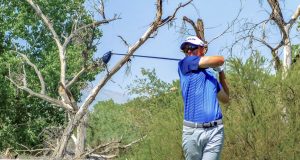 Jake Vincent was 20 strokes worse over his final 36 holes compared to his opening two rounds. What resulted, however, at PGA TOUR Canada's Qualifying USA West 2 Tournament at Soboba Springs Golf Course was a victory, by a stroke over Perry Cohen and David Kim. How he did it, while not always pretty with 72 holes that were something of an adventure, still got the job done. With the victory, Vincent will be eligible to play in every 2022 event.
With a final round (-8) 64 former University of Utah golfer Mitchell Schow earned half-season status with a guarantee of six starts before the mid-season reschuffle. Schow was the 2020 Utah State Amateur champion at Jeremy Ranch Golf and Country Club.
CLICK HERE to read the complete Fairways Photo Journal feature: https://tinyurl.com/3a63rr4m
News
Check out what has been happening in Utah Golf.
Rasmussen's Redemption
Former BYU Men's golfer Rhett Rasmussen advances to PGA TOUR Canada half-season status, another step in his quest to play the big leagues of professional golf.
By Randy Dodson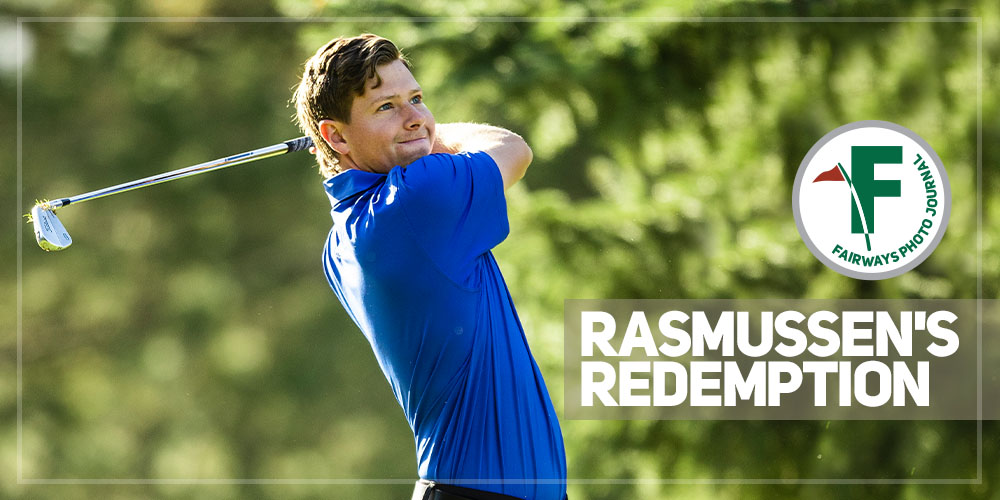 Amidst a global pandemic in the spring of 2020, BYU golfer Rhett Rasmussen saw what was promising to be an exciting senior season of golf disappear. The Cougars had just come off a fall season that produced two wins and three second place team finishes in eight tournaments.
The team was looking forward to the 2020 Spring season schedule that included prestigious events like The Goodwin, the Western Intercollegiate, their own PING Cougar Classic, the West Coast Conference Championship and a possible NCAA Championship spot.
It was all taken away by the pandemic.
Rasmussen made a decision. He turned professional and started the long slow grind to his ultimate goal of PGA TOUR status.
CLICK HERE to read the Fairways Photo Journal story: https://tinyurl.com/459uk4e5