News
Check out what has been happening in Utah Golf.
News
Check out what has been happening in Utah Golf.
Three Things with Lindsey Stucki DSU Women's Coach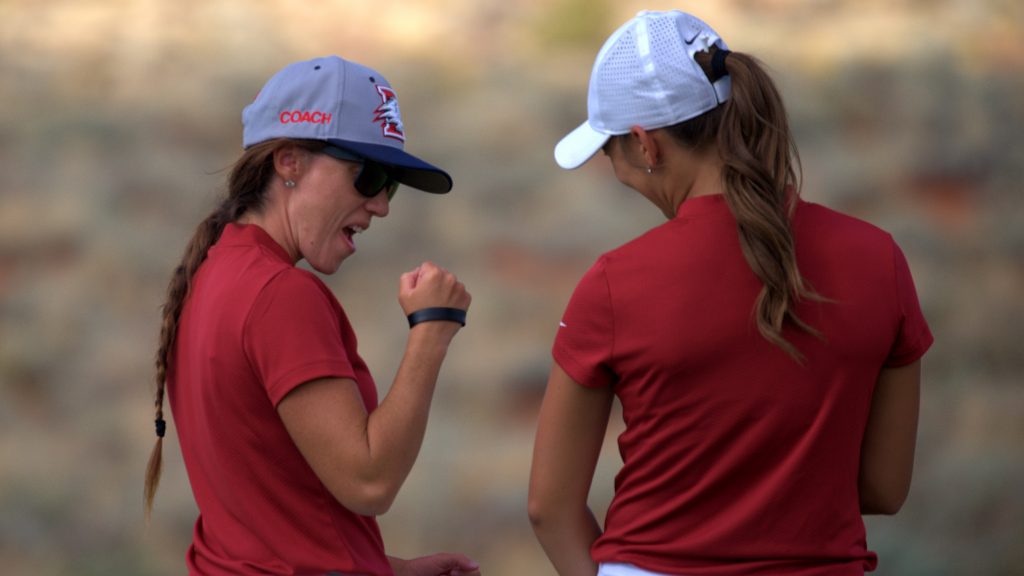 *Editor's Note*
Lindsey Stucki is in her fourth season as head coach of the Dixie State University Women's Golf program. Stucki has led the Trailblazers to a runner-up finish at the 2019 RMAC Championships, and to consecutive fifth-place finishes at the Pacific West Conference Championships in 2017 and 2018.
Coach Stucki, who is an apprentice member of the LPGA Teaching and Club Professional program has worked in various aspects of the golf industry including as an assistant golf professional at Sand Hollow Golf Resort in Hurricane, Utah.
She also served as a LPGA Assistant Teaching Professional for the City of St. George, and worked with prominent swing instructors Doug Roberts and Mike Smith. In addition, she served two seasons on the coaching staff of the Hurricane (UT) High School girl's golf program, including a one-year stint as the Tigers' head coach in the 2010-11 season.
Stucki played collegiately at the University of Central Arkansas, where she helped lead the Bears to six-consecutive team tournament wins and a Gulf South Conference championship. She also spent time at BYU-Hawai'i, for which she helped develop the Seasiders' women's golf program.
Stucki graduated with Cum Laude honors in Business Administration from Dixie State in 2007, and completed one year in professional golf management program at Lethbridge (Canada) Community College.
A native of Cranbrook, British Columbia, she and her husband, Ty, are the parents of two children – Rowen and Dash.
Three Things
By Lindsey Stucki,
Dixie State University
Head Women's Golf Coach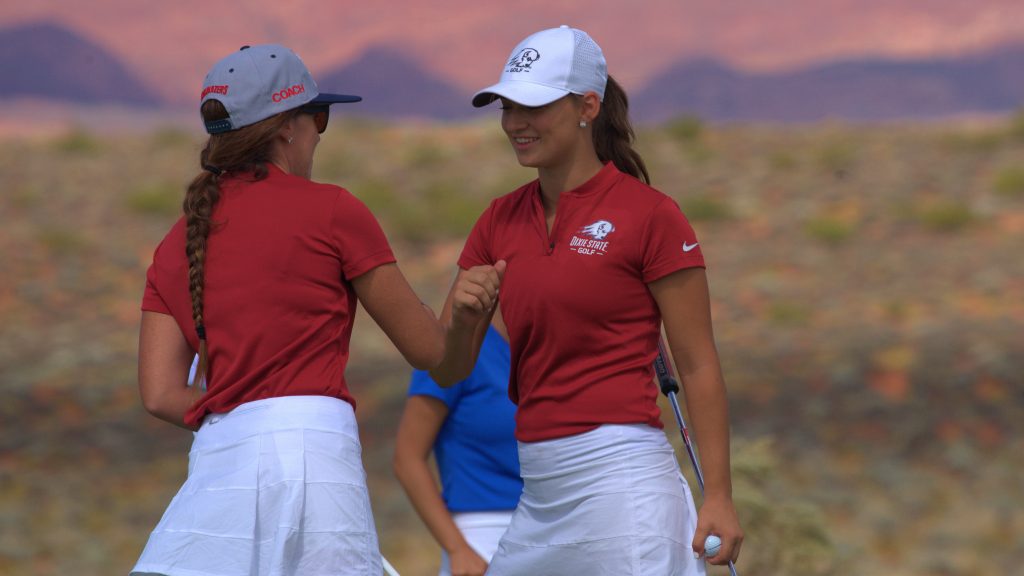 There are many things girls can begin doing in high school to better prepare themselves for college golf. To me, three of the most important things are:
Get as much tournament and competitive experience as possible. A lot of incoming players aren't prepared for the increased competition they face, not only in tournaments, but also among their own teammates. We only travel with five players so qualifying for that top five roster spot can be intense. The more tournament experience while in high school, the more skills will develop and players will be more comfortable in competitive situations.
Learn how to manage time. Being a college athlete can be challenging. Balancing school and a rigorous practice schedule is often difficult. Being able to manage time and understanding that sacrifices will have to be made will help college athletes thrive in both golf and in school.
Developing a mental game and a decision making process is also key to success. This really relates to both attitude and course management. The best players thrive in knowing and learning the variability of the game.
News
Check out what has been happening in Utah Golf.
News
Check out what has been happening in Utah Golf.
Trading Hoops for Putts
By Randy Dodson
Lauren Taylor isn't your typical incoming Utah Valley University Women's Golf freshman and that's just fine with Head Coach Sue Nyhus; and it's not just her Australian accent that makes her stand out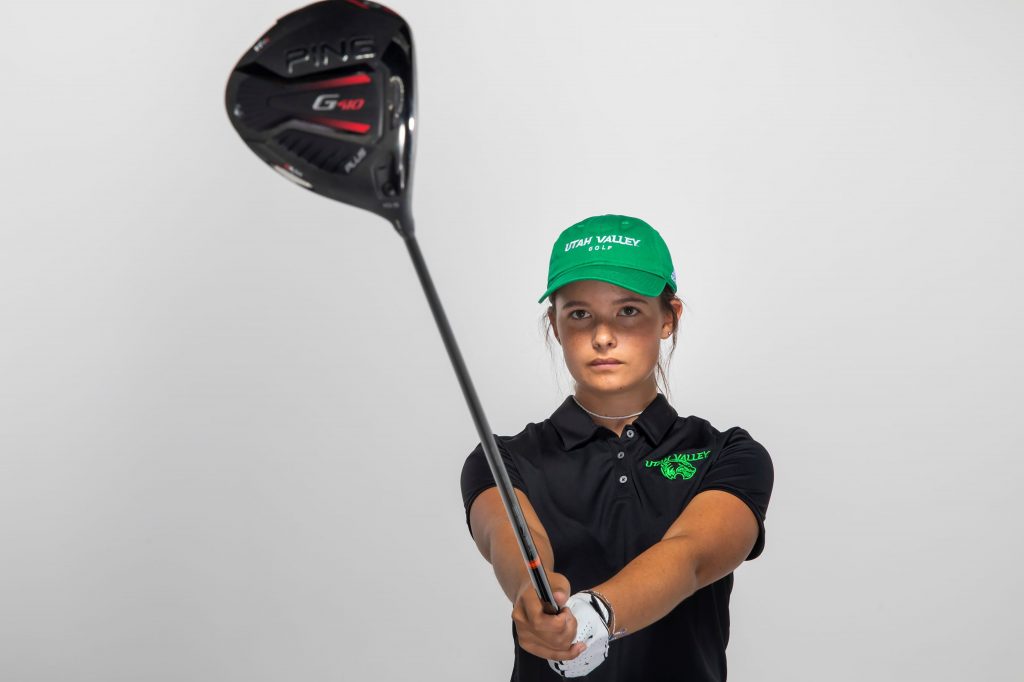 Lauren Taylor, incoming freshman, Utah Valley Women's Golf (Photo credit: UVU Marketing)
Coming from a Lone Peak High Girls Golf team full of talent, Taylor's first love of sports was basketball. As a tall pre-teen, now standing 5'9", why wouldn't it be? Lauren's father, Peter, an avid sportsman who played Australian-rules football, tennis, cricket, squash and golf, had no problem when at age 12 she traded playing hoops for making putts at The Vines Country Club, located in the Swan Valley region of Western Australia, once home to the European Tour's Heineken Classic, Johnnie Walker Classic and Lexus Cup.
A native of Perth, Australia, Taylor first fell in love with the social aspect of golf as she played in weekly competitions with golfers of all ages. After moving to Utah she became more competitive and dedicated to improving her swing and her scoring ability.
As a Lone Peak Knight, Taylor was named to Utah's High School All-State golf teams from 2016 to 2018. She was the 2016 region champion and finished in the top ten individually in the 6A High School Girls State Championship for three consecutive years, including a second place finish in 2018, one stroke behind Tess Blair, with rounds of 69-66 at Meadow Brook golf course.
Of Taylor, recently retired Knight's Coach Gina Higbee said, "She is a very positive person and a great leader. She likes to know when she really needs to grind because her team needs her and she always comes through. Her positive attitude makes everybody on the team happy and she loves positive surroundings and positive feedback. I absolutely adore her, not just as one of my past teammates, but as a friend."
The Knights have won three state titles in four years with Taylor playing a role in all of them.
"Lauren is a strong, athletic golfer who is eager to learn," said Nyhus. "Her ball striking has been improving each year. She brings a bright countenance each day. Lauren also benefited greatly from the high level of competition on her Lone Peak team. She is a great student as well, which fits perfectly with our "Student-Athlete" model. All of these factors and a few more make Lauren Taylor a perfect fit for our Wolverine team."
Lauren's path to UVU has followed the junior golf roadmap just as Utah's allied golf associations have created it. She first teed it up with the U.S. Kids program then progressed to the Utah Section PGA's junior series, followed by the PGA's Major series and Utah Junior Golf Association tours while playing high school golf. She also now competes in Utah Golf Association women's championships.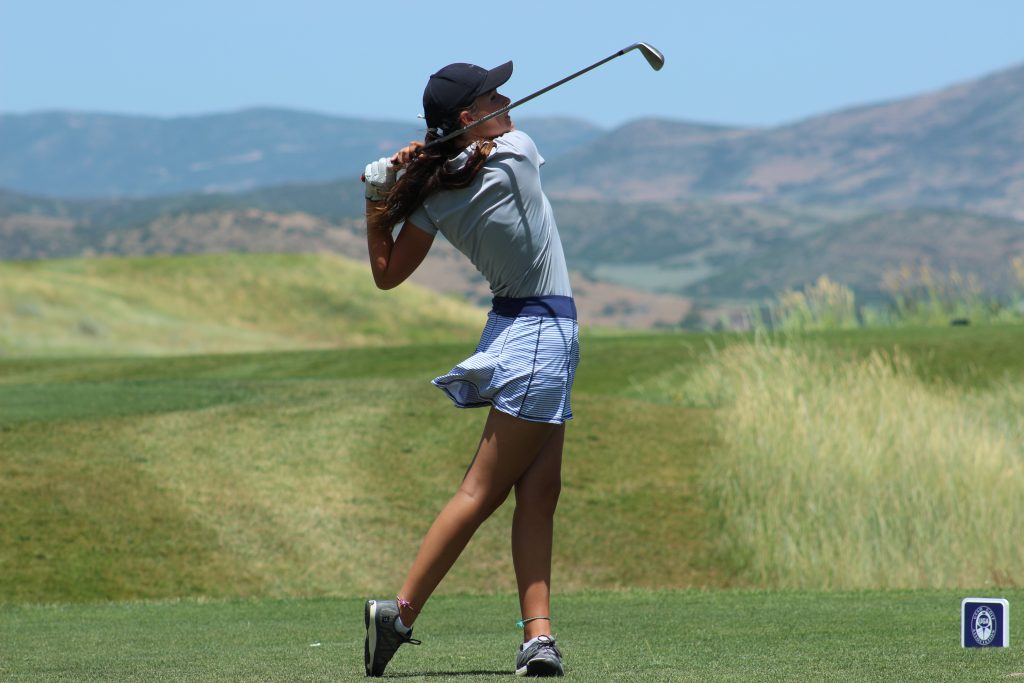 Lauren Taylor finished in 7th place at the Utah Women's Stroke Play Championship at Soldier Hollow Golf Course this summer. (Photo Credit: Fairways Media/Randy Dodson)
When interviewed after the UGA's Utah Women's Stroke Play Championship at Soldier Hollow Golf Course Taylor said, "I loved playing high school golf. I was lucky enough that I had an awesome team and played pretty well, especially my junior year. That was probably my best year. Last season Berlin Long came in and me and Abbey Porter were seniors so I felt like we had three really solid players. It was a great team with awesome gals to play with."
Fairways magazine writer Kurt Kragthorpe wrote in his 6A Championship feature, "Beyond the team's talent, Coach Gina Higbee credited Lone Peak's camaraderie for its strong performance." That sentiment is shared by Taylor and she sees Higbee as the instigator saying that she cares about each girl and the team more than any other coach she's seen, calling her coach a "fireball."
UVU's Sue Nyhus fits that mold according to Taylor. While she had thoughts of leaving the state to play college golf, it was Nyhus that made the difference in her final decision to become a Wolverine.
"She was the one coach that made me feel I was wanted on the team as much as I wanted to be there. I grew up with the whole team sport thing and in some ways playing golf you miss out on the that aspect. I think that's why I really enjoyed playing high school golf and I think I'm really going to enjoy playing college golf, knowing that I'm playing for something more than myself."
And that's just what Coach Nyhus wants to hear.
News
Check out what has been happening in Utah Golf.
Meet the Mulhalls
By Randy Dodson
Living in multiple locations surely has its disadvantages but being a junior state champion in multiple states sits just fine with Ali and Molli Mulhall. The two golfers, ages 13 and 10, have played throughout their young careers in Wyoming, Utah and Nevada, racking up wins in each state and with each new age division and even, in Ali's case, against the adults.
While Ali and Molli each have won the Utah State Junior Amateur for their age group multiple times, they have never done so in the same season, until this year.
Ali and Molli claimed the champion's medals in early June at the Utah Junior Golf Association's Utah State Junior Amateur sponsored by the Utah Golf Association and hosted by The Links at Overlake, Schnieter's Riverside, The Barn and Park City golf courses and Park Meadows Country Club.
The Junior State Amateur week began with over 200 UJGA members of all age divisions teeing it up in stroke play qualifying trying to reach the match play brackets. Ali finished with a 2-under 70 and medalist honors and moved on to the round of 16 in the Girls 13-14 age division while Molli, playing in the 10 & Under division, shot a six-over 43 to reach the championship match.
In the 18-hole championship match Ali defeated good friend Arden Lochheim 1-up at Park Meadows Country Club in a match that was fiercely competitive and just as friendly.
In explaining her match Ali said, "I played with my best friend today; it was an amazing match that went all the way to the last hole. We went back and forth and my opponent Arden was an amazing sport and a pleasure to play with. I'm a really competitive person and I love the competitiveness of match play."
Molli cruised to a 7 and 6 win in the 10 and under championship at Park Meadows. After her match she said, "I played against a really nice girl (Claire Olafsson) and I played really good."
Get to know these two fine junior golfers who are sure to keep making a name for themselves in Utah golf for many years to come.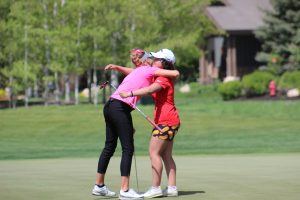 Ali Mulhall
Age: 13
Three-time Utah State Junior Amateur Champion 2014, 2016, 2019
174 tournament victories in seven different states
FCG National Champion 2014, 2017
Two-Time Monterey Challenge winner
US Kids Desert Shootout Champion 2017, 2018
US Kids World Championship: 1 top 5 and 2 top 10 finishes
Two Holes-in-one, age 6 and age 8
2018 National Drive Chip and Putt finalist at Augusta National (her favorite course)
2018 Wyoming State Women's Amateur champion (will defend that title later this summer)
Favorite club: Putter
Average driver distance: 245-yards
Swing coach: Chris Mulhall (Father)
Loves Utah golf because she can hit it farther in Utah
Plays or practice every day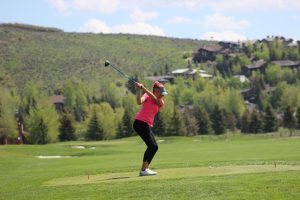 Molli Mulhall
Age 10
Started playing golf when she was four-years old
Favorite club: 7-iron
Strongest part of her game: Putting
Golf Goal: Play on the LPGA Tour
Favorite LPGA Player: Lexi Thompson
Favorite Golf Course: Round Valley Utah
Driver distance 170-yards
65 junior tournament titles
Two-time Utah State Junior Amateur Champion 2018 2019
2017 Future Champions World Championship top 5 finish
Age 9 played in Wyoming Women's State Amateur from 5,800 yards, youngest ever to play
2016 US Kids Tour Player of the Year-Utah
2017 US Kids Tour Player of the Year-Nevada
Three-time Drive Chip and Putt Regional Qualifier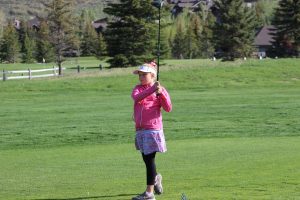 News
Check out what has been happening in Utah Golf.
Desert Duster Women's Golf Tournament Highlights and History
The Moab Desert Duster is the oldest and largest women's golf tournament in Utah. Click play to see highlights and history of this annual event.
Video produced by Fairways Media
News
Check out what has been happening in Utah Golf.
Jamie Connell – 5A Medalist
Jamie Connell – 5A Medalist
By Jesse Dodson
Typically a one-hole playoff provides enough drama to decide a State Champion medalist, but for Corner Canyon senior Jamie Connell, the playoff lasted eight holes against West High School's Whitney Banz to decide the 5A Medalist.
With a birdie on the 8th playoff hole at The Ridge Golf Club, the drama was over and the celebrations begun as Connell's teammates rushed out to celebrate.
"It feels amazing to accomplish something like this," Connell said. "All I've wanted to do my entire high school career is to win state individually. It feels great knowing that my hard work paid off my senior year."
The playoff victory was a rightful send off for Connell as she now plans to play a summer full of tournaments and prepare to play D1 collegiate golf for Idaho State University with a full ride scholarship.
"When it counts the most, she plays her best; a rare quality, true to her character" said Mark Connell, Jaime's father. "Character and leadership is what she will bring to ISU."
"I love playing golf because it is part of who I am," Jaime continued. "Although it's an incredibly frustrating sport, it genuinely makes me happy every time I'm out on the course."
Get to know Jaime:
Driver or Putter?
Driver
Walk or Ride?
Ride
Favorite band/singer?
J. Cole
Wood or Plastic tees?
Plastic
Pizza or Pasta?
Pasta
Bump and run or flop shot?
Flop Shot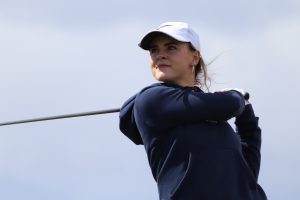 News
Check out what has been happening in Utah Golf.
Carissa Graft – 6A Medalist
Carissa Graft – 6A Medalist
By Jesse Dodson
Winning Medalist honors in the 6A Girls High School State Championship at TalonsCove Golf Course is impressive, but setting a state record in the process makes it that much better.
Bingham High School senior Carissa Graft saved her best-two rounds for the right occasion with a 65 in the first round and a 66 to back it up. A two-day total of 13-under provided a six-shot cushion over reining 6A State Champion and Utah Women's State Amateur Champion Tess Blair, who happens to be a teammate as well.
"I've worked really hard for four years," Graft said, "and being able to win as a senior is a great end to my high school career."
Graft is committed to play for the Indiana Tech Women's golf team and based on her performance at State, she'll be riding a wave of momentum.
As for her summer plans, "I'm going to play about one tournament a week and continue working with my golf coach Ryan Holt to continue improving my game for college," she explained.
Get to know Carissa:
Draw or fade?
Draw
Mallet or blade putter?
Mallet
Movies or Music?
Music
Dream foursome?
Tony Finau, Jason Day and Nancy Lopez
Hamburger or hotdog?
Hamburger
Ice cream or cookies?
Ice cream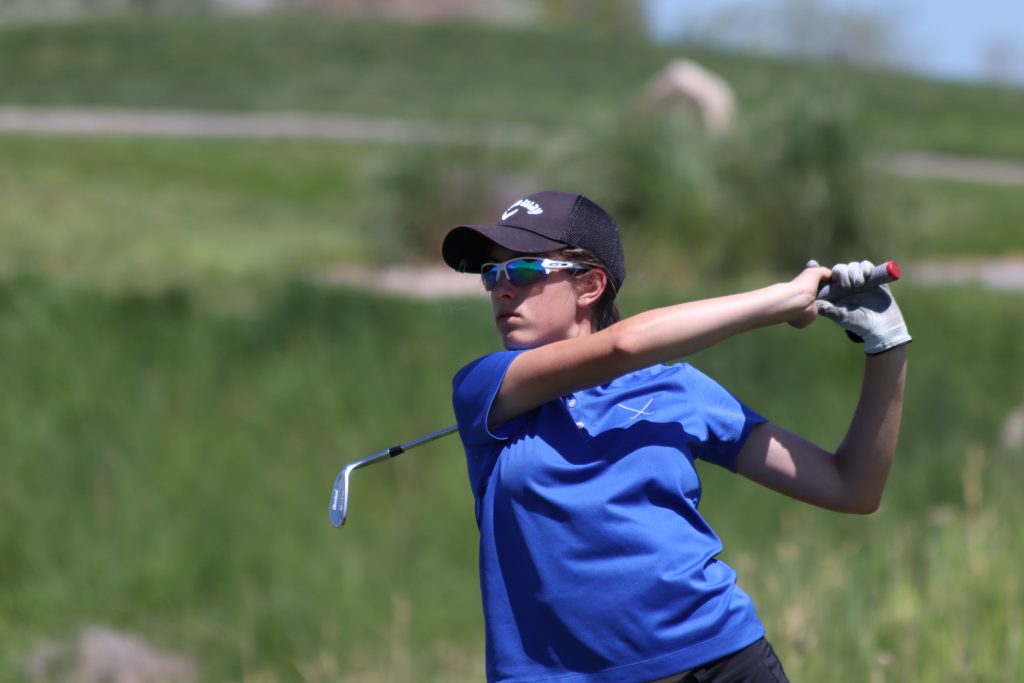 News
Check out what has been happening in Utah Golf.
Rivals and Friends
By Kurt Kragthorpe
The entry points into golf were very similar for Caylyn Ponich and Berlin Long. Their ultimate destinations are unknown at this stage, but what's evident is that two Utah families have nurtured golfers who love the game and will play it for a lifetime.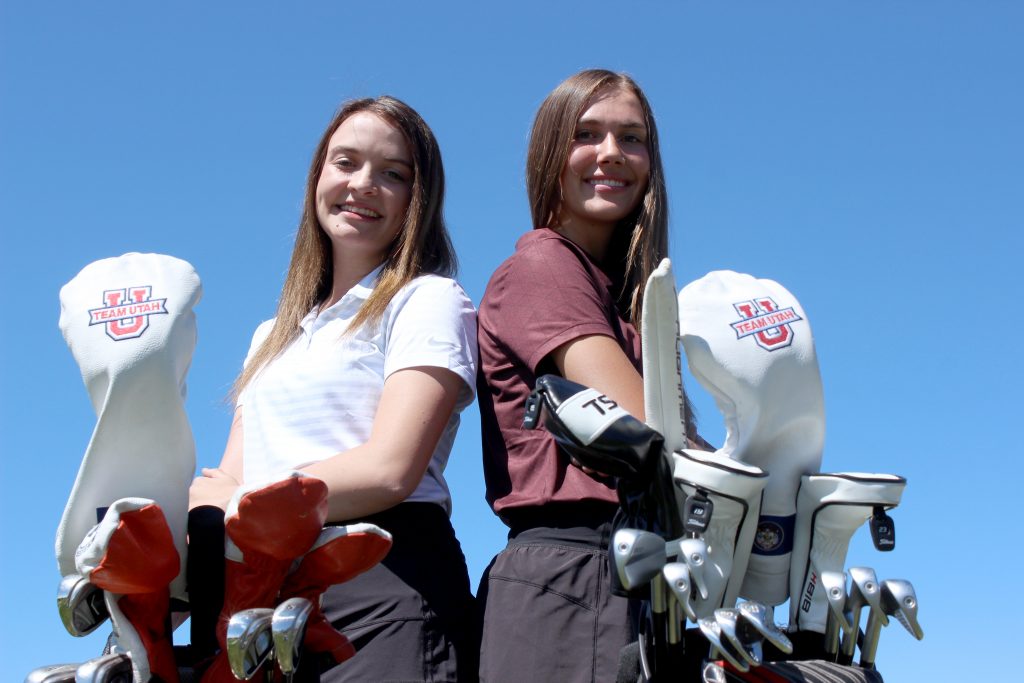 The next checkpoint for these two players is May 13-14, when the Class 6A girls state tournament will be staged at TalonsCove Golf Course and Ponich's Davis Darts will challenge Long's Lone Peak Knights, the defending champions. Inevitably, the two will contend for medalist honors and be compared to each other, after each posted a score in the mid-60s in a high school tournament as a freshman (Ponich is now a junior).
Yet each of them has her own, developing story in golf. And it is apparent that they will be more concerned about the team competition in Saratoga Springs, having embraced that part of high school golf.
This is the first thing anyone familiar with Utah junior golf wonders about Caylyn: Is she Cole Ponich's sister? Yes. Living at Jeremy Ranch at the time, Tom and Becky Ponich didn't have designs on building a family of junior golf stars and future collegians (or beyond), they just wanted a sport the family could play together. But it didn't take long for the children, who are a year apart in school, to become interested in playing in tournaments.
Cole has gone on to play in the Jr. Ryder Cup and earn a scholarship to BYU, starting in 2019. The sibling dynamic is supportive. "I'm sure it hasn't been easy living in the shadow of his success," Becky Ponich said. "Cole has had many opportunities that few in junior golf ever get the chance to experience. I know she somewhat feels that pressure, and I'm sure it's not always easy, but she never shows it."
Caylyn said, "Watching my brother and seeing how successful he is pushes me to work harder."
The Ponich family enjoyed a memorable day last June when the siblings won their divisions of the Utah State Jr. Amateur at Oakridge Country Club, after a long week of match play.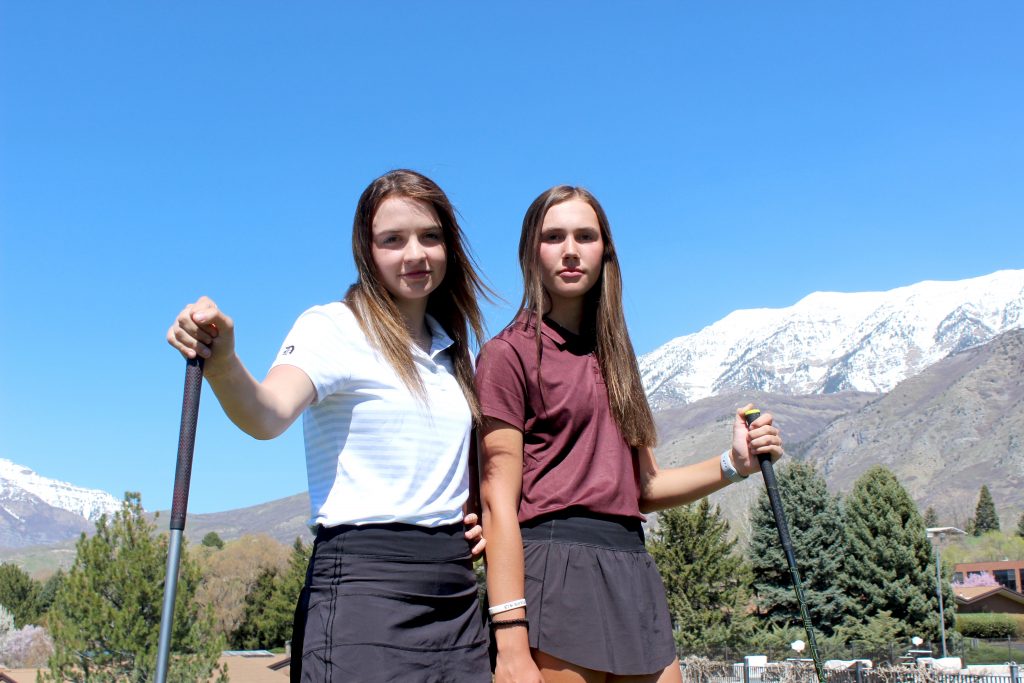 The family's move to Kaysville made Cole and Caylyn part of Davis High School's golf tradition, in addition to their extensive competition in the summers. As a freshman in 2017, Caylyn shot a women's course-record 64 at Glen Eagle, making six consecutive 3s on the back nine. "I love the team aspect of high school golf," she said. "Each girl on the team is part of this special family we have built. We have become so close and have made so many fun memories that I will remember for a long time. We are all supportive of each other and I love each and every girl out of the 18 on the team."
Even in individual tournaments, amid her competitive, focused nature, Caylyn enjoys the camaraderie with the other players, her father said.
Becky Ponich added, "Everyone is a friend to Caylyn, if she doesn't know someone that she is paired with, they will be friends by the end of the round. She's just a very sweet, loving soul and I love that about her. I think the thing I love the most about her is that she never beats herself up over anything not going her way; there truly is no drama on the course with her."
The rest of this story is going to sound much the same, as the discussion turns to Berlin Long, who also is known for being genuinely kind to others and mature for her age. The main difference is that while she has older brothers, she's being followed by a younger sister, Aadyn. Each sister already has competed at Augusta National Golf Club in the finals of the Drive, Chip & Putt competition. Berlin also has played in tournaments around the country, once joining Mike Weir in Nick Faldo's Major Champions Invitational in Florida.
Rob and Courtney Long, of Lehi, were persuaded by the Joneses, another prominent Utah Junior Golf Association family, to join Alpine Country Club as a bonding opportunity. Berlin's talent and drive became evident in early lessons with Rob Stanger at Alpine (she now works with teacher Clay Ogden). Tournament competition soon followed. Her mother, Courtney, laughingly tells the story of a US Kids event in which Berlin was the only entrant in her age group, "so she won."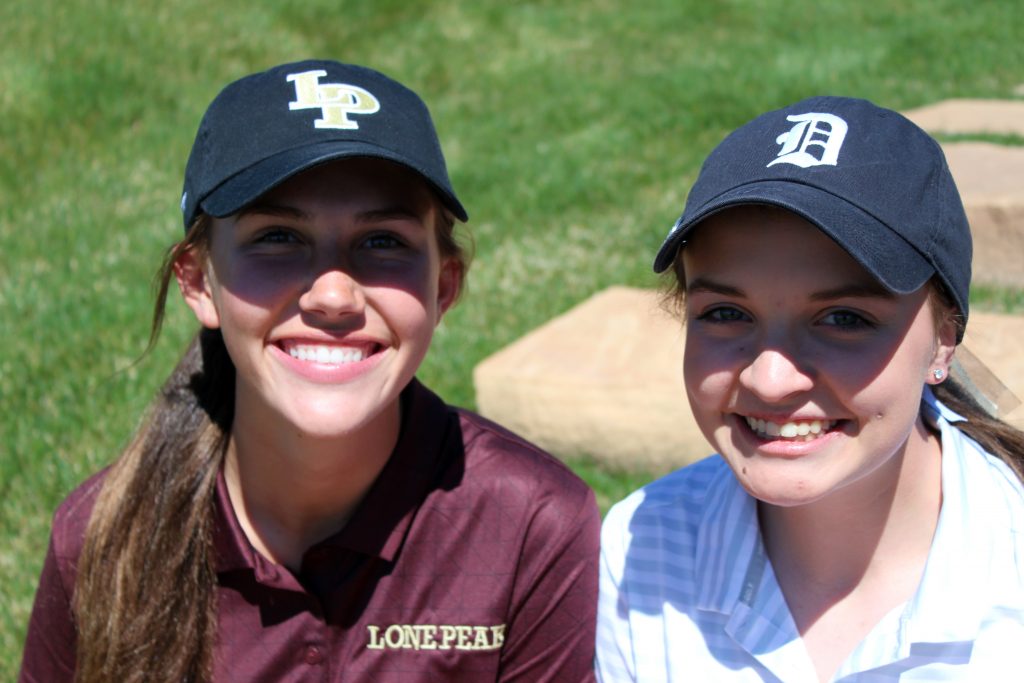 Almost ever since then, Berlin has played in older divisions of UJGA events and is willing to compete in traditional adult events in the UGA. Playing for Lone Peak this spring, she has shot a school-record 65 at Sleepy Ridge and a 66 at the Ridge.
Much like Caylyn, Berlin has embraced the team element of what she knows mostly as an individual sport. "I love the team aspect of high school golf and all the friendships that have come from it," she said. "I have loved playing in team events for the UJGA, but high school is a whole different level of team golf. I love being able to cheer on my teammates."
So each of them will enjoy the state tournament, and then move into another summer of high-level competition, locally and nationally. Then come college possibilities. Ponich has committed to Utah Valley University; Long still has some time to go through the recruiting process and make her choice.
And then who knows where their golf careers may take them? Tom Ponich makes a good point, in that regard. He remembers his motivation as a father, from the start. He just hoped his son and daughter would enjoy the game as much as he does, and play it the rest of their lives.
That's what Caylyn Ponich and Berlin Long are sure to do, and they'll pass that love of golf along to the next generation.
Kurt Kragthorpe is a Salt Lake Tribune sportswriter and frequent contributor to HER Fairways.
Photos by Fairways Media/Garrit Johnson
News
Check out what has been happening in Utah Golf.
Right Where She Belongs
By Kurt Kragthorpe
Darci Olsen looks out the window toward Glenmoor Golf Course's No. 1 tee and sees the past, present and future of a landscape that has shaped her life and continues to do so.
Creating a make-believe story to top this real-life tale would be difficult. Having grown up at Glenmoor in a Dehlin family that loves golf, becoming the course's head professional and living through the emotional turmoil of the facility's threatened closure last year is good stuff, and it's about to get even better for her. Big plans are in the works with Glenmoor's new ownership, on the property Olsen always has treasured.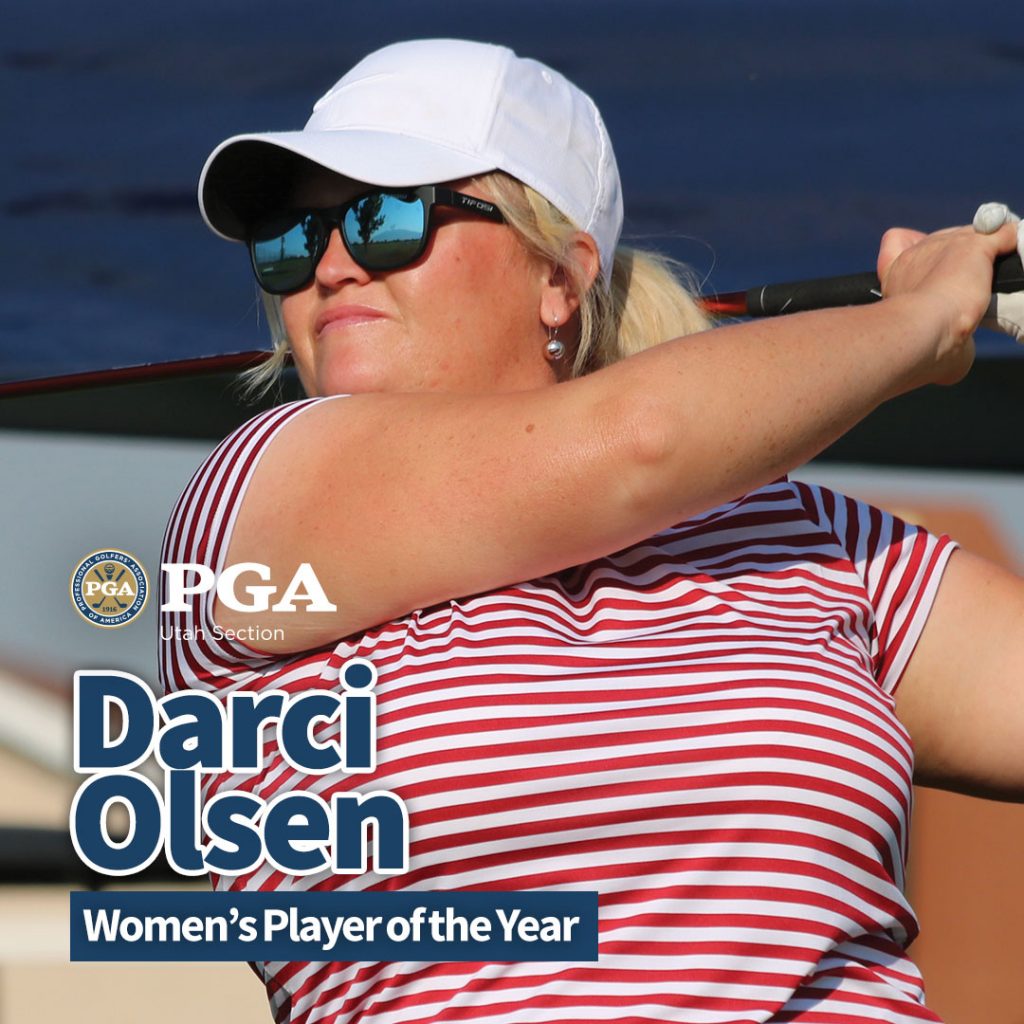 "I can't picture myself doing anything else," Olsen said. Or anywhere else, really.
But let's back up, because the word "picture" provides a road map for Olsen's career. The siblings are 15 years apart, so Darci was a kindergartner when her oldest brother already was playing golf for the University of Utah. Devin Dehlin never would have known how he was influencing his sister to follow him into the golf business, but there's historical evidence. It's found in the drawing Darci created, saying her career ambition was to become a golf professional.
And here she is at Glenmoor, although that picture became somewhat blurry in the past couple of years. Olsen and her husband, Joey, moved home to South Jordan after they worked together for six years at Roosevelt Golf Course in eastern Utah, only to discover that an ownership dispute raised the strong possibility that Glenmoor would be sold to real estate developers.
At one point, Olsen said, "I thought it was a totally done deal."
With the property in receivership, legal issues prevented her from becoming the face of the Save Glenmoor initiative. In practice, though, the community rallied around Olsen and her programs. "Show your value." That's what PGA professionals always are being told to do, and there was plenty of available evidence in Olsen's case. The success of the PGA Jr. League, men's and women's leagues and other programs showcased Glenmoor's place in the community and eventually led to a saving investment last September.
The "White Knight" whom Olsen references in detailing the story wants to be known strictly by the Glenmoor Holdings LLC title. What's clear is that saving the course was just the start of what's to come in the southeastern Salt Lake Valley. From his perspective as the Utah Section PGA's executive director, a child of Glenmoor and a brother of the pro, Devin Dehlin said, "I can't wait to see it in five years."
The Dehlin family's ties to Glenmoor already cover more than 40 years of the course's 50-year history that was celebrated last summer with a 50-hole event and party. The late Pat Dehlin discovered the course and moved his family from Taylorsville, to be closer to it. Devin, Dustin, Danna and Darci all worked and played at the course, and their mother, Jeanne, still lives nearby.
Olsen keeps looking out that window as she speaks, on a rainy April afternoon. Her voice catches, as she tries to describe Glenmoor's impact: "That's our legacy. That's our history. That's a huge part of our lives."
And that will become even more true for her, in the coming years. Her 8-year-old daughter, Randli, loves to play ("as long as it's her idea," Olsen clarified) and is likely to embrace the PGA Jr. League the same way that more than 100 youngsters do at Glenmoor. In the program's third year, three levels of golfers are competing this spring, turning an individual sport into a team and family event on Friday evenings. And they deserve some of the credit for the success of Save Glenmoor, as South Jordan officials recognized what was happening.
"That was the game-changer," Olsen said. "It totally changed their minds, just by doing my job and growing the game."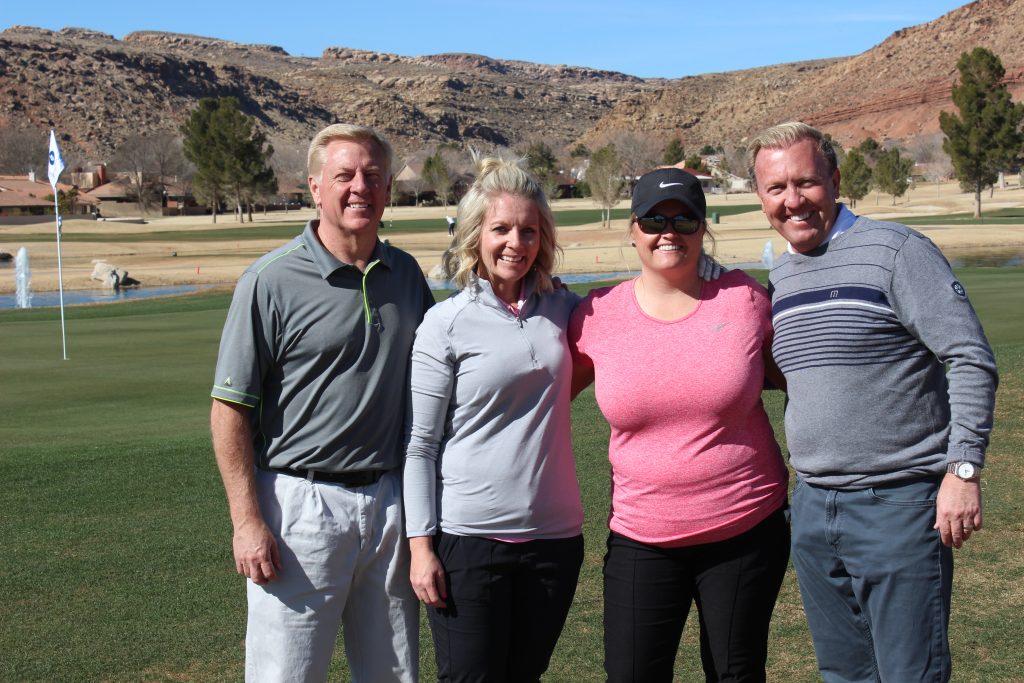 The course is saved, but Olsen's continually acts as if her work is just beginning. "My sister has lots of ideas," Devin Dehlin said. "It's like, 'Darci, you can't do all of 'em.' But she does do all 'em all. It's been fun to watch."
She loves being a golf pro, thankful that the game enabled her to meet her husband. She was an assistant pro at Willow Creek Country Club when Joey was hired as an assistant superintendent. She started playing golf together and a marriage blossomed among the willow trees in Sandy.
Professionally, Olsen was encouraged by PGA members who kept telling her about career possibilities. "You can go anywhere you want," they would tell her.
"I'm really lucky," she said. "I've just always had great opportunities and pros that pushed me."
She's pleased that the Utah Section PGA is creating more chances for female pros to compete, and thankful that a male-dominated profession is so accepting of her and other women. She can picture herself, one of these years, as a section officer.
And as we know, the things Olsen pictures tend to become reality.
Kurt Kragthorpe is a Salt Lake Tribune sportswriter and frequent contributor to HER Fairways.
Photos by Fairways Media