News
Check out what has been happening in Utah Golf.
Bailey Tardy, Hurricane's winds, rule the final round at Copper Rock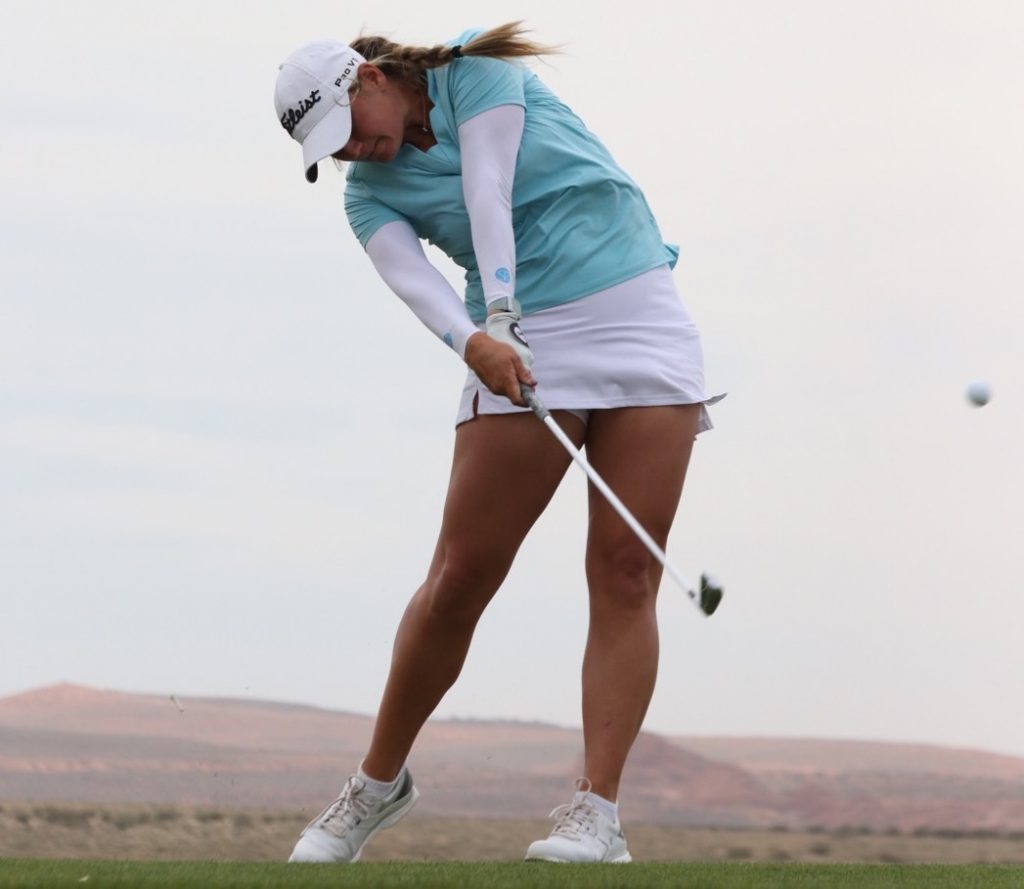 By Kurt Kragthorpe
The inaugural Copper Rock Championship came with a soundtrack. As the final threesome approached he 18th green, "Rock You Like a Hurricane" played on the loudspeaker.
The title had multiple meanings. Bailey Tardy will always remember Hurricane, Utah, as the site of her first Symetra Tour victory. And the other players who contended less successfully with Saturday's conditions will remember the hurricane-style gusting winds that framed the competition at Copper Rock Golf Club.
"That's real wind out there," said former BYU golfer Kendra Dalton. "Now we know why it's called Hurricane."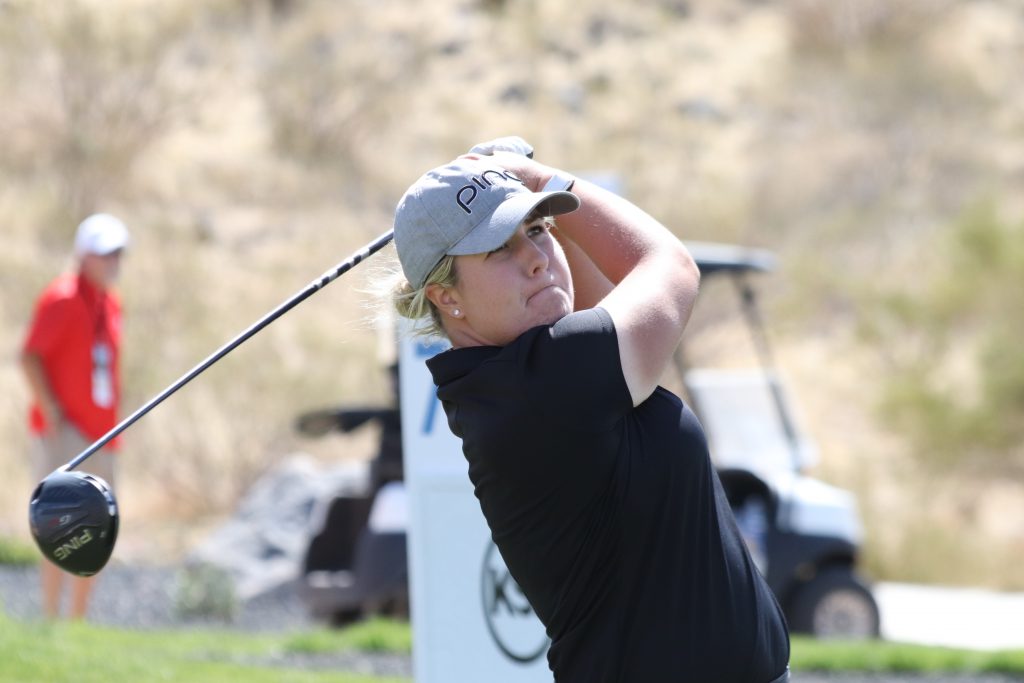 Tardy, a University of Georgia product, was more concerned about controlling her nerves and holding off an early challenge from Maude-Aimee Leblanc, who birdied four of the first five holes. Tardy started Saturday's final round of the 54-hole championship with a four-stroke lead and never lost it. And a surge in the middle of the round carried her to a three-stroke win over Leblanc and Samatha Wagner, as she posted 66-70-70 for a 10-under-par total.
Dalton made two sets of three straight bogeys over her last 11 holes, as the wind affected her putting and chipping even more than on her full-swing shots. Dalton's 78 dropped her to a tie for 45th place, after she started the final round tied for 25th. After four tournaments, she's 36th on the money list with $5,751.
Tardy earned $30,000 for the win, after a year when she just needed another $343. That's how close she came to making the top five in the 2020 Symetra Tour standings, in a pandemic-shortened season when only five LPGA Tour cards were awarded, instead of the usual 10.
"I was so close last year so many times," Tardy said. "To pull through and come out on top, it just means a lot to boost my confidence."
Tardy's key stretch came when she birdied the par-4 No. 10 and the par-5 No. 12, with a par save on No. 11 in between. Even after Leblanc cut the lead to one stroke, Tardy said, "I just stayed within my game and didn't freak out."
As for Dalton, she described herself as "a little disappointed with that finish," amid some consolation of a lot of other high scores being posted.
"I definitely have a lot of room to grow," she said. "I like to play in the wind, but this much wind, definitely there's a learning curve."
Dalton's troubles started on the par-5 No. 8, where she missed a short par putt after the gusting wind caused her to remark her ball multiple times, worrying that it may have moved. Having scrambled well the first two days, she then developed chipping problems, leading to bogeys on the par-4 No. 10 and the par-5 No. 12. Each of those bogeys came after perfect drives.
Her misadventures on No. 12 began after her downwind second shot rolled to the back of the gigantic, serpentine green, with the hole located at the front – more than 50 yards away. Her mishit chip shot traveled only about 10 yards, and then she tried to chip from the green and that didn't work much better into the wind.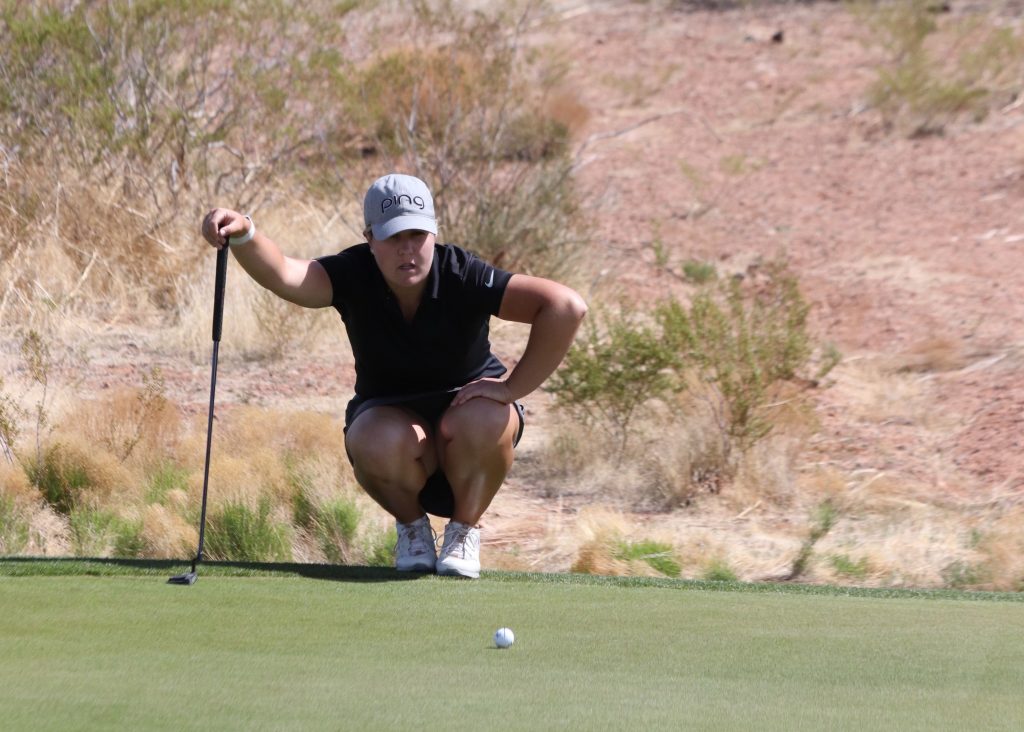 And on Nos. 17 and 18, having hit the greens in regulation, Dalton misjudged how the wind might affect her ball and she three-putted each time.
Dalton's final-round fade extended her pattern through the Symetra Tour's first four events of the season. Yet as the schedule continues this week in Garden City, Kansas, she still likes the way she's playing.
"Today didn't look like it, (but) I felt like the first two days, I did everything pretty well. … For the most part, my games feels pretty solid all around."
The wind will be the biggest takeaway for many of the tour players, but they otherwise seemed to like the Copper Rock Championship's atmosphere. "I thought it was actually so fun," Dalton said. "I mean, a lot of weeks we have no one (watching) on tour. And so to have the grandstands and the people on the first tee and 18th green, it's so fun."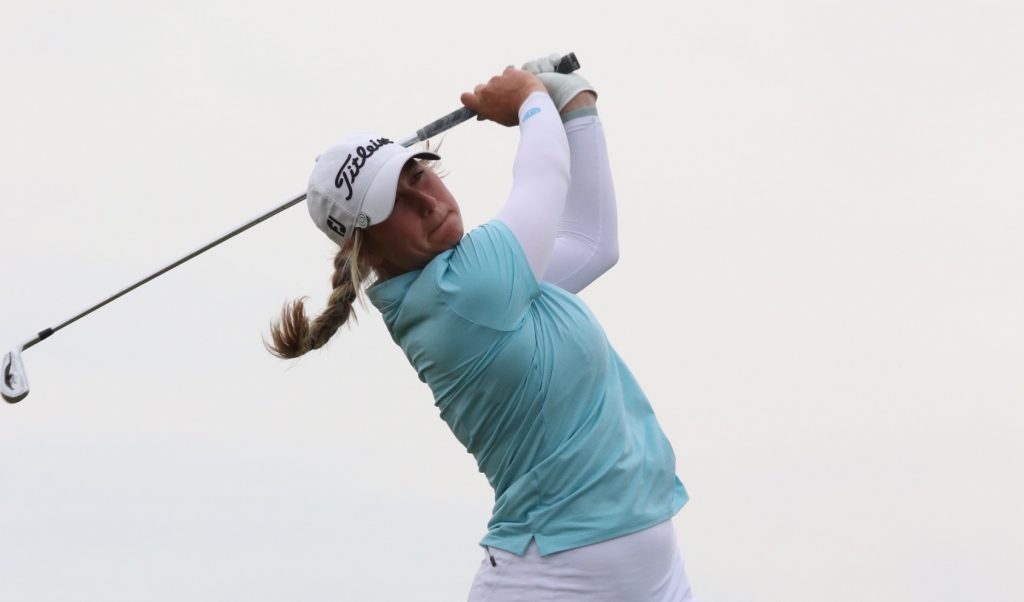 During the trophy presentation, Copper Rock's Kenneth Knudson announced that the tournament will return to Hurricane through at least 2023.