News
Check out what has been happening in Utah Golf.
PGA Championship: courtesy cars, Doritos, pars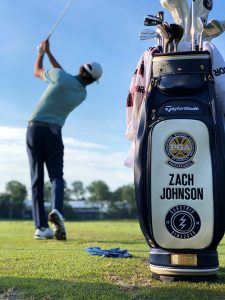 (Photo courtesy of Taylor Labourne)
By Beaux Yenchik, UGA Intern
There sat a new TaylorMade staff bag, a tournament's worth of apparel and every other golf accessory under the sun in the locker of Davis Park's PGA Professional. All loaded with fresh gear for Bellerive Country Club and the PGA Championship, Zach Johnson – known as Zach J. Johnson for the week to avoid confusion with the PGA Tour's super star – was ready to embark on what would be the "best golfing experience" he's ever had.
Though disappointed at not making the 36-hole cut at the season's final major, Johnson's 5-over-par 145 did not diminish the overall experience. Being pampered with a BMW courtesy car, escort services, individual-specific range balls, etc. was a lifestyle Johnson said he could "definitely get used to" and that it didn't disappoint.
"I've never played another tour event, but I can't imagine [how] much better it can possibly get at others," Johnson said.
With his wife (Katie), son (George), his parents and a few others in attendance, Johnson used this opportunity as a vacation for his family, too. Determined to stick to his routine – one of limited practicing – Johnson didn't want to overdo it in before the event. This meant Johnson spent plenty of time with his son at the family-dining area where George had his fair share of ice cream, Doritos and pop.
Trying not to get in anyone's way during the practice rounds or during the event, Johnson had the opportunity to exchange pleasantries with a few of his fellow competitors: Chez Reavie, Alex Noren, local Utahan Tony Finau, etc.
Yet, the most renowned individual that Johnson interacted with was oddly enough the very individual that shares the same name, except this Zach Johnson has a Masters and an Open Championship under his belt.
After getting introduced, the two took a picture and went their separate ways, occasionally seeing each other in the locker room – the two had lockers right next to each other – and on the grounds.
"He was very, very friendly," Johnson said of his PGA Tour counterpart. "[He] made small talk, and he just handled it cool. Round one, he shoots 66 and the Golf Channel is asking him if he's met the other Zach Johnson. It was pretty cool to see how he handled it. Definitely a fan of his after that week because he was [very] friendly."
Johnson, with his caddie Taylor Laybourne, played several times with fellow club pros Ryan Vermeer, Danny Balin and Jaysen Hansen – all part of the 20 PGA Club Professionals who qualified alongside Johnson – during his practice rounds.
While trying to adjust to the gallery, grandstands and magnitude of the event, Johnson mentioned a funny moment during one of his practice rounds he'll never forget.
He had hit one of his approach shots short of the green, and then, out of nowhere, Johnson heard, "Hit it harder, daddy!"
Johnson realized it was his 3-year-old son who had yelled across the fairway at him. Though light-hearted, Johnson will forever be thankful for such a memory – one he will probably remind George of for the rest of his life.
At about 500 feet of elevation, Johnson and the field had to deal with the heat and humidity of the St. Louis area. Not having the luxury of wearing shorts during his tournament rounds, Johnson, along with playing partners Michael Kim – a winner at the 2018 John Deere Classic – and Seungsu Han, braved the warm weather.
The first six holes of Johnson's once in a lifetime experience didn't go quite as planned. Starting off with a bogey and double bogey, Johnson quickly found himself at 5 over par after he added two more additional bogeys to his card from his fifth and sixth holes of the day – the result of being "a little too afraid and a little too timid " to play, he said –  and finished his front nine at 40 (+5).
After sinking a short-birdie putt on the 12th – his only birdie for round one – Johnson carded two more bogeys on his back nine to finish his opening round at 6 over par.
Round two compared to round one was like comparing night to day. Posting an impressive 69 (-1) – only one of four club pros to break par – Johnson had a much more memorable round. Johnson recalled the crowd erupting after he sank a 30-foot birdie putt on No. 6 and his 30-yard hook shot around the trees on No. 10 from 206 yards, which he put to 8 feet.
With one birdie and one bogey, along with seven pars, Johnson carded a 35 on his opening nine during round two. Looking to keep things rolling, Johnson converted his 8-foot putt on No. 10 for birdie. Followed by six straight pars, the Davis County hero finished his run at the Wanamaker Trophy with a birdie-bogey finish to shoot a 34 (-1) on the back and finish the tournament five shots off the cutline.
"It was a sense of accomplishment and rather rewarding to shoot under par in a major and under those conditions," Johnson said.
Though a moral victory for him – finishing just one shot behind the likes of Phil Mickelson and Danny Willett – Johnson's experience at the PGA Championship was eye-opening. Only averaging about 275 yards off the tee, Johnson realized his inability to hit it further left him at a disadvantage – hitting a 5-iron into a green where the longer hitters had 9-irons or wedges, he said.
"It wasn't a fair fight," Johnson said, humbly.
Yet, this experience has lit a fire within Johnson – creating a desire to return and compete again. Learning that if he wants a chance at making the cut and being in the mix, he's got to get stronger. He also learned that he was better than he thought, which is always a confidence booster.
So, what is Johnson doing now after his return from his greatest-golfing memory? He's back at the desk at Davis Park GC: teaching, manning the phones and playing occasionally when he has the time. It's the motto "work first, play later" that Johnson continues to live by.