News
Check out what has been happening in Utah Golf.
Larsen & Needham take Women's Opener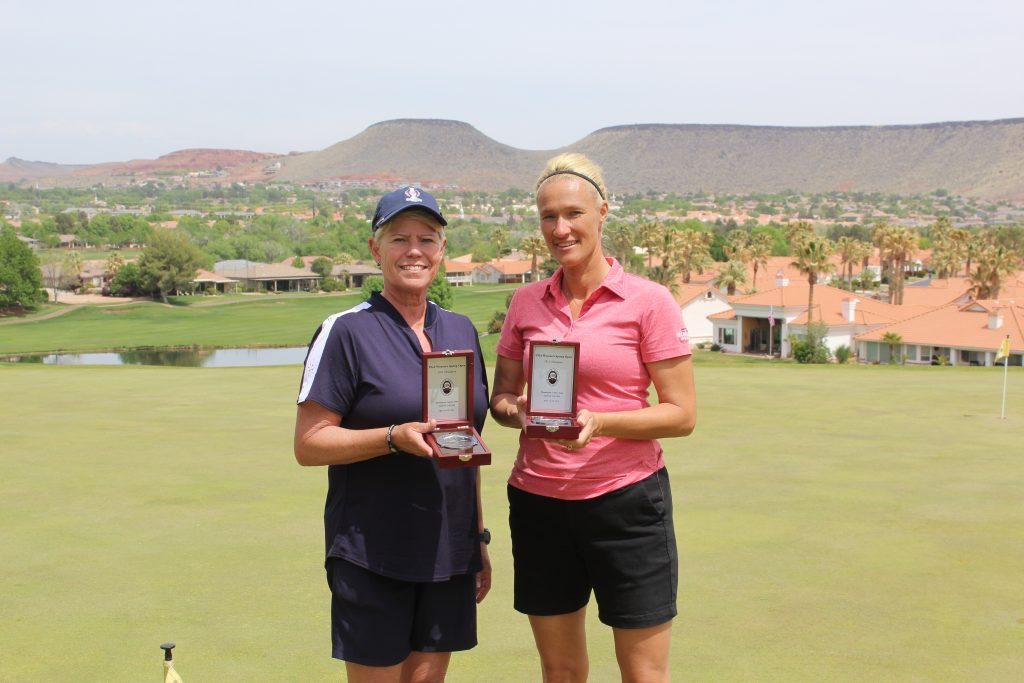 The Utah Golf Association was in St. George, Utah to host the UGA Spring Open to kick off the 2021 Women's Championship season.  Bloomington Country Club and Sunbrook Golf Club served as hosts for the championship, and both provided a similar challenge with fast, firm greens.  Marie Needham and Kareen Larsen proved they were up for the task, as they took home the first women's championship of the year with a score of 66-57-123.  The format of the UGA Spring Open is team-modified stableford, where players compete for the highest point total, with the highest score winning the championship.  Needham and Larsen's highest point total came on their first hole of the championship at Bloomington Country Club when they scored 8 points while carding two birdies.  They rode that momentum through the 36-hole championship to claim the win.  There are many UGA women's championships still to be contested in 2021, and the UGA encourages everyone eligible to compete.
Flight Winners
1st Flight – Marie Needham & Kareen Larsen – 123 Points
2nd Flight – Amy Mayberry & Allison Webb – 87 Points
3rd Flight – Teresa Lundahl & Teresa Nash – 78 Points
4th Flight – Toni Murdock & Becky Austin / Gayleen Kaneko & Sherdean Carter – 56 Points
5th Flight – Tammie Olsen & Ev Eliason – 36 Points
Full Results: https://www.golfgenius.com/pages/2746032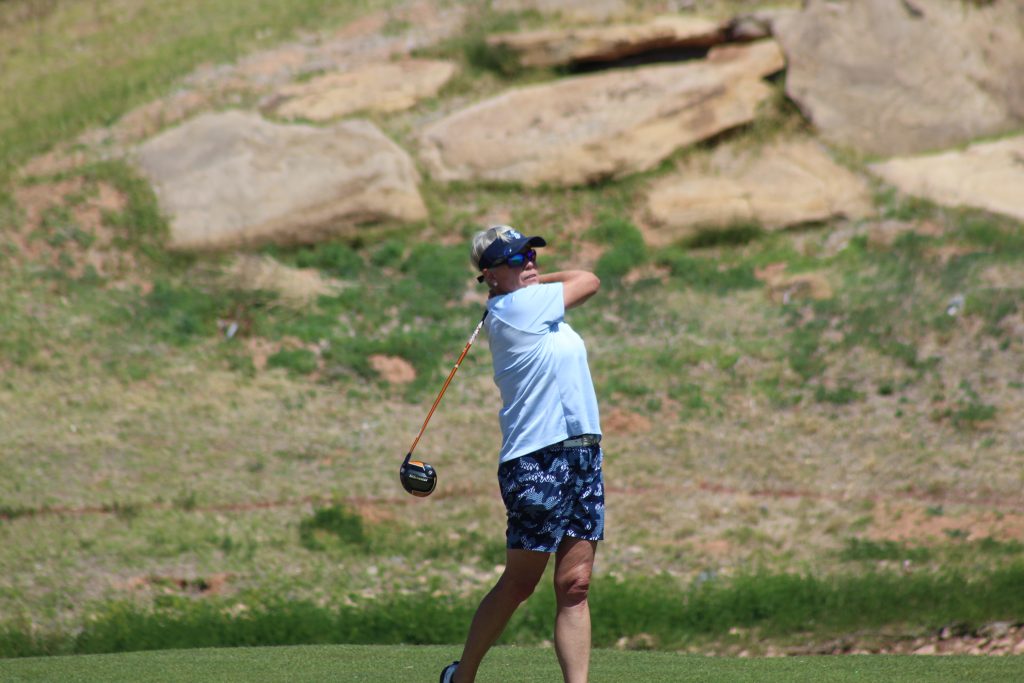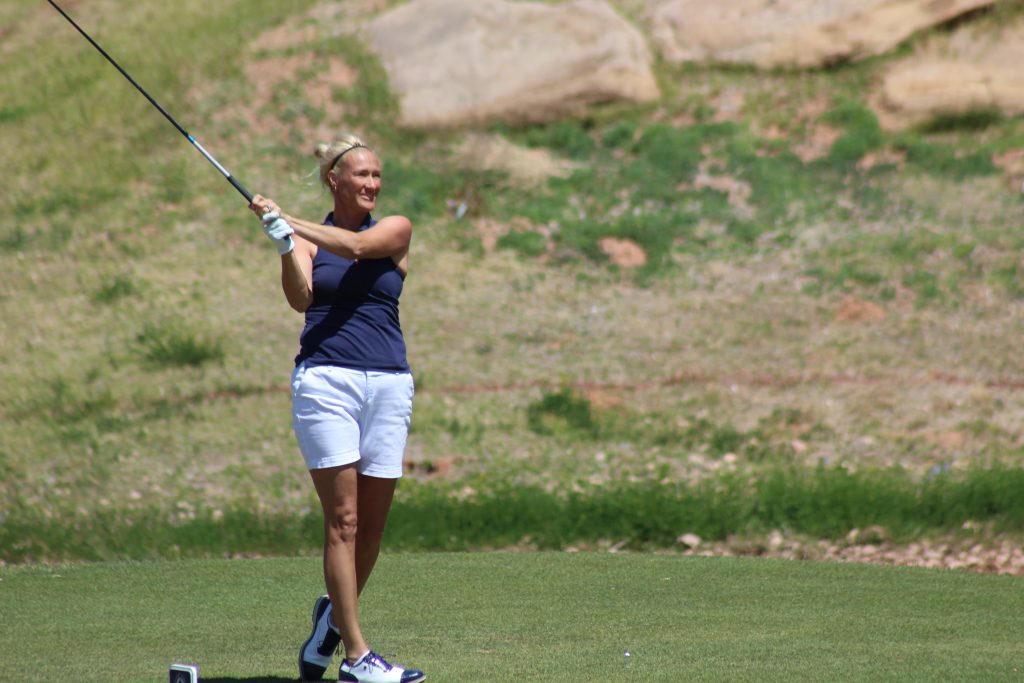 News
Check out what has been happening in Utah Golf.
Message from UGA President Stew Walz & Review of 2020
Message from UGA President Stew Walz
UGA Review of 2020
News
Check out what has been happening in Utah Golf.
State Amateur & Women's State Amateur Review Videos
114th Utah Women's State Amateur Championship
Hosted by Soldier Hollow Golf Course
Champion: Grace Summerhays
122nd Utah State Amateur Championship
Hosted by Jeremy Ranch Golf & Country Club
Champion: Mitchell Schow
News
Check out what has been happening in Utah Golf.
Wilson Earns 3rd Stroke Play Title, Gaiotti Continues Winning Ways
On Monday, September 28th the Utah Senior Stroke Play Championship got under way at Stonebridge Golf Course. The field consisted of many decorated, seasoned players. With the competition being set at such a high level, the week produced great drama and deserving champions.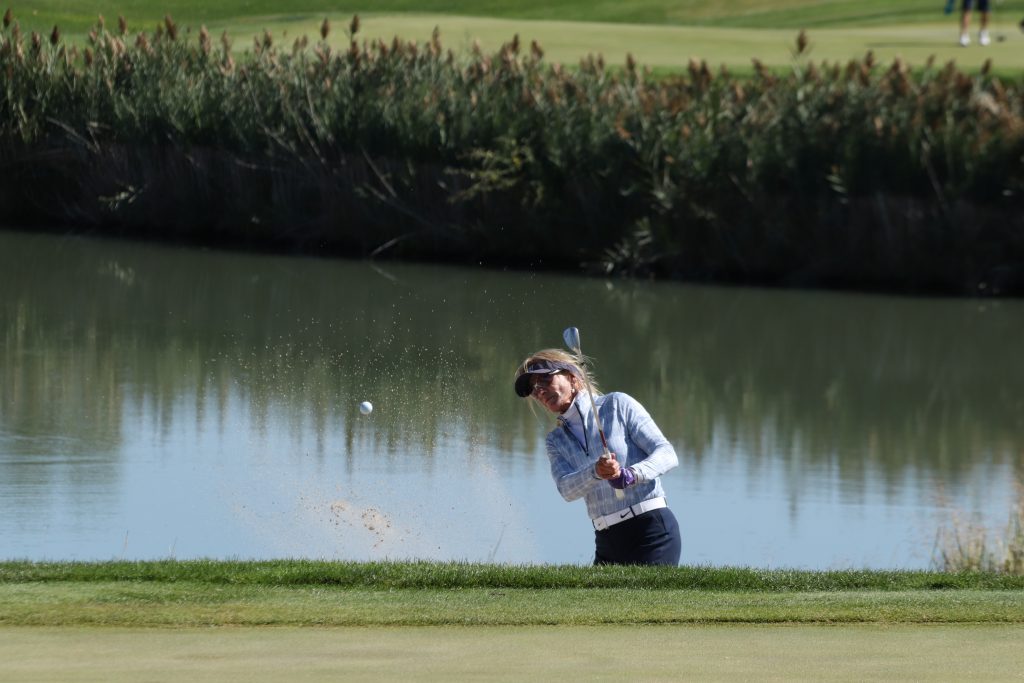 In both the senior women's and super senior women's divisions Annette Gaiotti came away with commanding wins. Her day two scorecard posted 4 birdies which propelled her to the 5 stroke win in the senior division and a convincing 37 stroke victory in the super senior division. Overall she shot 151 (+7) over the two days.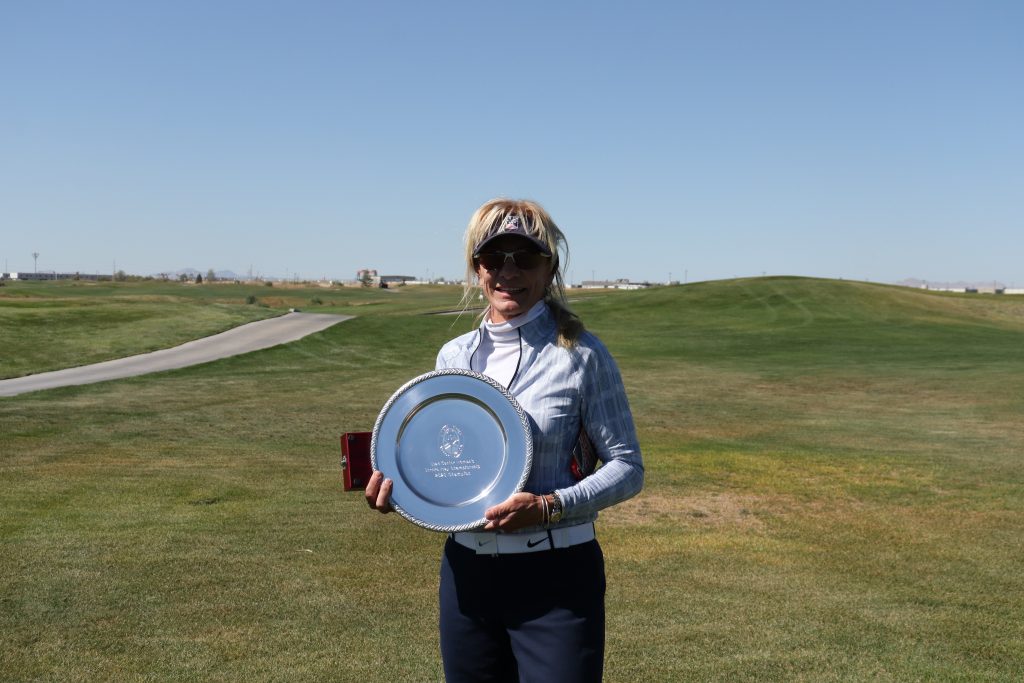 Moving to the men's net division, it was Randy Stewman who found himself atop the leaderboard. A masterful 69 on day one gave him a lead that he never relinquished. His 4 birdies on day 3 kept him in the lead and he was able to pull out a win at Stonebridge.
The winner of the men's super senior division was Michael Hacker. Hacker wasn't leading the pack all week, but a bogey-free 3rd round that consisted of 6 birdies allowed him to solidify his 8-stroke W.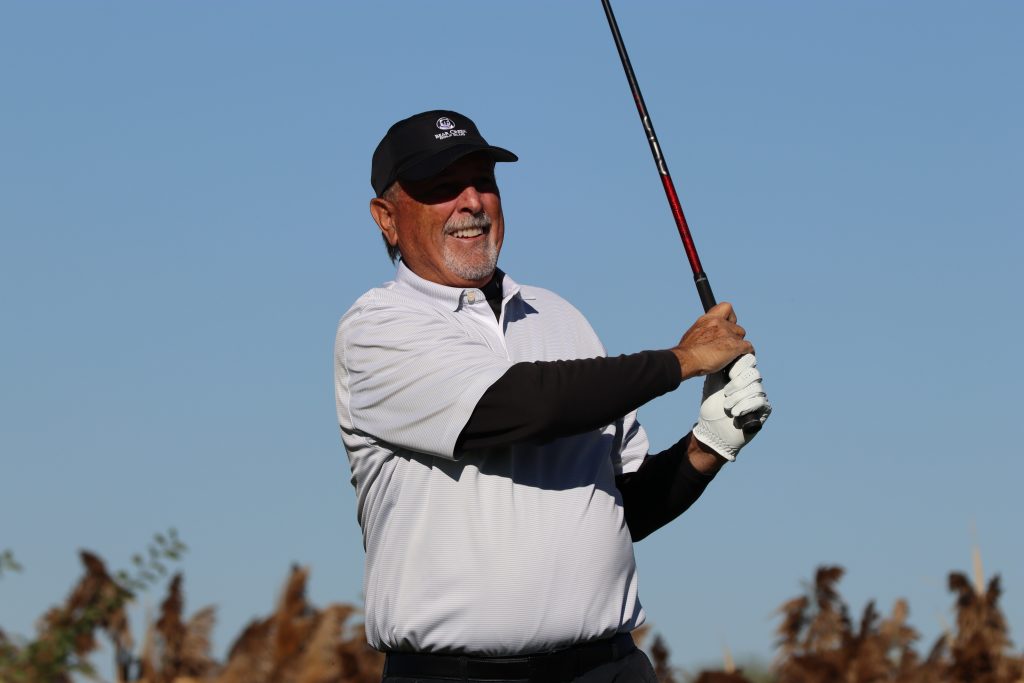 Our main senior division ended in wild fashion. The final pairing was represented by former champion Craig Wilson, and renowned player and winner, Kirk Siddens. They were neck and neck all week but on the final day it was Siddens who started pulling away. Of Siddens' performance Wilson said, "…he'd been playing great all week and really this was his tournament." Wilson was right, up until about the 15th hole.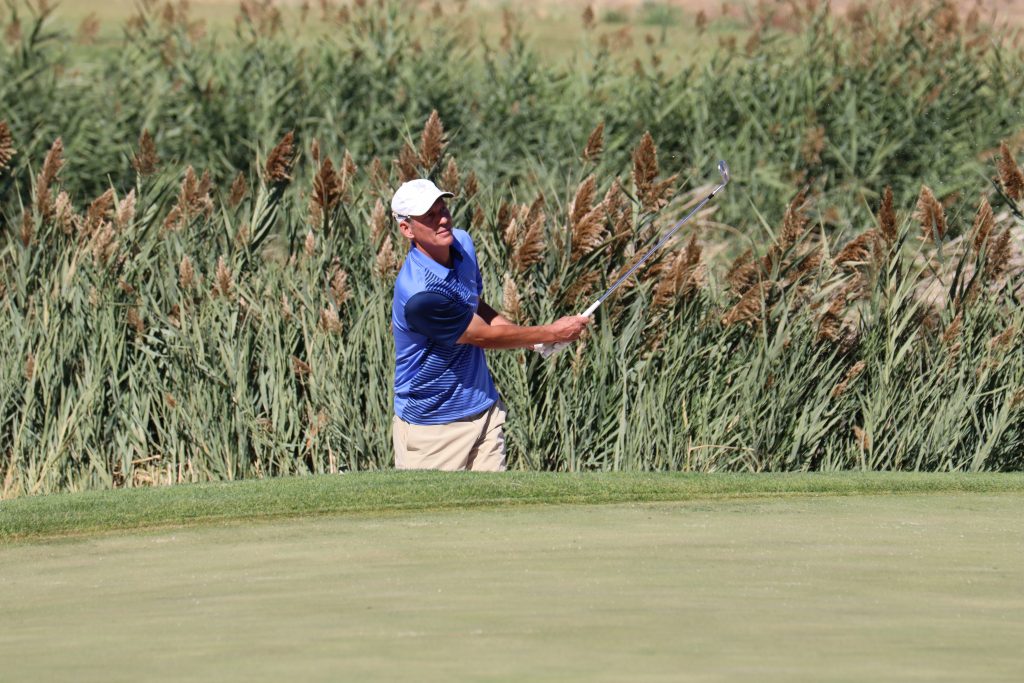 Day 3 had Siddens working on a bogey-less round and Wilson trying to get back to even with 3 quick bogeys on the first 6 holes. But on hole 15, Craig Wilson heated up. He ended the day with 4 straight birdies as he closed the gap between him and Siddens. When asked what he was thinking on 15 he simply said, "I just wanted to make a better score…I didn't feel any pressure because I had won before and I wanted Kirk to win."
His desire for a good friend to hoist the trophy was squandered by those last 4 holes. While Wilson had straight birdies, Siddens had pars and an 8 on 18. Wilson commented, "yeah when Kirk's ball went a little left off the tee I thought, 'wow I could actually win this thing'". And win it he did with a total 3-day score of 208 (-8). Of the victory he told us, "I'm just glad I can prove to myself that I can still play golf and compete at a high level." He proved that, to not only himself this week, but to everyone around Utah golf.
 Full Results: https://www.golfgenius.com/pages/2354121
Photos: Fairways Media
News
Check out what has been happening in Utah Golf.
Brimley/Jennings Back-to-Back Four-Ball Champs
By Mike Sorensen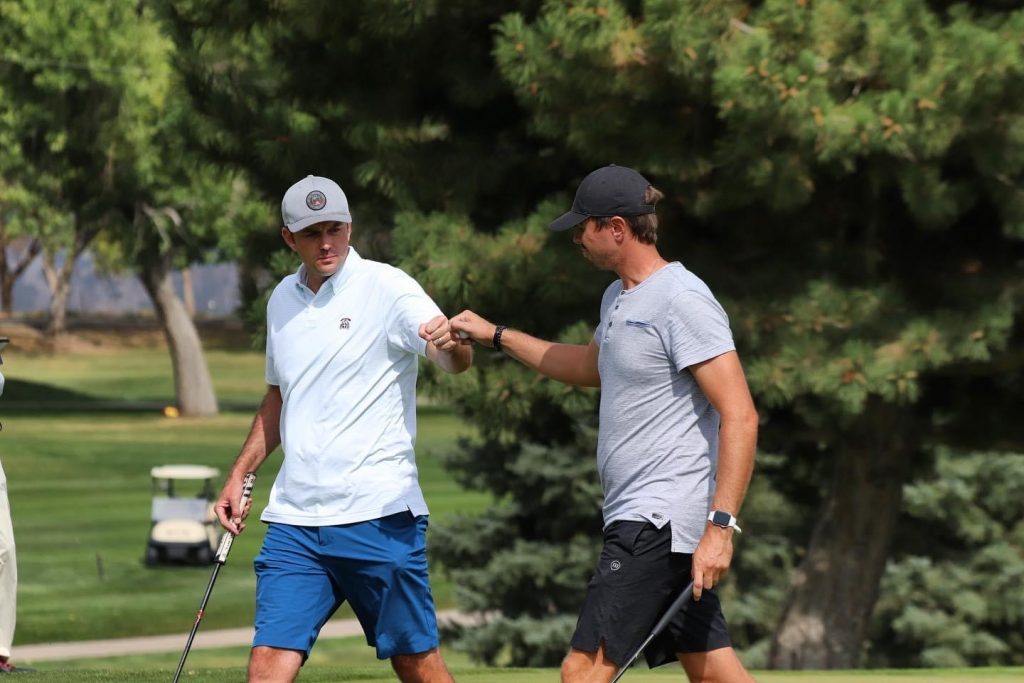 The team of Ryan Brimley and David Jennings defeated University of Utah golfers Blake Tomlinson and Colton Tanner 2 and 1 in the finals of Utah Four-Ball Championship on Sept. 22 at Hubbard Golf Course.
It marked the second straight year that Brimley and Jennings have teamed up to win the Utah Golf Association event even though the format changed from last year's stroke play to match play. Jennings also won in 2016 with partner Preston Alder.
The 31-year-old Brimley of Salt Lake and the 35-year-old Jennings, who lives in Layton, got ahead early and led 1 up after nine holes at the Hill Air Force Base course. They increased the lead to 3 up after winning holes 11 and 12 and held on for the victory.
Both players are former Utah Mid-Amateur champions. Brimley also won the 2019 Salt Lake City Open.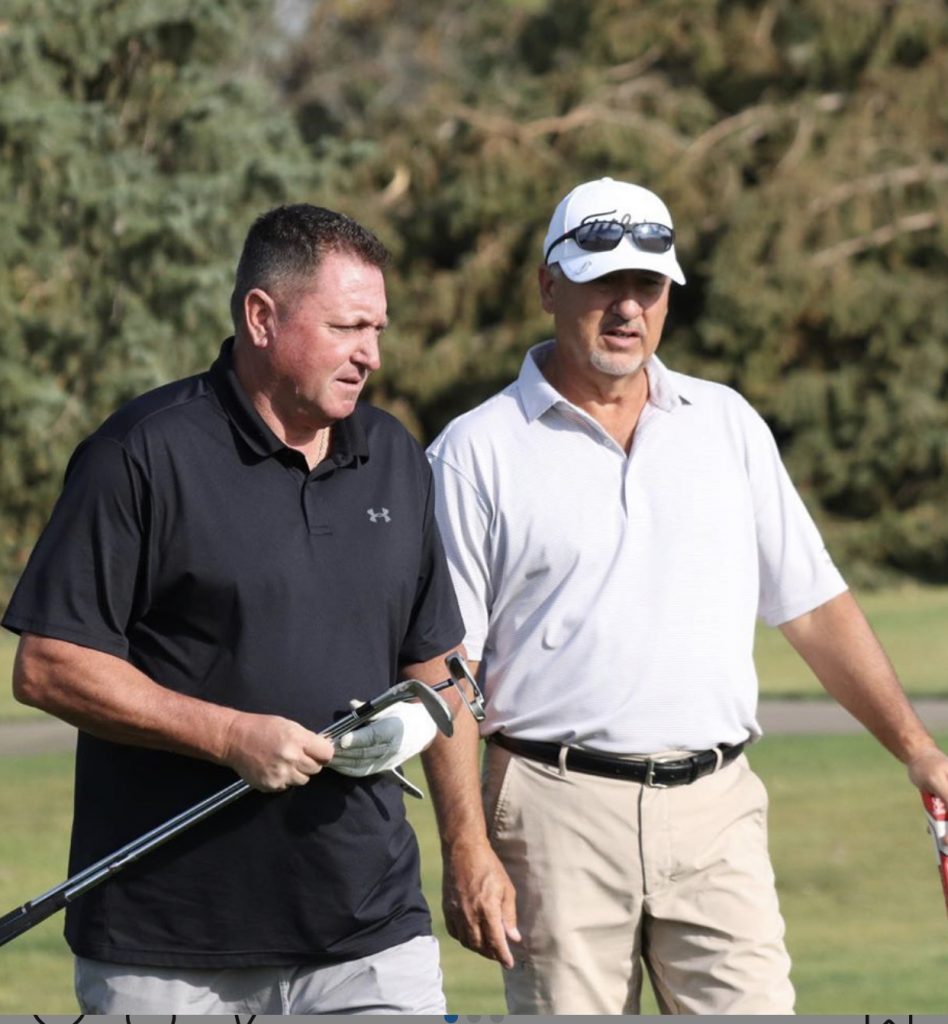 In the Senior Division for players 50 and older, Karl Avant and Kurt Jamison defeated Kirk Siddens and Guy Child 1 up. Neither team was ever up by more than one hole and Avant and Jamison won with a birdie on the final hole.  Avant earns the title in back to back years with different partners.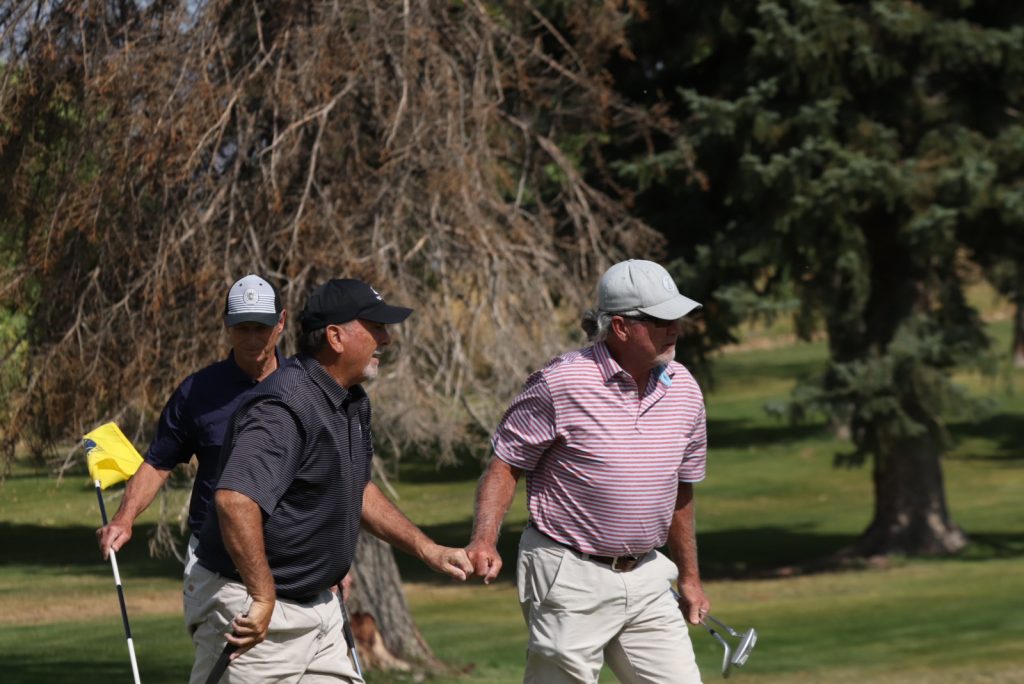 Mike Hacker and Bill Probst, who had to survive a 23-hole match the day before, won the Super Senior Division (65-and-older) with a 4 and 3 victory over Rob Bachman and Steven Smith.
The champions and senior champions earned automatic spots on a Utah Golf Association team at the Southwest Team Challenge, which will be played in early December at Cascata Country Club near Las Vegas.
Photos By: Fairways Media/Jesse Dodson
FULL RESULTS: https://www.golfgenius.com/pages/2663619
News
Check out what has been happening in Utah Golf.
The Amateur Open – A new way of playing golf this summer
A unique, new golf competition in UGA regions will aim to benefit Youth on Course.
The Amateur Open aims to make every round of golf exciting and rewarding through a summer-long competition. Golfers can simply post their scores from their rounds to get on a region-wide Leaderboard and win gift certificates to local golf establishments.
How it works:
Men and women 21+ can Register in TheAmateurOpen of UT club for $56 (if you already have a handicap, you can still register on the platform by paying $30); Players can use special promo code WEL20 for this inaugural season and save $20.
Pick a partner and play on any course and set of tees; golfers can compete as a team or individual or both ($5 for each competition). A portion of this fee will directly benefit Youth on Course in Utah.
Get on Weekly and Season leaderboards by posting your hole by hole scores on GHIN app or by uploading the picture of your completed scorecard
Play a minimum of 8 rounds between June 29 – September 6 to become eligible for season points race prizes.
At the end of the season, there will also be an 18-hole Amateur Open Championship.
The idea:
The Amateur Open is made up of working professionals who are passionate about the game of golf. Founder, Som Chilukuri says "We are really passionate about the game especially since it makes competition across skill levels possible, more so with the World Handicap System. We realized that there is no real platform for golfers to connect with a larger picture across a region or season. Leagues are typically limited to a course and a group. We thought it would be really cool to make each round count for every golfer and in relation to all the golfers in the area and that's how this idea came up."
The club emphasizes three main themes:
Celebrate the "compete with yourself" aspect of the game
Create winning possibilities across skill levels
Foster vibrant community of recreational, yet competitive golfers
Chilukuri says it best "golf to us is an avenue to unify people in a great competitive setting with no barriers at all on skill levels, age, and gender or whatsoever. And with The Amateur Open, we are able to do that without needing to physically come together at a single event or course"
Support for The Amateur Open:
Utah Golf Association supports The Amateur Open in its values and mission to create competitive golf opportunities while bringing the community together. UGA has consulted with The Amateur Open to provide League Management best practices, making it a certified UGA League.
The Amateur Open is also supported by an Advisory Panel from Incub8 Startup Studios, a Silicon Valley-based technology incubation company. www.incub8.vc
Youth on Course:
"We are excited that 10% of each round's proceeds will directly benefit Youth on Course," says Jacob Miller, Executive Director of UGA. Youth on Course allows junior golfers in our region to play golf at participating facilities for only $5 (or less) per round. This program has allowed junior golfers in our community access to playing golf when they otherwise wouldn't be able to play. Learn more at youthoncourse.org.
Interested in learning more about The Amateur Open?
Visit: theamateuropen.com to register.
Contact Info – Email: [email protected] or Text: 913 229 4459
News
Check out what has been happening in Utah Golf.
UGA events cancelled until April 30th
UGA Member, 
 
Due to the rapidly-changing situation resulting from the coronavirus, the Utah Golf Association has decided to cancel all scheduled competitive and non-competitive events through April 30 (including Winterchamps). We will continue to monitor the situation and communicate any updates with our member clubs and their golfers. We realize there will be disappointment amongst our clubs and players and appreciate your understanding on this matter.  
 
After conferring with other state golf associations around the country who are also cancelling events for the coming weeks and the recent state of national emergency that has been declared by the President, the UGA wants to be to be abundantly cautious in the protection of our members. 
 
The health and safety of our players, members, employees, volunteers and community is of utmost importance. We appreciate your understanding and will keep you updated as the situation progresses.
 
Thanks,
 
Jacob Miller
Executive Director | Utah Golf Association
News
Check out what has been happening in Utah Golf.
Defending Champ Makes His Move at Sand Hollow Open
By Randy Dodson
Since winning the 2018 Sand Hollow Leavitt Group Open, Taylor Montgomery has spent the last year "trying to get better," not unlike any of the other mini-tour professionals in this year's field. Such is the life of aspiring tour professionals.
Montgomery, who plays out of Shadow Creek Golf Club near Las Vegas, Nevada, shot the low round of the tournament Friday finishing with a 7-under 65. He takes the second round lead by three shots at 10-under par 134, heading into Saturday's final round on the Championship Course at Sand Hollow Resort.
Thirty-one players made the 36-hole cut at 2-over par 146.
"I still made a couple of mistakes today," said Montgomery following his low round that included eight birdies and one bogey. "I drove the ball really well, a lot better than yesterday, and that helped me set up some birdies. I made some 10-12 footers and had some two-putt birdies on the par fives. Just have to eliminate the mistakes"
St. George, Utah amateur Hayden Christensen holds on to the low amateur spot after 36-holes with rounds of (-5) 69-70 – 139. Preston Summerhays sits a 1-over par 145 on rounds of 73-72 and is the only other amateur to make the cut.
Utah's Steele Dewald slipped to a second round even-par 72 after opening with a 5-under 67 Thursday. Dewald is tied with first round leader Redford Bobbitt, Shane Bertsch and Christensen at 139.
Former Utah Open champions Dusty Fielding and Patrick Fishburn are tied with Phil Reedy in the 14th spot at (-2) 142. Other Utahns playing in tomorrow's final round include Braydon Swapp and Brandon Kida T18 (E) 144.
The champion's purse this year includes a check for $20,000 and an exemption to the 2020 Korn Ferry Tour Utah Championship. Having experienced those spoils last year, Montgomery is eager to have that in his back pocket headed into next year.
Montgomery said, "I loved playing in the Utah Championship this year. There are not too many tournaments that offer that kind of exemption. That's why it's so nice to play here. I am going to have to play pretty aggressive tomorrow, a 3-shot lead (over David Cooke and Kolton Lapa (-7) 137) here isn't much."
Photo Credits: Fairways Media/Randy Dodson
Photo Caption: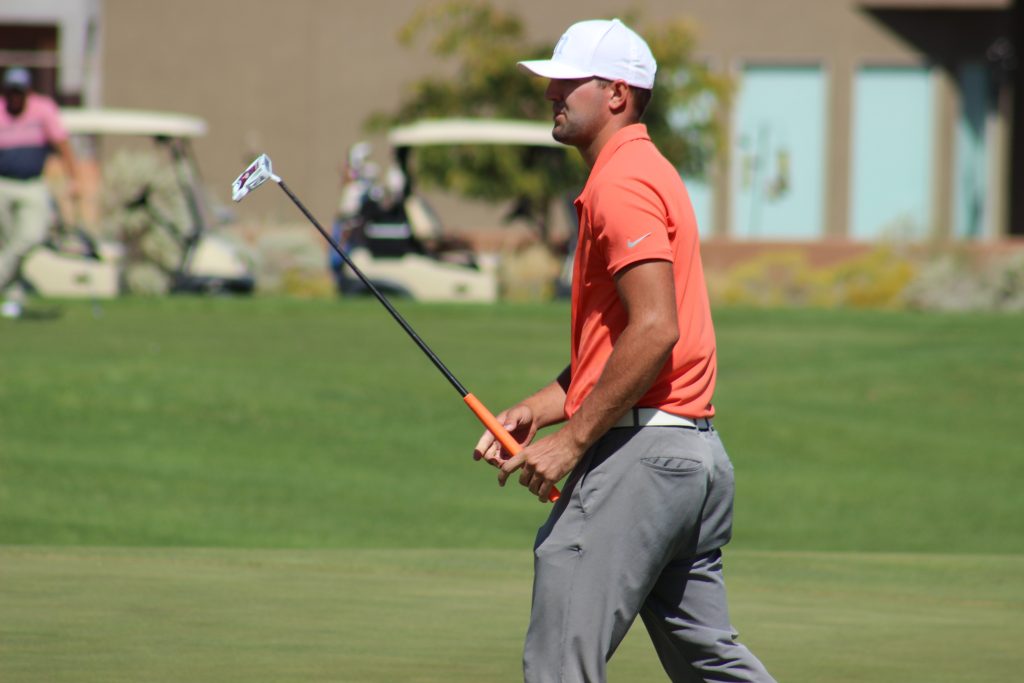 Taylor Montgomery, the Sand Hollow Leavitt Group Open defending champion, made a move up the leader board Friday on the Championship Course at Sand Hollow Resort with a 7-under 65 to take a 3-shot lead into Saturday's final round.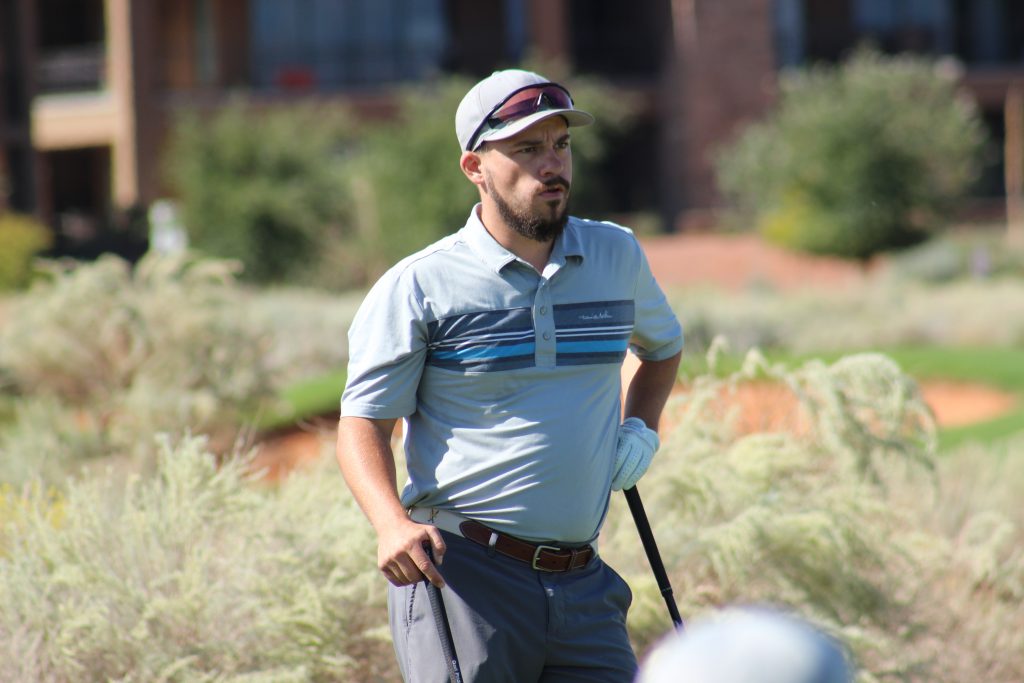 Hayden Christensen of St. George, Utah, remains the 36-hole low amateur in the field on rounds of (-5) 69-70 -139.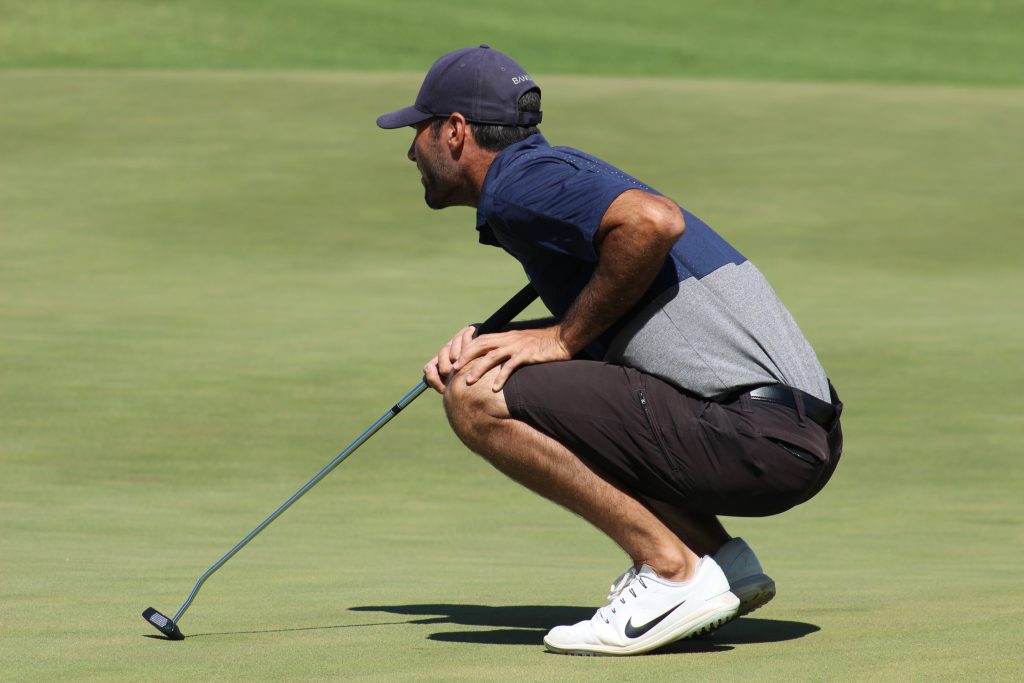 Utah's Steele Dewald is T6 (-5) 139 and 5-strokes off the lead heading into Saturday's final round in the 6th annual Sand Hollow Leavitt Group Open.
News
Check out what has been happening in Utah Golf.
Goddard and Governor's Cup
CLICK HERE to view results for the Governor's Cup.
CLICK HERE to view the results for the Goddard Cup.
News
Check out what has been happening in Utah Golf.
Behind the Scenes with the Soldier Hollow Staff at the State Amateur
By Christian Ledek
MIDWAY, Utah – Soldier Hollow is hosting its 6th Utah State Amateur Championship and it is safe to say the course has darn near seen it all.  In 2006, Tony Finau won his State Am title at Soldier Hollow by defeating fellow future PGA Tour player Daniel Summerhays.  This year featured Grace Summerhays, who not only was the 4th woman to ever qualify for the Utah State Amateur, but was the youngest ever to do so at 14 years old.  She then became the 2nd woman ever to qualify for match play on her 15th birthday.  When the State Am is at Soldier Hollow, you expect amazing things to happen and it rarely doesn't deliver on those expectations.
It's certainly an understatement to say that a lot goes into the preparations for hosting the Utah State Amateur.  With 288 golfers battling it out for 64 match play spots in two days, everything needs to run smoothly.  Since preparations start a year in advance, there isn't anything that the head pro of Soldier Hollow for 15 years, Chris Newson, doesn't plan for.
"We make sure we're staffed appropriately and that everyone is fully trained on what the week is going to look like," said Newson.  "I don't have anyone that is on staff the last time we hosted, so proper communication is paramount.  That also means coordinating with the UGA, making sure we have up to date practice round lists for players as well as being on the same page with our superintendent."
Newson's enthusiasm in hosting the event is visible when asked about what are some of the ups and downs with hosting the State Am.
"This isn't a "have-to" event, we get to host the event and we are honored with the opportunity," said Newson.  "Our regular players volunteer to help us out, it's great.  History is always made at the State Am and you never know what is going to happen.  We're always a part of that history and we love it."
Nate James is the superintendent at Solider Hollow and has been with the golf course for 13 years.  He is an Illinois native whose experience totals numerous golf courses, including the prestigious Medina Country Club.
"This was supposed to only be a 3-year stint for me in Utah," said James.  "…it turned into 15 years (his first two being at Wasatch Mountain) and it's incredible.  I've always wanted to live in the mountains.  I got here and fell in love with it."
James highlighted the distinctness and challenges of getting course conditions pristine for the State Am.
"We're unique because we're the driest part of Heber Valley," James said. "The storms bounce over Timp and miss us so we're very dry.  It's difficult to maintain proper moisture between public play.  We don't want to saturate it but we need to keep it at a correct level.  Our guys do a great job and it's about taking care of them, really.  We get them prepared for how important the work is and what to expect leading up to the tournament, but after the tournament, it's about recognizing them and pointing out how they've helped us all be successful."
From a marketing stand point, hosting the Utah State Amateur can see a spike in players before and after the event.  Bruce Strom is the marketing manager for Soldier Hollow and he understands what it means to host the tournament.
"We get a lot of media coverage being on the news everyday, which is good," said Strom.  "It's big for our exposure.  A lot of players and golfers know where the State Am is going to be held.  So not only do we get participants of the tournament out on the course for their practice rounds, but we see a lot of people wanting to play the course before it begins since they know the course will have championship conditions."
Whether players make match play or not, Strom takes pride knowing that the players will enjoy their time at Soldier Hollow, no matter if it's the Gold or Silver course.
"Throughout both courses, if you turn around and look up, you'll see Timpanogos and the surrounding mountains," said Strom.  "The clubhouse also stands out as well.  Plenty of views to be had."
Feeding 288 players can be a hectic job in and of itself, but then there are spectators, friends and family of those players as well that makes the number even higher.  Rob Edwards is the owner of the grill at Soldier Hollow and has worked at the grill since it opened in 2004.  Rob praised his staff for being willing and able to carry the load.
"You have to be very well prepared and have good people that you can count on…and I wake up every day at 3:30 a.m." said Edwards while laughing.
The number of eggs, ham, bacon the grill goes through during the State Am is staggering.
"We'll go through 16 flats of eggs (roughly 3,000 total), 40 pounds of ham, 80 pounds of bacon and 21 big buckets of potatoes…it's definitely a lot," said Edwards."
If you're wondering what fuels someone to go through what it takes to do all of that and work that hard, the answer to Edwards is simple.
"I like to get a review and it says five stars," said Edwards.  "If I don't get a review that is five stars, I almost take it personal.  That's what drives me.  I don't want anyone to have a bad experience.  Players, families, all customers.  I want them to go, "dang that was good, I want to go back."  Knowing I can make someone happy.  That's what makes me get up in the morning."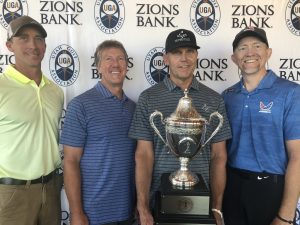 Soldier Hollow Golf Course Staff (Left to Right) Nate James, Bruce Strom, Rob Edwards and Utah Section PGA Professional Chris Newson
If you happen to see any of these gentleman or any of the staff doing great work, as they always are, be sure to give them a thanks as it's the least we could all do.  We sincerely appreciate all the hard work Soldier Hollow and its staff has put in to making this another successful and fantastic Utah State Amateur.