News
Check out what has been happening in Utah Golf.
The Amateur Open – A new way of playing golf this summer
A unique, new golf competition in UGA regions will aim to benefit Youth on Course.
The Amateur Open aims to make every round of golf exciting and rewarding through a summer-long competition. Golfers can simply post their scores from their rounds to get on a region-wide Leaderboard and win gift certificates to local golf establishments.
How it works:
Men and women 21+ can Register in TheAmateurOpen of UT club for $56 (if you already have a handicap, you can still register on the platform by paying $30); Players can use special promo code WEL20 for this inaugural season and save $20.
Pick a partner and play on any course and set of tees; golfers can compete as a team or individual or both ($5 for each competition). A portion of this fee will directly benefit Youth on Course in Utah.
Get on Weekly and Season leaderboards by posting your hole by hole scores on GHIN app or by uploading the picture of your completed scorecard
Play a minimum of 8 rounds between June 29 – September 6 to become eligible for season points race prizes.
At the end of the season, there will also be an 18-hole Amateur Open Championship.
The idea:
The Amateur Open is made up of working professionals who are passionate about the game of golf. Founder, Som Chilukuri says "We are really passionate about the game especially since it makes competition across skill levels possible, more so with the World Handicap System. We realized that there is no real platform for golfers to connect with a larger picture across a region or season. Leagues are typically limited to a course and a group. We thought it would be really cool to make each round count for every golfer and in relation to all the golfers in the area and that's how this idea came up."
The club emphasizes three main themes:
Celebrate the "compete with yourself" aspect of the game
Create winning possibilities across skill levels
Foster vibrant community of recreational, yet competitive golfers
Chilukuri says it best "golf to us is an avenue to unify people in a great competitive setting with no barriers at all on skill levels, age, and gender or whatsoever. And with The Amateur Open, we are able to do that without needing to physically come together at a single event or course"
Support for The Amateur Open:
Utah Golf Association supports The Amateur Open in its values and mission to create competitive golf opportunities while bringing the community together. UGA has consulted with The Amateur Open to provide League Management best practices, making it a certified UGA League.
The Amateur Open is also supported by an Advisory Panel from Incub8 Startup Studios, a Silicon Valley-based technology incubation company. www.incub8.vc
Youth on Course:
"We are excited that 10% of each round's proceeds will directly benefit Youth on Course," says Jacob Miller, Executive Director of UGA. Youth on Course allows junior golfers in our region to play golf at participating facilities for only $5 (or less) per round. This program has allowed junior golfers in our community access to playing golf when they otherwise wouldn't be able to play. Learn more at youthoncourse.org.
Interested in learning more about The Amateur Open?
Visit: theamateuropen.com to register.
Contact Info – Email: [email protected] or Text: 913 229 4459
News
Check out what has been happening in Utah Golf.
UGA events cancelled until April 30th
UGA Member, 
 
Due to the rapidly-changing situation resulting from the coronavirus, the Utah Golf Association has decided to cancel all scheduled competitive and non-competitive events through April 30 (including Winterchamps). We will continue to monitor the situation and communicate any updates with our member clubs and their golfers. We realize there will be disappointment amongst our clubs and players and appreciate your understanding on this matter.  
 
After conferring with other state golf associations around the country who are also cancelling events for the coming weeks and the recent state of national emergency that has been declared by the President, the UGA wants to be to be abundantly cautious in the protection of our members. 
 
The health and safety of our players, members, employees, volunteers and community is of utmost importance. We appreciate your understanding and will keep you updated as the situation progresses.
 
Thanks,
 
Jacob Miller
Executive Director | Utah Golf Association
News
Check out what has been happening in Utah Golf.
Defending Champ Makes His Move at Sand Hollow Open
By Randy Dodson
Since winning the 2018 Sand Hollow Leavitt Group Open, Taylor Montgomery has spent the last year "trying to get better," not unlike any of the other mini-tour professionals in this year's field. Such is the life of aspiring tour professionals.
Montgomery, who plays out of Shadow Creek Golf Club near Las Vegas, Nevada, shot the low round of the tournament Friday finishing with a 7-under 65. He takes the second round lead by three shots at 10-under par 134, heading into Saturday's final round on the Championship Course at Sand Hollow Resort.
Thirty-one players made the 36-hole cut at 2-over par 146.
"I still made a couple of mistakes today," said Montgomery following his low round that included eight birdies and one bogey. "I drove the ball really well, a lot better than yesterday, and that helped me set up some birdies. I made some 10-12 footers and had some two-putt birdies on the par fives. Just have to eliminate the mistakes"
St. George, Utah amateur Hayden Christensen holds on to the low amateur spot after 36-holes with rounds of (-5) 69-70 – 139. Preston Summerhays sits a 1-over par 145 on rounds of 73-72 and is the only other amateur to make the cut.
Utah's Steele Dewald slipped to a second round even-par 72 after opening with a 5-under 67 Thursday. Dewald is tied with first round leader Redford Bobbitt, Shane Bertsch and Christensen at 139.
Former Utah Open champions Dusty Fielding and Patrick Fishburn are tied with Phil Reedy in the 14th spot at (-2) 142. Other Utahns playing in tomorrow's final round include Braydon Swapp and Brandon Kida T18 (E) 144.
The champion's purse this year includes a check for $20,000 and an exemption to the 2020 Korn Ferry Tour Utah Championship. Having experienced those spoils last year, Montgomery is eager to have that in his back pocket headed into next year.
Montgomery said, "I loved playing in the Utah Championship this year. There are not too many tournaments that offer that kind of exemption. That's why it's so nice to play here. I am going to have to play pretty aggressive tomorrow, a 3-shot lead (over David Cooke and Kolton Lapa (-7) 137) here isn't much."
Photo Credits: Fairways Media/Randy Dodson
Photo Caption: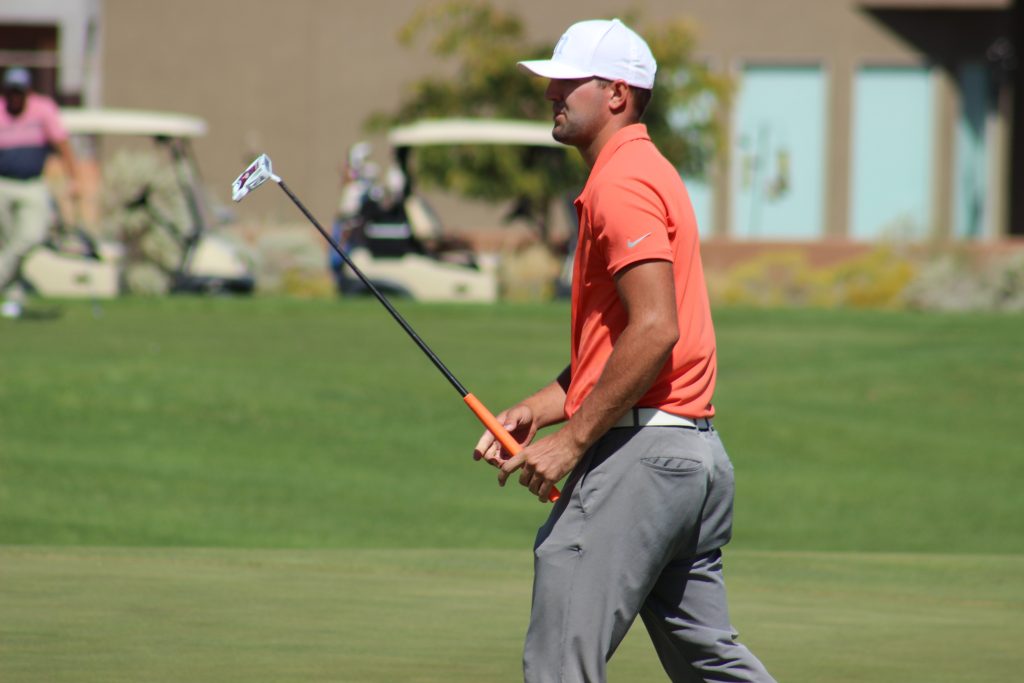 Taylor Montgomery, the Sand Hollow Leavitt Group Open defending champion, made a move up the leader board Friday on the Championship Course at Sand Hollow Resort with a 7-under 65 to take a 3-shot lead into Saturday's final round.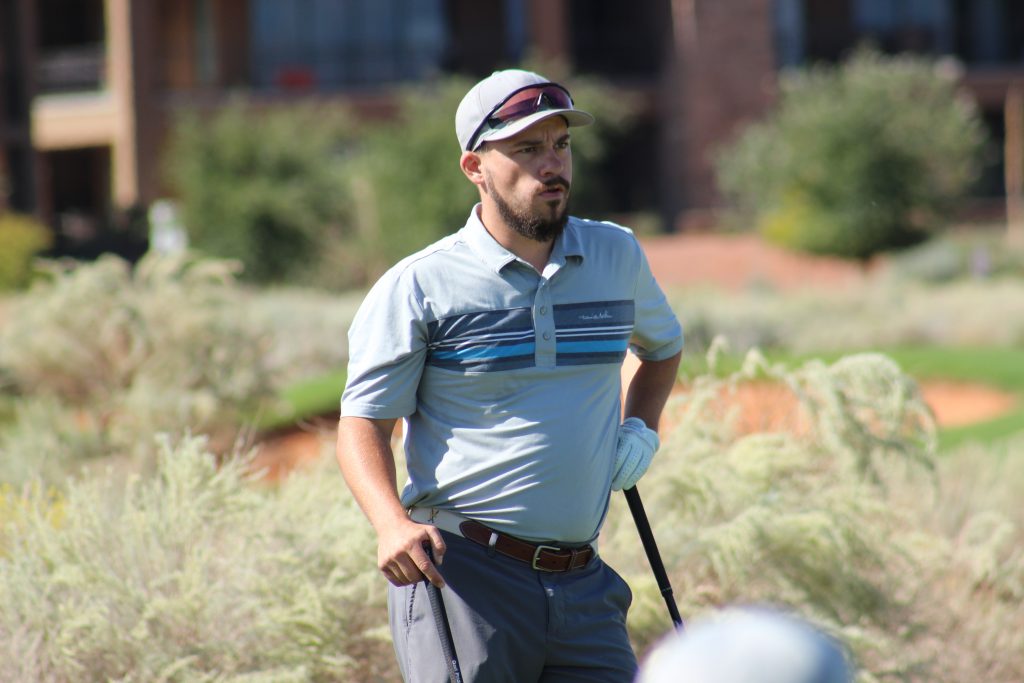 Hayden Christensen of St. George, Utah, remains the 36-hole low amateur in the field on rounds of (-5) 69-70 -139.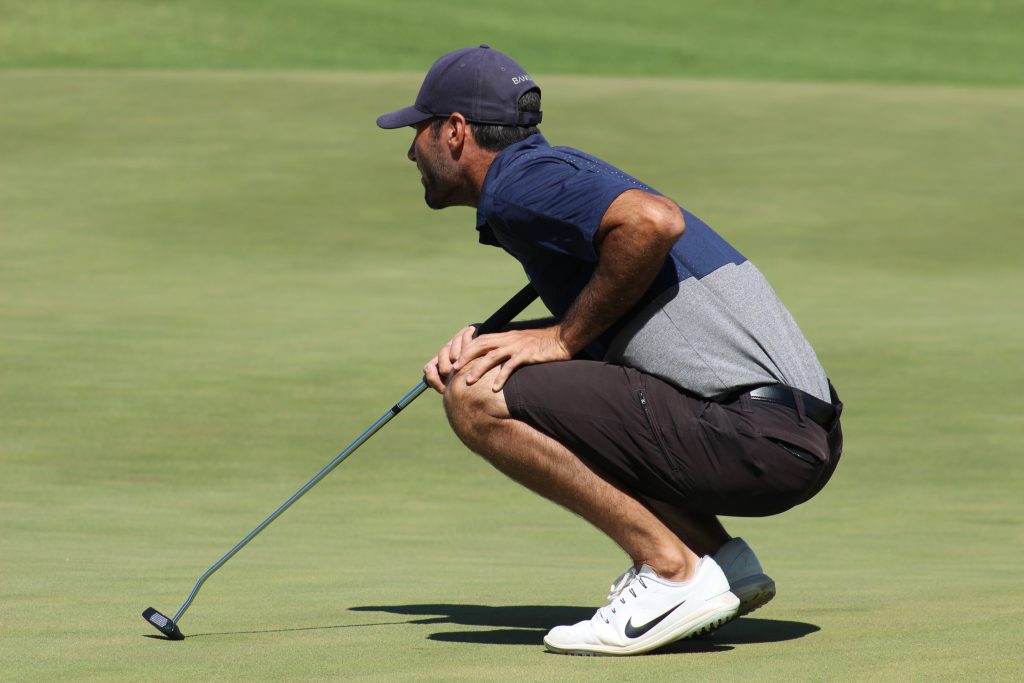 Utah's Steele Dewald is T6 (-5) 139 and 5-strokes off the lead heading into Saturday's final round in the 6th annual Sand Hollow Leavitt Group Open.
News
Check out what has been happening in Utah Golf.
Goddard and Governor's Cup
CLICK HERE to view results for the Governor's Cup.
CLICK HERE to view the results for the Goddard Cup.
News
Check out what has been happening in Utah Golf.
Behind the Scenes with the Soldier Hollow Staff at the State Amateur
By Christian Ledek
MIDWAY, Utah – Soldier Hollow is hosting its 6th Utah State Amateur Championship and it is safe to say the course has darn near seen it all.  In 2006, Tony Finau won his State Am title at Soldier Hollow by defeating fellow future PGA Tour player Daniel Summerhays.  This year featured Grace Summerhays, who not only was the 4th woman to ever qualify for the Utah State Amateur, but was the youngest ever to do so at 14 years old.  She then became the 2nd woman ever to qualify for match play on her 15th birthday.  When the State Am is at Soldier Hollow, you expect amazing things to happen and it rarely doesn't deliver on those expectations.
It's certainly an understatement to say that a lot goes into the preparations for hosting the Utah State Amateur.  With 288 golfers battling it out for 64 match play spots in two days, everything needs to run smoothly.  Since preparations start a year in advance, there isn't anything that the head pro of Soldier Hollow for 15 years, Chris Newson, doesn't plan for.
"We make sure we're staffed appropriately and that everyone is fully trained on what the week is going to look like," said Newson.  "I don't have anyone that is on staff the last time we hosted, so proper communication is paramount.  That also means coordinating with the UGA, making sure we have up to date practice round lists for players as well as being on the same page with our superintendent."
Newson's enthusiasm in hosting the event is visible when asked about what are some of the ups and downs with hosting the State Am.
"This isn't a "have-to" event, we get to host the event and we are honored with the opportunity," said Newson.  "Our regular players volunteer to help us out, it's great.  History is always made at the State Am and you never know what is going to happen.  We're always a part of that history and we love it."
Nate James is the superintendent at Solider Hollow and has been with the golf course for 13 years.  He is an Illinois native whose experience totals numerous golf courses, including the prestigious Medina Country Club.
"This was supposed to only be a 3-year stint for me in Utah," said James.  "…it turned into 15 years (his first two being at Wasatch Mountain) and it's incredible.  I've always wanted to live in the mountains.  I got here and fell in love with it."
James highlighted the distinctness and challenges of getting course conditions pristine for the State Am.
"We're unique because we're the driest part of Heber Valley," James said. "The storms bounce over Timp and miss us so we're very dry.  It's difficult to maintain proper moisture between public play.  We don't want to saturate it but we need to keep it at a correct level.  Our guys do a great job and it's about taking care of them, really.  We get them prepared for how important the work is and what to expect leading up to the tournament, but after the tournament, it's about recognizing them and pointing out how they've helped us all be successful."
From a marketing stand point, hosting the Utah State Amateur can see a spike in players before and after the event.  Bruce Strom is the marketing manager for Soldier Hollow and he understands what it means to host the tournament.
"We get a lot of media coverage being on the news everyday, which is good," said Strom.  "It's big for our exposure.  A lot of players and golfers know where the State Am is going to be held.  So not only do we get participants of the tournament out on the course for their practice rounds, but we see a lot of people wanting to play the course before it begins since they know the course will have championship conditions."
Whether players make match play or not, Strom takes pride knowing that the players will enjoy their time at Soldier Hollow, no matter if it's the Gold or Silver course.
"Throughout both courses, if you turn around and look up, you'll see Timpanogos and the surrounding mountains," said Strom.  "The clubhouse also stands out as well.  Plenty of views to be had."
Feeding 288 players can be a hectic job in and of itself, but then there are spectators, friends and family of those players as well that makes the number even higher.  Rob Edwards is the owner of the grill at Soldier Hollow and has worked at the grill since it opened in 2004.  Rob praised his staff for being willing and able to carry the load.
"You have to be very well prepared and have good people that you can count on…and I wake up every day at 3:30 a.m." said Edwards while laughing.
The number of eggs, ham, bacon the grill goes through during the State Am is staggering.
"We'll go through 16 flats of eggs (roughly 3,000 total), 40 pounds of ham, 80 pounds of bacon and 21 big buckets of potatoes…it's definitely a lot," said Edwards."
If you're wondering what fuels someone to go through what it takes to do all of that and work that hard, the answer to Edwards is simple.
"I like to get a review and it says five stars," said Edwards.  "If I don't get a review that is five stars, I almost take it personal.  That's what drives me.  I don't want anyone to have a bad experience.  Players, families, all customers.  I want them to go, "dang that was good, I want to go back."  Knowing I can make someone happy.  That's what makes me get up in the morning."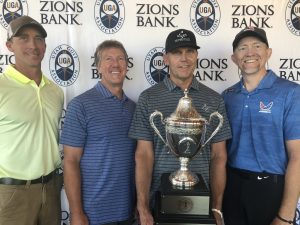 Soldier Hollow Golf Course Staff (Left to Right) Nate James, Bruce Strom, Rob Edwards and Utah Section PGA Professional Chris Newson
If you happen to see any of these gentleman or any of the staff doing great work, as they always are, be sure to give them a thanks as it's the least we could all do.  We sincerely appreciate all the hard work Soldier Hollow and its staff has put in to making this another successful and fantastic Utah State Amateur.
News
Check out what has been happening in Utah Golf.
Former UGA Executive Director Dick Alexander passes away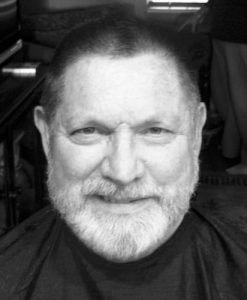 Sadly we announce, former Utah Golf Association Executive Director Dick Alexander peacefully passed away at home on Jan. 23rd. Below is a copy of his obituary which was published in Deseret News from Jan. 27 to Jan. 28, 2019.
Richard Harvey Alexander
1946 ~ 2019
Richard Harvey Alexander, also known as Dick, Alex, Grandpa, Dad, and Shorty Pants, passed away peacefully in his home on January 23, 2019, with his sweetheart, Cynthia, by his side. He was born on November 20, 1946 to Claude and Donna Alexander. Soon after, he became a medical miracle and fought hard to beat the odds after having one of his lungs removed when he was just 7 years old. He was an amazing storyteller and loved to share his favorite childhood memories including lots of baseball, hunting with his dad and brothers, fishing at the Strawberry cabin, sneaking off to buy ice cream and so many more. He learned early on the value of friendship and spent the rest of his life nourishing his connections with others.
Dick earned a business management degree from the University of Utah and has been a die-hard UTES fan ever since. His professional career included many years in hospital administration but his favorite jobs were serving as Director of the Utah Golf Association and later, for the Salt Lake City golf courses. His three children developed a love for golf after many years of shadowing Dick while he served as the Director of the Utah Open. Above all else though, Dick cherished his children… Sis, B-man, and Kimmi.
After he retired, Dick enjoyed every minute spent with his loving wife. He especially loved her gourmet cooking and traveling with her any chance he could. His ability to joke and laugh made even the toughest of times joyful. You could most likely find him behind home plate at his grandsons' baseball games, cheering on Park City High's lacrosse team, beaming at dance recitals, or proudly strolling through art galleries. He is his grandkids' biggest fan!
Dick will be missed immensely by his wife; his children: Lisa Rasch, Kim (Josh) Crook, Ryan (Erica) Faircloth, Erin (Chris) Bolas; his 11 grandchildren: Jaden, Jessica, Jaxon, Ashton, Bentley, McLaren, Cruze, Mila, Brandon, Finn, and Kenny; his siblings: Tim (Sheila) Alexander, Bruce (Debbie) Alexander, Mary Ann (Paul) Christensen; his loving, furry sidekicks Alex and Darby; and many others whose lives he touched. In his final few days, he was courageously excited to be reunited with his parents and "The Three Amigos:" his son, Bryan; son-in-law, Tyler; and nephew, Brett.
An open house to celebrate Dick's life will be held on Thursday, January 31, 2019 from 6:00 -8:00pm at the Old Mill Clubhouse, 6080 S Wasatch Boulevard.
Staying true to his generous nature, Dick was proud to donate his body to the University of Utah School of Medicine as his final gift to this world. In lieu of flowers, please follow Dick's inspiring example and do an act of kindness to honor his name.
News
Check out what has been happening in Utah Golf.
Former UGA President and long time Volunteer Garey Chadwick Passes at 80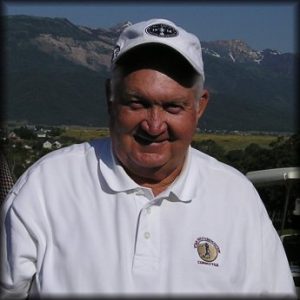 Garey Vaughan Chadwick age 80 passed away in Bountiful on December 25, 2018 of natural causes. He was born on April 5, 1938 to Vaughan and Mary Chadwick in Ogden, Utah.
Garey had a passion for golf that started at a young age while working as a caddie at the Ogden Golf and Country Club. He also had a passion for baseball and lettered three years while attending Weber High School. 
After high school he spent 11 years in the U.S. Army Reserves.
Garey married Elaine Facer in 1958 in the Salt Lake City Temple and they have been married for 60 years. 
Garey worked for 62 years in the Architectural Building Supply business.
Garey had a very impressive resume when it came to his time with the UGA. He served as a volunteer for over 40 years. This includes spending 12 years on the Board of Directors, two years as the UGA president, and 9 years as the Captain of the Hogan Cup team. In 1995 he was the recipient of the UGA's Gold Club Award. Garey also was active in junior golf for many years, where he was the captain of the Junior America's Cup team for 10 years. The UJGA has honored Garey by creating the Garey Chadwick division for ages 9 and 10 and named the tournament of champions after he and Elaine. 
Garey served in many different callings in his church, which included area Sports Director and was a faithful Home Teacher.
Garey was preceded in death by his parents, two brothers, two sisters and a grandson.
He is survived by his wife, and four children Doug (Crystal), Cherie (Jerry) Thompson, Kent (Susan), Robert, 9 grandchildren, 8 great-grandchildren with two on the way. Also survived by 5 brothers and 4 sisters.
Funeral services will be held at 11:00 a.m., Thursday, January 3, 2019 at the Woods Cross 17th Ward, 1847 West 2150 South. A viewing will be held Wednesday evening from 6:00 – 8:00 p.m. at Russon Mortuary, 295 North Main, Bountiful and Thursday morning 9:30-10:30 am at the church prior to services. Online guestbook at www.russonmortuary.com.
News
Check out what has been happening in Utah Golf.
UGA sweeps podium at Southwest Team Challenge
Millcreek, UT – Sitting on the banks of Lake Las Vegas, Southwest Team Challengers looked on as the Utah Golf Association figuratively claimed gold, silver and bronze.
Just on the northern outskirts of Henderson, Nevada, Reflection Bay Golf Club hosted eleven teams on Dec. 2-5 from across the country for the 2018 Southwest Team Challenge. Put together and ran by the Arizona Golf Association, players – both at large and senior – competed in a modified stableford format for bragging rights. After three highly competitive rounds, UGA Team 2 – Ryan Brimley, Darrin Overson, Randy Hicken and Ron Davis – claimed the coveted trophy by finishing with a tournament high, 48 points. UGA Team 3 finished in second place with 42 points, while UGA Team 1 finished in third with 41 points.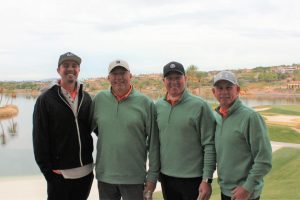 Easton Folster, Director of Rules and Competitions for the UGA, said: "I think it is a great event for some of our most competitive players that not only support UGA events, but also other amateur events throughout the state.  This was the first year it has ever been at Reflection Bay and I thought they did a fantastic job.  The course was in great shape all week and I think the players really enjoyed being out there.  My main hope is that this event continues to be a yearly reward for having played great golf throughout the year."
Creating a demand for hit fairways and solid putting, Reflection Bay Golf Club posed as much of a challenge as it could for some of the top amateur players around this part of the country. With weather fluctuating each day, players experienced three different versions from the high-end resort course.
With day one and three providing descent scoring conditions, UGA Team 2 capitalized on each chance they got – scoring 18 points on day one and 25 points on day two. Dropping in 10 birdies on each of those two days, plus two eagles during the final round, the victors demonstrated they were the team to beat.
"I think this type of format, having a golf course that you can score on, is a little bit more fun," Overson said when comparing Reflection Bay GC to past venues.
Day two proved to be the anomaly for each team, especially the winners – having only posted a total of 5 points. Dealing with colder than normal temperatures and wind speeds of around 20 mph, Overson, Brimley, Hicken and Davis were left trying to salvage pars instead of shooting for flagsticks.
"There were definitely some challenging holes, for sure," Overson stated. "A couple of days when the wind was blowing a little bit, made some of those holes very difficult. The second day was way harder than any other day we played."
Giving credit when credit is due, Overson said it was the strong and consistent play of Hicken and Davis, which helped keep the team afloat on a day that could have easily swept them sideways and out of contention.
"The second day, the seniors definitely held their own," Overson said. "[Then], those guys cleaned house the last day."
With golf in northern Utah hard to come by in the winter months, this tournament provided players a chance to get in one last event with fun, friendly competition.
By sweeping the podium, the UGA teams showed that amateur golf in Utah is strong and a force to be reckoned with.
CLICK HERE for complete results.
News
Check out what has been happening in Utah Golf.
Ryan Tripp: It's never too late to start
By Beaux Yenchik, UGA Intern
Have you ever had an itch? I'm talking about an itch that won't go away no matter how hard you try. It could be from a mosquito bite or your skin in the final repairing stages of a sunburn. Whatever it is, don't you try everything you possibly can to get rid of it?
Well, have you ever been bitten by the golf bug? Man, does it produce a nasty itch. For those of you who have, you can testify that it makes one go berserk when it comes to golf and everything about it. It drives us to buying the newest and coolest clubs on the market. Hours are spent glued to the television because of it – watching as the Golf Channel shows Brooks Koepka's 12-inch divot take off after impact in slow motion. It even drives us to the No. 1 tee before the first rays of sunlight become visible.
A bit of an insane lifestyle, right? Never really seeking for a permanent cure. Well, if you ask Ryan Tripp – our next, lucky spotlight contestant – that question, he'd be sure to tell you he'd have it no other way.
Tripp stated, "As people say they got bit by the golf bug, I definitely did."
Golf was never really a part of Tripp's life until the last five or six years. Sure, he had the occasional trip growing up from Parowan with his buddies down to Cedar City to whack a few balls at the driving range, but it wasn't something you would define as golfing.
"We probably spent most of our time doing Happy Gilmores," Tripp said.
All Tripp cared about in Parowan – his hometown – was basketball. In fact, shooting hoops was the sport within his childhood home. Tripp stuck to the hardwood through his first year of college where he played as a freshman at Southern Virginia University before going on a mission for The Church of Jesus Christ of Latter-day Saints to Anaheim, California.
"Always grew up being active, playing sports," Tripp said. "Basketball primarily. [I] played a little baseball [and] ran cross-country in high school. So, I was always active and just enjoyed being out and about …"
Upon returning home from his mission, Tripp transferred universities and attended the University of Utah where he earned a bachelor's degree in strategic communication and his MBA from Weber State University.
However, Tripp's childhood wasn't defined by basketball but by a desire to help raise the funds necessary to save the life of little Whitnie Pender – a baby girl from a neighboring town who was in desperate need of a liver transplant.
With the motivation to raise as much funds as he could, 14-year-old Tripp set out for the 3,116-mile trip across America. The catch, however, was Tripp had to make the journey across the country traveling at 10 mph on a lawn mower – hoping to set a new mark in the "Guinness Book of World Records" for the farthest distance traveled on a lawn mower.
Tripp's grandparents and father accompanied the soon-to-be world record holder on his journey – making the 42-day journey to cut the lawn at Capitol Hill in Washington D. C. – raising a total donation sum of $15,000. Tripp got to talk about his story to countless news outlets, including shows hosted by individuals such as David Letterman and Oprah Winfrey. (Tripp also broke another world record just a short time later by mowing every state capital's lawn in a total of 69 days.)
"Aside from the Guinness World Record on a lawn mower, my upbringing and my childhood was pretty normal, I guess," Tripp said with a chuckle.
Now working for Ride Systems as the Marketing and Sales Director and as an adjunct professor at WSU, Tripp maintains a busy schedule with work and home life – having four children of his own with his wife, Shannon.
Yet, among such a schedule, Tripp scratches the golfing itch in whatever way he can – possibly trying to play some sort of catch-up game for all the years he thinks he has missed out on.
Golf didn't become a passion of his until he started playing in work tournaments. After having the time of his life at his first scramble, life was never the same. (His wife would probably say the same thing.) For him, ever since his first round, golf has become his happy place: spiritually, physically and mentally.
"Once I got into a professional career and I started working in healthcare, we would have a couple work scrambles throughout the summer and I got invited to participate in those," Tripp said. "That is when I saw how fun golf can be and started getting serious about it. Honestly, from the first time I played in a work tournament, I had a blast."
Tripp, you could say, would be the golf equipment connoisseur of Utah. Not discrediting anyone who knows a lot about golf equipment, but Tripp's guilty pleasure might be his obsession with finding out as much as he can about products and then finding the right stuff for him. I'd even go as far as calling him the Bryson DeChambeau of club combos. (Check out his What's in the Bag? graphic on our Instagram page if you want to see what I mean.)
Tripp said: "I go nuts over golf equipment. It is horrible for my game because I am constantly switching out equipment."
When he isn't playing Round Valley Golf Course or submersed in the latest Golf Digest's Hot List issue, Tripp can often be found making drone videos over courses he's played – like Sand Hollow Resort or Shadow Creek Golf Course in Las Vegas – or attempting to play four 18-hole rounds at Bandon Dunes Golf Resort on the day of summer solstice.
For someone who would still be called newish to the game, Tripp's adventurous journey doesn't stop there. Tripp and his buddy, Andy Lawson, are two-time winners of the Topgolf Tour Championship Qualifier in Salt Lake City (2016 & 2018), which advanced the duo to compete in Las Vegas for a $50,000 grand prize – eventually losing to former tour professionals and lower-handicap players.
"That was really my first kind of big golf accomplishment," Tripp said.
Tripp recalls when he didn't make it in 2017, and the desperation road trip he and Lawson endeavored on in attempt to make it back to Vegas. After losing a close match in Salt Lake, the two immediately drove to Portland for a qualifier the next day. Losing there, the two then headed east to Denver with hopes of success on their third attempt. With no such luck, the two journeymen started gaining recognition and were flown out by Travelocity for one final attempt in Austin to qualify. No success.
Though golf has primarily been Tripp's thing, he still holds out for the future with hope that his children will want to play the game he has come to love. Now and again, Tripp will bring his children to the course – Morgan is a small town and Round Valley is never extremely busy – while his wife is working.
Because he didn't have the chance of playing a lot of golf with his dad growing up, Tripp wants to provide that opportunity for his kids. Yet, if they don't choose golf, basketball will still be a viable option for them – Shannon Tripp played collegiate basketball, too.
Outside of spending time at the course, Tripp enjoys any and all chances he to be with his family. He spends time at gymnastic meets, ballet recitals, etc. You name it, his kids are probably doing it.
Ryan, thank you for demonstrating that golf is for anyone in any stage of life, and that it can be and mean whatever we would like it to be.
News
Check out what has been happening in Utah Golf.
Utah Golf Hall of Famer Bill Johnston Inducted into Arizona Golf Hall of Fame