News
Check out what has been happening in Utah Golf.
UGA Retains the Shootout Trophy at Bloomington CC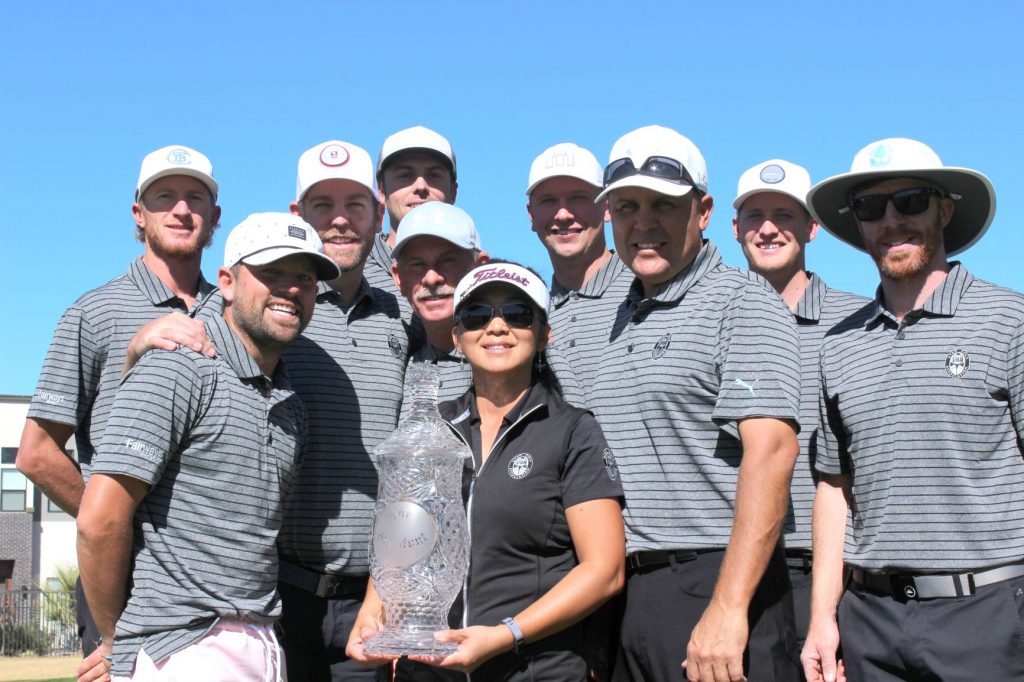 (2019 Utah Shootout team (Left to Right) Denny Job, Derek Penman, Kurt Owen, David Jennings, Randy Hicken, Nuny Khamkin, Reed Nielsen, Jeff Jolley, Luke Crapo and Dan Horner. Missing from photo: Kurt Jamison and Annette Gaiotti)
By Randy Dodson
Every half point counted this year at the Utah Arizona Shootout.
The Utah Golf Association and Arizona Golf Association teams finished deadlocked at 36 points a piece after two days of Ryder Cup style competition at Bloomington Country Club Oct. 21-22 in St. George, Utah.
It's just the second tie in the 28-year history of the event with the UGA dominating the series at 19-8-2 in the home and home competition.
This year's version was played out over two days of Foursome (alternate shot), Four-Ball (best-ball) and Singles, in match-play formats, with a point for the front, back and overall available in each match, at the newly renovated country club course.
The morning Foursome matches on day one resulted in a slight 9.5 to 8.50 lead for Arizona with Arizona's women, Madison Kerley and Sofia Anokhina, a pair of former Arizona State University golfers, securing all three points in their match against Utah's Annette Gaiotti and Nuny Khamken. Utah's Dan Horner and David Jennings also failed to secure any points as Arizona's Chris Thomas and Adam Walicki carded another shutout, collecting three points. Utah's Mid-Am champ Reed Neilsen and Luke Crapo carded a 3-point win for the UGA.
After the afternoon Four-Ball competition it was evident that Arizona's women had just too much firepower as they collected another 3-0 shutout over their UGA counterparts. Utah's Neilson, now paired with Kurt Owen, proved to be the day one MVP for Utah as they won with another 3-0 score in the Four-Ball format. With Randy Hicken/Kurt Jamison and David Jennings/Jeff Jolley grabbing 2.5 points each, Team UGA won the afternoon 10 to 8 and took a 1-point lead into the following day Singles matches at 18.5 to 17.5.
The AGA's Anokhina, a former junior champion from Moscow, Russia and a competitor in this year's Augusta Women's Amateur championship, and partner Kerley, a former Arizona High School State Champion, U.S. Women's Open competitor and four-year player for the Sun Devils, stole the show once again for Team AGA as the both carded 3-0 wins in the final day Singles matches before most of the men even made the turn.
But it wasn't enough for Arizona to take home the trophy as Utah won the Singles portion of the event 18.5 to 17.5.
The UGA's Dan Horner got a 3-0 win on the final day with Denny Job and Jennings carding 2.5 point wins in their matches. Crapo and Neilsen and Owen won with 2 points each. The UGA lost only two matches on the day which was just enough to secure a 36 to 36 tie and keep the trophy in the UGA office for another year.
Horner said, "Arizona had a very talented team this year which included two really good women who won all their points. For us to retain the cup, even if it was a tie, says a lot about the quality of players we have."
The 12-person UGA team included: Nuny Khamken, Annette Gaiotti, Kurt Jamison, Randy Hicken, Luke Crapo, Denny Job, Reed Nielsen, Kurt Owen, Derek Penman, Dan Horner, Jeff Jolley and David Jennings.
The Utah Arizona Shootout will be contested next year in Arizona and then return to Utah in 2021 for the 30th anniversary of the competition
Full Results CLICK HERE:
News
Check out what has been happening in Utah Golf.
Brimley & Jennings, Siddens & Avant, Parkinson & Peacock Win Utah Four-Ball Championships
By Jesse Dodson
When two golfers ranked within the top five of the Utah Golf Association's Men's Player Performance Rankings (PPR) team up to play in the Utah Four-Ball Championship at Ogden Country Club, they're going to be hard to beat.
Ryan Brimley and David Jennings got off to a quick start in round one on September 16th, firing a (-9) 63 in the stroke play, Four-Ball format, creating a five-stroke lead over Corey Matthews & Denny Job and past State Am winners Darrin Overson & Dan Horner.
"We just tried to shoot the lowest score for the day and just beat the guys in our group," Jennings said of their strategy going into the final round with a five-stroke lead.
"We didn't discuss much before but I didn't think much needed to be said," Brimley added. "Dave and I have different but similar games so it's nice to feed off each other… I would say the strategy was just to make as many birdies as possible… With a larger lead it's different, but you just have to go out and be aggressive like we usually are."
The Brimley and Jennings duo had teamed up once before the Four-Ball Championship, in a failed attempt at a USGA qualifier. It didn't seem to have any impact on their second go around with 16-total birdies between the two days at Ogden CC.
"Would've been fun to have it be match play," Brimley said, "but stroke play is fun cause you have to put two good scores together."
Brimley and Jennings gave themselves enough of a cushion to afford a few bogies coming down the stretch in the final round. They won the championship at 13-under with a two-stroke lead over Matthews & Job and Overson & Horner.
"This is my second UGA Four-Ball win, so that was good," Jennings said. "It was good to finally get a win this year. I have been runner up too many times this year to count."
This win places Jennings in third place on the season-long UGA PPR list with only two events left on the PPR schedule.
"I will first say, all wins feel good," Brimley said, now fifth on the PPR list. "It's definitely different from the other UGA championships with it being a team match, but it's nice to have as good of a partner as Dave when you do something silly. We felt a little down on ourselves with how we played the back and let the field back into it but a win is a win and that's the goal every time."
Kirk Siddens and Karl Avant won the Senior Division with a pair of 66's at 12-under, two strokes better than runner-up finishers Ron Davis and Randy Hicken.
In the Super Senior Division, Dan Parkinson and Craig Peacock etched out a one-stroke victory over Michael Hacker and Rob Bachman with scores of (-5) 69-70.
With their wins, Brimley, Jennings, Siddens and Avant get an automatic spot on the Southwest Team Challenge team. The two winnings teams combine to make one of the UGA's three teams in the event.
In addition to that, Brimley and Jennings plan on playing together again in November in the USGA Four-Ball Qualifier at Entrada Country Club.
Full Results: https://www.golfgenius.com/pages/2207463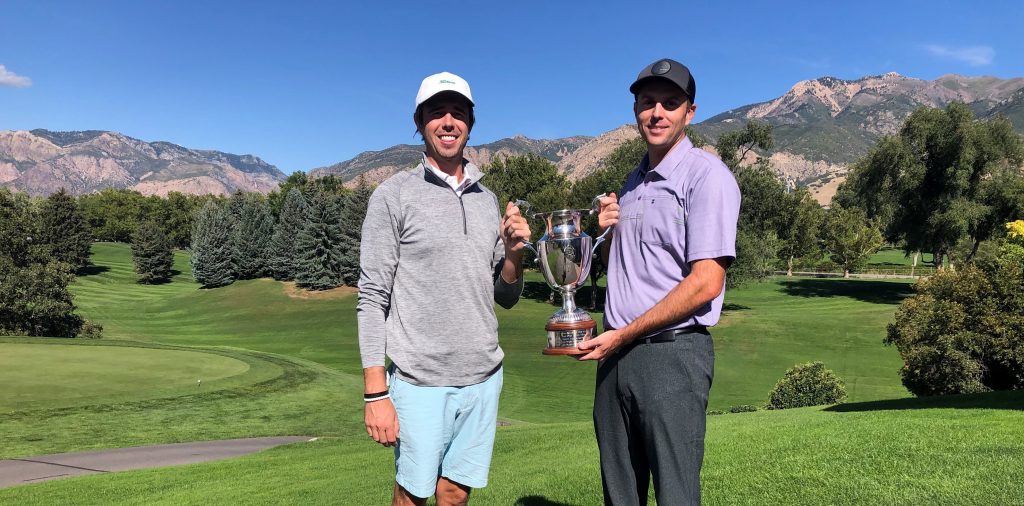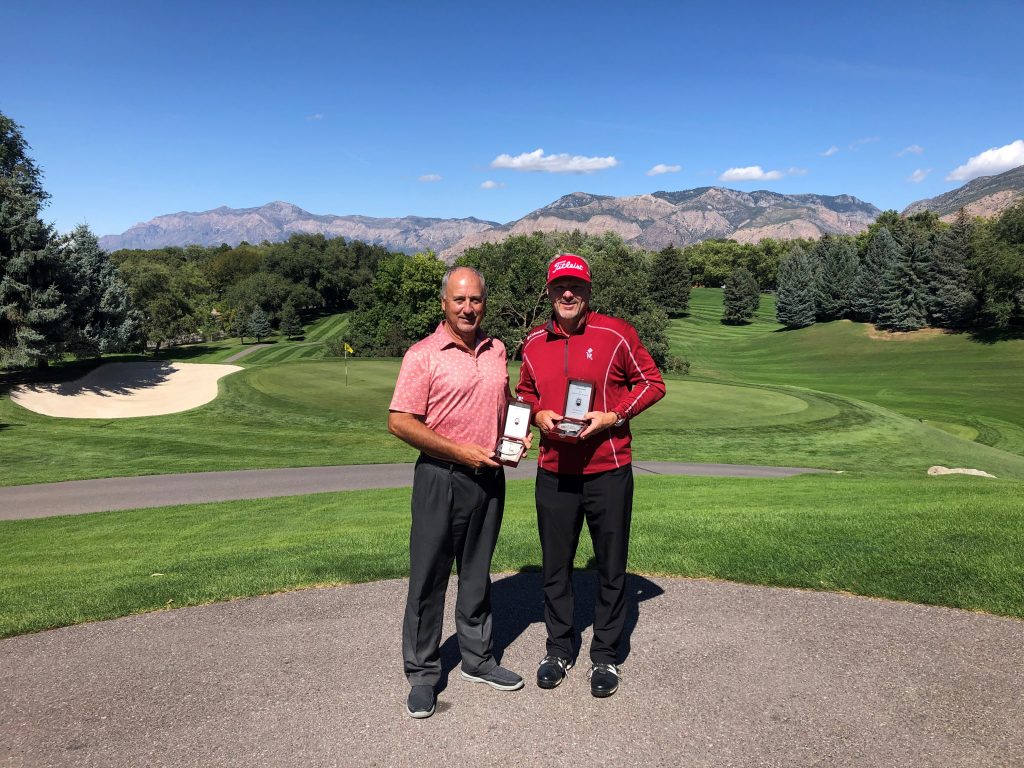 News
Check out what has been happening in Utah Golf.
Oakridge Wins Private 8-man Title
The 8-man team from Oakridge Country Club took full advantage of hosting the final to squeak out a 19-17 win.  The team of Joe Summerhays, Curtis Cook, Alex Smith, Taylor Berbert, Gavin Campbell, Alex Lawrence, Scott Lieber and Gordon Raymond narrowly defeated the team from The Country Club to claim the title.  Full results below!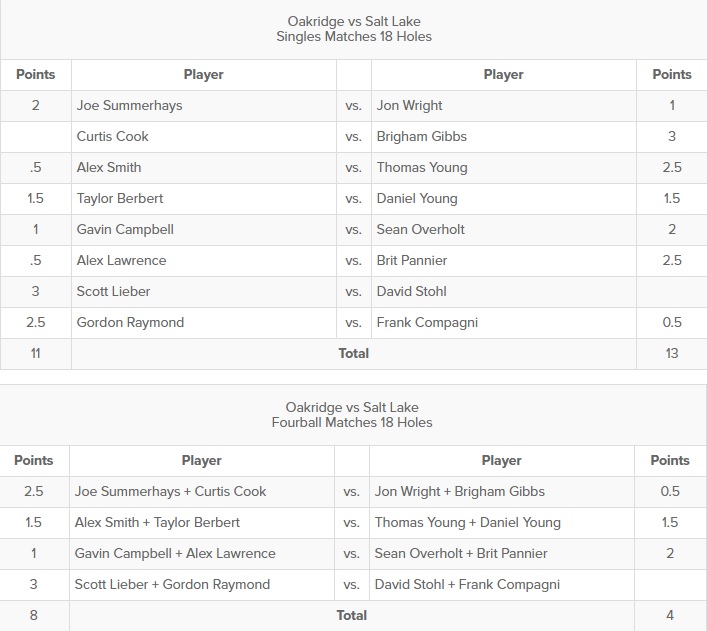 News
Check out what has been happening in Utah Golf.
Alpine CC Continues dominance in Private Senior 8-man finals
Alpine Country Club has been a juggernaut in the Private Senior 8-man competition for many years and 2019 was more of the same. The team of Steven Borget, Brent Bryson, Ron Davis, Dan Hatch, Dan Parkinson, Phil Harker, Craig Peacock and Rick Bodell beat The Country Club 25-11 in the final to claim another title.  Full results below!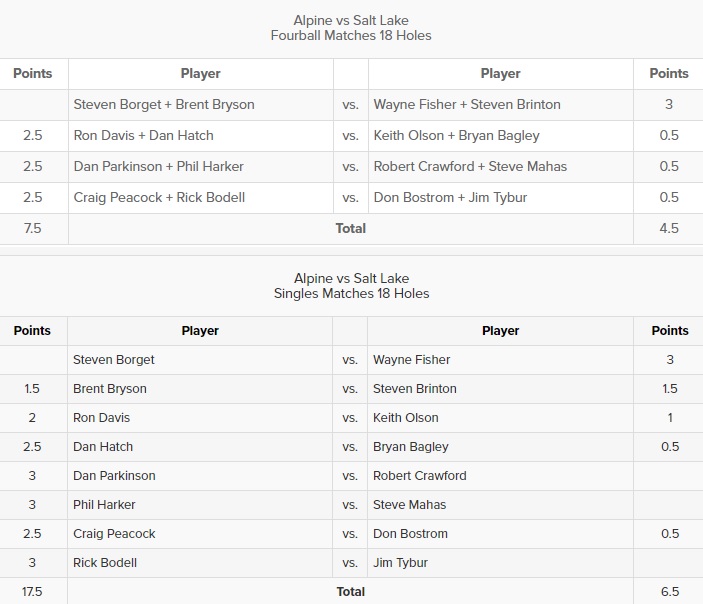 News
Check out what has been happening in Utah Golf.
The Country Club claims title in first year in Super Senior division
In their first year competing in the Super Senior Division of the UGA's Private 8-man team league, The Country Club earned their first title.  The team of Kurt Bernhisel, Heber Jacobsen, Andrew Leitch, and John Anderson cruised in the final match taking 11 out of the possible 18 total points.  Full match results are below!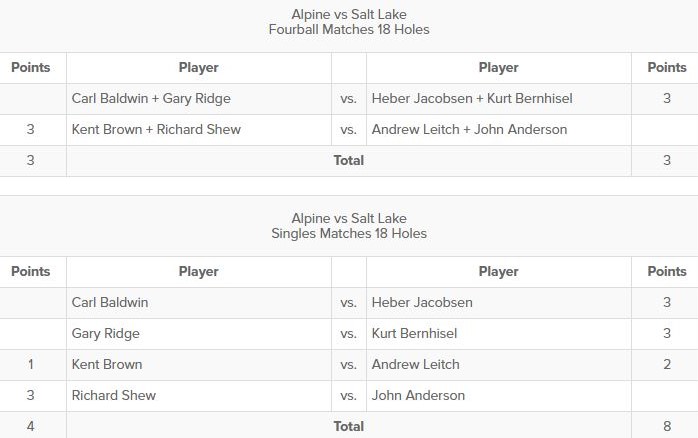 News
Check out what has been happening in Utah Golf.
Six players with Utah ties face uphill climb heading into U.S. Amateur Stroke Play Second Round at Pinehurst Resort and Country Club
By Garrett Johnston for Fairways Media
Pinehurst, NC – Utah is well represented this year at Pinehurst for the U.S. Amateur with six players having Utah ties in the field of 312.
Leading the charge is last month's newly crowned U.S. Junior Amateur winner Preston Summerhays.
The 16 year old sees Pinehurst No. 2, No. 4 is the other course this week for stroke play, as being a daunting test for this field.
"There's a reason why they've had so many U.S. Opens here the last few years," Summerhays said. "The greens are really firm; they are super elevated with a lot of runoffs.
"This course is super amazing."
High praise from the young player who until Saturday had never played No. 2.
What kind of score would be good for this week at No. 2?
"Even par and I'd be really happy, but honestly one, two, three over is not bad either," Summerhays said. "The course is just playing that tough."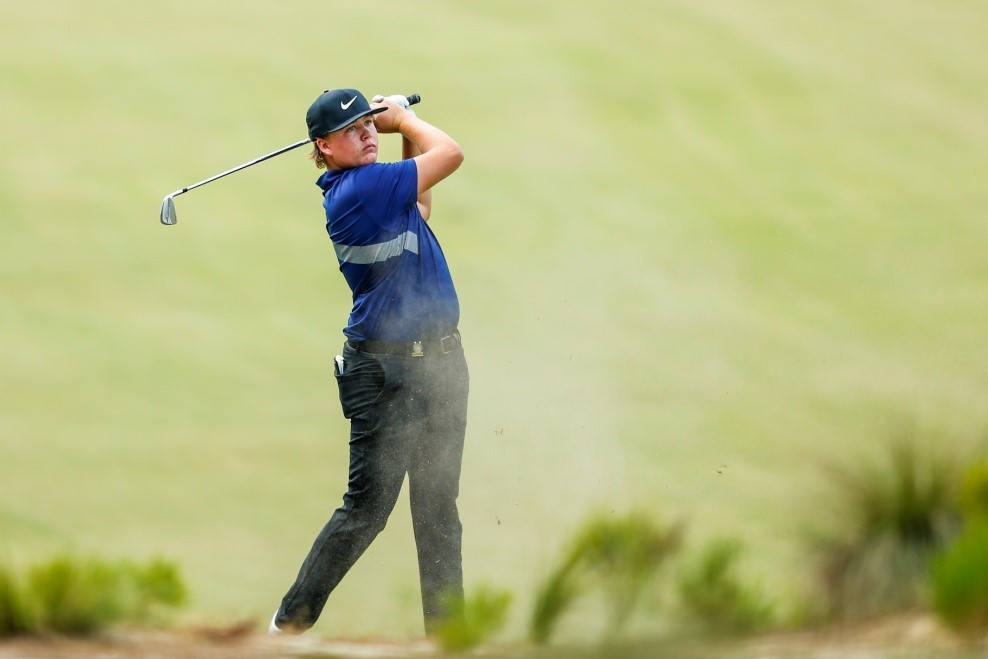 Two-time Utah State Amateur champion Preston Summerhays finished 4-over par today on the No.2 course at Pinehurst Resort and Country Club. Photo Copyright: USGA/Michael Reaves
BYU upcoming senior Peter Kuest, playing in his second U.S. Amateur, also feels No. 2 will be a daunting test this week.
"Anything around even par is going to be a great score especially with the greens firm and fast," Kuest said. "If you get on the wrong side of these pins you could be playing ping pong pretty quickly.
"You've got to be careful with where you leave the ball and try to give yourself as many uphill looks as you can while trying to hit as many greens as possible."
This is Kuest's second visit to Pinehurst after he teamed with fellow BYU senior and teammate Spencer Dunaway for the U.S. Amateur Four Ball here three years ago.
For incoming BYU freshman Cole Ponich of Farmington this is already his ninth competition on the Pinehurst courses.
He played in the U.S. Kids World Championship seven times, starting at age seven and finished second in the 2017 North and South Junior Championship.
"I'm pretty used to the grass around the greens because it's pretty different. I feel like I know now the spots you want to miss it, and these greens are as tough as any in the country."
Ponich qualified for his first U.S. Amateur in his first shot at qualifying. His playing schedule had always conflicted with the Utah U.S. Amateur qualifier in the past, but this year he was able to prioritize this and got through at Alpine Country Club.
The 19 year old first started hitting plastic golf balls at 18 months in his parent's house with a cut down iron as tall as one's foot to shin.
Now he's playing in amateur golf's biggest event.
Denny Job also got through qualifying at Alpine. The Murray resident who caddies at Promontory Club was happy to invite his dad Ryan, an accomplished Utah golf player, to carry the bag during this special week; the 29 year old's first U.S. Amateur.
"It's pretty cool to have him on the bag," Job said of his father who also looped for him at the U.S. Mid-Am last year.
"I wouldn't want anybody else on the bag. It's good having him here," Job said. "He taught me this great game since I was really young (seven) and it's just awesome to be able to give back to him."
Ryan feels the same way.
"It's pretty awesome for me, the love for a father for a son, I needed to be here," Ryan said.
Job of course is good friends with Zac Blair. The two have known each other since age 7, playing junior golf together and playing golf a bunch during high school and after as well.
How many rounds have they played together?
"Thousands," Blair said. "Five or six years of playing almost every day when it's not snowing."
Blair made his major championship debut at Pinehurst No. 2 when he made the cut and finished 40th in 2014.
What's been his advice to Denny?
"He told me to hit shots to the middle of the greens, and to putt to the edges," Job said.
University of Utah junior Tristan Mandur made it this year as well to Pinehurst.
"I am very excited to play in the U.S. Am, as it is my first one, and for it to be at Pinehurst makes it even better," Mandur said.
This is also his first visit to Pinehurst.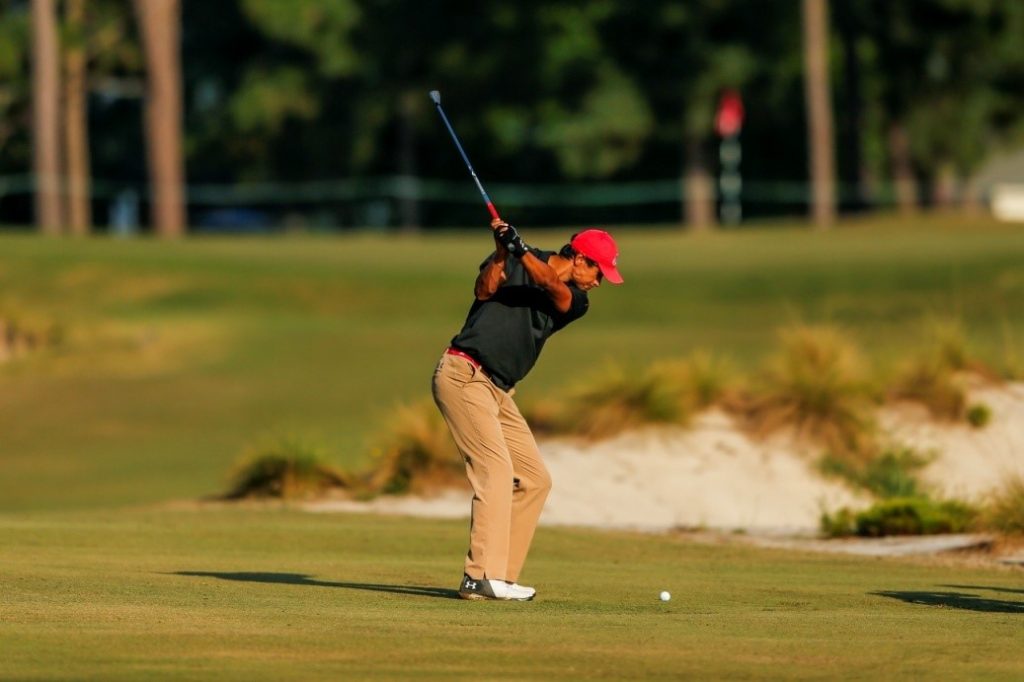 University of Utah junior Tristan Mandur plays his second round of the U.S. Amateur stroke play qualifying tomorrow on the No.4 course at Pinehurst Resort and Country Club. Photo Copyright: USGA/Michael Reaves.
And the final member of this year's Utah contingent is Mandur's teammate, senior Jordan Costello.
The Pinedale, Wyoming native says he's "fired up for this week."
He played the U.S. Kids World Championships five years in a row at Pinehurst from ages 10 to 14, but none of those times did he play No. 2. This week is his first look at it. This week also marks the third U.S. Amateur for the business major.
At a 77.06 stroke average through the Day 1 of stroke play, Pinehurst No. 2 is playing more than seven strokes over its par of 70. Following tomorrow second round of stroke play the field will be cut to the low 64 players. Match play begins on Wednesday.
U.S. Amateur Stroke Play Round 1 results:
Pinehurst No.4 T132 Cole Ponich (+4) 74
Pinehurst No. 4 T132 Denny Job (+4) 74
Pinehurst No.4 T152 Peter Kuest (+5) 75
Pinehurst No. 2 T204 Preston Summerhays (+7) 77
Pinehurst No.2 T224 Tristan Mandur (+8) 78
Pinehurst No.2 T281 Jordan Costello (+12) 82
News
Check out what has been happening in Utah Golf.
Day One of the 121st State Amateur Yields Few Surprises
By Randy Dodson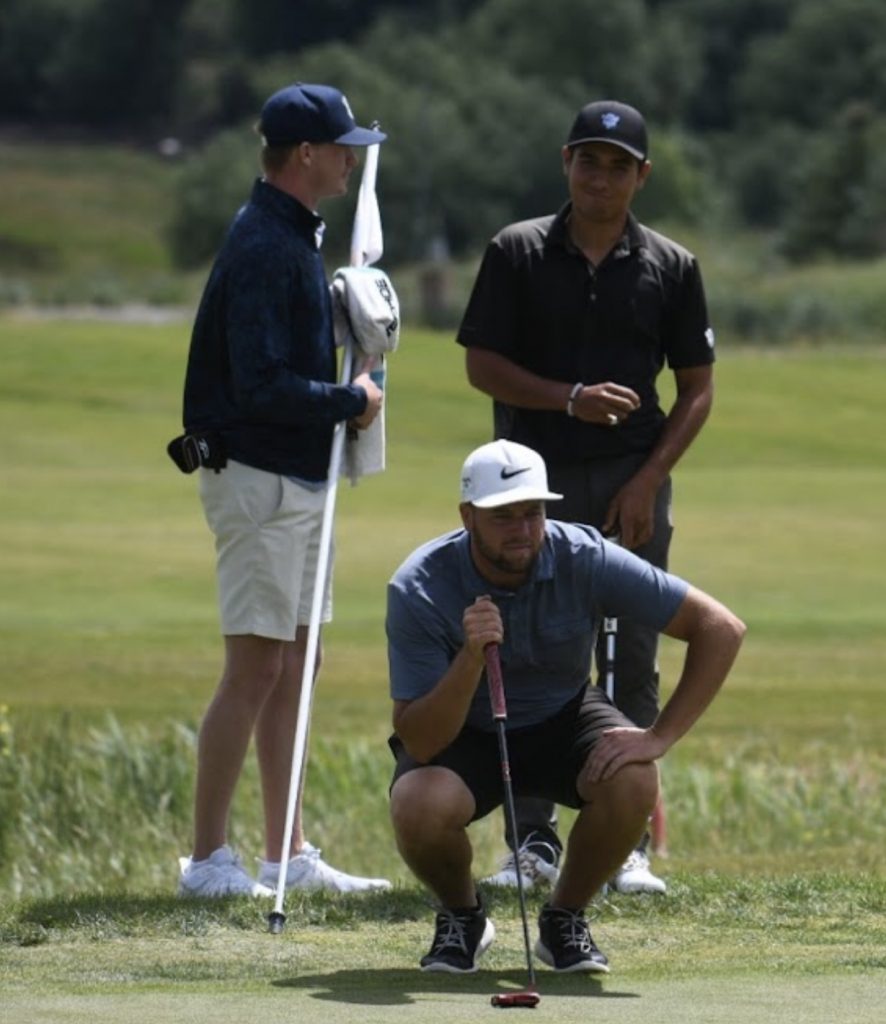 Photo Credit: Jared Lloyd/Daily Herald, Nathan Ouimette lines up a putt on his way to an opening round lead of (-7) 65 at Monday's Utah State Amateur Stroke Play Qualifying tournament at Soldier Hollow Golf Course. BYU's Spencer Dunaway (R) and caddy Austin Christensen look on.
Utah Golf Association Director of Rules and Competitions Easton Folster will sleep well tonight knowing that the opening round of the 121st Utah State Amateur at Soldier Hollow Golf Course yielded few surprises Monday.
A handful of impressive scores are at the top of the day-one stroke play qualifying leaderboard, the expected afternoon winds weren't too crazy, defending champion Preston Summerhays played well, his sister Grace didn't shoot herself out of match play possibilities and the Gold Course held its own.
"Overall I'd say it has been a pretty successful day," said Folster.
Nathan Ouimette of Highland, Utah turned in the low score of the day with a (-7) 65 on the Silver Course to sit alone at the top of the leaderboard. Ouimette had a game plan in mind of not only keeping his tee shots in play but also in the right position. Playing in the second group of the morning, Ouimette enjoyed some pretty calm conditions but also "hit the ball where I wanted to" and "read the greens pretty well."
Ouimette, the lone surprise of the day, is not well-known in Utah golf circles yet; having played baseball at Lone Peak High School and spending his freshman year (2018-19) of college playing golf for Southern Virginia University, where he earned All-State First Team honors from the Virginia Sports Information Directors.
Reigning champion Summerhays played "really aggressively" going for each par 5 in two and "trying to make as many birdies as possible." Also playing the Silver Course but in the last pairing of the morning wave, Summerhays carded six birdies on the day and one bogey when he found the water on the par 5 10th hole. Summerhays turned in a (-5) 67 for the day and is tied for second place with Park City's Colton Tanner.
Grace Summerhays, only the fourth woman to qualify for the State Amateur and the youngest at just 14-years old, finished with a 2-over 74 on the Silver Course and while she hasn't shot herself out of match play, she will need a lower round tomorrow to comfortably get in the round of 64 matches.
Brigham Gibbs, a former Utah Senior Amateur champion turned in the best score of the day from the Gold Course with (-4) 68 and is tied with University of Utah golfer Payton Hastings for fourth place.
Golfers will alternate courses and morning/afternoon waves for tomorrow's final round of stroke play qualifying where the low 64 players will be seeded into Wednesday's match play. Currently there are 21 players tied for the 50th spot at 2-over par 74. Thursday's play at Soldier Hollow will feature both the round of 32 and round of 16 matches.
For complete leaderboard and round two tee times please click here:
https://www.golfgenius.com/pages/1880123
Randy Dodson is the publisher of Fairways magazine, the official publication of the Utah Golf Association and president of Fairways Media.
News
Check out what has been happening in Utah Golf.
Kuest, BYU Win PING Cougar Classic
Peter Kuest, individual winner at a record 17-under for the tournament, led the BYU Cougars to the PING Cougar Classic win Saturday at Riverside Country Club in Provo, Utah. The Cougars won at 24-under par, 5-strokes better than Boise State.
With six holes to play BYU Head Coach Bruce Brockbank told his team, "We need to go!" The Cougars responded with 13 birdies as a team, six coming from Rhett Rasmussen and Kelton Hirsch (3 each),  to claim the win.
Kuest's rounds of 64-66-69 – 199 included a 18-foot birdie on the 18th-hole, to reach 17-under, believed to be the new low scoring record for the PING Cougar Classic tournament., according to Brockbank. The individual win is the fifth champion's trophy of the season for Kuest.
Photo Credit: Fairways Media/Randy Dodson
Peter Kuest, individual winner at a record 17-under for the tournament, led the BYU Cougars to the PING Cougar Classic win Saturday at Riverside Country Club in Provo, Utah. The Cougars won at 24-under par, 5-strokes better than Boise State.
With six holes to play BYU Head Coach Bruce Brockbank told his team, "We need to go!" The Cougars responded with 13 birdies as a team, six coming from Rhett Rasmussen and Kelton Hirsch (3 each),  to claim the win.
Kuest's rounds of 64-66-69 – 199 included a 18-foot birdie on the 18th-hole, to reach 17-under, believed to be the new low scoring record for the PING Cougar Classic tournament., according to Brockbank. The individual win is the fifth champion's trophy of the season for Kuest.
Photo Credit: Fairways Media/Randy Dodson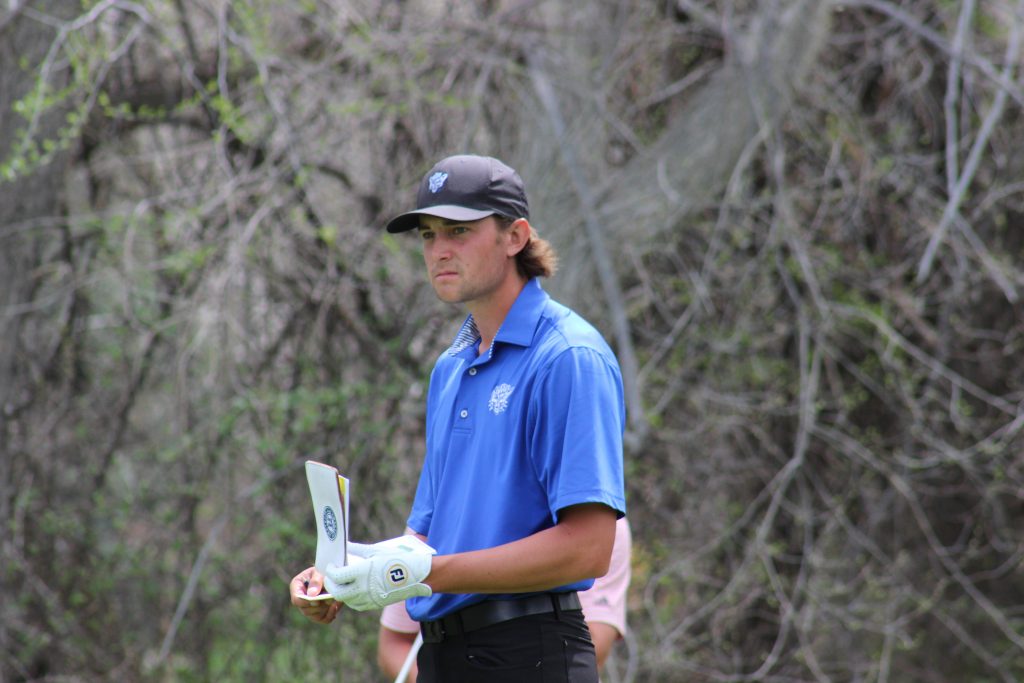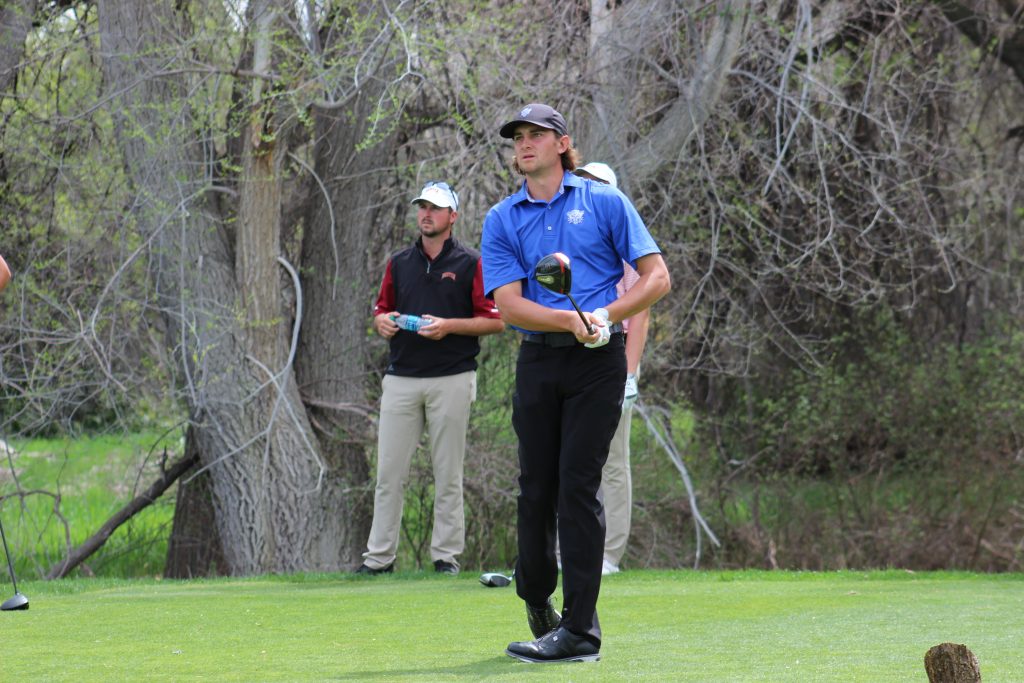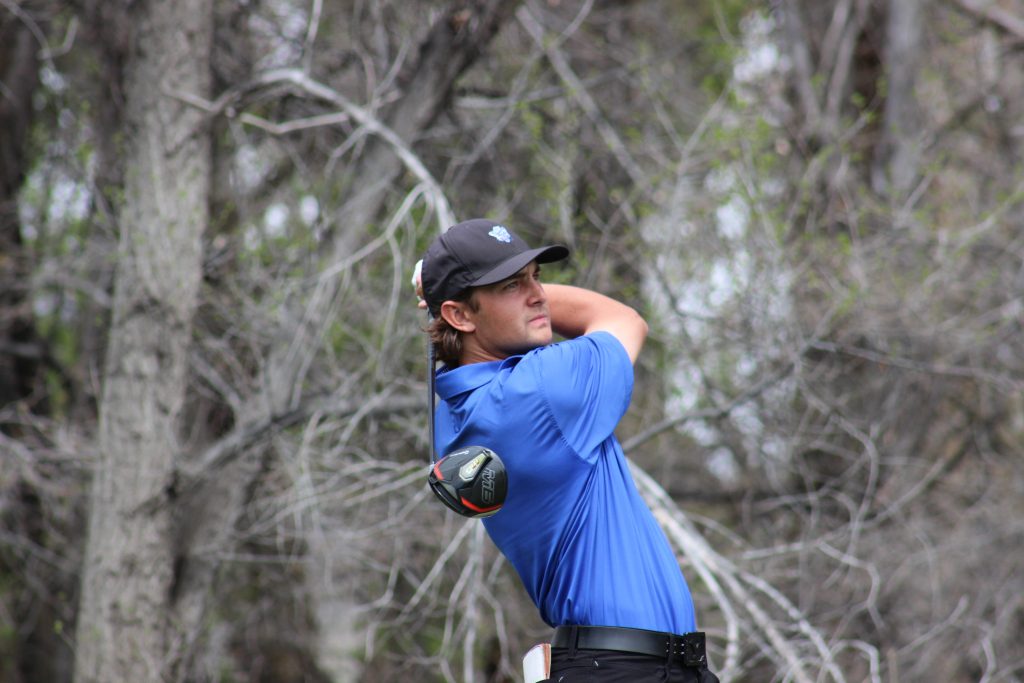 News
Check out what has been happening in Utah Golf.
UGA Crowns Women's Champs at Spring Open
By Randy Dodson
For the second time in three years Nuny Kham-one and Annette Gaiotti played to each other's strengths and were crowned champions of the Utah Golf Association's Women's Spring Open.
Starting the final round at St. George City, Utah's Sunbrook Golf Course four-points behind the Park City duo of Karen Seaman and Connie Barnhart, Gaiotti thought they would have to get to 63 points on the day to take home the champions' medals.
They got there and then some.
On the strength of seven total birdies Team Kham-one/Gaiotti scored a final round 68 points in the team modified Stableford scoring championship, a women's Player Performance Rankings event, to catch and pass Seaman and Barnhart.
"We both made good putts on the downhill par 5 6th hole on the Pointe nine to get us going and provide some momentum, said Gaiotti, a veteran of many UGA women's championships.
"I've been just skiing all winter but for the last month I've been in Hawaii putting on Bermuda greens, so it took a little while for the putter to warm up here."
Gaiotti contributed five birdies in the final round compared to just two birdies the day before at Sky Mountain Golf Course in Hurricane, Utah.  Kham-one/Gaiotti turned in a 36-hole effort of 59-68 – 127 points edging Seamon/Barnhart's 63-57 -120 points for the win.
"I think the difference for us was the back nine here at Sunbrook," said Park Meadows Country Club member Barnhart. "Neither one of us were that familiar with the Black Rock course."
Seamon, a member at Jeremy Ranch Country Club, and Barnhart could only manage three total birdies for the final round.
"We help each other a lot," said Kham-one. "Playing with Annette is really great. She keeps me focused and helps me manage my game."
Kham-one contributed a couple birdies of her own today at Sunbrook. "My chipping played a huge part over the last two days. I was able to make better putts being closer to the hole."
The Utah Golf Association hosts the Women's Spring Open as an early season "ice breaker" event for association's members providing another opportunity to play in a competitive but flighted event on the heels of Winterchamps and before the tournament season begins in northern Utah. The combined team Stableford scoring provides for a fun team event with the forgiving nature of Stableford scoring for women looking to knock off a little winter rust.
UGA Executive Director Jacob Miller said, "Before the merger of the UGA and the Utah Women's Golf Association, this event was hosted in Mesquite, Nevada every other year. We are in discussions with the Southern Nevada Golf Association to potentially co-op this event in the future.
"Many of the ladies miss playing the event in Nevada so we see an opportunity to partner with a neighboring association to not only add more players to the field but to allow for our ladies to be hosted by a neighboring association. We hope to make this discussion a reality in 2020."
Click here for complete results of the 2019 UGA Women's Spring Open: https://www.golfgenius.com/pages/1770851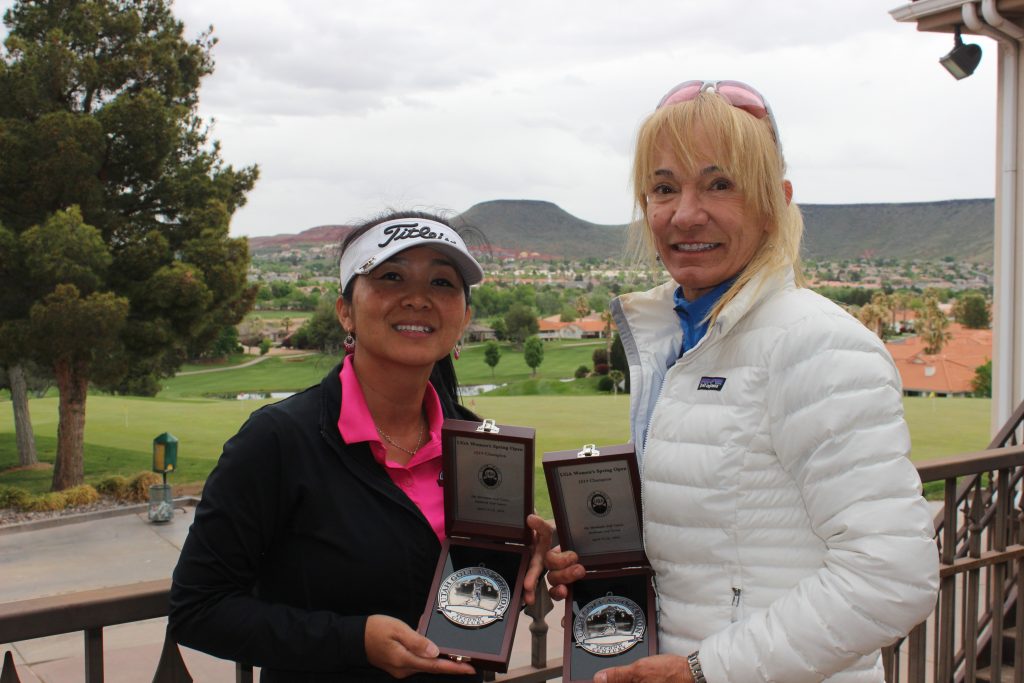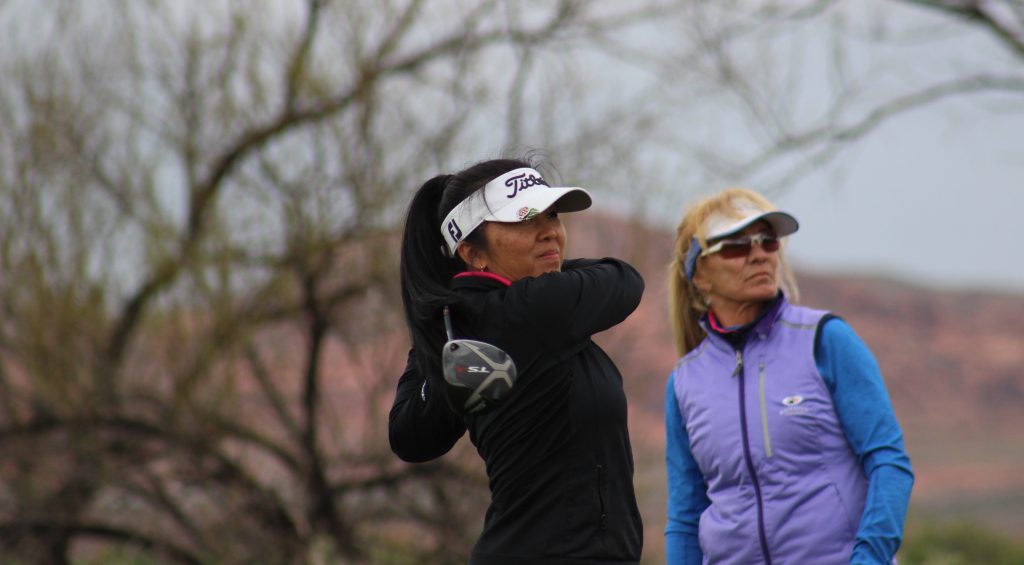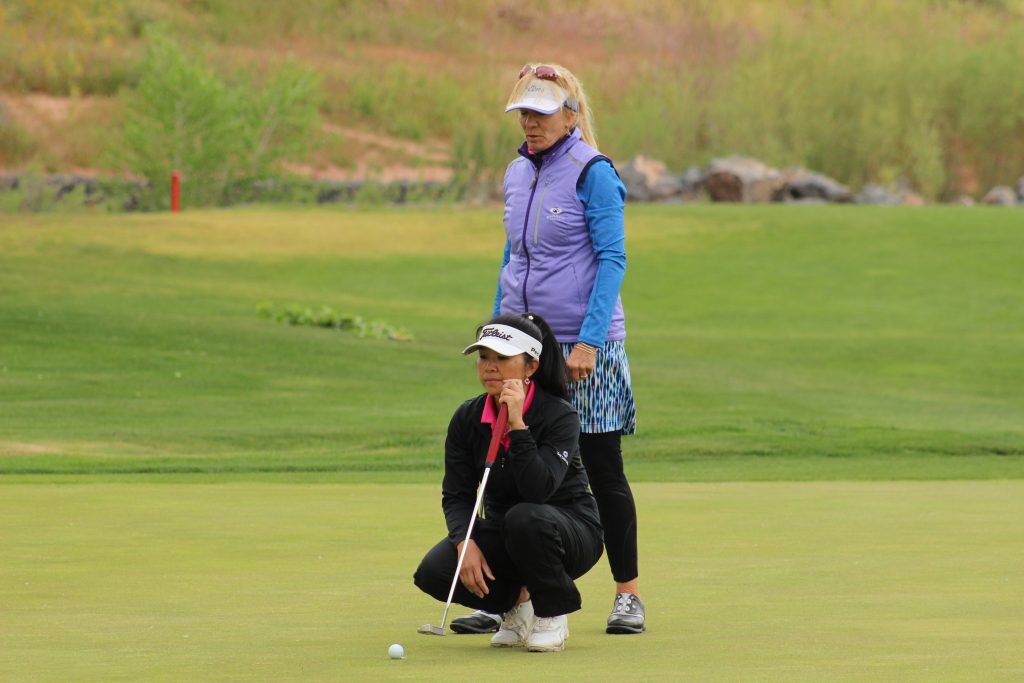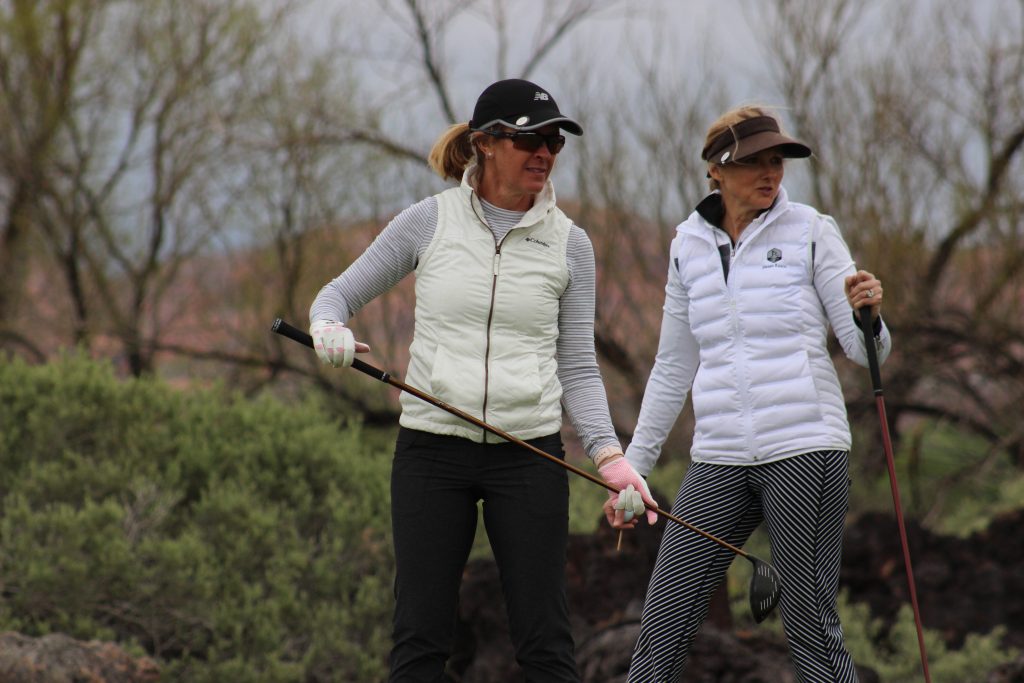 News
Check out what has been happening in Utah Golf.
Woods wins fifth green jacket, Finau close in a major again
By Garrett Johnston
Special for Fairways Media
Augusta, Ga. – Tony Finau's magical run in only his second Masters came up a couple shots short to winner Tiger Woods at Augusta National on Sunday afternoon as Woods unleashed one of the most amazing victories of his entire career, winning his fifth green jacket.
Woods walked away from storied Augusta National leaving the fans and his fellow players in amazement after he captured his first major championship since 2008 and fifteenth major overall and exuberantly rejoiced afterwards on the green, with his family, and with fellow players by the scoring area.
It was a moment that sports fans won't long forget.
So how did the superstar do it?
"I just kept saying, 'I've been here, it wasn't that long ago'," Woods said in his presser.  "Just go ahead and just keep playing your game, keep plodding along and keep doing all the little things correctly."
This titan of sports says he struggled processing just what he had done afterwards.
"It hasn't sunk in at all," Woods said. "This is one of those things, it's going to take a little bit of time."
Other who've known Woods and worked with him in the past like his former swing coach Chris Como had some emphatic observations about this moment.
"It's unbelievable, I'm so happy for him" Como said. "The best comeback in sports history."
As for the Utahn, Finau finished at 11-under par after an even-par 72, good for a tie for fifth.
"It was pretty much everything I expected," Finau said. "The crowds were going crazy for Tiger and I battled until we had the door open on twelve. That was the change of the tournament.  Francesco (Molinari) hit it in the water. I knew I just needed to hit it on land, I needed to put it in the bunker and (I) just barely hit it chunky and it kind of rolls on me."
Finau's coach Boyd Summerhays agreed that Finau's double bogey at twelve was a turning point.
"Number 12 was where the tournament got away," Summerhays said. "He knew he needed to hit it where Tiger did (on the green) and admittedly just made a poor swing at the wrong time."
Finau's caddie Greg Bodine discussed their strategy on the one shot that will likely go down as the most crucial from this final round.
"We saw the guys in front of us go in the water and so we had to keep it left of the flag," Bodine said. "He hit it right at it and just hoped it covered the green. It was a close, but a tough shot."
Finau's chances of catching Woods later on the back nine ended when he missed his short eagle putt on the par 5 15th.
And even though Sunday at Augusta National would prove to be Woods' day instead of Finau's, his father Kelepi who walked all four tournament days had a positive takeaway.
"That's the most pressure you can feel in golf is grouping with Tiger Woods on the weekend on Sunday at Augusta," Kelepi said. "Now there's probably no other experience for him to feel pressure at that level, so now he can be able to focus on winning."
And playing with Woods on Sunday during what will do down as one of the star's greatest victories gave Finau a unique opportunity.
Woods made his clinching putt and exploded with emotional reactions, and the first person who he shook hands with as a newly minted winner of fifteen majors and five green jackets was the tall Utahn.
"You can't beat the experience," Finau said of playing with a victorious Woods. "It's something you can't pay for. When you're someone like me in my shoes still trying to come up, still trying to win majors…you can't beat playing with the best that's ever done it."
###
Garrett Johnston has covered 25 major championships. You can follow him on Twitter @JohnstonGarrett