News
Check out what has been happening in Utah Golf.
Roberta Scott outlasts Monica Hull in 19-hole final match to claim her second Utah Senior Women's Amateur Championship
"This one is for my dad."
Roberta Scott had a tear in her eye as she became emotional while accepting the trophy for winning the Utah Senior Women's Amateur Championship at The Barn Golf Club. After going back and forth all day, Scott recorded a par on the first extra hole of the championship match against Monica Hull, securing her second championship win (her first came in 2007).
"My dad was incredibly influential in my life and one of my main mentors when it comes to golf," said Scott, "He passed away earlier this year, so this is an emotional win for me."
Scott's win in the first extra hole was not without drama. Down one at the turn, Scott proceeded to win three of the five next holes to go two up with four holes to go. Hull then responded by reaching the green in two strokes on the par-five 15th hole and then two-putting for birdie to win the hole. Hull then tied the match by getting up and down for par on the 16th hole.
Scott and Hull split the next two holes to send the match to extra holes. On the match-deciding hole, which was a par-five, Hull found herself on the green in three strokes with a 25-foot downhill putt. Meanwhile, Scott hit her second shot underneath a pine tree about 40 yards from the green and faced a difficult lie with branches preventing her from making a full swing. After attempting to maneuver through the tree to see if she could get a club on the ball, Scott retreated to her cart and proceeded to throw her hat in frustration. After that, she proceeded to hit a beautiful punch shot which left her just off the green and only a few yards short of the hole.
"Throwing my hat was in response to a little bit of everything. Frustration, exhaustion, not to mention the tree branches trying to take my hat off anyway," said Scott, "I loved the format of the competition but I'm certainly exhausted. I don't think I've played 36 holes in one day in over 30 years."
Following the punch shot, Hull left her birdie putt about 10 feet short and then Scott was able to get to about four feet from the hole. Hull then missed her par putt to the right of the hole and Scott was able to hole out to secure the win. When asked about the match, Hull was understandably disappointed but grateful for the experience.
"I only started playing golf about seven years ago. I've been fortunate to be able to play with awesome golfers like Annette (Gaiotti), Roberta and all my gals at Jeremy Ranch. They've all made me better as we battle and compete every time we play. It helps you in these moments…I love it," said Hull.
To see full results for the Utah Senior Women's State Amateur Championship, please CLICK HERE.
By Colin Clawson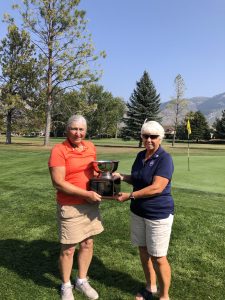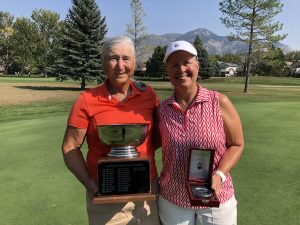 News
Check out what has been happening in Utah Golf.
McMullin and Gaiotti qualify at Jeremy Ranch for Women's U.S. Mid-Amateur Championship
Park City residents Julie McMullin +9 (81) and Annette Gaiotti +13 (85) qualified for the Women's U.S. Mid-Amateur Championship to be held at Berkeley Hall Club in Bluffton, S.C. After shooting 1-over on the front nine, McMullin was able to hold on through the back nine to finish as medalist. They will join 2017 champion Kelsey Chugg in representing Utah at the event. Both McMullin and Gaiotti will be participating in the event for their first time.
In addition to the ladies, a field of 71 men also competed to qualify for the U.S. Mid-Amateur Championship to be held at Sankaty Head Golf Club and Miacomet Golf Course in Massachusetts. Burke Spensky -3 (69), playing out of Idaho, finished as medalist. The cut came at -1 (71) with four players qualifying.
For full results:
Men's: https://www.golfgenius.com/pages/2888171
Women's: https://www.golfgenius.com/pages/2889094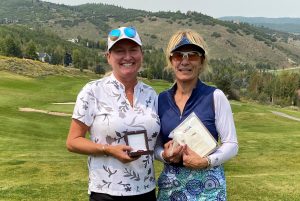 News
Check out what has been happening in Utah Golf.
Mark Owen Wins Doug Marriott Utah Senior Open
By Jesse Dodson & Christian Ledek
WENDOVER, Utah –  Mark Owen took advantage of the opportunity to compete in his first-ever Utah Senior Open at Toana Vista Golf Course in Wendover July 31st-August 1st and left as the champion.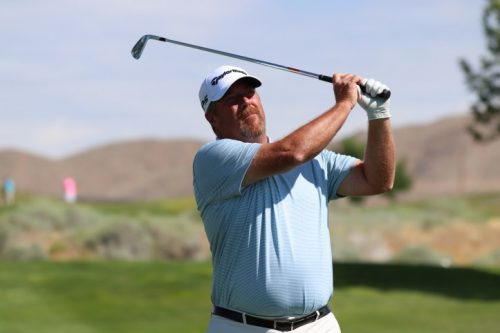 The Utah Senior Open, which annually honors a Utah golf legend, this year being Riverside Country Club member Doug Marriott, is not an easy event to win. Some of the best golfers in Utah find themselves in this senior category, which makes for an extremely-competitive event.  Owen started hot with a bogey-free round of (-6) 66, providing a one-stroke lead over Steve Schneiter, a four-time Utah Senior Open champion, and Kirk Siddens, two very accomplished Utah golfers.
"I had a really easy round, didn't even have a chance to make a bogey," Owen said of the first round. "I made 6 birdies, no bogies."
"Today was a lot different," Owen continued. "The wind was different, little harder, different pins, harder pins. I didn't hit is as good, scraped it around for one over."
A final-round one over was all he needed to claim the 2019 Doug Marriott Utah Senior Open. He slimmed by with a one-stroke overall victory over amateur Steve Poulson at (-4) 72-68. Schneiter finished second in the Professional Championship flight and tied for third overall at two-under.
"Winning always feels great," Owen said. "I don't feel like a senior yet, 50 years old is not what it used to be. I guess it's the new 30."
The runner up and top amateur with rounds of 72 and 68 to shoot 4-under-par (140) was Steve Poulson (Bountiful Ridge GC).  His first round was where he saw the most trouble, shooting a bogey on 16 followed by a costly double-bogey on 17 that slowed the under-par pace Poulson was at.  He was successful and able to right the ship with his final round, carding a bogey-free round with 4 birdies.
View the full leader board and flights here: https://www.golfgenius.com/pages/1840075
Photo credit:  Jesse Dodson/Fairways Media
News
Check out what has been happening in Utah Golf.
Idaho State's Tyler Erickson Wins Women's Stroke Play at Soldier Hollow
MIDWAY, Utah – June 18th, 2019 – Idaho State sophomore Tyler Erickson was able to best a competitive field at Soldier Hollow, a course she had only played once before.  Erickson shot rounds of 77 and 73 for a total of 150 (+6) over the two-day tournament.  The wind played a major factor that prevented scores from going low, but Erickson was able to not let it have too much of an impact on her game.
"During my first round I was playing well, parring holes and I picked up a birdie," Erickson said.  "The wind also picked up on the back nine and I made a few bogeys…but overall I felt pretty good."
It looked as if the bogeys might continue for a minute as Erickson bogeyed the first hole of her second round.
"I started off with another bogey today," Erickson said.  "I was able to clean it up and started making pars…I had an eagle putt on a par 5 that I barely missed and I played solid on the back nine."
There wasn't a way for the players to know where they were in the standings until they finished their round.  That can be tough, but Erickson didn't let it have an affect on her.
"You have to stay focused out there,"  Erickson said.  "You have to focus on your game and not worry about what's going on around you."
She was able to do just that and capture her first UGA tournament victory.
Coming in tied second place with scores of +7 was Carissa Graft and Kerstin Fotu.  Rounding out the top 5 of the championship were Anna Kennedy and Bailey Henley at +8.
Winners of other flights: Flight 2 – Bailey Henley.  Flight 3 – McKenzie Schow.  Flight 4 – Karen Gardiner.
Full results here: https://www.golfgenius.com/pages/1840131
News
Check out what has been happening in Utah Golf.
Denny Job Dominates U.S. Amateur Qualifier at Alpine Country Club
HIGHLAND, Utah – When you have to play 36 holes of golf on a day where the temperature reaches 97 degrees at Alpine Country Club, you wouldn't be shocked if you shot a moderate to bad score.  However, that was not the case with former SUU Thunderbird Denny Job.  With rounds of 70 and a sweltering 64 (134, 8-under-par), he earned medalist honors and will head to the historic Pinehurst Resort & Country Club in August for the 2019 U.S. Amateur.
"My buddy Zac Blair told me 8-under should get in," Job said.  "My goal was to shoot that score…I knew my game was there today.  I kept at it and was able to roll in some putts."
Job got better throughout the day.  Opening with a 37 on his first front nine holes, he then shot a 33 on the back nine to finish 1-under (70).  He poured it on during his second round and was able to get off to a great start.
"The second hole I got a great hop over a bunker and I drained my eagle putt," Job said.  "That set the tone for my second round."
That it did.  Following his eagle on the 2nd hole, he had a birdie battalion: 6, 9, 12, 14, 15, and 17.  That kind of day will see you leave the rest of the field behind as well as build your confidence.
"I need to keep doing what I've been doing, shot by shot and believe in myself," Job said.  "There will be a lot of great players (at Pinehurst) and I'm looking forward to competing with them."
Finishing 3 strokes behind Job and also qualifying for the U.S. Amateur was BYU bound Cole Ponich with rounds of 67 and 70 (137, 5-under-par).  1st alternate will be the University of Utah's Mitchell Schow who shot 69 on both rounds for a score of 138, 4-under-par. 2nd alternate is former Dixie State golfer David Jennings who scored 71 and 70 for a 141 total on the day at 1-under-par.
Full leaderboard available here: https://www.golfgenius.com/pages/1840246
News
Check out what has been happening in Utah Golf.
Behind the Scenes with the Soldier Hollow Staff at the State Amateur
By Christian Ledek
MIDWAY, Utah – Soldier Hollow is hosting its 6th Utah State Amateur Championship and it is safe to say the course has darn near seen it all.  In 2006, Tony Finau won his State Am title at Soldier Hollow by defeating fellow future PGA Tour player Daniel Summerhays.  This year featured Grace Summerhays, who not only was the 4th woman to ever qualify for the Utah State Amateur, but was the youngest ever to do so at 14 years old.  She then became the 2nd woman ever to qualify for match play on her 15th birthday.  When the State Am is at Soldier Hollow, you expect amazing things to happen and it rarely doesn't deliver on those expectations.
It's certainly an understatement to say that a lot goes into the preparations for hosting the Utah State Amateur.  With 288 golfers battling it out for 64 match play spots in two days, everything needs to run smoothly.  Since preparations start a year in advance, there isn't anything that the head pro of Soldier Hollow for 15 years, Chris Newson, doesn't plan for.
"We make sure we're staffed appropriately and that everyone is fully trained on what the week is going to look like," said Newson.  "I don't have anyone that is on staff the last time we hosted, so proper communication is paramount.  That also means coordinating with the UGA, making sure we have up to date practice round lists for players as well as being on the same page with our superintendent."
Newson's enthusiasm in hosting the event is visible when asked about what are some of the ups and downs with hosting the State Am.
"This isn't a "have-to" event, we get to host the event and we are honored with the opportunity," said Newson.  "Our regular players volunteer to help us out, it's great.  History is always made at the State Am and you never know what is going to happen.  We're always a part of that history and we love it."
Nate James is the superintendent at Solider Hollow and has been with the golf course for 13 years.  He is an Illinois native whose experience totals numerous golf courses, including the prestigious Medina Country Club.
"This was supposed to only be a 3-year stint for me in Utah," said James.  "…it turned into 15 years (his first two being at Wasatch Mountain) and it's incredible.  I've always wanted to live in the mountains.  I got here and fell in love with it."
James highlighted the distinctness and challenges of getting course conditions pristine for the State Am.
"We're unique because we're the driest part of Heber Valley," James said. "The storms bounce over Timp and miss us so we're very dry.  It's difficult to maintain proper moisture between public play.  We don't want to saturate it but we need to keep it at a correct level.  Our guys do a great job and it's about taking care of them, really.  We get them prepared for how important the work is and what to expect leading up to the tournament, but after the tournament, it's about recognizing them and pointing out how they've helped us all be successful."
From a marketing stand point, hosting the Utah State Amateur can see a spike in players before and after the event.  Bruce Strom is the marketing manager for Soldier Hollow and he understands what it means to host the tournament.
"We get a lot of media coverage being on the news everyday, which is good," said Strom.  "It's big for our exposure.  A lot of players and golfers know where the State Am is going to be held.  So not only do we get participants of the tournament out on the course for their practice rounds, but we see a lot of people wanting to play the course before it begins since they know the course will have championship conditions."
Whether players make match play or not, Strom takes pride knowing that the players will enjoy their time at Soldier Hollow, no matter if it's the Gold or Silver course.
"Throughout both courses, if you turn around and look up, you'll see Timpanogos and the surrounding mountains," said Strom.  "The clubhouse also stands out as well.  Plenty of views to be had."
Feeding 288 players can be a hectic job in and of itself, but then there are spectators, friends and family of those players as well that makes the number even higher.  Rob Edwards is the owner of the grill at Soldier Hollow and has worked at the grill since it opened in 2004.  Rob praised his staff for being willing and able to carry the load.
"You have to be very well prepared and have good people that you can count on…and I wake up every day at 3:30 a.m." said Edwards while laughing.
The number of eggs, ham, bacon the grill goes through during the State Am is staggering.
"We'll go through 16 flats of eggs (roughly 3,000 total), 40 pounds of ham, 80 pounds of bacon and 21 big buckets of potatoes…it's definitely a lot," said Edwards."
If you're wondering what fuels someone to go through what it takes to do all of that and work that hard, the answer to Edwards is simple.
"I like to get a review and it says five stars," said Edwards.  "If I don't get a review that is five stars, I almost take it personal.  That's what drives me.  I don't want anyone to have a bad experience.  Players, families, all customers.  I want them to go, "dang that was good, I want to go back."  Knowing I can make someone happy.  That's what makes me get up in the morning."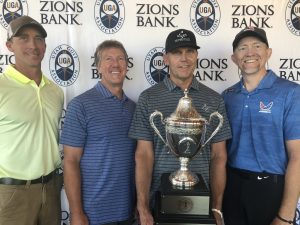 Soldier Hollow Golf Course Staff (Left to Right) Nate James, Bruce Strom, Rob Edwards and Utah Section PGA Professional Chris Newson
If you happen to see any of these gentleman or any of the staff doing great work, as they always are, be sure to give them a thanks as it's the least we could all do.  We sincerely appreciate all the hard work Soldier Hollow and its staff has put in to making this another successful and fantastic Utah State Amateur.
News
Check out what has been happening in Utah Golf.
A Review of Media Day and Champions Dinner for the 121st Utah State Amateur
MIDWAY/SALT LAKE CITY, Utah – July 2nd, 2019 – Another State Am Media Day is in the books and the day belonged to Fairways Media's own Jesse Dodson as he was co-champion of the Gross Division with Real Golf Radio's Bob Casper.  He was also co-champion of the Net Division with ABC 4's Wesley Ruff. (Pictured below with former UGA Executive Director Joe Watts)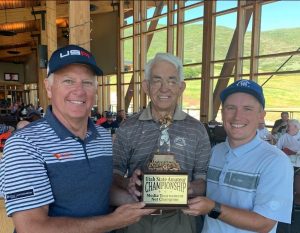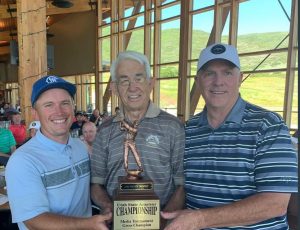 A number of past Utah State Am champions were at Media Day.  Dan Horner, who won in 2008 at Soldier Hollow, knows the importance of accurate tee shots.
"You have to drive it in the fairway," Horner said.  "That's the biggest thing, you have to be able to find your ball out there.  Depending on how tall the fescue is, you might not be able to find your ball or be able to play out of it."
Also winning at Soldier Hollow in 2013 was former BYU golfer Cole Ogden.  Having recently regained his amateur status, he is going into the 121st State Am with a unique perspective.
"It's a different mindset than I ever have had going into a tournament," Ogden said.  "Today was the first time I touched a club in two and a half months.  I still have the skill set to win, but it's not as consistent as it once was."
Ogden highlighted short game as the key to being successful at Soldier Hollow.
"Short game, putting, speed control, little chips and bunker shots will make the difference," Ogden said.  "Especially in match play.  Hopefully I can make some magic happen.  If not, it's still a really fun event I like to play in."
2015's State Am champion, Kelton Hirsch, who won at Ogden Golf & Country Club, echoed both Horner's and Ogden's sentiments.
"I need to keep working on the short game.  If I chip and put well, it shouldn't be a problem to get into match play," Hirsch said.  "I usually don't have a problem hitting the driver and hitting greens.  As long as I keep the driver straight and dial in my short game, I'll be good to go."
A lot of attention will be paid to the defending champion (as well as the youngest ever champion) in Utah State Amateur history, Preston Summerhays, and his sister, Grace Summerhays, who is the youngest ever woman to qualify for the State Am and only the 4th in history to do so.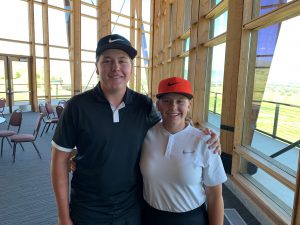 "It's really special," Preston said smiling when asked about what it's like to be the defending champion.  "This is one of the tournaments I look forward to playing every single year."
He was also asked about getting a sponsor exemption and playing in the Utah Championship this past week on the Korn Ferry Tour.
"I didn't play my greatest," Preston said.  "But I knew going into the event I would take something away from it, good or bad, and it was a great experience."
When asked about qualifying for the State Am, Grace responded with enthusiasm about achieving something she had made a major focus of.
"I've had the goal for a while," Grace said.  "Nobody expected me to do it.  I went out there and played.  I felt calm and confident and it was great to have Preston on the bag for me during the qualifier."
The Champions Dinner was held at The Country Club in Salt Lake City and 13 former champions were in attendance.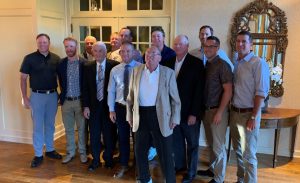 From left to right including the year(s) they won:  Darrin Overson (1998), Dan Horner (2008), Craig Ridd (1967), Arlen Peacock (1977), Glen Spencer (1983), Jon Wright (2012, 2014), Daniel Summerhays (2000, 2001), Tom Christensen (1968), Preston Summerhays (2018), Todd Barker (1997), Mike McRae (2005), Cole Ogden (2013), Tommy Sharp (2003).
News
Check out what has been happening in Utah Golf.
Westminster Junior Logan Skalka Wins Last Chance Qualifier at Glendale
SALT LAKE CITY, Utah – June 28th, 2019 – On a day where the wind had strong gusts that wouldn't quite ever die down, Logan Skalka was able to shoot a 5-under-par round of 67 at Glendale in the last qualifier for the 121st Utah State Amateur.
"The wind picked up the mid point of my round," Skalka said.  "…with the winds up I knew the key to playing well would be hitting greens.  I had pretty solid ball striking throughout the day…it was fun."
Skalka had the most birdies of anyone in the field with 6 and an eagle on the 9th hole which was a highlight of his round.
"I had a little green-side pitch that I paced off at about 18 yards," Skalka said.  "I landed it where I wanted to and I ended up holing it."
Playing a solid round against a very competitive field of golfers so close to the State Am is a confidence booster for Skalka.  His goal is always to win when he's in a tournament, but he recognizes his past experiences in the tournament will help him compete at his highest level.
"I've played the State Am three times before," Skalka said.  "My mindset is to go in and win, more than anything.  I know there's a few things I can tighten up, but I'm confident I can keep trending upward and hopefully finish better than I ever have at the State Am. "
Drew Warnick (Youth on Course) finished 2nd with an impressive bogey-free round.  3 birdies gave him a round of 69 on the day.  Dave Anderson (Sleepy Ridge) and Sacramento State sophomore Christian James finished with rounds of 70 (-2) to finished tied for 3rd.  Four golfers shot 71 (-1) to round out the remaining qualifiers for the State Amateur that runs July 8th-13th at Soldier Hollow.
View full results here: https://www.golfgenius.com/pages/1832515
News
Check out what has been happening in Utah Golf.
4 Tied For Lead at The Oaks State Am Qualifier
SPANISH FORK, Utah – June 24th, 2019 – The four leaders at The Oaks State Amateur Qualifier were coincidentally the only players of the field of 84 to shoot under par.  Their rounds of 71 (-1) were unable to be bested on a hot, summer day.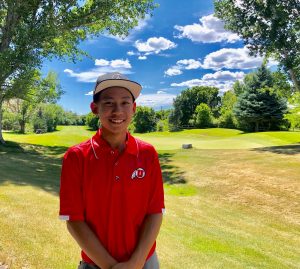 Sean Lam of Fore Lakes Golf Club (pictured above) was able to have a fairly steady round that included two birdies on the front nine and two birdies on the back for a 36 and 35 respectively.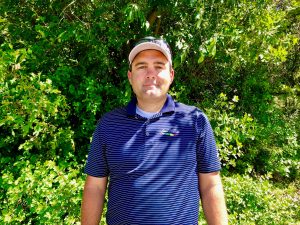 Nick Becker, whose home course is The Oaks, got off to a blistering start, scoring birdies on the first three holes.  He was 4-under through 10, but faltered slightly on the back nine to card a 38, 33 on the front.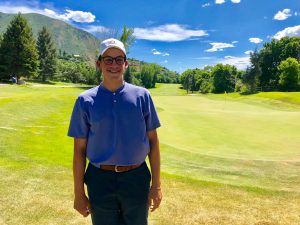 Eli Kimche of Park City Golf Club had a different story for his round as it started rocky on the front nine, shooting a 37.  Two birdies and no bogeys were the key to a solid back nine to give him a 34.
Not pictured is Brock Nielson of Gladstan Golf Club.  His round was highlighted by the only eagle among the leaders which came on the 3rd hole.  Shooting 36 on the front nine, he was able to keep it steady and score a 35 on the back.
27 of the 84 players in the field qualified for the 121st Utah State Amateur.  You can view the full table here: https://www.golfgenius.com/pages/1832507
Course photo credit: utahvalley.com
News
Check out what has been happening in Utah Golf.
Zack Orton Achieves Medal Honors at Fox Hollow State Am Qualifier
AMERICAN FORK, Utah – June 21st, 2019 – Zack Orton of Riverside Country Club scored a 4-under round of 68 to gain medalist honors at Fox Hollow Golf Club.  Orton's front nine was up and down with 2 birdies and 2 bogeys.  The back nine was where he turned it on with 4 birdies and an excellent finish that saw him birdie 16, 17, and 18.
Cole Wecker of Alpine Country Club finished second among the field with a 3-under 69, shooting 35 on the front and 34 on the back.  Fox Hollow local Brody Childs finished third, scoring 2-under (70) for his round.  Those top three were the only players to shoot under par as fourth place finisher Joseph Jack (South Mountain GC) shot even on the day.
27 of the 84 participants have qualified for the 121st Utah State Amateur.  Full results of the qualifier are posted here: https://www.golfgenius.com/pages/1832499