News
Check out what has been happening in Utah Golf.
UGA sweeps podium at Southwest Team Challenge
Millcreek, UT – Sitting on the banks of Lake Las Vegas, Southwest Team Challengers looked on as the Utah Golf Association figuratively claimed gold, silver and bronze.
Just on the northern outskirts of Henderson, Nevada, Reflection Bay Golf Club hosted eleven teams on Dec. 2-5 from across the country for the 2018 Southwest Team Challenge. Put together and ran by the Arizona Golf Association, players – both at large and senior – competed in a modified stableford format for bragging rights. After three highly competitive rounds, UGA Team 2 – Ryan Brimley, Darrin Overson, Randy Hicken and Ron Davis – claimed the coveted trophy by finishing with a tournament high, 48 points. UGA Team 3 finished in second place with 42 points, while UGA Team 1 finished in third with 41 points.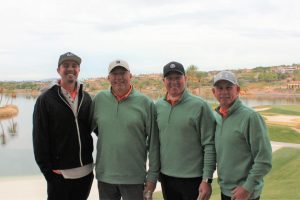 Easton Folster, Director of Rules and Competitions for the UGA, said: "I think it is a great event for some of our most competitive players that not only support UGA events, but also other amateur events throughout the state.  This was the first year it has ever been at Reflection Bay and I thought they did a fantastic job.  The course was in great shape all week and I think the players really enjoyed being out there.  My main hope is that this event continues to be a yearly reward for having played great golf throughout the year."
Creating a demand for hit fairways and solid putting, Reflection Bay Golf Club posed as much of a challenge as it could for some of the top amateur players around this part of the country. With weather fluctuating each day, players experienced three different versions from the high-end resort course.
With day one and three providing descent scoring conditions, UGA Team 2 capitalized on each chance they got – scoring 18 points on day one and 25 points on day two. Dropping in 10 birdies on each of those two days, plus two eagles during the final round, the victors demonstrated they were the team to beat.
"I think this type of format, having a golf course that you can score on, is a little bit more fun," Overson said when comparing Reflection Bay GC to past venues.
Day two proved to be the anomaly for each team, especially the winners – having only posted a total of 5 points. Dealing with colder than normal temperatures and wind speeds of around 20 mph, Overson, Brimley, Hicken and Davis were left trying to salvage pars instead of shooting for flagsticks.
"There were definitely some challenging holes, for sure," Overson stated. "A couple of days when the wind was blowing a little bit, made some of those holes very difficult. The second day was way harder than any other day we played."
Giving credit when credit is due, Overson said it was the strong and consistent play of Hicken and Davis, which helped keep the team afloat on a day that could have easily swept them sideways and out of contention.
"The second day, the seniors definitely held their own," Overson said. "[Then], those guys cleaned house the last day."
With golf in northern Utah hard to come by in the winter months, this tournament provided players a chance to get in one last event with fun, friendly competition.
By sweeping the podium, the UGA teams showed that amateur golf in Utah is strong and a force to be reckoned with.
CLICK HERE for complete results.
News
Check out what has been happening in Utah Golf.
Ryan Tripp: It's never too late to start
By Beaux Yenchik, UGA Intern
Have you ever had an itch? I'm talking about an itch that won't go away no matter how hard you try. It could be from a mosquito bite or your skin in the final repairing stages of a sunburn. Whatever it is, don't you try everything you possibly can to get rid of it?
Well, have you ever been bitten by the golf bug? Man, does it produce a nasty itch. For those of you who have, you can testify that it makes one go berserk when it comes to golf and everything about it. It drives us to buying the newest and coolest clubs on the market. Hours are spent glued to the television because of it – watching as the Golf Channel shows Brooks Koepka's 12-inch divot take off after impact in slow motion. It even drives us to the No. 1 tee before the first rays of sunlight become visible.
A bit of an insane lifestyle, right? Never really seeking for a permanent cure. Well, if you ask Ryan Tripp – our next, lucky spotlight contestant – that question, he'd be sure to tell you he'd have it no other way.
Tripp stated, "As people say they got bit by the golf bug, I definitely did."
Golf was never really a part of Tripp's life until the last five or six years. Sure, he had the occasional trip growing up from Parowan with his buddies down to Cedar City to whack a few balls at the driving range, but it wasn't something you would define as golfing.
"We probably spent most of our time doing Happy Gilmores," Tripp said.
All Tripp cared about in Parowan – his hometown – was basketball. In fact, shooting hoops was the sport within his childhood home. Tripp stuck to the hardwood through his first year of college where he played as a freshman at Southern Virginia University before going on a mission for The Church of Jesus Christ of Latter-day Saints to Anaheim, California.
"Always grew up being active, playing sports," Tripp said. "Basketball primarily. [I] played a little baseball [and] ran cross-country in high school. So, I was always active and just enjoyed being out and about …"
Upon returning home from his mission, Tripp transferred universities and attended the University of Utah where he earned a bachelor's degree in strategic communication and his MBA from Weber State University.
However, Tripp's childhood wasn't defined by basketball but by a desire to help raise the funds necessary to save the life of little Whitnie Pender – a baby girl from a neighboring town who was in desperate need of a liver transplant.
With the motivation to raise as much funds as he could, 14-year-old Tripp set out for the 3,116-mile trip across America. The catch, however, was Tripp had to make the journey across the country traveling at 10 mph on a lawn mower – hoping to set a new mark in the "Guinness Book of World Records" for the farthest distance traveled on a lawn mower.
Tripp's grandparents and father accompanied the soon-to-be world record holder on his journey – making the 42-day journey to cut the lawn at Capitol Hill in Washington D. C. – raising a total donation sum of $15,000. Tripp got to talk about his story to countless news outlets, including shows hosted by individuals such as David Letterman and Oprah Winfrey. (Tripp also broke another world record just a short time later by mowing every state capital's lawn in a total of 69 days.)
"Aside from the Guinness World Record on a lawn mower, my upbringing and my childhood was pretty normal, I guess," Tripp said with a chuckle.
Now working for Ride Systems as the Marketing and Sales Director and as an adjunct professor at WSU, Tripp maintains a busy schedule with work and home life – having four children of his own with his wife, Shannon.
Yet, among such a schedule, Tripp scratches the golfing itch in whatever way he can – possibly trying to play some sort of catch-up game for all the years he thinks he has missed out on.
Golf didn't become a passion of his until he started playing in work tournaments. After having the time of his life at his first scramble, life was never the same. (His wife would probably say the same thing.) For him, ever since his first round, golf has become his happy place: spiritually, physically and mentally.
"Once I got into a professional career and I started working in healthcare, we would have a couple work scrambles throughout the summer and I got invited to participate in those," Tripp said. "That is when I saw how fun golf can be and started getting serious about it. Honestly, from the first time I played in a work tournament, I had a blast."
Tripp, you could say, would be the golf equipment connoisseur of Utah. Not discrediting anyone who knows a lot about golf equipment, but Tripp's guilty pleasure might be his obsession with finding out as much as he can about products and then finding the right stuff for him. I'd even go as far as calling him the Bryson DeChambeau of club combos. (Check out his What's in the Bag? graphic on our Instagram page if you want to see what I mean.)
Tripp said: "I go nuts over golf equipment. It is horrible for my game because I am constantly switching out equipment."
When he isn't playing Round Valley Golf Course or submersed in the latest Golf Digest's Hot List issue, Tripp can often be found making drone videos over courses he's played – like Sand Hollow Resort or Shadow Creek Golf Course in Las Vegas – or attempting to play four 18-hole rounds at Bandon Dunes Golf Resort on the day of summer solstice.
For someone who would still be called newish to the game, Tripp's adventurous journey doesn't stop there. Tripp and his buddy, Andy Lawson, are two-time winners of the Topgolf Tour Championship Qualifier in Salt Lake City (2016 & 2018), which advanced the duo to compete in Las Vegas for a $50,000 grand prize – eventually losing to former tour professionals and lower-handicap players.
"That was really my first kind of big golf accomplishment," Tripp said.
Tripp recalls when he didn't make it in 2017, and the desperation road trip he and Lawson endeavored on in attempt to make it back to Vegas. After losing a close match in Salt Lake, the two immediately drove to Portland for a qualifier the next day. Losing there, the two then headed east to Denver with hopes of success on their third attempt. With no such luck, the two journeymen started gaining recognition and were flown out by Travelocity for one final attempt in Austin to qualify. No success.
Though golf has primarily been Tripp's thing, he still holds out for the future with hope that his children will want to play the game he has come to love. Now and again, Tripp will bring his children to the course – Morgan is a small town and Round Valley is never extremely busy – while his wife is working.
Because he didn't have the chance of playing a lot of golf with his dad growing up, Tripp wants to provide that opportunity for his kids. Yet, if they don't choose golf, basketball will still be a viable option for them – Shannon Tripp played collegiate basketball, too.
Outside of spending time at the course, Tripp enjoys any and all chances he to be with his family. He spends time at gymnastic meets, ballet recitals, etc. You name it, his kids are probably doing it.
Ryan, thank you for demonstrating that golf is for anyone in any stage of life, and that it can be and mean whatever we would like it to be.
News
Check out what has been happening in Utah Golf.
Kory Woodland: The job he was born to master
By Beaux Yenchik, UGA Intern
As one of the most cliched lines ever used in American diction states, "If you build it, they will come."
The Barn Golf Course sits along the northern reaches of the Wasatch Front in a town called Pleasant View, which is just on the outskirts of Ogden. With the population being just a skosh over 10,000 people, this track has been a Weber County hot spot for years for any golfer within an hour's drive. People not only come for the good golf but for the staff that owns and operates the course: The Woodland Family.
Ever since he was a little boy, Kory Woodland has called The Barn GC his second home – literally, as his home growing up sat just north of the current driving range. Woodland spent many mornings sleeping under the clothes rack in the pro shop as his dad, Kelly Woodland – the course's head professional – would bring him to work in the morning, often before the sun would even rise.
"As far back as my memory serves, I just grew up [and] woke up most days here at the course," Woodland said.
As Woodland grew older, the course became more than just a place to resume his nightly sleep. It was the very spot where his passion for the game of golf came to life. He would often search for lost balls for players who hit errant shots. He'd even accompany Gary Hazelgren, a club professional at the time, during his lessons – acting as if he was just another professional despite being only 11 years old.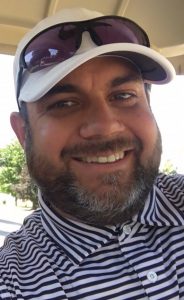 Developing quite the knack for the game, Woodland's dad often paired his son with anybody from anywhere – more times than not with players older and better than this future professional. Competing with better talent later helped Woodland make the high school team at Ogden High School, and later the Utah State University men's golf team.
"It kind of interested me that it was a game that it didn't matter how old or how tall you were, you could go tee it up and really enjoy yourself with just about anyone that would be willing to accept you in the pairing," Woodland said.
Only completing a portion of his college, Woodland knew he was destined to be a golf professional and eventually help take over the family-ran course, just as his dad did from Woodland's grandparents.
Set up as a way to provide some sort of retirement plan for each generation to come along, Woodland's grandparents sold the course to two of their children, Kelly and Shon, a few years ago, thus enabling them some sort of retirement after purchasing the club out of bankruptcy some 30 years ago.
Fulfilling his father's dream to work with his two sons, Woodland and his brother, Justin, work side-by-side with their dad to help run and operate the 6,131-yard course. Justin Woodland is the superintendent, while Kory helps run the shop – closing five days a week and teaching on Tuesdays.
For the Woodland family, golf is what they know.
"I think we have the ability to do other things, maybe other talents, but I would just say golf is in our blood," Woodland said.
Woodland stated that he has always taken pride in the fact that he is a PGA Professional and a "beacon to the community" – establishing a name that all will recognize and associate with the concepts of integrity and honor.
On top of the long hours put into working at the course, Woodland has spread his far-reaching influence in various ways around the community. For example, Woodland has been the head coach for the boy's and girl's golf teams at Weber High for some time. (His greatest joy came from watching his son come up through the ranks of his golf team.)
Before returning to The Barn GC in 2002 to be his dad's assistant, Woodland had the chance to work at a couple other shops around the state: Wolf Creek Golf Course, Oakridge Country Club, and Swan Lakes Golf Course.
Due to his family's efforts and willingness to grind out the long days, The Barn GC has put forth a good quality product despite not necessarily having the highest of revenues around. They have made sure to offer a good price to one and all so every golfer has a place to hit the links and enjoy the game we all love.
"As I mentioned, after having come back here in 2002, I've had the privilege of being mentored by my dad," Woodland said. "He's always been the best possible example in terms of work ethic."
In an occupation that requires a lot of sacrifice and time away from one's family, Woodland has fought to give his two children every opportunity to succeed in this life as possible – including a chance to take over the course when the time comes sometime in the future for Woodland and his brother to retire and pass on the family business. But, whatever they choose, the Woodland family is behind them 100 percent.
Having somewhat of a creative mind, growing up, Woodland originally wanted to be a course architect like his great-grandfather. After realizing that route wasn't for him, Woodland pursued his golfing career.
"I had heard stories of how my great-grandfather, Ernie Schneiter Sr., had built several golf courses," Woodland stated. "That kind of peaked my interest because I have a creative or artistic eye by design, and [I] thought that golf course architecture might be kind of an easy path and found out pretty soon that it wasn't nearly as easy as I had anticipated."
However, Woodland never gave up his love for being creative. Outside of his time at the golf course, he enjoys logo and graphic design. (He is the one who designed The Barn GC's new logo.) He especially enjoys designing golf apparel, and with five or six golf lines of his own, he hopes one day there will be some sort of fruition that comes from his talents.
With a self-lived motto of not taking life so seriously, Woodland loves being with his wife, Heather, and their two children. They have had season tickets to the Utah Jazz, and he enjoys any chance to get out fishing.
Kory, thank you for your life-long dedication to the game we all love. Many of us keep coming back time and time again because of professionals like you.