News
Check out what has been happening in Utah Golf.
Cooper Jones' Award Winning Season Continues at the Southern Utah Open
By Jesse Dodson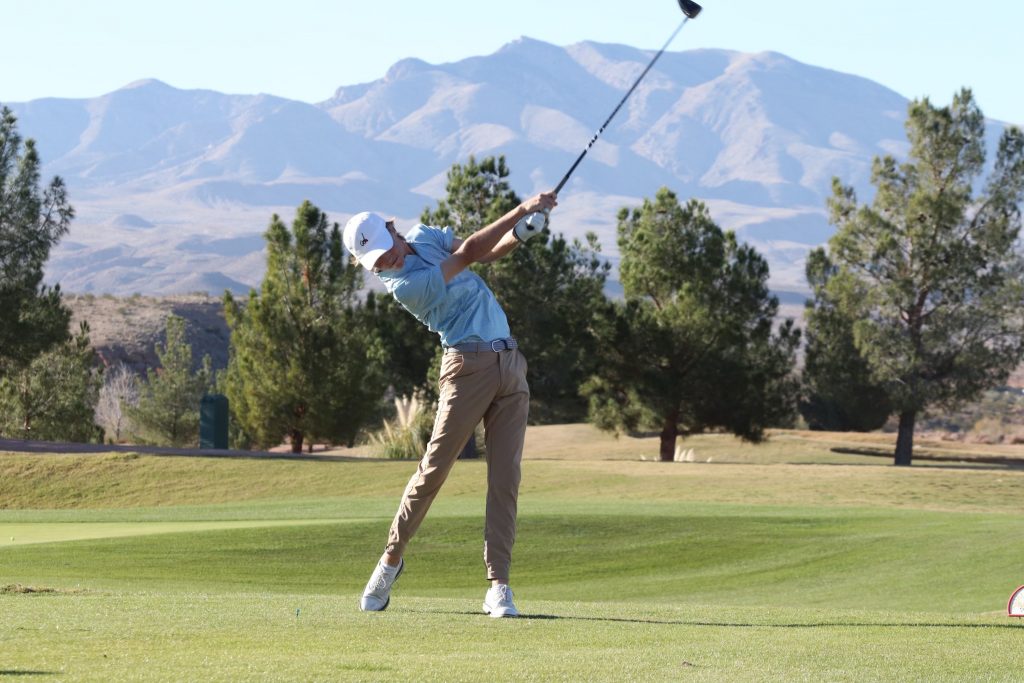 Utah's amateur take home trophies in all divisions from SunRiver Golf Club, Nov. 13-14.
Cooper Jones, the 17-year-old Utah Golf Association Men's Player of the Year, put some icing on the cake of his impressive 2021 season by winning the Southern Utah Open at SunRiver Golf Club November 13-14.
Jones fired a (-10) 66-66 – 132 to win the event by three-strokes over St. George resident and first-round leader Caden Hamill, who finished (-7) 65-70 – 135 for low-pro honors and the $1,800 first place pro check.
"The putter," Jones said, "the putter felt really good this week. I haven't had a tournament for a while so I was excited to come down here. Feels good to play well." Jones carded 11 birdies and only one bogey for the event.
Read the complete Fairways Photo Journal story here: https://tinyurl.com/u8x2u22
News
Check out what has been happening in Utah Golf.
Utah Golf Association names 2021 Players of the Year and Service Award winners
FOR IMMEDIATE RELEASE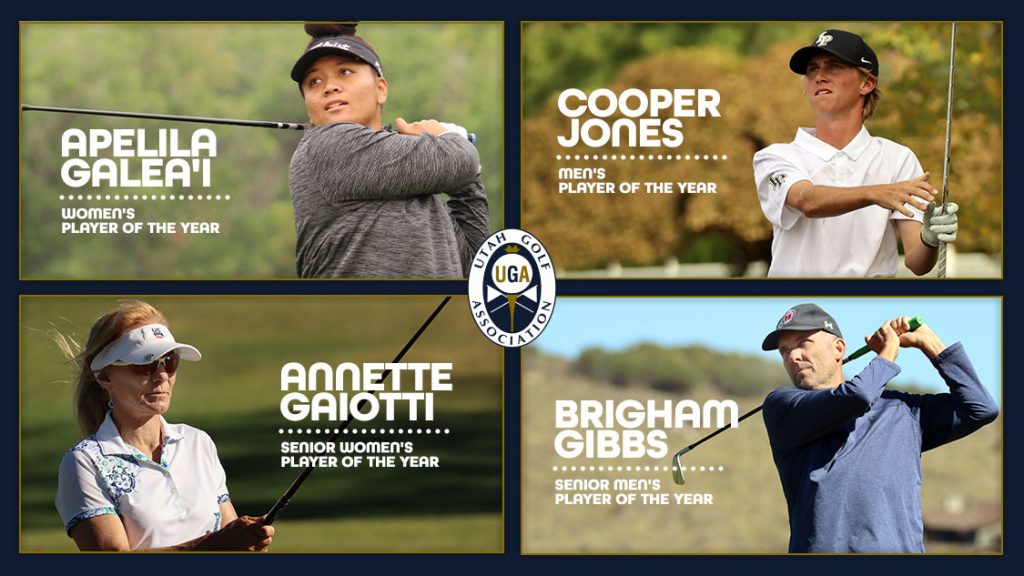 Amateur golfers and significant contributors to Utah golf, honored for outstanding achievement on and off the golf course. 
Salt Lake City, Utah (Oct. 21, 2021) – The Utah Golf Association, the governing body of amateur golf in Utah, has named the 2021 Players of the Year and Service Award winners today in its monthly digital magazine, Fairways 18.
Annually, men, senior men, women, and senior women compete in hopes of ending up on top of the UGA Player Performance Rankings in their respective divisions. Players at the top of the rankings at the end of Utah's golf season etch their name in history, earning the coveted UGA Player of the Year Award.
The 2021 Players of the Year are Apelila Galea'i, Annette Gaiotti, Cooper Jones and Brigham Gibbs. Galea'i is a freshman playing on the Brigham Young University Women's golf team while Jones currently plays for Lone Peak High School. Gaiotti, 68, has now won the Senior Women's Player of the Year for the sixth time. Gibbs, 57, is a long-time member of the Salt Lake Country Club. Each player won multiple times this year during Utah's amateur golf season including UGA championship events.
Wesley Ruff, a sports anchor for Utah's ABC network station, is the recipient of the UGA's prestigious Gold Club award. The UGA Gold Club award is presented annually to an individual who through significant achievement or unselfish service has contributed to the history and tradition of the game of golf in Utah, and whose personal integrity, sportsmanship, common courtesy, loyalty and friendship earn the love and respect of fellow golfers.
Annually the UGA recognizes one volunteer who has demonstrated outstanding commitment and contribution to the UGA with the Volunteer of the Year award. This year, Mark Meidell, a resident of Alpine, Utah and long-time UGA rules volunteer, has been chosen to receive the award.
Pat Dalpiaz, of Hurricane, Utah, has been chosen as the UGA Lady award recipient. This award honors a woman UGA member for giving back to the Utah golf community. This award is based on women's golf participation, giving back to women's golf, passion, love and respect for the game, teamwork that makes a difference and being a friend, leader and inspiration to peers.
For more information of this year's Utah Golf Association Players of the Year and Service award winners please visit: https://tinyurl.com/w7jy827m
Utah Golf Association: The Utah Golf Association (UGA) is a 501(c)(7) not-for-profit organization whose objective is to promote interest in the game of golf by encouraging, organizing, supporting, sponsoring and administering golfing activities and programs without regard to race, color, or creed and to engage in educational and good will activities that further the game.
Contact: 
UGA Executive Director, Jacob Miller 801-563-0400
Fairways Media President, Randy Dodson 801-360-2440
Award winner photos available upon email request: [email protected]
News
Check out what has been happening in Utah Golf.
2021 Utah Golf Hall of Fame Dinner Registration
When the Utah Golf Hall of Fame committee convened in mid-2019 to begin the process of selecting the 2020 class to the Utah Golf Hall of Fame, they had no idea it wouldn't be until fall of 2021 before a ceremony could be held.  The group that includes representation from the Utah Golf Association, Utah Section PGA, Utah Golf Course Superintendents Association, Fairways Media and other prominent members of the local sports media worked diligently to select a class and had their sights set on a 2020 induction.  However, hosting an induction ceremony with 200+ people was not going to be an option with a raging global pandemic.  The decision to postpone the ceremony came as no shock anyone but we are excited today to announce the 2021 induction ceremony registration is open!
When: October 28th, 2021
Where: Salt Lake City Marriott University Park – 480 Wakara Way Salt Lake City, Utah 84108
Time: 5:30pm cocktail hour, 6:30pm dinner & induction
Registration Link: https://www.greenvelope.com/event/UtahGolfHOF
Registration Deadline: October 22nd at 4:00pm
Cost: $60 per person
Review of the 2021 Class of the Utah Golf Hall of Fame
Election to the Utah Golf Hall of Fame is restricted to individuals who were either born and raised in Utah or gained their golf prominence while living in Utah. There is no particular length of residency required.
The primary category for the Utah Golf Hall of Fame and the category given highest consideration, is "player".  Consideration is given for an exceptional playing record and achievements on local, state and/or national level. A nominee can either be an amateur or professional, and a professional does not have to be a PGA member.  For the 2021 class, the "players" are world class!  Sue Nyhus and Steve Schneiter are foundational golfers in Utah and have not only dominated on the local level but have been movers and shakers on a national stage.  Additional HOF categories include Club Professional, Superintendent, Volunteer, Media and Administrator.  The inductees within these categories is a who's who of Utah Golf.  Leading the pack are two former Executive Directors, Joe Watts was the UGA Executive Director for 18-years and Scott Whittaker led the Utah Section PGA for over a decade.  Doug Vilven' s Utah Golf story includes numerous chapters, but he may be most well-known his involvement in the creation of the Utah Section of the PGA and for his brilliance with the Rules of Golf.  Riley Stottern is the first superintendent selected to the Utah Golf Hall of Fame strictly for his work in the profession despite his other accomplishments.
Historic Category
New to the Utah Golf Hall of Fame in 2021 are the inductees in the Historic classification.  The historic distinction is designed to recognize individuals who are no longer living.  Given the addition of new names each cycle, the committee felt some of the game's most influential players and people could be lost to the pages of history as like the new additions, the committee continues to get younger.  The Historic category has allowed the committee the opportunity to recognize and induct important figures in Utah golf that may otherwise continue to get passed over by the continuous flow of quality nominees eligible for consideration.  The first members of the Utah Golf Hall of Fame under the historical category are Florence Halloran, Lou North, Marion Dunn and Jeanne Goddard.
News
Check out what has been happening in Utah Golf.
Bryson DeChambeau Invigorates Long Drive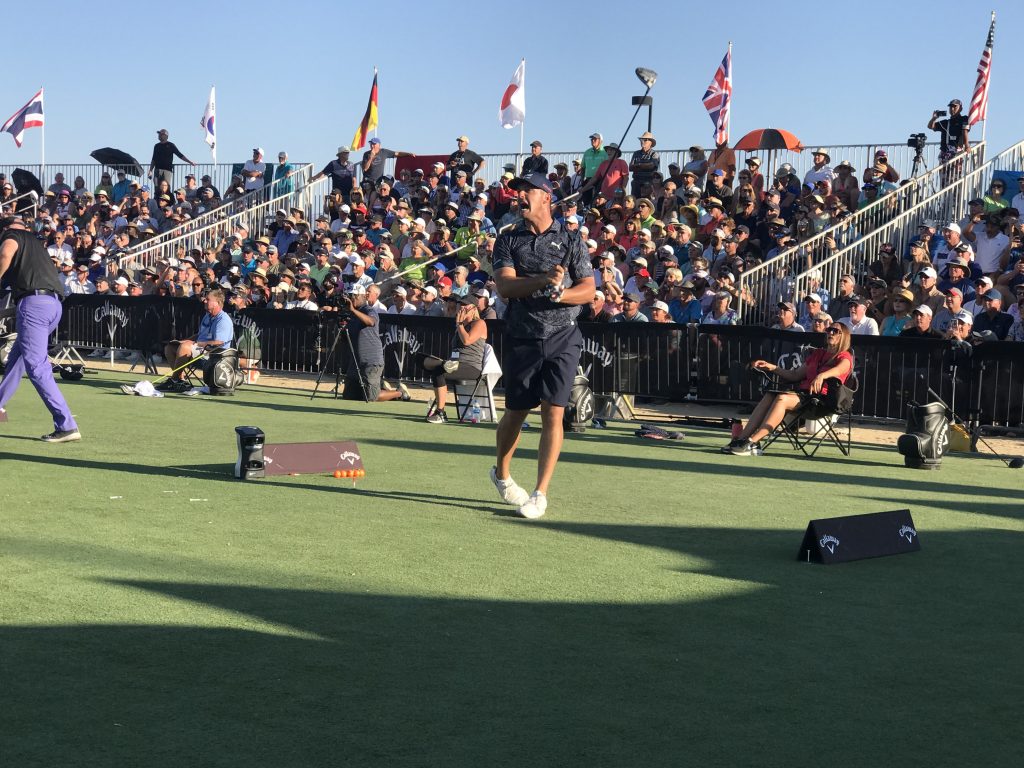 By Brian Hurlburt, for Fairways Media
Once again, Mesquite, Nv., was the home of Long Drive competition and Utah native Ryan Reisbeck was the man who helped bring it back, with an assist from PGA Tour superstar Bryson DeChambeau. Reisbeck competed in the Professional Long Drive Association World Championships Sept. 28-Oct. 1 and also helped rescue the sport in 2021 after Golf Channel canceled all events due to Covid-19.
DeChambeau, who has been chasing distance for the last two years, decided to participate in the Long Drive World Championships when his power swing coach, Bobby Peterson, and now two-time reigning world champion Kyle Berkshire, asked if would be interested.
So, there was DeChambeau, just two days removed from helping the United States win the Ryder Cup. He did better than he expected and finished 7th out of 80 long drivers. Reisbeck and his team at the PLDA were thrilled.
"We've just taken a huge leap, which is what we were looking for," Reisbeck said about the week and DeChambeau's impact. "It's been a shot in the arm for us, for our organization, and it really gives us, hope for the future and what's to come. Bryson brings attention. Some people like him, some people don't like him. Personally, I found that he's been very, very generous with us, and very kind and very appreciative. What he brings is not just eyeballs and interest, but the genuine love of the sport. I think he sees it like we see it. When you find somebody who has that common interest and then the attention that he's able to bring to it, it's just tremendously improving everything. In all facets, everything has gotten better in one week."
DeChambeau was thrilled to be there and perform well, and it was a welcome change from the PGA Tour. It also allowed him to gain swing and ball speed and advance his overall mission.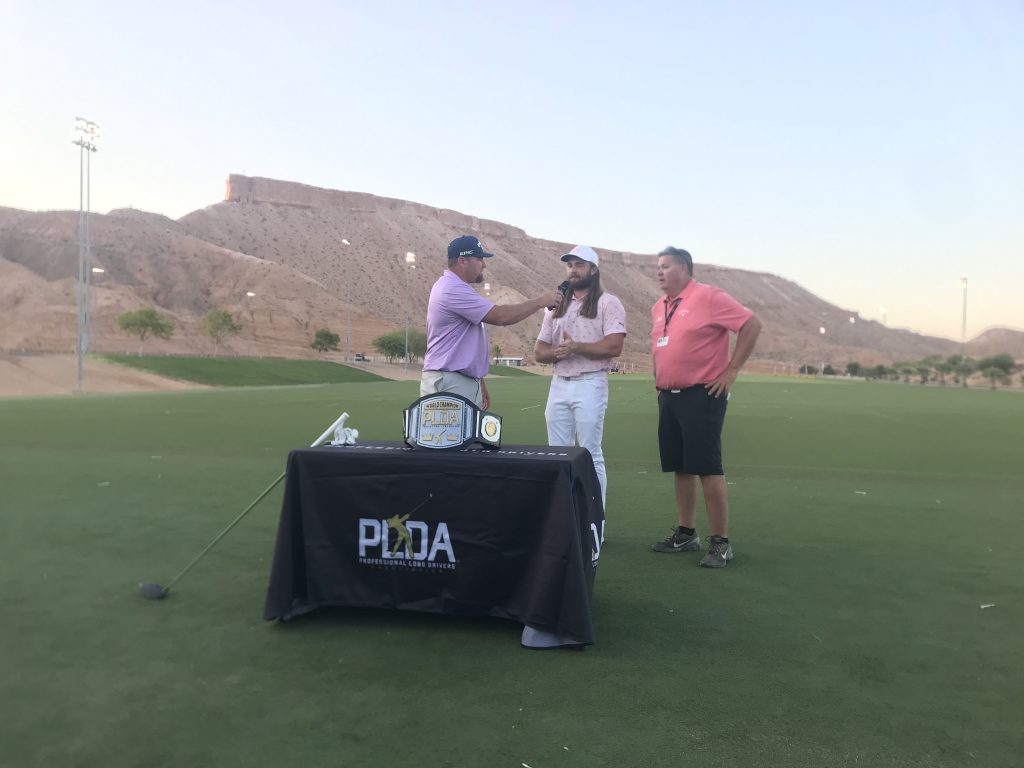 "I'm like a kid in a candy shop," DeChambeau said. "There have been a lot of people here and it has been a lot of fun. They are so supportive. This is exciting and I love it … It felt really good to be able to fix my golf swing at these highest speeds because that is something I've never done before. I've always just been bashing balls, trying to go as hard as possible, not really caring how the swing was, but hitting it in the grid at those speeds, that's a new level. I hope that translates (to the PGA Tour.)"
Kyle Berkshire won the title with a drive of 422 in the final against Justin James.
News
Check out what has been happening in Utah Golf.
Meet UGA Rules Official Rick Shew
News
Check out what has been happening in Utah Golf.
Shah's record-setting performance cashes first place purse at Sand Hollow Leavitt Group Open.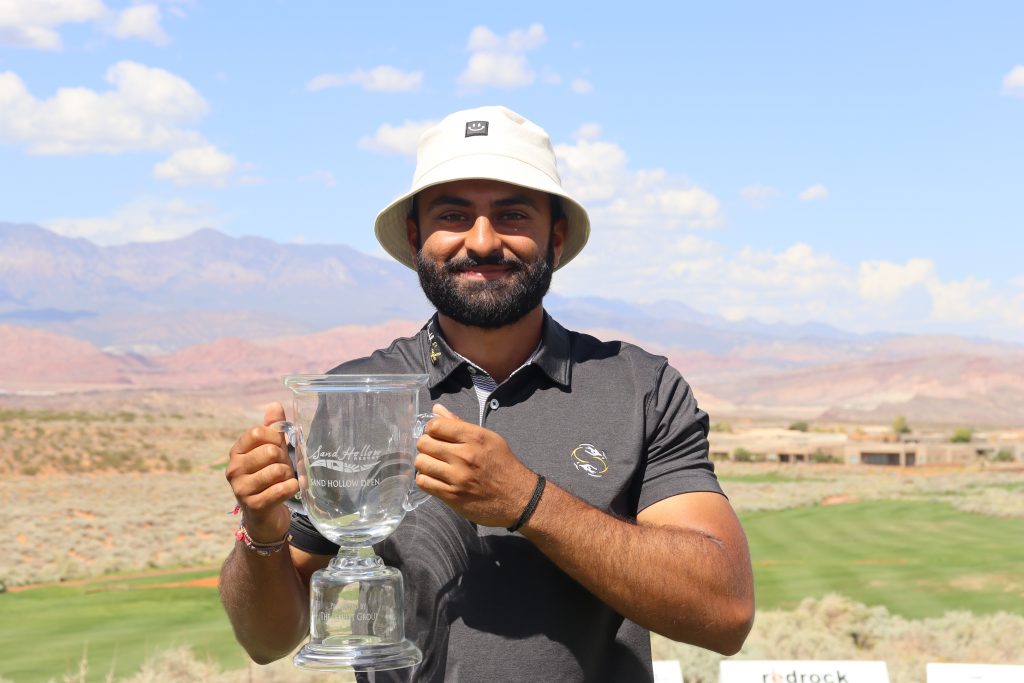 Photo: California golf professional Manav Shah shot a tournament record 22-under par to win the Sand Hollow Leavitt Group Open at Sand Hollow Resort in Hurricane, Utah.
By Randy Dodson
Bakersfield, California professional Manav Shaw collected the Sand Hollow Leavitt Group Open first place purse of $20,000 Saturday with a tournament record-setting score of (-22) 60-67-67 – 194. 
Shah was pushed in the final round by Brian Mogg's final (-7) 65. Mogg finished as the runner-up, one-shot shy at (-21). Mogg had good chances to catch Shah with a birdie putt on the par 5 13th and an eagle putt on the par 5 16th but both putts just slid by the hole.
"Both of those putts should have dropped," Mogg said. "I'd like the one on 15 back. I hit such a good shot in there to about five feet and I knew the line. It just didn't fall."
Former BYU player and 2020 Utah Open champ Peter Kuest also made a final round run at Shah with a (-8) 64 day at the Championship Course in Hurricane, Utah. Kuest finished (-20) 196. 
2016 Utah Open champion Zahkai Brown's 19-under 197 was good for solo fourth place. Hayden Wood and Matt Snyder round out the top 5 at (-18) 198.
Like many players in the field, Shah, Mogg and Kuest now set their sights on the upcoming Korn Ferry Tour First Stage Q-school being played across the country, including at SunRiver GC near St. George, Utah.
The win is Shah's third of the season having also collected a $20,000 first place check early in the season at the Bakersfield Open. 
"It feels really good to win this one. I made some great putts down the stretch to hold off Brian to get this win. The thing I am most proud of this week is my putting. I made a lot of important par putts and the birdie putt on 17 was really good to keep the lead."
This was the seventh playing of the Sand Hollow Leavitt Group Open at Sand Hollow Resort. Tyler Aldridge set the previous tournament record at 21-under in the inaugural 2014 event. Previous winners include PGA Tour member Zac Blair (2015 & 2016), Korn Ferry Tour members Tom Whitney (2017) and Taylor Montgomery (2018 & 2019).
Final round leaderboard and purse: https://tinyurl.com/854y24c8
FOR MORE INFORMATION CONTACT:
Randy Dodson/Fairways Media (801) 360-2440
Photo Credit: Fairways Media/Randy Dodson
News
Check out what has been happening in Utah Golf.
Weber State takes inaugural Cup competition at Logan Country Club
By Randy Dodson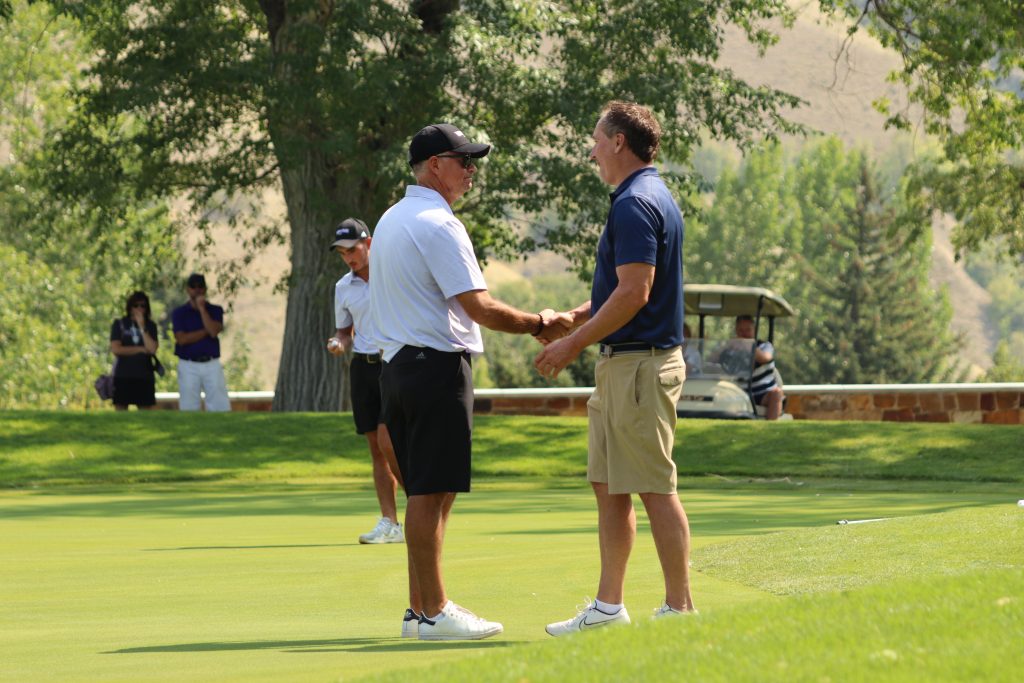 Photo: Utah State Head Coach Dean Johansen (right) congratulates Weber State's Coach Scott Erling at Logan Country Club.
If ever there was a tournament where the final score didn't matter, the inaugural Utah State vs Weber State Cup would fit that bill.
That of course would do disservice however to Weber State's performance Sept. 4-5 at Logan Country Club, as the Wildcats defeated Utah State in dominating fashion, 12.5 to 3.5.
Discussions of creating the Ryder Cup style event have been ongoing for a few years between Wildcats' Head Coach Scott Erling and the Aggies' Dean Johansen, hoping to launch their fall seasons with an event that could get their players' feet wet before jumping into the Air Force Gene Miranda Falcon Invitational Sept. 10.
Erling said, "I see a lot of possibilities for this becoming one of our premier events and something the kids are always going to look forward to, we're going to do everything we can to make this an annual event and go back and forth between Logan and Ogden. Hopefully it becomes a cemented part of our schedule. I think this is a good way to start the year, you get to travel without really traveling and it gives us a chance to kind of get our feet on the ground and get going."
The Aggies are fielding a young team for the 2021-22 season with three foreign born freshman who played a collegiate golf tournament for the first time, along with three sophomores, anchored by just two seniors. In total Utah State will have five international players on the squad this season.
Johansen and Assistant Coach Eric Skinner's initial idea was to add one or two international players, "…but something happened and all of a sudden we added five," said Johansen, who has been at the helm of the Aggie golf program for over 20-years. "They have a fire about them and it's awesome. I love the energy of a very tight group of kids and I think it's really fun to have them here. So this event is really the first time they've competed for us. You definitely would think Logan Country Club would for sure be a home field advantage for us but it wasn't the case this weekend."
The Aggies' inexperience showed as the Wildcats won all three segments of the event, winning the Four Ball 3 to 1, sweeping the Foursome portion 4-0 and winning the Individual Matches 5.5 to 2.5.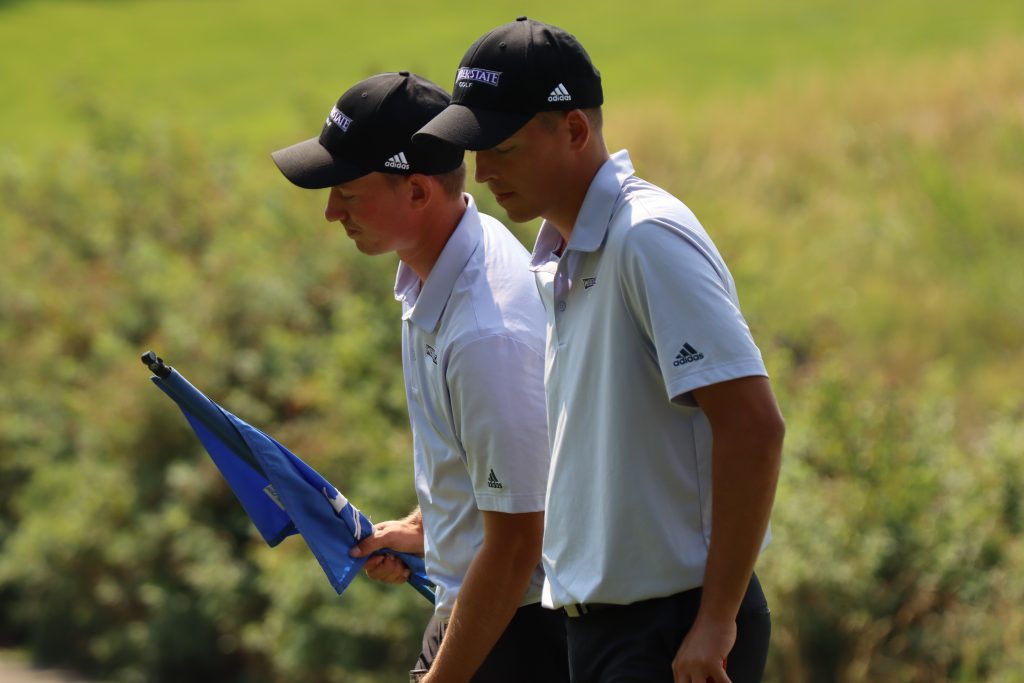 Photo: Weber State's Hayden Banz and Hunter Howe
Erling said, "Well this is obviously their home course but I guarantee our team has played more rounds here than any of his guys, just because they've been around longer. This first year is more in our favor than under normal circumstances. But this gives us a great opportunity under pressure, under competition, to say "okay, this is what we need to do to get better.' We've seen it now, it's not theoretical … it helps us focus on what we need to work on to get better and hopefully continue to get better throughout the year."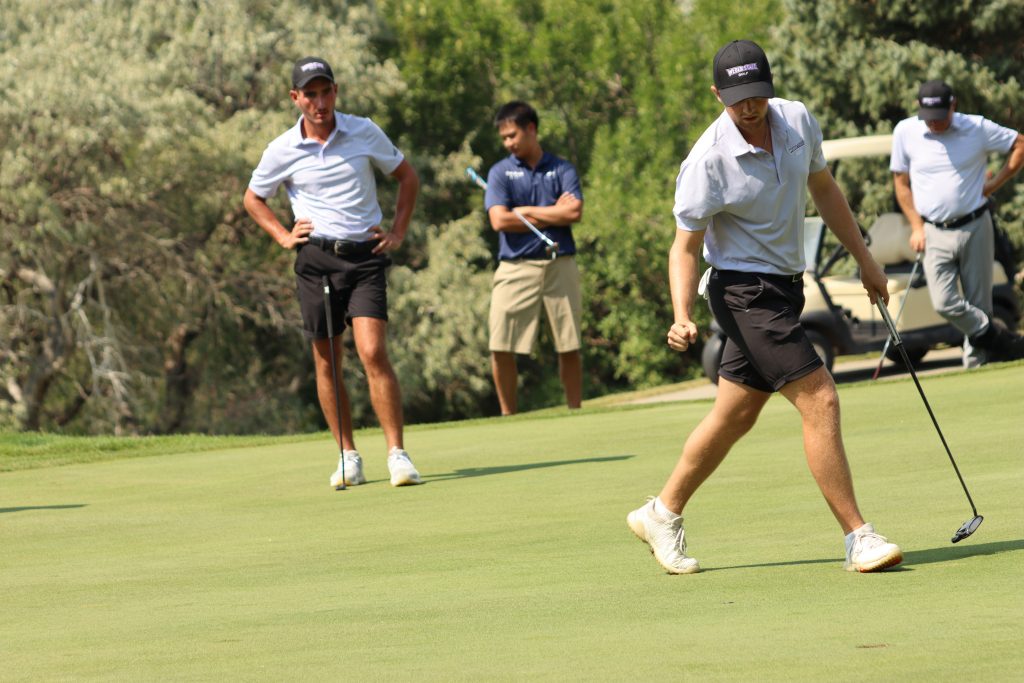 Photo: Weber State's Hugo Cepeda sinks a putt on hole 16.
Looking to build a rivalry but also camaraderie, the annual competition could be meaningful for both teams for years to come. "I think the fun part of this would be with the guys getting to know each other, building competitive friendships," Johansen said. "I suspect in two or three years, we won't have to make rosters for this event. The players will come to us with, 'Hey, he beat me last year, I want another chance at him this year."
"I thought this was a great kickoff to our season," he said with a smile. "But if we don't win it next year we're not playing it anymore."
News
Check out what has been happening in Utah Golf.
A Mix of New and Old at the Utah Senior State Amateur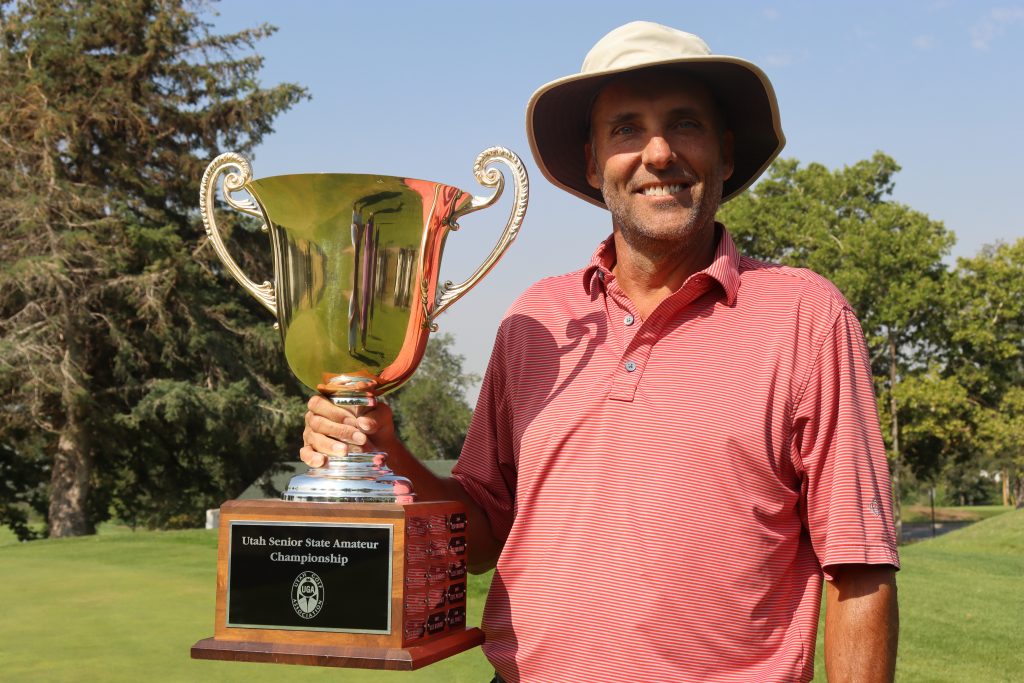 Brigham Gibbs adds a second Senior State Amateur title while Larry Beach adds his name to the UGA champions list. 
By Kurt Kragthorpe
For all of his success in Utah golf this year, Brigham Gibbs spent part of this week thinking about how he should be playing in the U.S. Senior Amateur at the Country Club of Detroit. His biggest regret of an otherwise remarkable season is having failed to advance from a qualifying event at his home course, The Country Club of Salt Lake City.
Yet as he stood on the No. 17 green of Bonneville Golf Course, holding the Utah State Senior Amateur trophy Thursday, some childhood memories hit him. His voice caught as he remembered his early years in the game, right there at Bonneville.
Not being in Michigan felt like less of a missed opportunity, at that moment.
Gibbs' 3-and-1 victory over Craig Wilson made him a two-time winner of the Senior Amateur, and meant that he had joined Wilson as the only golfers to win that event and the Senior Stroke Play Championship in the same year. He liked that feeling. "Hey, I just matched ya," Gibbs yelled to Wilson, interrupting his own champion's interview.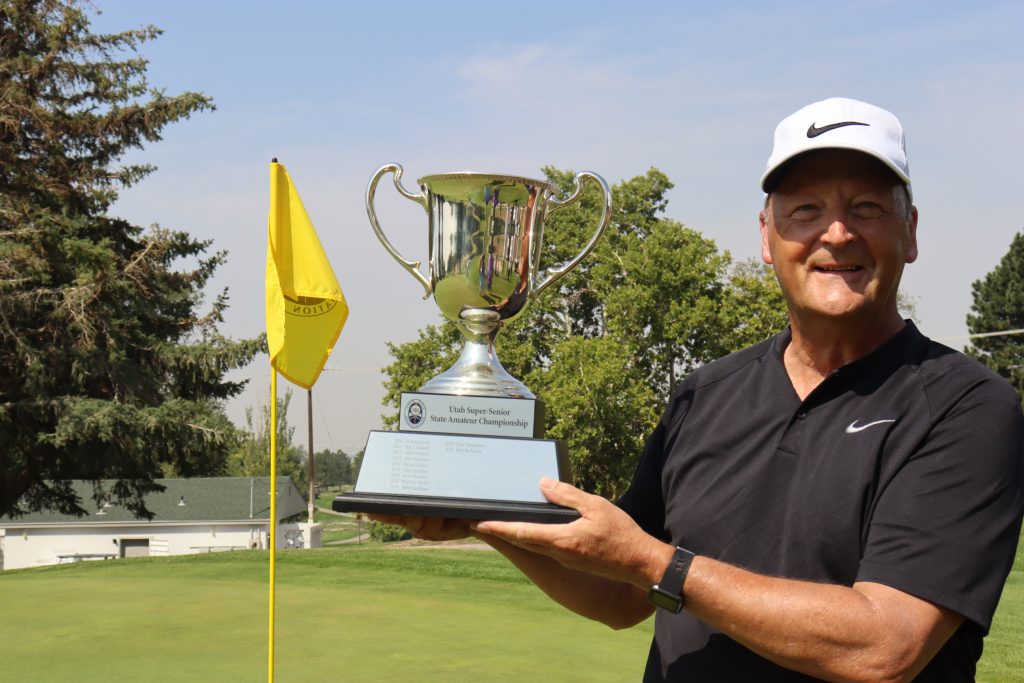 In contrast to Gibbs, Larry Beech is a new name in UGA championships. The South Ogden resident made a remarkable run to the title as the No. 16 seed in the Super Senior (65-over) bracket, including a quarterfinal win over defending champion Rob Bachman, his former Weber State golf teammate.
Beech topped Richard Dibblee 2 and 1 in the final match, completing a week that started when he tied for 14th place with an 81 in stroke play and then knocked off the No. 1 seed, John Jones.
Read Kurt Kragthorpe's complete Utah Senior State Amateur recap feature in Fairways Photo Journal CLICK HERE: https://tinyurl.com/39xcu3ju
Full Results: https://www.golfgenius.com/pages/3176404
News
Check out what has been happening in Utah Golf.
Siegfried and Jensen Utah Open Final Round: A perfect shot hands the winner's check to Colorado pro Derek Fribbs at the 95-year-old Utah Open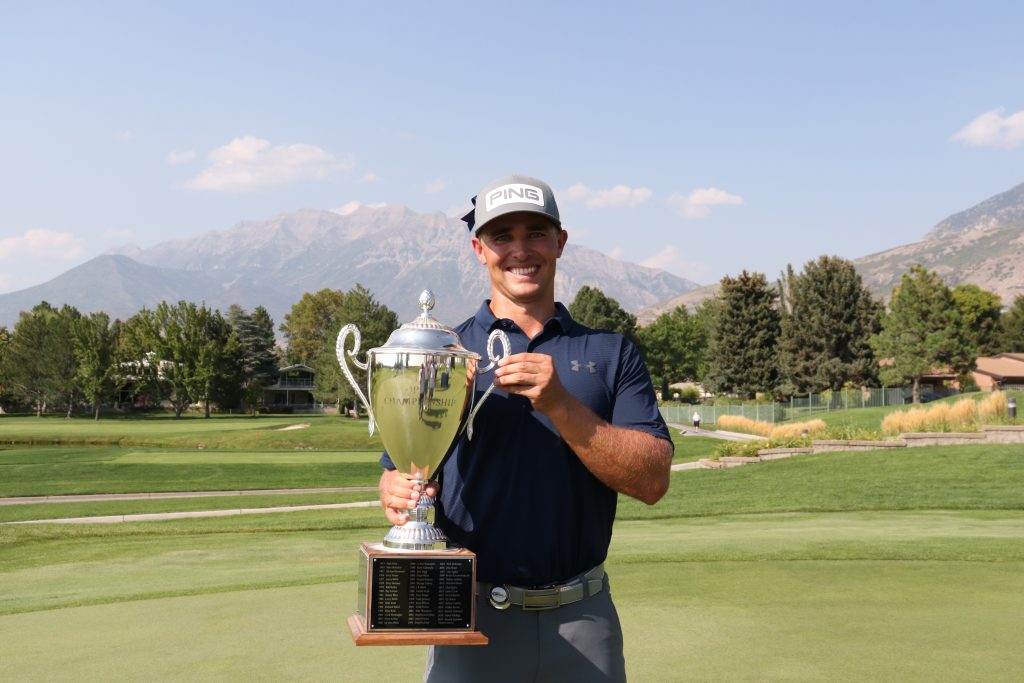 A perfect shot delivers the winner's check to Colorado pro Derek Fribbs at the 95-year-old Utah Open
By Kurt Kragthorpe
One swing with a 7-iron Sunday afternoon radically altered Derek Fribbs' story of the 2021 golf season.
Internet search engines may forever distinguish himself as the witness of a fight in his threesome in the middle of a golf course in Kansas in June, but Fribbs created his own lasting impression of the year with a double eagle on Riverside Country Club's 15th hole. The shot from 215 yards completed his 4-3-2 sequence (par is 5-4-5) in the northwest corner of the property and powered the Colorado pro to a victory in the Siegfried & Jensen Utah Open.
"Just hit a perfect shot," Fribbs said.
Fribbs posted 66-63-64 for a total of 23 under par, three shots better than Idaho pro T.K. Kim, earning a $20,000 check and a nice 31st birthday (Monday) present for himself a year that otherwise was memorable for the wrong reasons.
"At least, I'm the good guy in the story," he said good-naturedly, when the fight during a Korn Ferry Tour qualifying event came up during the winner's news conference. "I wasn't beat up or arrested."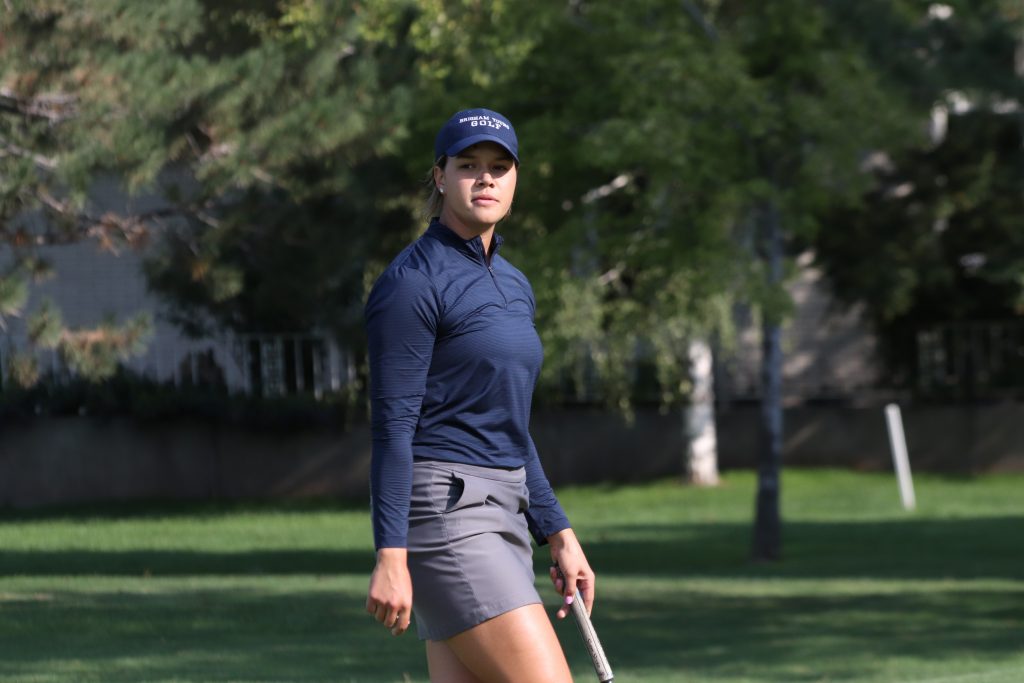 The double eagle will have its own place in Utah pro golf lore as a highlight of a weekend when BYU golfer Kerstin Fotu of Alpine became the first woman to play the final round of the Utah Open, an event first staged in 1926.
Read the complete Utah Open final round recap feature written by Kurt Kragthorpe CLICK HERE: https://tinyurl.com/2rc6r2xt
News
Check out what has been happening in Utah Golf.
Utah Open Second Round History for Kerstin Fotu
by Kurt Kragthorpe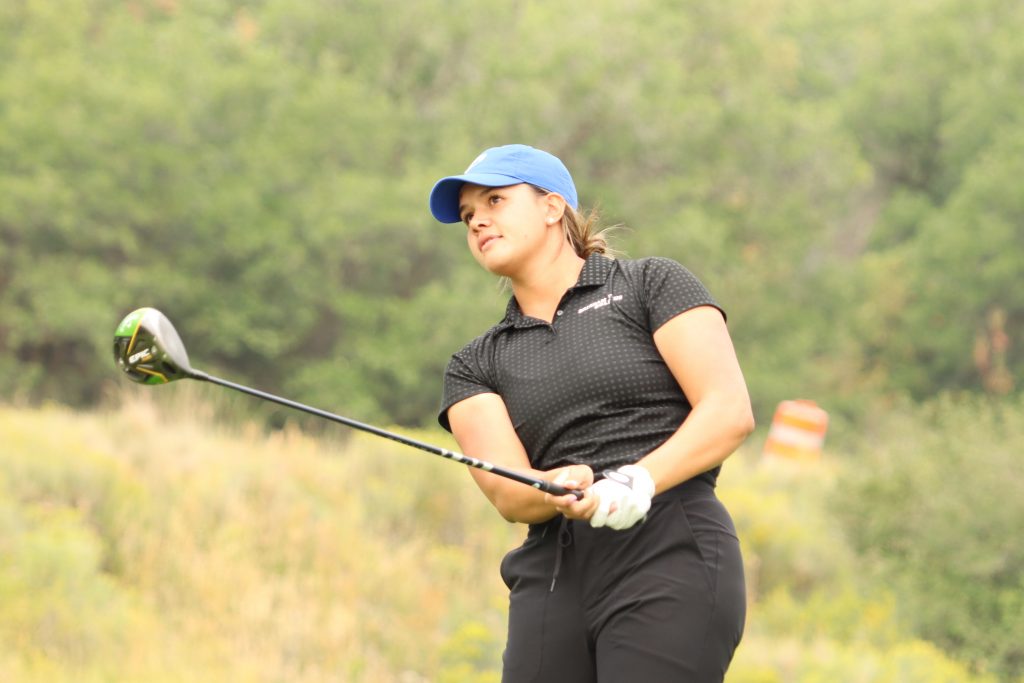 When administrators of the Utah Section PGA and title sponsor Siegfried & Jensen created the Utah Women's Open in 2017, they made sure to offer the winner an exemption into the historic Utah Open.
That was a nice gesture, but could they really have seen this coming?
The champion of the fifth Utah Women's Open will make her own history Sunday, becoming the first woman to play in the final round of the Utah Open.
Kerstin Fotu, a BYU golfer from Lone Peak High School, advanced after posting 70-73 at Riverside Country Club and enduring a long afternoon to see whether or not her 1-under-par total would make the 36-hole cut Saturday. Somewhat surprisingly, the cut line never moved as the afternoon wave of players concluded the round.
And the bogey on the par-5 No. 15 that otherwise may have haunted Fotu became only a minor inconvenience on the way to another big moment in her golf career. The 2019 Women's State Amateur champion will tee off at 8:01 a.m. Sunday in a twosome with Elijah Turner, another BYU golfer from Lone Peak.
The leaders will play in a threesome at 11:30 a.m., as Matt Marshall of Scottsdale, Arizona, begins the day two shots ahead of Colorado pro Derek Fribbs and three up on Idaho pro T.K. Kim.
Read Kurt Kragthorpes Utah Open second round recap in this issue of Fairways Photo Journal: CLICK HERE: https://tinyurl.com/ztu5pb