News
Check out what has been happening in Utah Golf.
Kelsey Chugg adds a fourth Mary Lou Baker Open title to her career win column
by Dick Harmon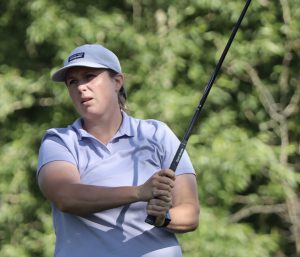 Kelsey Chugg, already a four-time Utah Women's State Amateur champion, fired a 2-under par 36-hole 144 to win her fourth Utah Golf Association Mary Lou Baker Open championship at Fox Hollow Golf Club in American Fork on June 14.
The former Weber State golf star and defending UGA Winterchamps champion won by five strokes over BYU's Adeline Anderson (photo below), who was playing on her home course.
Chugg had 11 birdies and 18 pars in the two-day event which was played on a par-73 layout from just over 5,800-yards.
Read the complete Mary Lou Baker Open feature from Fairways Media here: https://tinyurl.com/yc8j5jxp
News
Check out what has been happening in Utah Golf.
Utah PGA Jr Series' Glenmoor Major Names Two State Am Exemptions
By Jesse Dodson, Utah PGA Media and Communications Manager
The 2022 Utah PGA Junior Series Major season is here, beginning with the Glenmoor Jr. Major played June 10-11 at Glenmoor Golf Club, where two Utah State Amateur exemptions and spots in the season-final Promontory Major were up for grabs.
The 36-hole championship was highlighted by the two available exemptions into the 2022 Utah State Amateur, the longest continuously-running golf championship in the world. The exemptions were available for the boys 15-18 divisions.
Lehi's KJ Ofahengaue, the Boys Major Player of the Year in 2021, lead the way the entire time with rounds of (-11) 68-65 to claim the first spot in the Utah State Amateur and win the boys 17-18 division.
Read the complete Fairways Photo Journal recap of the Glenmoor Jr Major, CLICK HERE.
News
Check out what has been happening in Utah Golf.
47th Utah Junior State Amateur wraps at Park City GC
By Kurt Kragthorpe
After winning the longest match of the morning in what may rank as the most competitive final day in the match-play era of the Utah State Jr. Amateur, Parker Bunn was convinced he had played even more holes than he actually did.

That's forgivable. Bunn and Bowen Mauss made only two extra trips up and down the No. 18 fairway of Park City Golf Club, but all the twists and turns at the end of their championship match in the Boys 15-18 division made it seem like more.
"Stressful. Stressful," Bunn said, describing a closing sequence with one player or the other winning five of the last six holes.
That was the only one of Friday's seven final matches that went to extra holes. Four others, though, went to No. 18 and the other two each lasted at least 16 holes. A closer look at the 47th Jr. Am, conducted over five days at four courses.
Read Fairways Photo Journal's tournament recap for all ages, in both Boys and Girls divisions here: https://tinyurl.com/4hjyzhan
News
Check out what has been happening in Utah Golf.
Women's Golf Day Celebrated at Glenmoor Golf Club
By Randy Dodson
Nearly a 100 women enjoyed golf clinics, lunch, keynote speakers and camaraderie at the annual Women's Golf Day event at Glenmoor Golf Club, June 7th.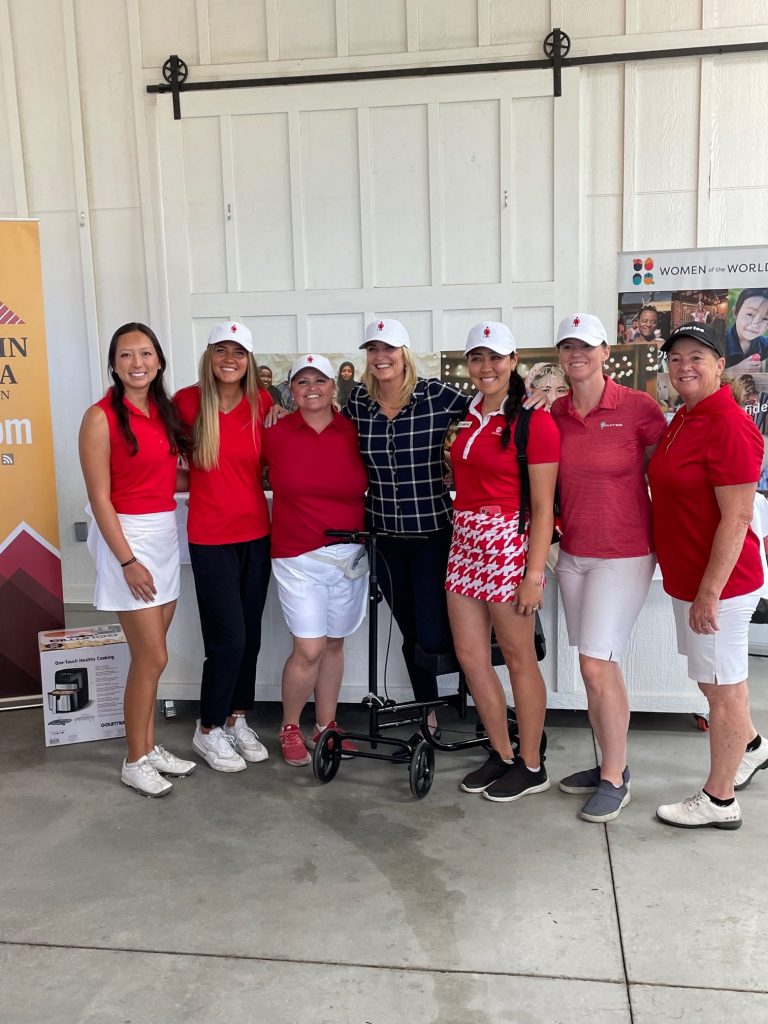 Joining Glenmoor golf instructors (Photo left to right) Tess Blair, Alanna Beagley, Head PGA Professional Daric Olsen, keynote speaker Sharlene Wells, Sirene Blair, Denise Larsen and the Utah Golf Hall of Fame's Sue Nyhus were South Valley Chamber Women in Business leaders.
Glenmoor GC Head PGA Professional Darci Olsen, the organizer of the event said, "We chose the Women of the World Foundation as the event's charitable cause this year. They help women refugees learn English, find housing, get schooling, and employment options."
The Utah Golf Association's Lisa Imamura and intern Taegan Keep were on hand to help inform women on the importance of GHIN handicaps, a UGA membership, tournaments and playing opportunities.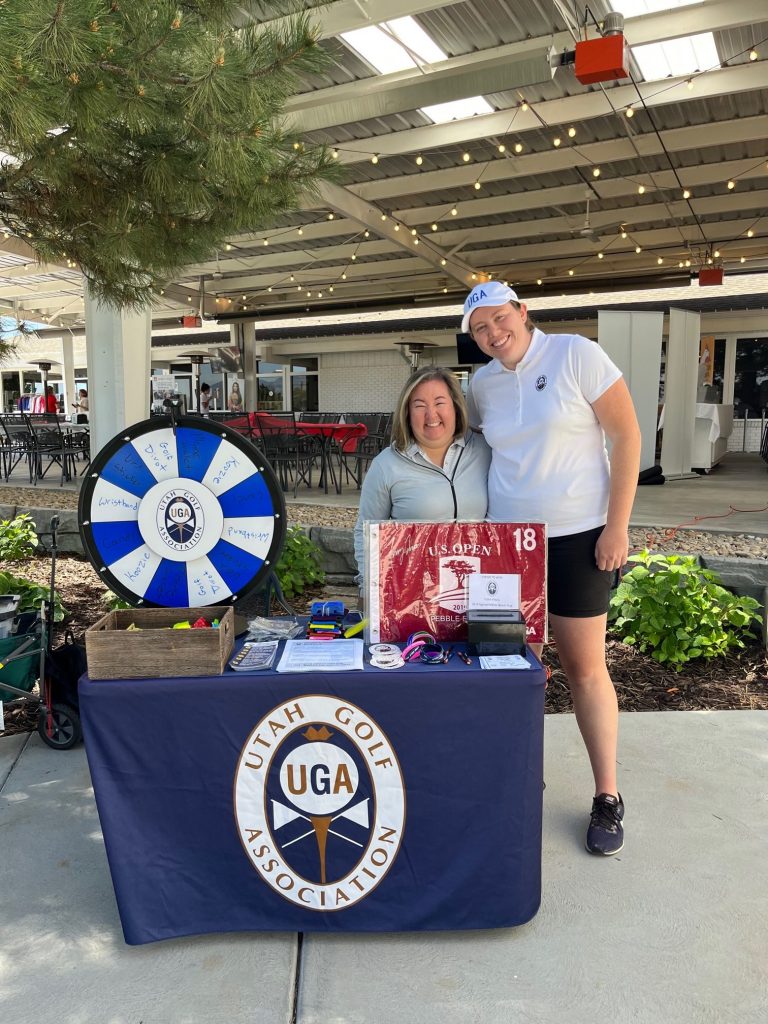 Speakers included Samira Harnish, the founder of Women of the World. Harnish came to the United State 41 years ago as a refugee and started Women of the World to support other women in like circumstances. South Jordan Mayor Dawn Ramsey spoke about Arnold Palmer and building character.
Sharlene Wells, Miss America 1984, and a former sports broadcaster for ESPN also spoke. In 2015 Hawkes was appointed by the U.S. Secretary of Defense to the Defense Advisory Committee on Women in the Armed Forces. She spoke of her experiences and how women can be bold and still smile, and the importance of  learning to play golf for women in upper management positions. She spoke of her own playing experiences including one of her earliest rounds played with Bob Hope, Johnny Miller and President Ford.
Olsen said, "We were able to raise $2,000. The South Valley Chamber and another local business in attendance generously matched our funds. We were be able to give the Women of the World foundation $4,000. It was a great day of growing the game, giving back and celebrating Women."
Women's Golf Day is a global celebration of women and girls in golf. Now in its 7th year, WGD unites people across the globe through golf. Starting in Australia and ending in French Polynesia, events took place for 24 hours straight. Events were held in every continent, apart from Antarctica.
The events allow a simple and accessible platform to build a golf foundation and skills that will last a lifetime. It creates a network to support the continuation of golf no matter what skill level or interest, while engaging women in an empowering initiative with global impact from a local level. The event transcends race, gender, religion, language, geography or economic status.
For more information please visit www.womensgolfday.com.
News
Check out what has been happening in Utah Golf.
Utah Senior Stroke Play Championship
By Mike Sorensen
It got a little dicey toward the end, but Brigham Gibbs hung on to win the Utah Senior and Super Senior Stroke Play Championship at Glenmoor Golf Course.
The 56-year-old Gibbs finished with a three-day total of 6-under-par 210 to defeat Bountiful's Shane McMillan by four strokes.
Gibbs, who plays out of the The Country Club in Salt Lake City, had started the day with a six-stroke lead after a pair of 69s, but saw his lead dwindle to as little as two shots with two holes left as McMillan made a final-day charge. 
At the par-4 17th hole, the lead went back to three when Gibbs bogeyed and McMillan made a double bogey after a couple of poor shots.
However, at the par-5 18th, Gibbs' drive nearly went out of bounds and ended up against a fence. A two-stroke penalty could have opened the door for McMillan. But Gibbs was able to punch out, and his 5-iron ended up 8 feet away where he polished off the victory with a birdie.
Gibbs credited his "really good ball-striking" as the key to his victory, saying he missed numerous putts inside 10 feet, including four inside three feet during the tourney. 
Gibbs had earlier won the senior event at the Winterchamps in St. George and says he plans to play in a few Golfweek national events this summer.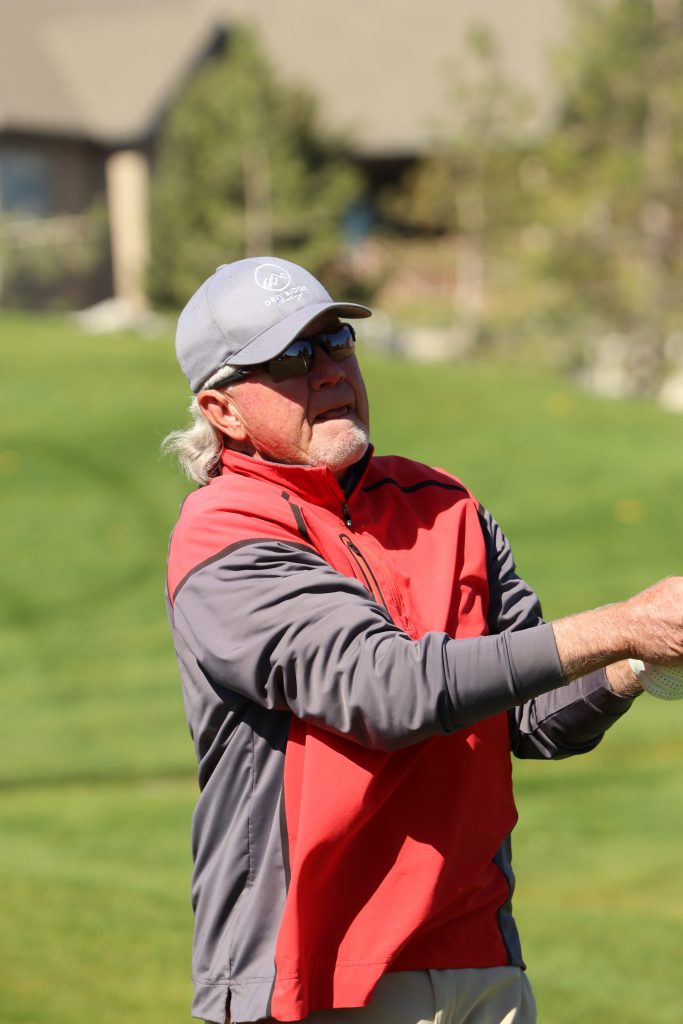 Bill Probst, from Wasatch Mountain State Park Golf Course won the Super Senior division (65+) with a 223 total, four strokes ahead of Dan Parkinson (Alpine, while Doug Marriott and Jon Memmott tied for low honors in the Legends division (70+) at 229, four shots ahead of Dan Telford.
News
Check out what has been happening in Utah Golf.
Utah Dominates in Las Vegas
By: Easton Folster
The UGA was well represented at the Southwest Team Challenge in Las Vegas, Nevada this past week.  The three teams that the UGA sent to Rio Secco Golf Club finished first, third, and fourth.  Even more impressive was the dominating win by the team made up of Ryan Brimley, David Jennings, Kirk Siddens, and Karl Avant.  Over the three-round contest, they were able to accumulate 87 stableford points, the next best was the Arkansas team with 61.
The teams are comprised of two mid-amateur players and two senior players, with the top score from the seniors and mid-amateurs counting for the team.  Both mid-amateurs (Brimley, Jennings) and both seniors (Siddens, Avant) were complimentary of how the other two took care of business.  Siddens recognized the importance his partner's good play in holding up his end of the bargain, stating, "we both had our moments of good golf and carried each other when we didn't have our best."  Brimley recognized the same saying, "he and his partner did well to ham and egg it each day."
Both partnerships have been on a great run as of late having won the Utah Four-Ball and now winning the Southwest Team Challenge, with the Brimley and Jennings team having also qualified for the U.S. Amateur Four-Ball all within the last three months.  Jennings attributed their good play as partners to the fact that they both can make a lot of birdies, while staying out of each other's way, and letting one another play their own game.
For Full Results Click Here