News
Check out what has been happening in Utah Golf.
Utah Senior Stroke Play Championship
By Mike Sorensen
It got a little dicey toward the end, but Brigham Gibbs hung on to win the Utah Senior and Super Senior Stroke Play Championship at Glenmoor Golf Course.
The 56-year-old Gibbs finished with a three-day total of 6-under-par 210 to defeat Bountiful's Shane McMillan by four strokes.
Gibbs, who plays out of the The Country Club in Salt Lake City, had started the day with a six-stroke lead after a pair of 69s, but saw his lead dwindle to as little as two shots with two holes left as McMillan made a final-day charge. 
At the par-4 17th hole, the lead went back to three when Gibbs bogeyed and McMillan made a double bogey after a couple of poor shots.
However, at the par-5 18th, Gibbs' drive nearly went out of bounds and ended up against a fence. A two-stroke penalty could have opened the door for McMillan. But Gibbs was able to punch out, and his 5-iron ended up 8 feet away where he polished off the victory with a birdie.
Gibbs credited his "really good ball-striking" as the key to his victory, saying he missed numerous putts inside 10 feet, including four inside three feet during the tourney. 
Gibbs had earlier won the senior event at the Winterchamps in St. George and says he plans to play in a few Golfweek national events this summer.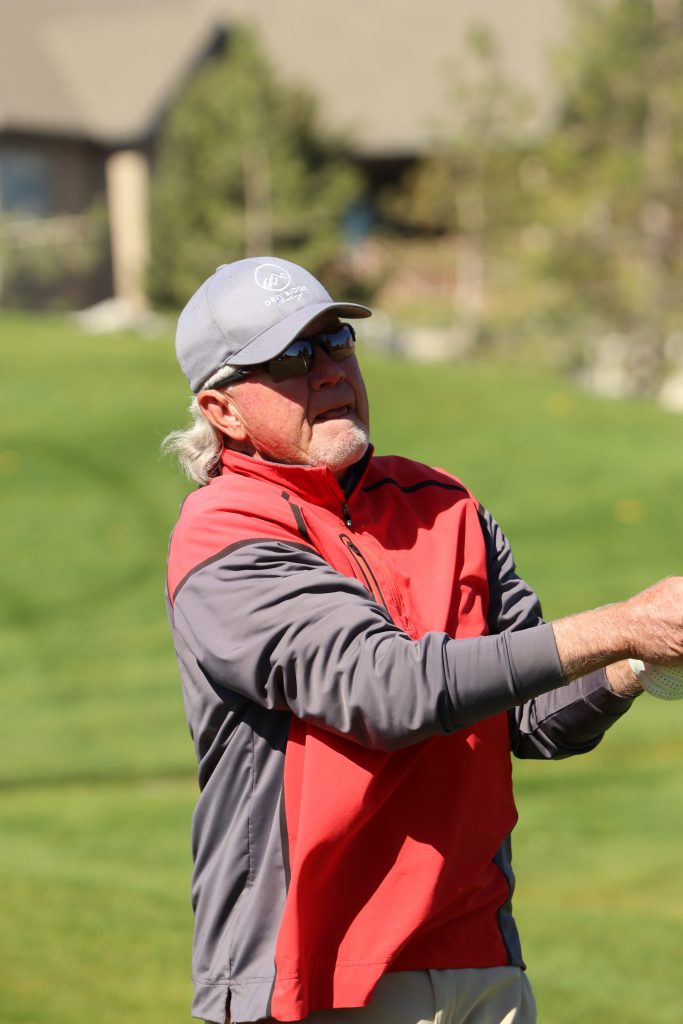 Bill Probst, from Wasatch Mountain State Park Golf Course won the Super Senior division (65+) with a 223 total, four strokes ahead of Dan Parkinson (Alpine, while Doug Marriott and Jon Memmott tied for low honors in the Legends division (70+) at 229, four shots ahead of Dan Telford.
News
Check out what has been happening in Utah Golf.
Utah Dominates in Las Vegas
By: Easton Folster
The UGA was well represented at the Southwest Team Challenge in Las Vegas, Nevada this past week.  The three teams that the UGA sent to Rio Secco Golf Club finished first, third, and fourth.  Even more impressive was the dominating win by the team made up of Ryan Brimley, David Jennings, Kirk Siddens, and Karl Avant.  Over the three-round contest, they were able to accumulate 87 stableford points, the next best was the Arkansas team with 61.
The teams are comprised of two mid-amateur players and two senior players, with the top score from the seniors and mid-amateurs counting for the team.  Both mid-amateurs (Brimley, Jennings) and both seniors (Siddens, Avant) were complimentary of how the other two took care of business.  Siddens recognized the importance his partner's good play in holding up his end of the bargain, stating, "we both had our moments of good golf and carried each other when we didn't have our best."  Brimley recognized the same saying, "he and his partner did well to ham and egg it each day."
Both partnerships have been on a great run as of late having won the Utah Four-Ball and now winning the Southwest Team Challenge, with the Brimley and Jennings team having also qualified for the U.S. Amateur Four-Ball all within the last three months.  Jennings attributed their good play as partners to the fact that they both can make a lot of birdies, while staying out of each other's way, and letting one another play their own game.
For Full Results Click Here