News
Check out what has been happening in Utah Golf.
Larson, Galea'i, Banglas and Pronghorn Utah Women's Four-Ball Championship at Toana Vista GC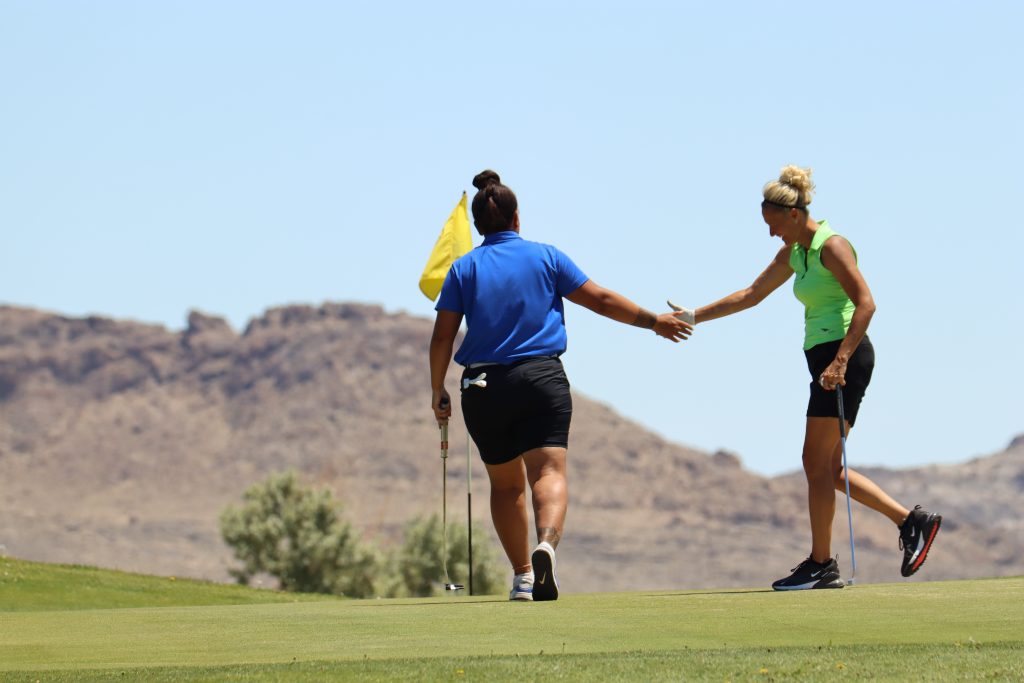 By Randy Dodson
This thought from BYU's Lila Galea'i may be all you need to know about the Utah Women's Four-Ball Championship, held June 2-3 at Toana Vista Golf Course in West Wendover, Nevada. 
"Anytime I have a chance to get myself on the green, on a par 4, and I trust that I can get it there, I never hold back."
Add to that Kareen Larson's steady play and "safe" tee shots allowing Galea'i to unleash, and it's not surprising that the duo ran away from the field to capture the Utah Golf Association women's championship title. 
Larson and Galea'i won the annual event with a two day total of (-11) 64-69 – 133. They were 13-shots ahead of the Idaho State University Bangals team of Tyler Erickson and Lindsey Lloyd.
To the read the complete Utah Women's Four-Ball Championship tournament recap from Faiwrays Photo Journal please click here: https://tinyurl.com/tyw7a2e9
News
Check out what has been happening in Utah Golf.
A Season of Experience BYU freshman walk-on Keanu Akina is making big strides in Utah amateur golf.
By Randy Dodson
He'd probably would rather be making three-pointers and running up and down basketball courts but BYU men's golf six-foot walk-on freshman Keanu Akina, a Pleasant Grove high school product by way of Kahuku, Hawaii, is now turning heads by getting up and down on Utah's fairways.
And if the amateur portion of the Gladstan Open is any indication, you will be seeing Akina on Utah golf's amateur leaderboards frequently.
Akina shot (-5) 67 May 22nd to win at Gladstan by six shots over former professional now veteran amateur Tommy Johnson, former Utah State Am and Mid-Am champ Darrin Overson and Eli Rogers who finished (+1) 73.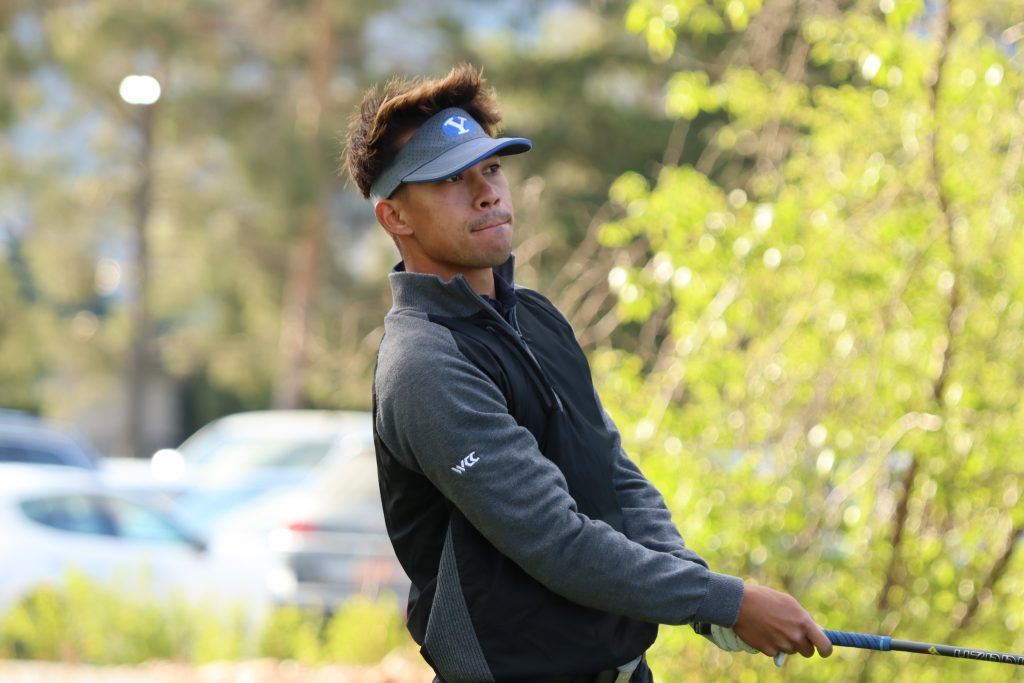 The amateurs played the blue tees at the Gladstan Open while the Utah Section PGA Professionals played the black tees, about a 390-yard difference. Teaching professionals Matt Baird andTommy Sharp finished in a tie for first place in the pro division at (-1) 71.
Scores: https://tinyurl.com/yfdrft6v
"I hit the ball well off the tee and putted well," Akina said. "I got the ball up and down when I needed to save par too. Playing from the blue tees threw me off a bit. But, I just tried to take advantage of it, especially on the par fives."
Akina birdied three of the four par fives and added three more birdies against just one bogey for the day.
"On all the par fours on the back, I hit an iron off the tee but had one less than I probably would've from the black tees, which was nice. I actually played the course for the first time Monday before the tournament with my swing coach Matt Baird and I told him then that Gladstan is my new favorite course in Utah because of how pretty it is and how fun it is to play."
Growing up basketball was Akina's sport. "I never thought I'd play college golf because I wanted to play basketball. I met Coach (Bruce) Brockbank when I played with Max Brenchley and Elijah Turner, when he came to watch them play. I only played high school golf events since I was so focused on basketball, I really had no kind of golf resume. Walking on was tough but at the tryouts and qualifying I was able to play well enough to show that I at least had some potential to contribute. And I feel like I did that this year."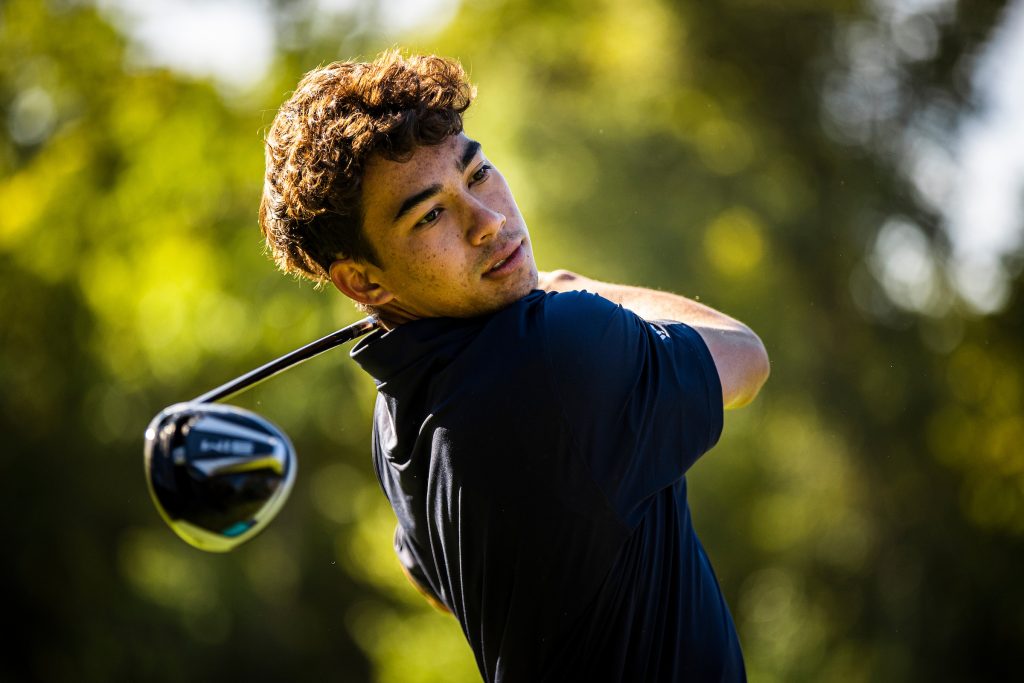 When asked about Akina Brockbank said, "He has made a nice addition to our team. He wants to win, loves to compete and works hard. He loves to be the underdog and will find a way to beat you. We always want a guy like Keanu on our team. He makes everyone better because he brings it every day."
Akina played in five events for the Cougars, including the Western Intercollegiate and West Coast Conference Championship. His low round this season was a 70 at the Conference Championship where he also carded his low finish for the season at T22.
"I felt great about my BYU season. I was glad that my coaches believed in me and took me to a couple big tournaments at Pasatiempo and the Conference Championship. It gave me a lot of confidence because I worked hard all of last year to make some big improvements and I felt like the work is starting to pay off."
Akina has become good friends with fellow walk-on David Timmins who won the Thanksgiving Point Amateur a week prior. "I learned so much from my coaches and my teammates and got some good experience, which I hope will help our team next year."
Looking to build on his momentum, Akina will return to Hawaii for the Manoa Cup and plans to be back in Utah for the State Amateur and Utah Open.
News
Check out what has been happening in Utah Golf.
University of Utah Golf, UVU's Gabe Lysen, BYU's Carson Lundell and SUU's Jake Vincent take a shot at moving on to the NCAA Championship
By Kurt Kragthorpe
The University of Utah men's golf team clearly is not satisfied with making the program's first appearance in an NCAA Regional in nearly 30 years. After the opening round of the 54-hole tournament Monday in Cle Elum, Washington, the Utes are allowed to have visions of competing in the NCAA Championship later this month.
Maybe the best news emerging from the first round on the Tumble Creek Club course at Suncadia Resort is the Utes stand in seventh place, even while counting a 75 from No. 1 player Mitchell Schow, the reigning State Amateur champion. Schow deserves credit for his comeback Monday, after three straight bogeys left him at 5 over par through 11 holes. He played the last seven holes in 1 under to keep his team in contention to become one of the five teams advancing to Grayhawk GC in Scottsdale, Arizona.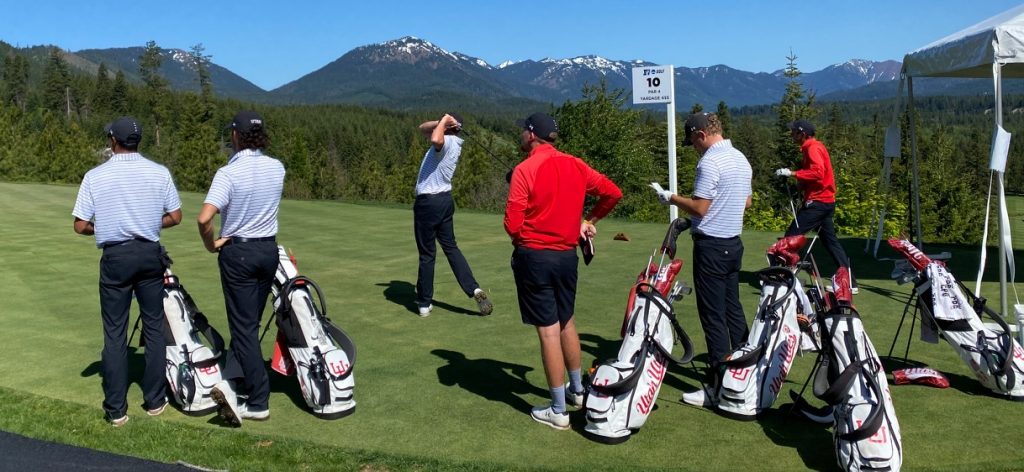 The Utes are only three strokes below the top five (Wake Forest and San Francisco are tied for first, followed by Pepperdine, East Tennessee State and Washington), beginning Tuesday's play. And Schow is very likely to shoot lower than 75 in each of the last two rounds…
Click here to read more from Fairways Photo Journal: https://tinyurl.com/3v9p8bts
News
Check out what has been happening in Utah Golf.
News
Check out what has been happening in Utah Golf.
Copper Rock Championship's day one of mixed results
By Kurt Kragthorpe, Fairways Media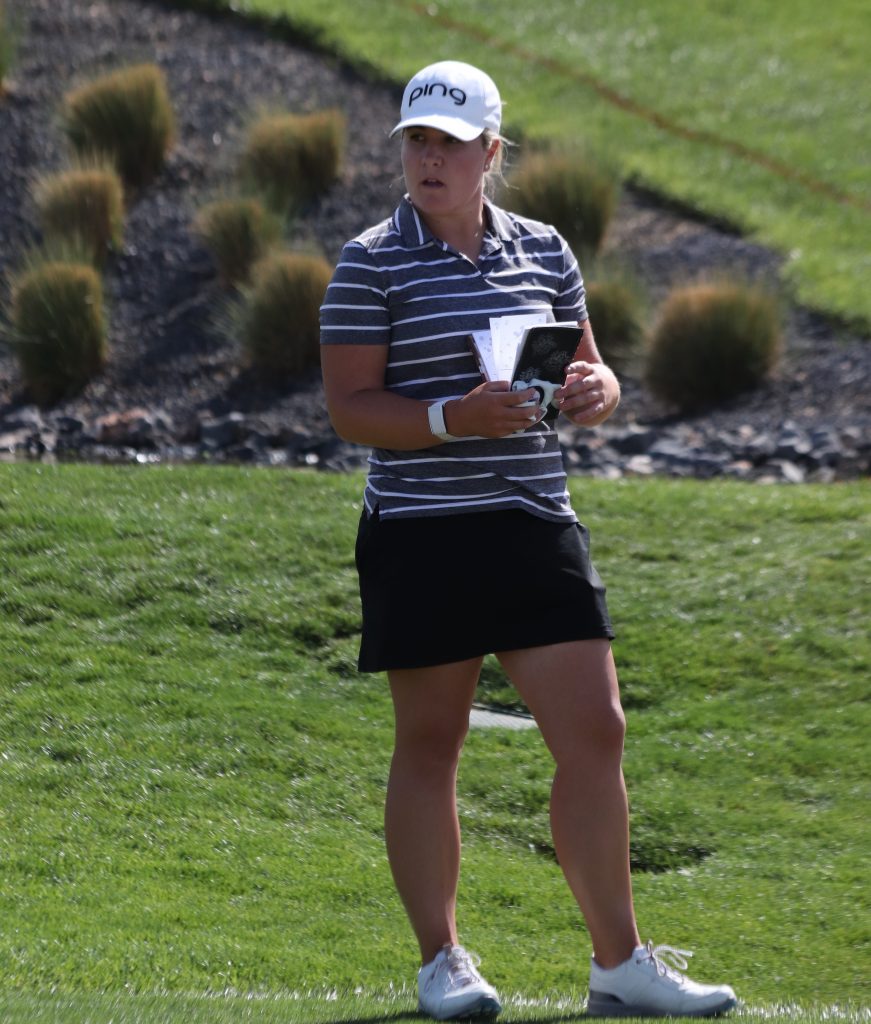 Counting only her conventional, right-handed shots, Kendra Dalton toured Copper Rock Golf Club in even par Thursday. The one stroke that she played left-handed partly spoiled her day.
The former BYU golfer double-bogeyed No. 18, settling for a 1-over-par 73 in the opening round of the Symetra Tour's Copper Rock Championship in Hurricane.
Dixie State University graduate Haley Sturgeon, playing via a sponsor exemption, struggled with the wind on the back nine and posted a 79. Friday's 36-hole cut likely will come at 3 over.
Bailey Tardy and Natalie Sheary are the co-leaders at 66, and 17-year-old Rose Zhang, the world's No. 1-ranked women's amateur golfer, is part of the group at 68.
Dalton is in good position to make a fourth straight cut to start the season, even with the disappointing ending that she labeled "a bit of a bummer."
"If you play the game long enough, sometimes stuff like that happens," Dalton added.
In the tournament setup, Copper Rock's traditional No. 12 plays as No. 1 and No. 11 is No. 18, creating a start and finish near the clubhouse.
Dalton birdied the par-5 No. 12 and the par-4 No. 13 with excellent wedge shots, and remained 1 under until she came to the par-4 No. 18. Her short, popped-up drive ended up in the native area left of the cart path. With a bush in front of her, Dalton punched a sideways, left-handed shot into the fairway, leaving her with over 200 yards for her third shot. She then missed the green to the left, chipped on and two-putted for a double bogey.
"You have to try to put all your energy into the good things you did and not make a bigger deal of it than it is," Dalton said. "I played really solid golf all day, so I'll just try to remember that."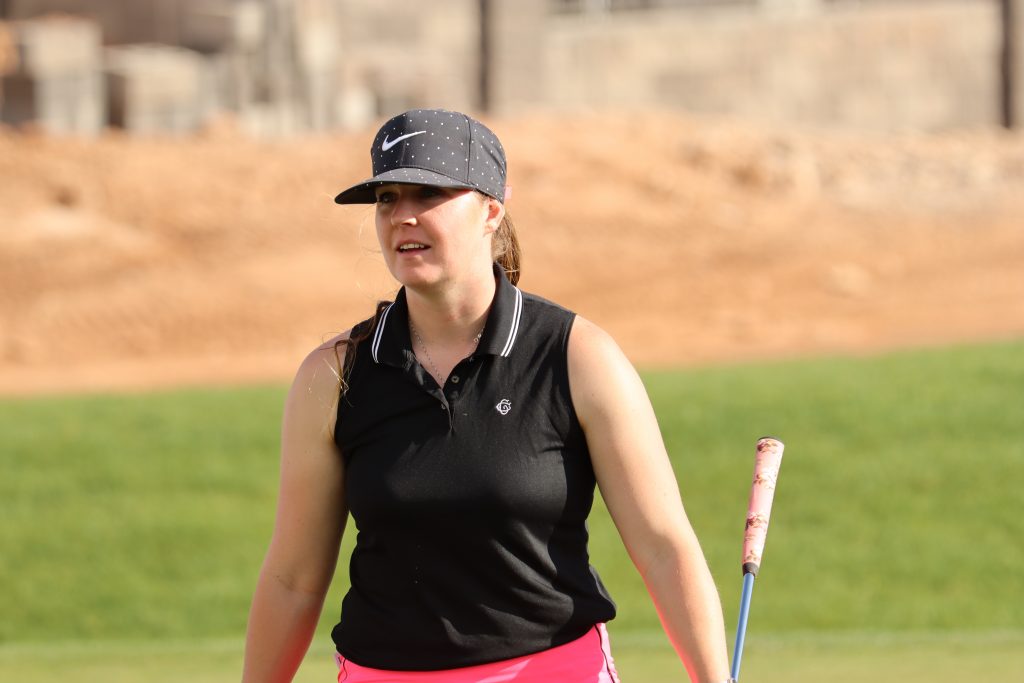 Sturgeon was 3 over through 11 holes and barely missed birdie chances on Nos. 12 and 13. She continued to strike the ball well, but played the last five holes in 4 over as the afternoon wind caused her trouble.
"Those last three holes especially, I felt like I hit the ball perfect and then it hits the middle of the green and kicks right off," said Sturgeon, who works as an assistant pro at The Country Club of Salt Lake City.
Sturgeon tees off in Friday's second round at 8:25 a.m. and Dalton plays at 12:27 p.m.
News
Check out what has been happening in Utah Golf.
Familiar Names to Compete at Copper Rock Championship
Former Women's State Am champ, Dalton and Utah PGA Pro, Sturgeon give local ties to Utah's first Symetra Tour's championship.
By Kurt Kragthorpe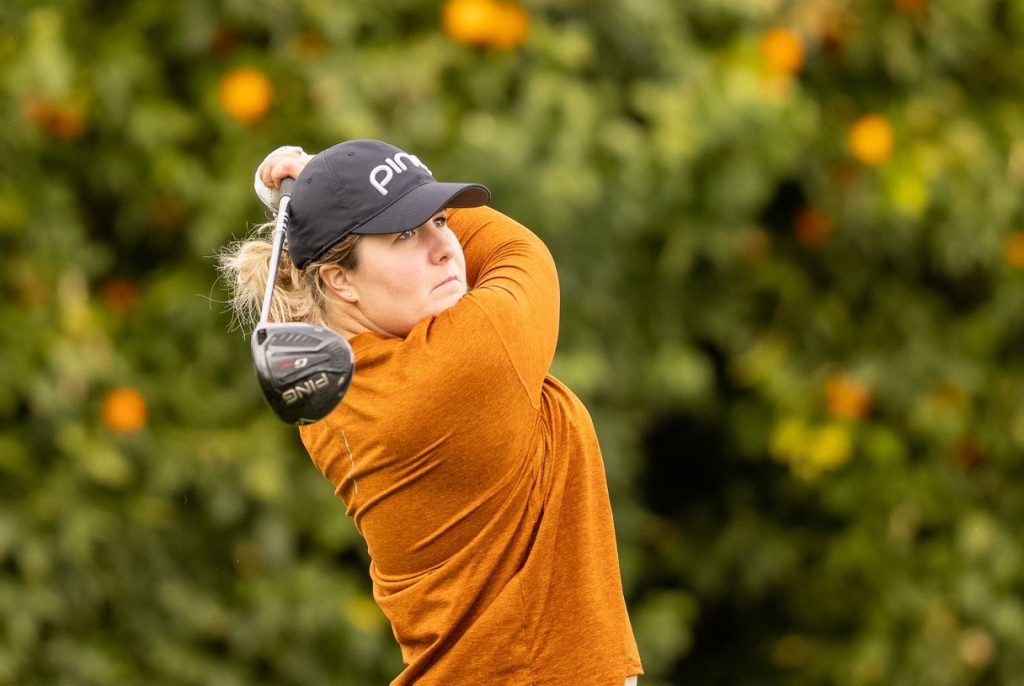 When she joined the BYU women's golf program as a non-scholarship player from North Carolina, Kendra Dalton was not a likely LPGA Tour prospect.
Here she is, though, closer to reaching that level than any former Cougar since Carrie Summerhays Roberts, now BYU's coach, who qualified for the LPGA Tour nearly 20 years ago. Dalton is an established player on the Symetra Tour, which is staging the inaugural Copper Rock Championship this week.
The event is a homecoming for Dalton and Haley Sturgeon, a Dixie State University graduate who received a sponsor exemption to compete for the $200,000 purse Thursday through Saturday at Copper Rock Golf Club in Hurricane.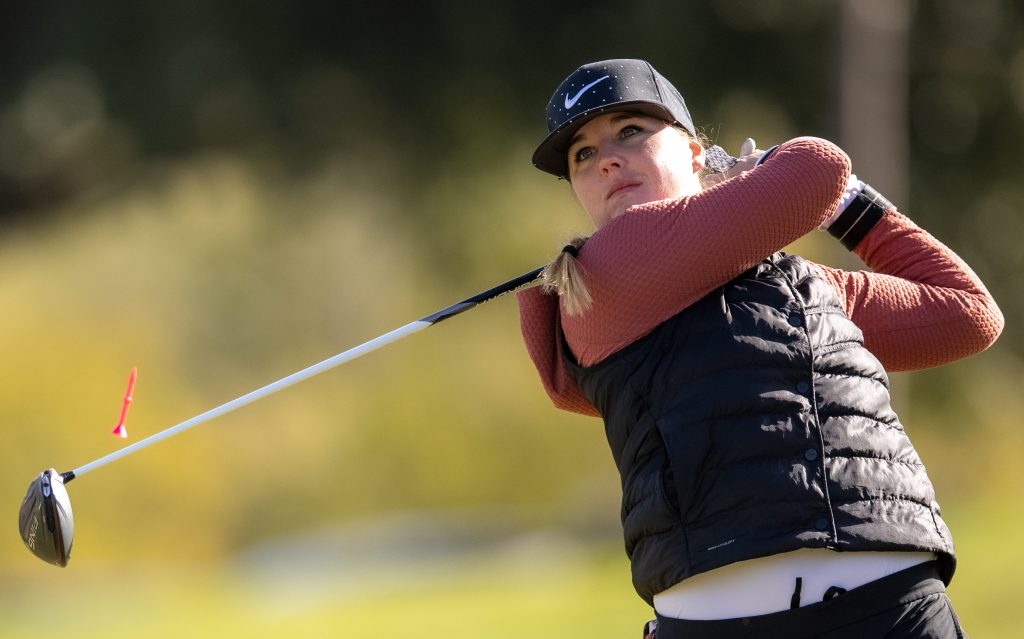 As the fourth of 20 tournaments in 2021, the Copper Rock Championship is another opportunity for Dalton to move up the money list. She's 3 for 3 in making 36-hole cuts and, while her final rounds could be better, she likes the way she's playing.
Dalton won consecutive tournaments on the Cactus Tour in Arizona in February, when some members of both the LPGA and Symetra Tours were preparing for their seasons. Those performances reflected the work she has done with Milo Lines, a former Utah Section PGA member who's now teaching at Superstition Mountain GC in Arizona.
"My game's really good and I'm excited to play the whole year and I feel good about moving on and getting (LPGA) status," Dalton said.
That would require finishing in the top 10 on the Symetra Tour money list; Dalton is No. 27 through three events.
Read the full Fairways Media Photo Journal story here: https://tinyurl.com/zkxtfb6d
News
Check out what has been happening in Utah Golf.
Former BYU Cougars and Utah Utes headed to Mackenzie Tour-PGA Tour Canada season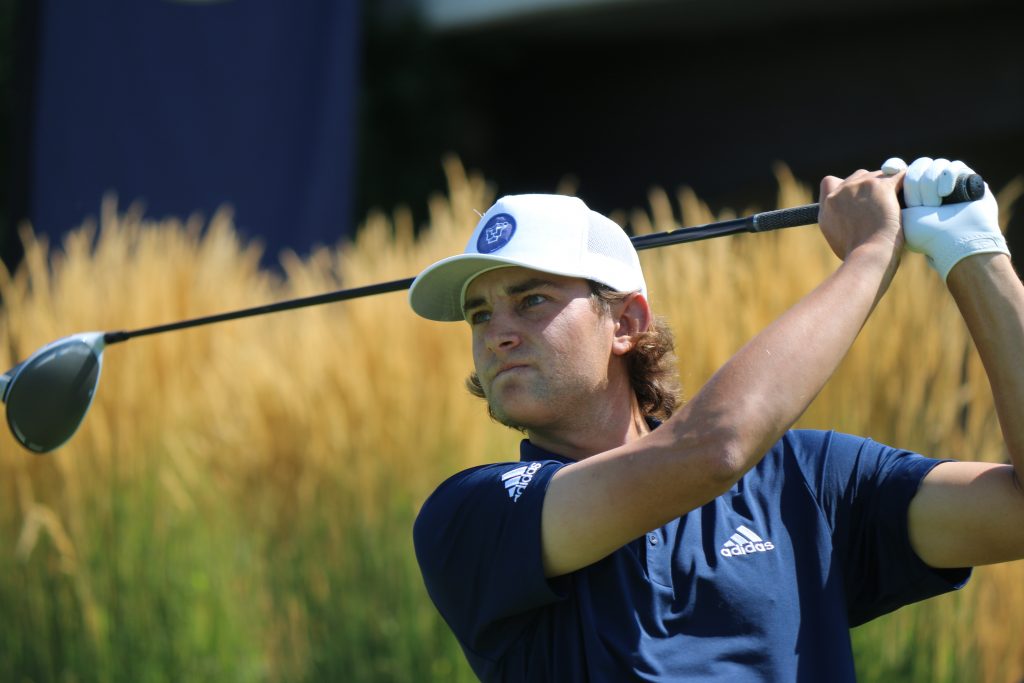 Kuest, Schow have conditional status to start the new season
By Kurt Kragthorpe
Finishing their rounds at about the same time on two different greens, Peter Kuest and Mitchell Schow each birdied his last hole of a four-day qualifying tournament for the Mackenzie Tour-PGA Tour Canada. The conclusions were both satisfying and disappointing to them.
Those birdies meant that Kuest, a former BYU All-American, and Schow, the reigning State Amateur champion and a current University of Utah golfer, finished one stroke out of a playoff for the final 2021 exemption in the event staged March 23-26 in San Jacinto, California. Moving up the leaderboard to a tie for eighth place. though, also gave Kuest and Schow hope of finding room in some tournament fields once the tour schedule begins.
In another twist, the tour may move to sites in the United States for 2021, avoiding issues with quarantining in Canada due to COVID-19.
Read the complete story by Fairways Media Photo Journal here: https://tinyurl.com/hfvp8eze
News
Check out what has been happening in Utah Golf.
Jake Vincent Wins St. George Amateur Surviving a Duel with SUU Teammate Tyler Jones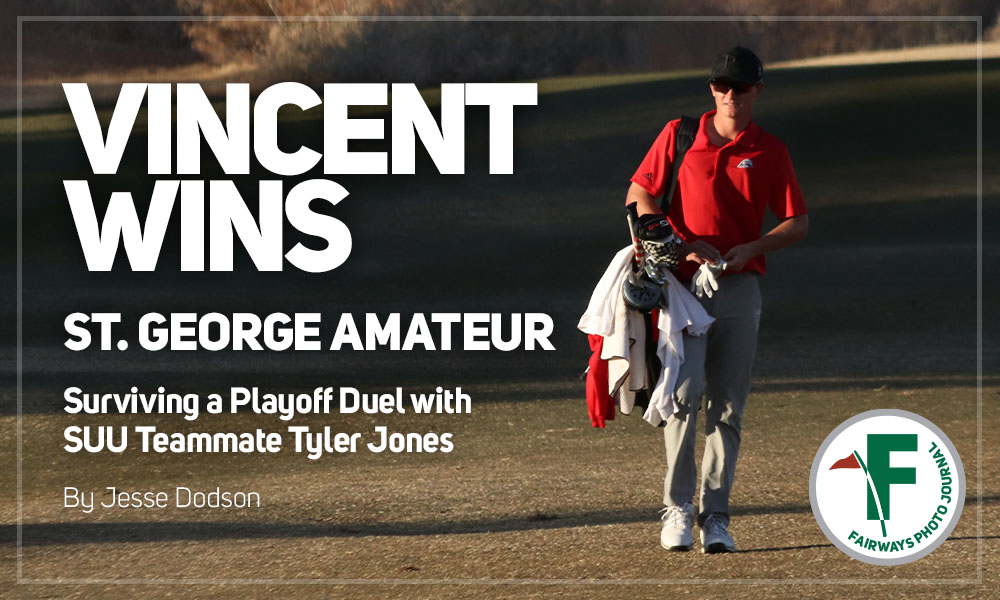 By Jesse Dodson
Sam Snead one said, "Forget your opponents; always play against par." 
That philosophy was challenged January 16th during the final round of the St. George Amateur at St. George Golf Club, the first event of the 2021 Southern Swing. 
Southern Utah University teammates Jake Vincent and Tyler Jones endured a four-hole playoff duel to determine the champion and a Utah State Amateur exemption, both finishing regulation at nine-under par 137.
Jones, the first-round leader, held a three-stroke advantage over Vincent heading into the final round but a back-nine 32 from Vincent (on St. George Golf Club's front nine), including birdies on the last three holes, sent the first Utah Golf Association PPR event of 2021 into extra holes.
Read the complete story from Fairways Media Photo Journal here: https://tinyurl.com/y4dlcth4
News
Check out what has been happening in Utah Golf.
Step by Step Creating a Golfer Digital Profile
To create a Digital Profile on GHIN.com or the GHIN Mobile App, first click the CREATE PROFILE button displayed on the login page: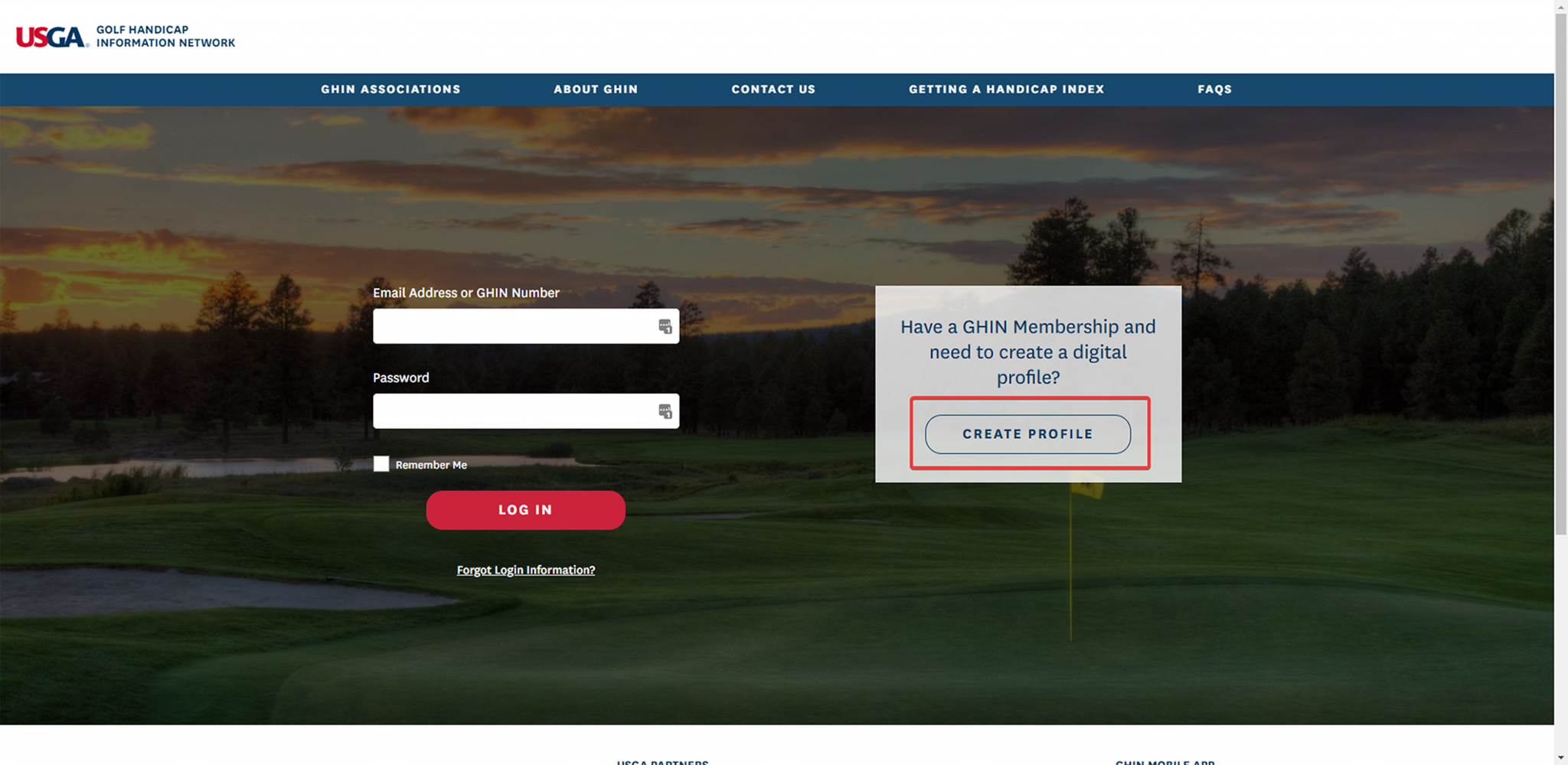 You will then be asked to provide two of three pieces of information to verify your GHIN account: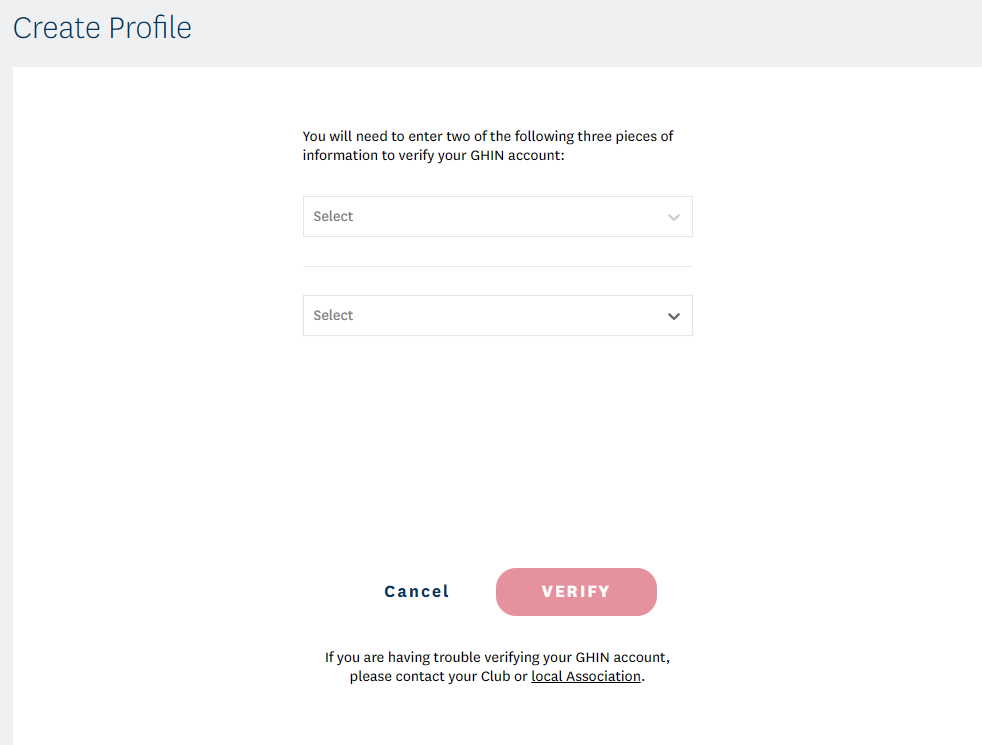 The information that can be used to verify your account are Email Address, GHIN Number, and Last Name: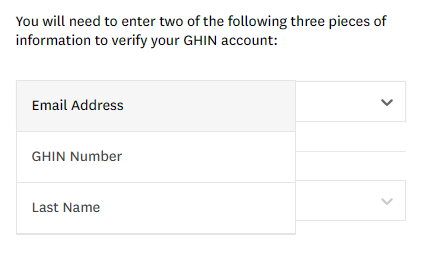 Enter two of the three pieces of information required and click VERIFY: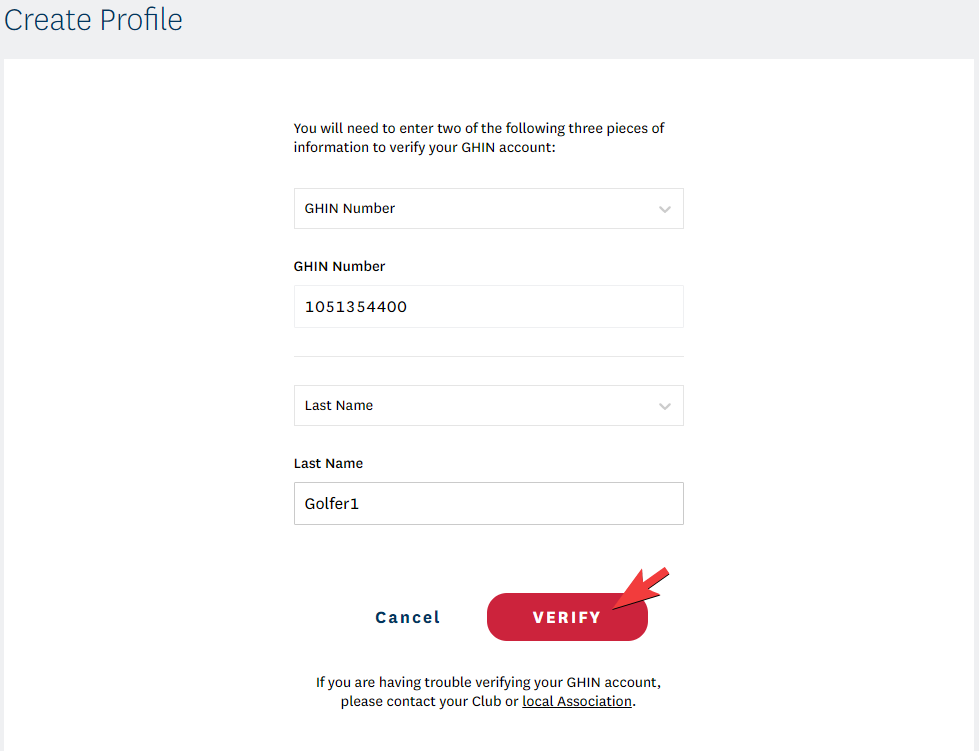 You will see a confirmation page that informs you that an email has been sent to the email address of your GHIN account: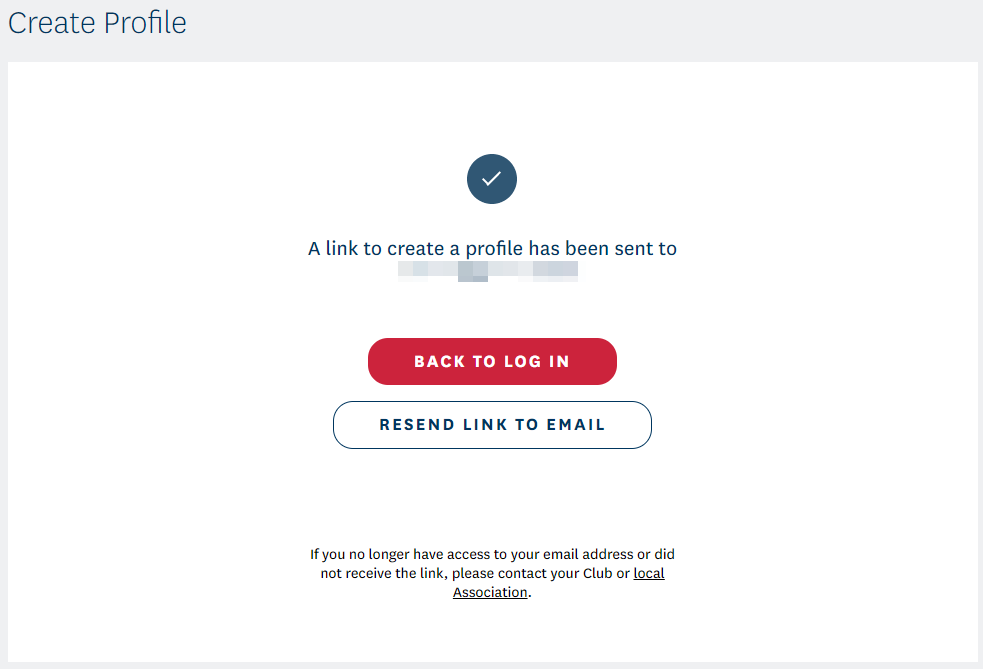 Click the link in the email to create your profile and set a password:

The link will open a page to create your profile.  It will display your name, email address, and have fields to set your password.  (NOTE: Passwords must be at least 6 characters)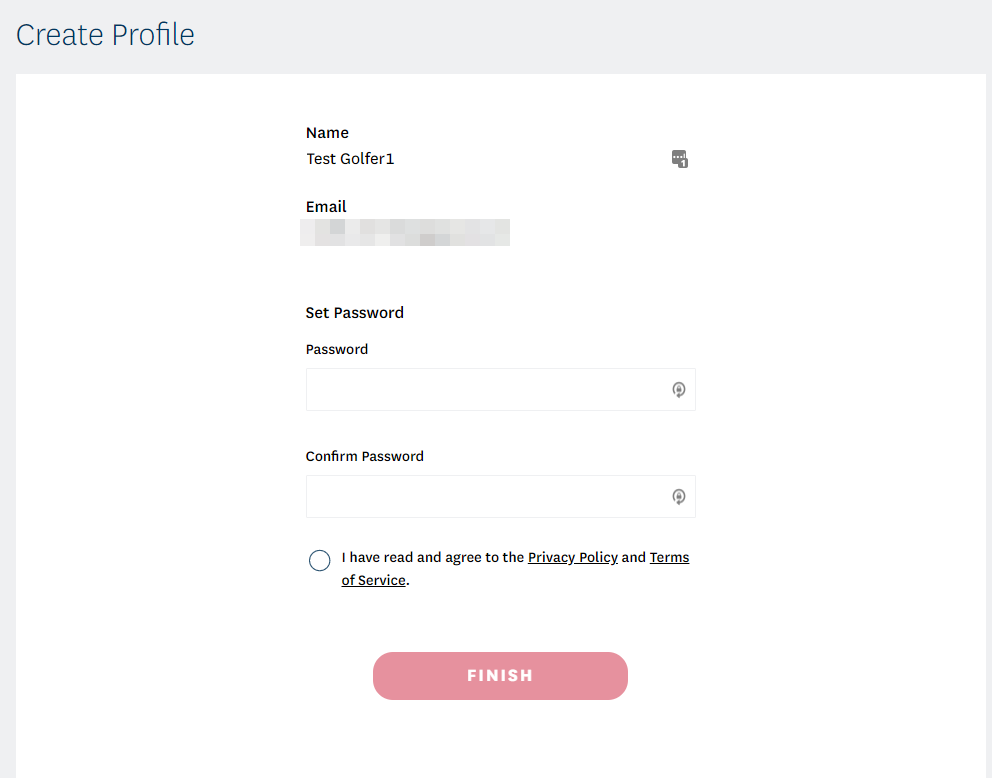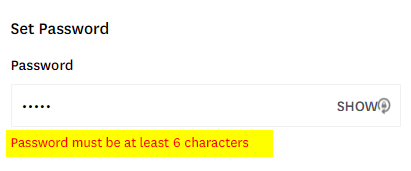 Fill out the Password and Confirm Password fields, select the "I have read and agree to the Privacy Policy and Terms of Service," and click FINISH: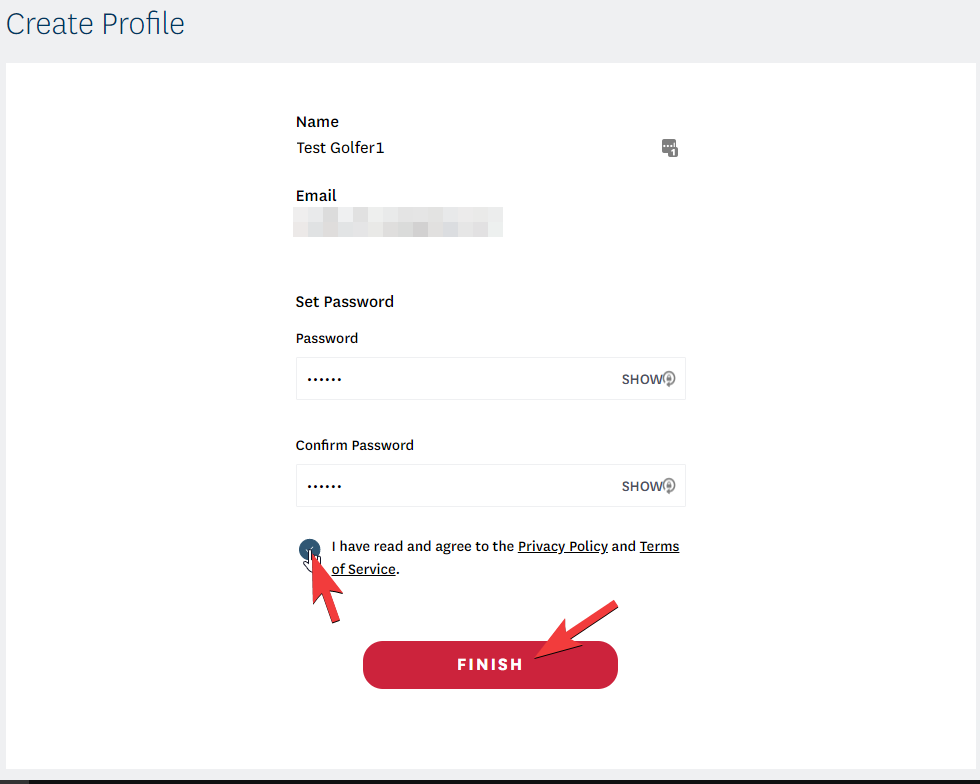 Once completed, you will see a pop up notifying you that you have successfully created your profile: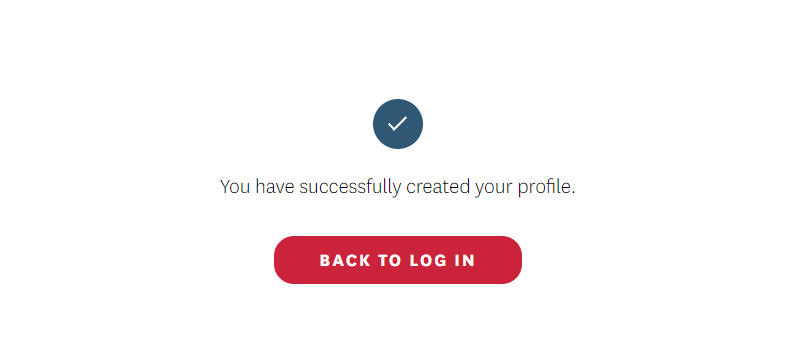 You can now log in to GHIN.com and the GHIN Mobile App using your email and set password.
News
Check out what has been happening in Utah Golf.
Score Posting Season for Northern Utah is Inactive until March 15
The score posting season is inactive in
Northern Utah starting November 15th until March 15th, 2021.
If we can still play, why do we stop posting in the winter?
Course and slope rating represent the difficulty of a course played under normal or mid-season playing conditions. The unpredictability of off-season conditions – a lack of foliage, lessened green speeds, reduced bounce and roll – can greatly affect a course's difficulty. The course conditions during winter months are inconsistent with the way a course was rated; posting these scores could affect a player's index.
A handicap index is defined as "potential scoring ability on a course of standard playing difficulty." Consider a player on a course that, during the winter, was extraordinarily easy because the tees were moved up and there was no rough. Such a course would no longer reflect conditions under which it was rated, so accepting even a few scores could change a player's index. The converse holds true for those facing quite difficult conditions, such as wet fairways or strong winter winds.
That's why many associations in areas where winter can be harsh set an inactive season, which often lasts from November to the middle of March. To provide consistency in posting of scores across a state or region, all clubs within the association's jurisdiction, whether member clubs of the association or not, must follow the inactive season.
Can I post rounds I've played anywhere else?
If you travel to St. George area, you may continue posting scores through the winter. If you travel out of the state to play, please check with a golf course staff member to see if you can post scores from rounds played at their course.
More resources and information can be found online at UGA.org, or by calling the UGA Office at 801-563-0400.