News
Check out what has been happening in Utah Golf.
Kendra Dalton, Exactly Where She Needs To Be
Heading into her fourth Symetra Tour season, Kendra Dalton is loving golf more than ever. 
By Kurt Kragthorpe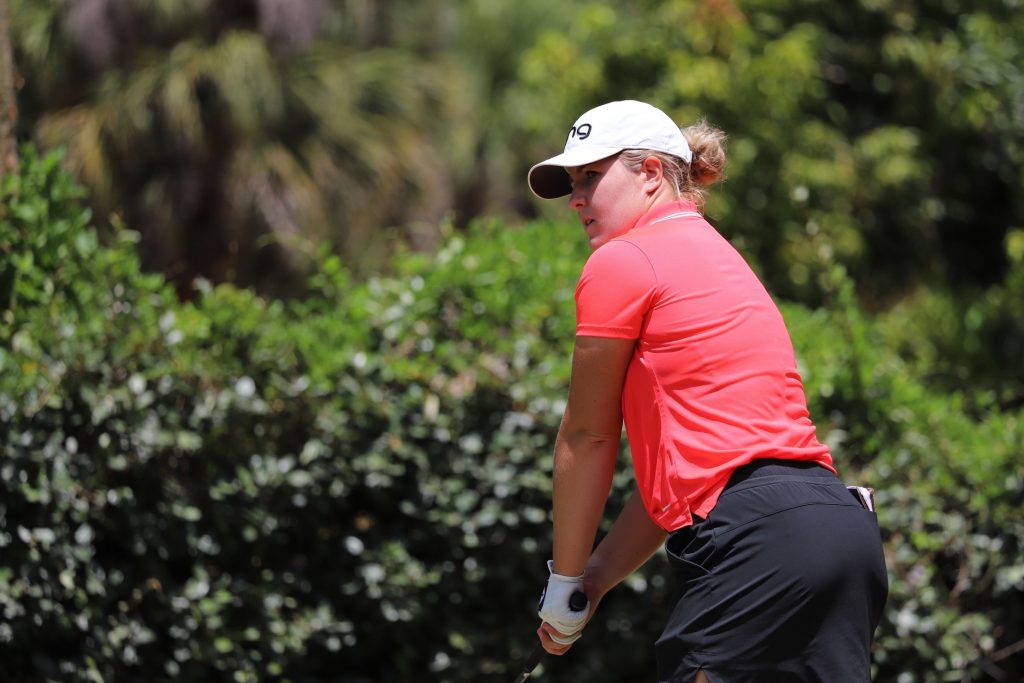 Kendra Dalton made a bunch of birdies and cashed a lot of checks during her third season on the Symetra Tour. Her next step will require fewer bogeys on her scorecards and bigger numbers on those payments.
Dalton, a former BYU golfer and the 2016 Women's State Amateur champion, keeps improving at this level of professional golf, the women's equivalent of the Korn Ferry Tour. By finishing No. 45 on the 2021 money list with $28,980, Dalton kept full status for the 2022 season. That's a worthwhile achievement in a season when she showed that her ultimate goal of advancing to the LPGA Tour is hardly unreasonable.
"I feel like I'm exactly where I need to be and I really see things coming together," Dalton said. "I'm just super excited and I love golf more than I ever have, really."
That's a healthy outlook, after a disappointing end to her season. Through four-fifths of the schedule, Dalton was one of the tour's most consistent players. She made the 36-hole cut in 14 of 16 starts, before fading with only one made cut in the last four events. That cost her a chance to finish in the top 35 on the money list, worth an exemption into the final stage of qualifying known as the LPGA Tour Q-Series. Playing in a second-stage event, she barely missed advancing.
To read the complete Fairways Media Photo Journal story CLICK HERE: https://tinyurl.com/3294yewj
News
Check out what has been happening in Utah Golf.
Score posting season is now inactive in Northern Utah until March 15th, 2022.
If we can still play, why do we stop posting in the winter?
Course and slope rating represent the difficulty of a course played under normal or mid-season playing conditions. The unpredictability of off-season conditions – a lack of foliage, lessened green speeds, reduced bounce and roll – can greatly affect a course's difficulty. The course conditions during winter months are inconsistent with the way a course was rated; posting these scores could affect a player's index.
A handicap index is defined as "potential scoring ability on a course of standard playing difficulty." Consider a player on a course that, during the winter, was extraordinarily easy because the tees were moved up and there was no rough. Such a course would no longer reflect conditions under which it was rated, so accepting even a few scores could change a player's index. The converse holds true for those facing quite difficult conditions, such as wet fairways or strong winter winds.
That's why many associations in areas where winter can be harsh set an inactive season, which often lasts from November to the middle of March. To provide consistency in posting of scores across a state or region, all clubs within the association's jurisdiction, whether member clubs of the association or not, must follow the inactive season.
Can I post rounds I've played anywhere else?
If you travel to St. George area, you may continue posting scores through the winter. If you travel out of the state to play, please check with a golf course staff member to see if you can post scores from rounds played at their course.
More resources and information can be found online at UGA.org, or by calling the UGA Office at 801-563-0400.
News
Check out what has been happening in Utah Golf.
Grateful to the game, ABC4 Sportscaster Wesley Ruff honored by Utah Golf Association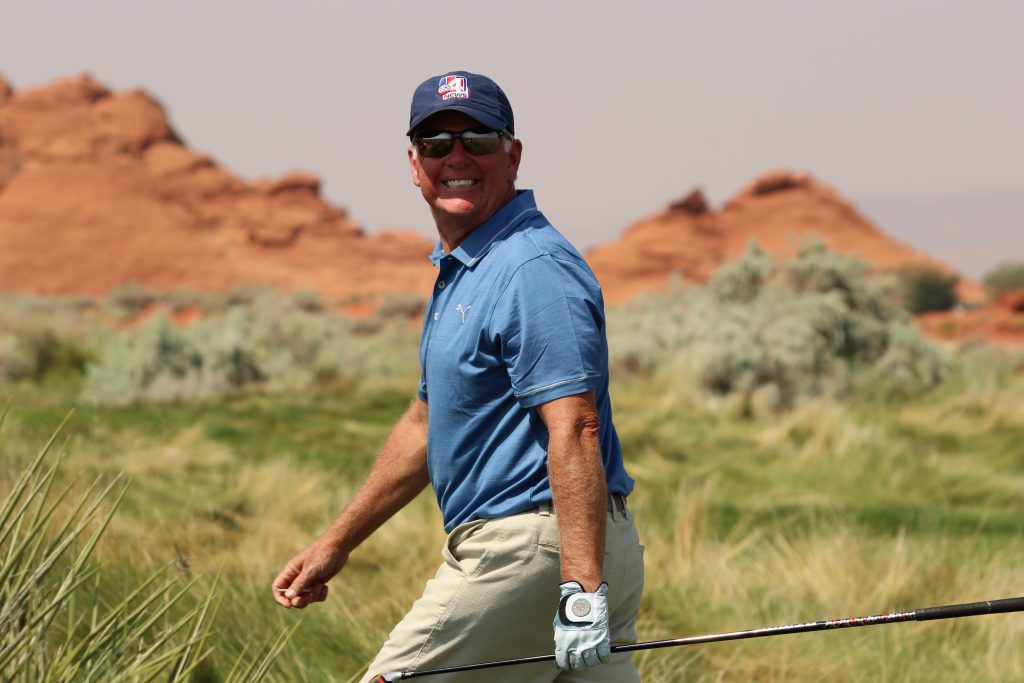 Click the link below to see full story!
News
Check out what has been happening in Utah Golf.
2021 UGA VOLUNTEER OF THE YEAR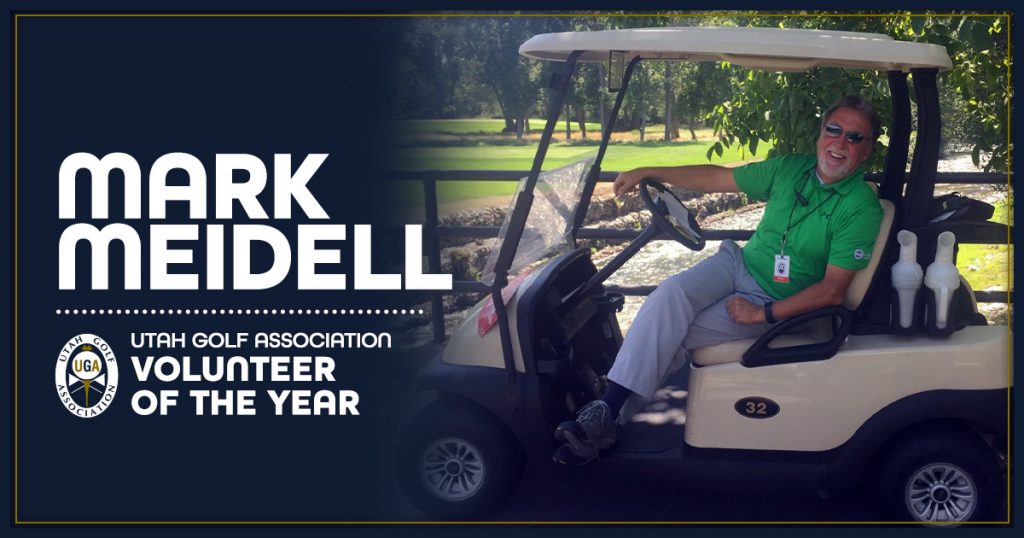 The 2016 Pac-12 Men's Golf Championship brought future PGA Tour players Jon Rahm, Collin Morikawa and Maverick McNealy to The Country Club for likely the only time they will ever compete in Utah. That's not the only lasting impact of the tournament.
After working as a walking scorer that weekend and noticing the presence of rules officials on the course, Mark Meidell was so intrigued about their role that he called the Utah Golf Association office and asked if he could get started.
Five years later, he's the UGA Volunteer of the Year.
Most volunteers can trace their entry to a friend who urged them to become involved. Meidell's origin story as a self-starter is unusual. So is the progression from rules official to UGA board member, thanks to his recent election.
The Alpine resident is a longtime golfer who grew up in Montana, graduated from the University of Utah and worked as a stock broker in Arizona and California. After selling his business interests in 2009, Meidell "just wanted to get involved in something I had a passion in," he said.
Initially, that was on the mountain as the supervisor of the Deer Valley ski school. In the summers, he wanted to be on the golf course. So he rode a fairway mower at Red Ledges Golf Club and worked as a caddie. Then came the Pac-12 experience that led him to become hooked on the Rules of Golf. "I don't know if I'm a geek or not, but I really enjoy the technicality of the rules," he said.
An official can go hours or even days without being summoned to make an intricate ruling, but Meidell already has experienced his share of interesting moments while working for the UGA, the PGA and the NCAA. He's been summoned to interpret cases of golf balls landing in a spectator's pocket, being shaken out of a tree by a fan and being picked up by a bird. "Almost every tournament, you get some really unusual, weird calls," he said.
Meidell keeps trying to learn more nuances of the rules and continues to impress UGA assistant executive director Easton Folster, who nominated him for the award.
"He encapsulates what it means to be a volunteer, always willing to go the extra mile to ensure the job gets done correctly and the UGA is well represented," Folster wrote. "If there is an extra assignment that needs to be done, he is always one to volunteer."
News
Check out what has been happening in Utah Golf.
2021 UGA LADY AWARD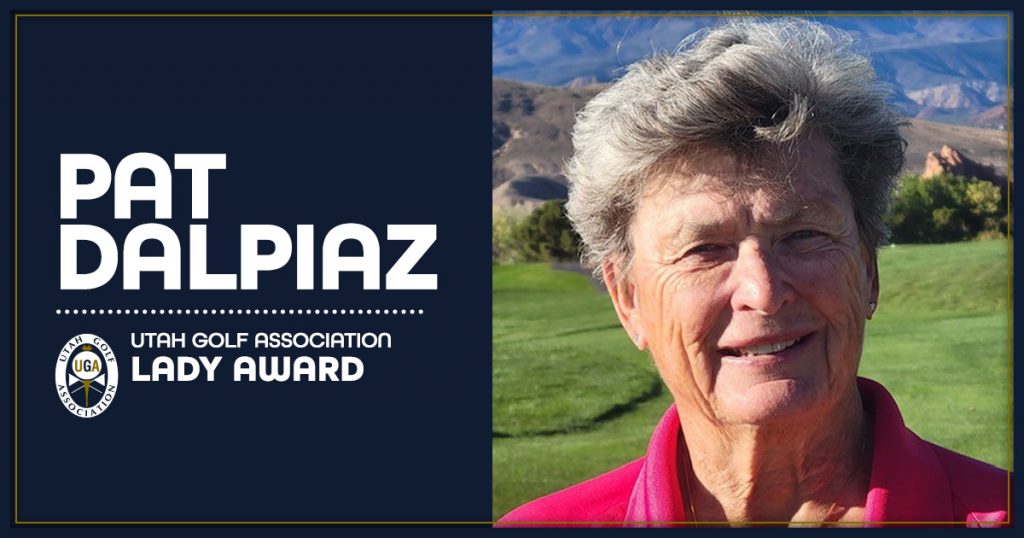 Pat Dalpiaz believes she owes a lot to the late Joyce Billings. "My golf game is what it is today, because of her patience," Dalpiaz said.
That's partly why Dalpiaz honored her friend again in October, staging the Joyce Billings Four Lady Challenge at Sky Mountain Golf Course in Hurricane. Billings never was a self-promoting person, but she likely would have appreciated that honor. And she certainly would welcome Dalpiaz joining her as a winner of the UGA Lady Award.
Created when the UGA merged with the Utah State Women's Golf Association, the award is designed to "recognize a Utah women's golfer based solely on what she gives back to the game locally," while demonstrating "passion, love and respect for the game, teamwork that makes a difference and being a friend, leader and inspiration to your peers."
Dalpiaz matches that description, as illustrated by her impact in her first year as a member of the Utah Golf Foundation's board of directors. Her work impressed UGA executive director Jacob Miller, who nominated her for the award by describing her as "a tremendous advocate for women's golf in the St. George area."
Miller also cited Dalpiaz's raising over $7,000 for the Youth on Course program by hosting two tournaments and her working with PGA Professional Kent Abegglen to make Sky Mountain a zero-subsidy participant in Youth on Course, providing discounted rounds.
Asked what drives her to support Youth on Course, Dalpiaz said, "That one's easy … It has a lot to do with where I came from."
Growing up in Price, she would have loved to have a program like Youth on Course, encouraging girls like her to take up golf (as she eventually did at age 19, at Carbon Country Club). The opportunity to help kids led her to the Utah Golf Foundation, where she applies the fund-raising skills she developed as a board member of the American Association of University Women's St. George chapter, a group that provides scholarships. The AAUW named Dalpiaz the 2020 recipient of its Distinguished Woman Award.
Dalpiaz attended the University of Utah, playing for the women's club golf team, before obtaining two degrees from Westminster College and enjoying a long career in the health care industry.
News
Check out what has been happening in Utah Golf.
Utah Golf Association Awards // Gold Club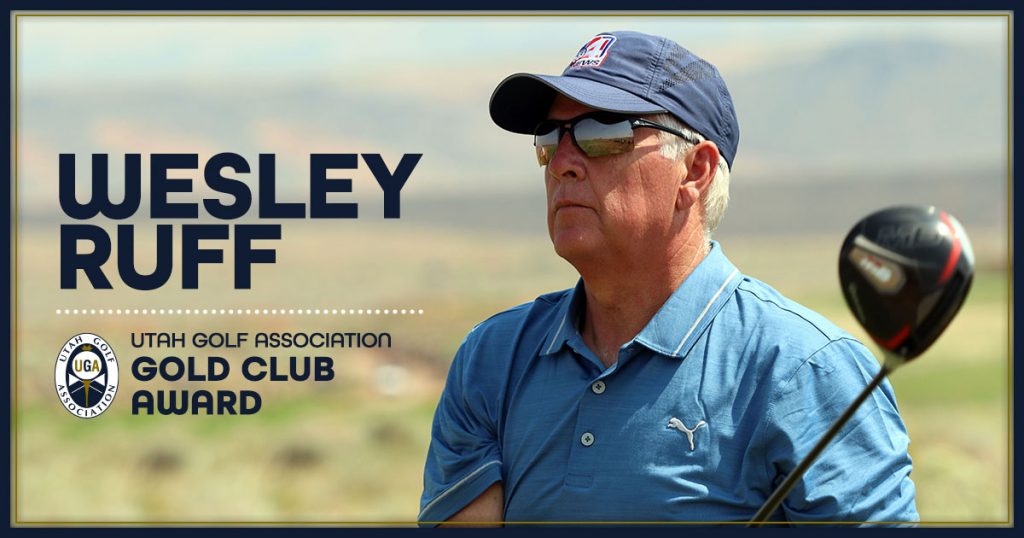 By Kurt Kragthorpe
UGA Gold Club : Wesley Ruff
The Utah Golf Association turned a $600 investment into a lifetime of valuable returns.
That's one way to describe the career arc of sportscaster Wesley Ruff, tracing his contributions to golf in Utah. As the recipient of the 2021 Gold Club Award, Ruff again is being credited for his enthusiastic promotion of the game.
The UGA's recognition adds to his three Golf Citizen of the Year honors from the Utah Section PGA, which recently renamed the award for him and made him an honorary member of the PGA.
As a sportscaster for the ABC4 Utah television station in Salt Lake City for 36 years, Ruff has used his on-air platform to elevate golf coverage in the state. Beyond that, he volunteers his time and effort in UGA media productions and in UGA and Utah Section PGA celebrations.
It all stems from the UGA scholarship Ruff received as a 1976 graduate of Springville High School, initially enabling him to attend Southern Utah University. Let's just say he has repaid that $600 grant many times over.
"I decided then that if I could help out the UGA or the game of golf in any way, I would do my best to do that, and help pay them back for the help they gave me," Ruff said. "I've tried to remember that it was because of the UGA that I was able to go to college and get into this business in the first place."
In nominating him for the Gold Club Award, 2010 award winner Sherm Hatfield wrote, "After giving this much thought, I have settled on one name: Wesley Ruff. He has been extremely supportive of the UGA and of the PGA."
That statement applies to Ruff both personally and professionally. In any golf setting, his approach personifies the intent of the annual Gold Club Award. It is presented to "an individual who through significant achievement or unselfish service has contributed to the history and tradition of the game of golf in Utah, and whose personal integrity, sportsmanship, common courtesy, loyalty and friendship earn him the love and respect of fellow golfers."
News
Check out what has been happening in Utah Golf.
2021 UGA SENIOR MEN'S PLAYER OF THE YEAR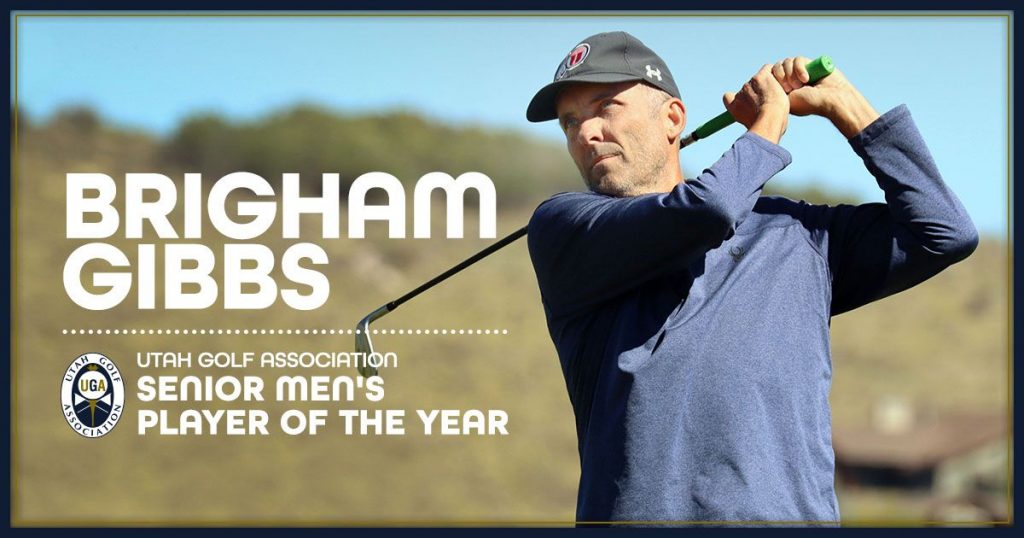 Golfers always think about missed opportunities. Even during an otherwise phenomenal 2021 season, Brigham Gibbs will remember the qualifying event he entered on his home course, The Country Club of Salt Lake City, as a favorite to advance to the U.S. Senior Amateur.
Yet coming up two strokes short of a playoff that day only drives home how impressively Gibbs performed in all of his other Utah tournaments. Any other year, Shane McMillan's consistency would have been the story of men's senior golf in the state. Gibbs became a runaway winner of the Senior Men's Player of the Year award with 400 points to McMillan's 311.66 total.
Gibbs added to his 2018 Player of the Year award by winning titles in the UGA Winterchamps, the Senior Stroke Play Championship, the Senior State Amateur and the Utah Four-Ball, with partner Jon Wright. He also was the low amateur in the Kean Ridd Utah Senior Open.
A former professional golfer, Gibbs gave up the game competitively for a long time before reemerging as a senior amateur. At 57, he still could have a long reign in Utah senior golf, much as Kirk Siddens did before moving to Arizona. Gibbs is a long hitter with a lot of talent in other parts of the game, as he showed repeatedly in 2021.
He made six birdies at the difficult Copper Rock Golf Club in the final round of the Winterchamps, overcoming six bogeys and maximizing the Modified Stableford system. Gibbs shot par or better in all three rounds of the Senior Stroke Play in the wind and cold at Glenmoor Golf Course, winning by four strokes. He again topped McMillan in the Utah Senior Open and won five matches in the Senior State Am, including an epic battle with Ron Davis in the quarterfinals and a 3-and-1 defeat of former champion Craig Wilson in the final match at Bonneville Golf Course.
Twice during that match, Gibbs' performances made Wilson say audibly, "Wow!"
The victory was meaningful to Gibbs for multiple reasons. He played Bonneville as a child, he was motivated to atone for missing the U.S. Senior Am that week in Detroit and he enjoyed learning that he joined Wilson as the only golfers to win both the Senior Stroke Play and Senior Am titles in the same year.
News
Check out what has been happening in Utah Golf.
2021 UGA SENIOR WOMEN'S PLAYER OF THE YEAR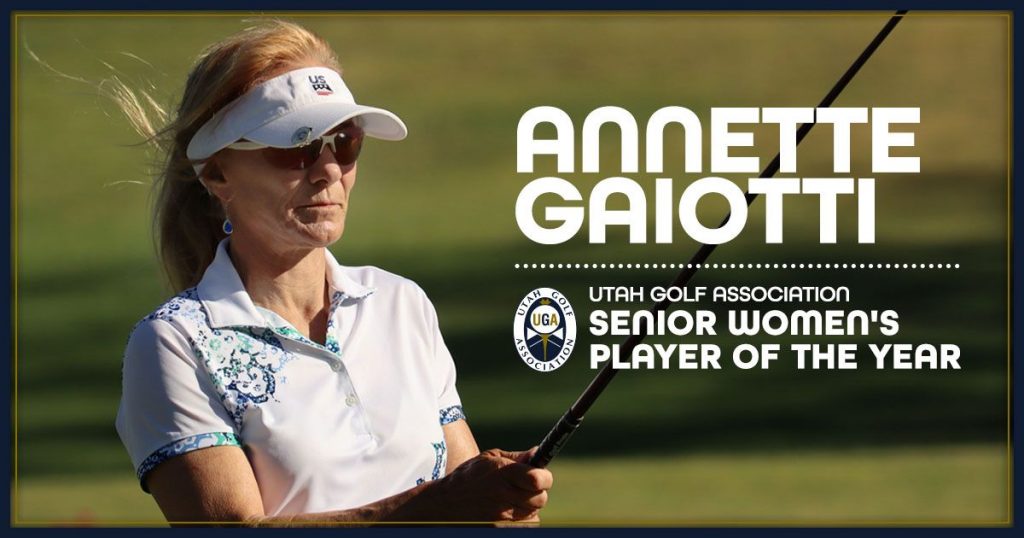 As she played an extra hole in a first-round match of the Women's State Amateur, Annette Gaiotti already had collected all of the points available to her in that event toward another Senior Women's Player of the Year award.
Yet the way she followed through in the No. 1 fairway of Oakridge Country Club further distinguished her 2021 season and showed why she remains a golfing marvel at age 68. Gaiotti used a hybrid club for her third shot on the par-5 hole, seemingly placing her at a disadvantage against Claire Whisenant, who's nearly a half-century younger. Gaiotti, though, won the hole with a par, likely becoming the oldest Utah men's or women's golfer ever to win a State Am match.
The irony of Gaiotti's sixth Player of the Year award in the past 10 seasons is she didn't win the Senior Women's State Amateur. Roberta Scott took that title, on the way to finishing second in the Player Performance Rankings. Just as in 2020, Gaiotti's success stemmed mostly for her willingness to enter tournaments open to players of all ages, and then emerging as the top senior performer. That was true in the UGA Winterchamps, the Women's State Am, the Mary Lou Baker Open and the Utah Women's Open.
"It's just a joy to play with a lot of these younger girls," Gaiotti said. "It's really nice to see the caliber of golfers improving."
She manages to compete respectably with the high school and college golfers, playing to her strengths and remaining consistent. "As my long game gets shorter, I keep working on trying to improve my short game," she said. "It seems to be a very good formula for me right now."
Gaiotti was the oldest player in the U.S. Women's Mid-Amateur field by six years. She missed the cut to match play by only one stroke in South Carolina. She wanted more, obviously. But that performance was further validation of her long-lasting golf game, enough for her to "keep going another year," she said.
Why not? And at this rate, she's sure to keep succeeding into her 70s.
News
Check out what has been happening in Utah Golf.
2021 UGA MEN'S PLAYER OF THE YEAR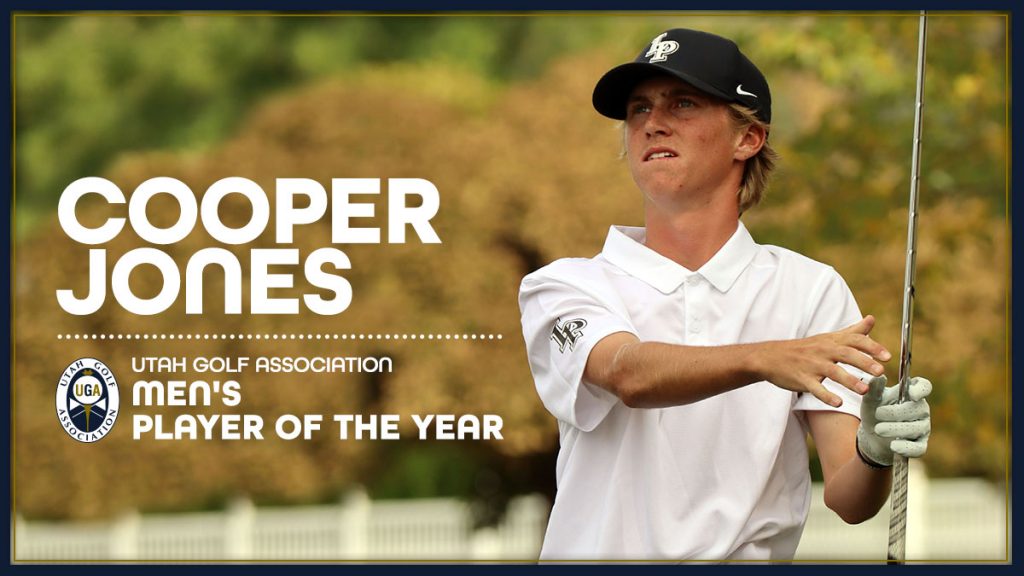 The numbers tell the story of Cooper Jones' 2021 golf season.
The scorecard highlights for the Utah Golf Association Men's Player of the Year start with his closing 65 at Bloomington Country Club in the UGA Winterchamps, with seven birdies helping him compile a 50-point Modified Stableford round. Then came his final-round 63 to win the Fox Hollow Amateur, followed by eagle 3 on the first playoff hole of the Richard C. Kramer Salt Lake City. And then there was his first-round 68 in the Provo Open, eventually resulting in low-amateur honors.
For history's sake, the most impressive number attached to Jones' season is 17, his age. Since the award's first presentation in 1983, the Lone Peak High School junior is the youngest golfer to be named the UGA Player of the Year.
Tony Finau (2006) and Preston Summerhays (2019) were slightly younger than Jones, but each shared his award with another golfer in an era when the Player of the Year selection was somewhat subjective. The move to follow the Player Performance Rankings validates Jones' performance, as he posted 397.5 points to 348.5 for runner-up David Jennings. In any format, his four victories in PPR events would have earned him the 2021 honor.
Let's call his success a case of keeping up with the Joneses. There's no discounting how much Cooper's modeling of older brothers Tyler and Zach has driven him to improve. Zach Jones was the 2019 Co-Player of the Year (with Summerhays), even while leaving on a church mission in the middle of the season, and now plays for BYU. Tyler is a Southern Utah University golfer.
"It's pretty cool competing with my brothers," Cooper Jones said. "We make each other better."
As established by their golfing father, Clark, the PPR events are important to the Jones boys. Cooper started the season with a goal of winning a UGA event. Once he checked that box with the Winterchamps victory, he tracked the standings. Asked where the Player of the Year award eventually ranked in his priorities, Jones said, "Definitely at the top … this is a pretty big achievement for me."
The Fox Hollow Amateur was fun, because Jones was playing with his father in American Fork when he posted that 63 (then a career-best score, to be topped in August by a 62 in a high school tournament at Riverbend Golf Course). The Salt Lake City Amateur also was a big checkpoint, as Jones shot 65-67 and defeated Zack Neff with the eagle in the playoff to emerge above the usual strong field at Bonneville Golf Course.
If anything was left undone in Jones' season, it would be missing a chance to advance beyond the round of 32 in the State Amateur at Alpine Country Club his home course. Jones was eliminated by Jake Godfrey, failing to win any holes in an uncharacteristic performance.
He bounced back with a solid showing in the Siegfried & Jensen Utah Open, shooting a second-round 67 and ranking fourth among the amateurs, then posted 6 under par for 54 holes in the Provo Open and beat Steven Croft in a playoff for low amateur.
Those events came in the middle of the Jones' high school season, which ended with a second-place finish behind Lone Peak teammate Kihei Akina as they led the Knights to another Class 6A championship.
News
Check out what has been happening in Utah Golf.
2021 UGA WOMEN'S PLAYER OF THE YEAR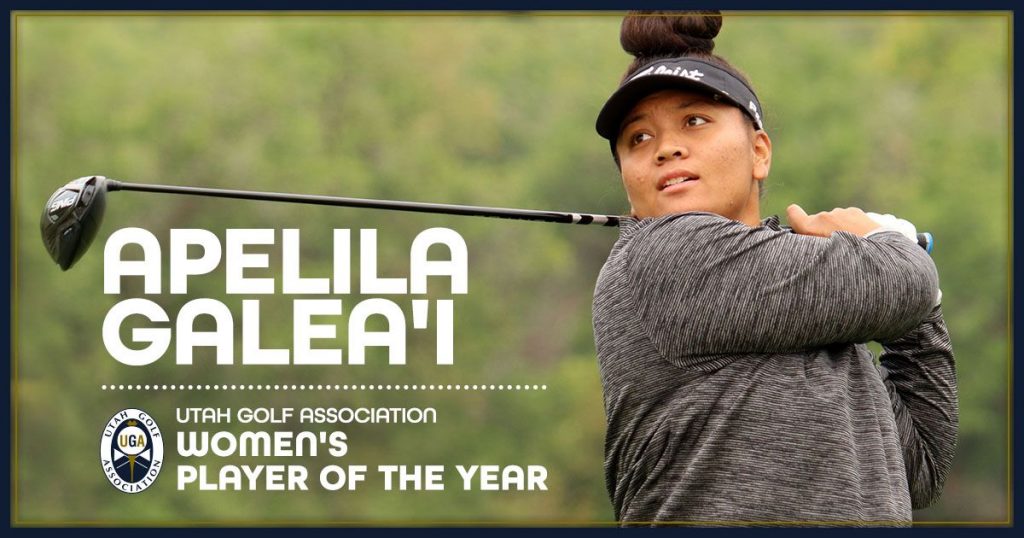 One theme of Apelila Galeai's summer of golf success was how much it apparently helped her to have graduated from Lehi High School one semester early and played for BYU during the spring season, sacrificing a senior year of basketball for the Pioneers.
Now that the Cougars have completed their four-tournament fall golf schedule, it is quite apparent that Galeai's showing as the Utah Golf Association Women's Player of the Year has carried over in much the same way. It all ties together in a year of remarkable improvement that makes her view the award as "not the end; it's just the beginning," Galeai said.
Anyone who watched her win three UGA titles in 2021 can only anticipate what's ahead for her in the game. Known by her nickname of Lila, Galeai is combining her long-hitting ability with improved feel and course management, responding well to coaching and always trying to get better. BYU coach Carrie Roberts has been a good influence lately, along with Seiko Matsumara, a California-based mental coach.
"She takes it all in, and she's so humble," said PGA Professional Tele Wightman, who coaches the Lehi girls team. "You can see she's starting to take it to another level."
That was evident throughout a highly consistent summer that added up to 225 points for Galeai in the UGA Player Performance Rankings, compared with 187.5 for runner-up Tess Blair, a Sacramento State star who was the 2020 Player of the Year. Blair's sister, Sirene, remains the youngest winner of the award, having earned it as a Bingham High School golfer in 2012.
Galeai posted two top-three finishes for BYU this fall, while losing in a playoff for medalist honors in New Mexico's tournament. "I've definitely seen changes in my game, what I've kind of done to make everything better," she said.
Galeai is now a BYU sophomore, but she was young enough to have competed in the 2021 U.S. Girls' Junior in Maryland. In Utah, she teamed with Kareen Larson to dominate the Women's Four-Ball, rallied to defeat Berlin Long in the final match of the Women's State Amateur and held off BYU teammate Kerstin Fotu to win the Women's Stroke Play Championship.
"Just looking back at how the summer went, I wouldn't change anything about it," Galeai said.
She credited her mother, Mili, with motivating her to keep battling in the State Am, as she won the last three holes to extend,, then tie, then win the match vs. Long. The Four-Ball was fun because Larson, who works at TalonsCove Golf Course, has always encouraged her and Galeai especially enjoyed the final round of the Stroke Play event, being paired with Fotu and incoming freshman Adeline Anderson.
"We still talk about it to this day," Galeai said of the friendly competition. "We put our game faces on, on the course."