News
Check out what has been happening in Utah Golf.
117th Utah Women's State Amateur: Tess Blair claims her second title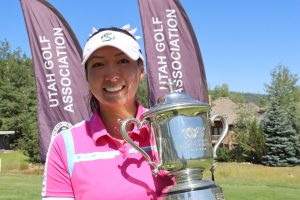 Tess Blair told herself that "fearless golf" would win the 117th Utah Women's State Amateur Championship. Her swing on the 17th hole Friday beautifully illustrated that point.
Another of Blair's brilliant iron shots in a big moment enabled her to complete a 2-and-1 victory over Grace Summerhays in the 18-hole final match. In the venue's first staging of the Women's State Am, Jeremy Ranch Golf & Country Club became the setting for Blair's second title and the third trophy in 10 years for her Herriman-based family.
The extended Summerhays family is Utah golf royalty. The Blairs (Sirene and Tess) matched the three collective State Am wins of Grace and her older brother, Preston.
"It's an incredible accomplishment for my girls," said Robert Blair, who caddied for Tess. "I never thought this would happen when I started playing golf with these kids and teaching them at (ages) 12 and eight. These are very special moments."
Blair will defend her title in the Siegfried & Jensen Utah Women's Open, beginning Monday in Provo. Then she'll head to Iowa State for graduate school and a fifth year of college golf, having enjoyed a successful career at Sacramento State. She represented the Hornets at Jeremy Ranch, with an "SS" visor and green bag, head covers and yardage book.
Sirene Blair-Wheeler, the 2014 champion and now a PGA of America staff member, watched her younger sister win again, five years after Tess triumphed at age 17. Reaching this stage after absorbing semifinal losses each of the past three years "freed me up," Tess Blair said, "just being thankful that I could play another day."
Something like this happened last August, when Kelsey Chugg enjoyed her first win in five years. The difference? That was Chugg's fifth title. Lisa Imamura, now a Utah Golf Association staff member, is the only other woman to claim her first two victories in a five-year span (1987 and '92).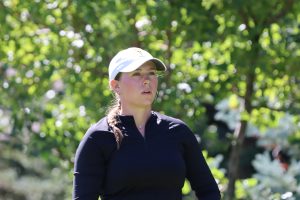 Summerhays, the 2020 champion, played in the final match for the third time in her last four appearances. The Arizona State junior won only one hole vs. Blair, after winning 29 (and losing 10) of the 58 holes she played in her first four matches.
"Honestly, I feel great," Summerhays said. "I feel like it was an amazing match, probably one of the best matches I've ever had, so I can't be mad. Tess did so many great things … she was the better golfer today."
Blair went 3 up through eight holes and, while she never won another hole, lost only the par-4 No. 12 where Summerhays stuffed an approach shot to within 2 feet. The rally ended there, as Summerhays was unable to win any of the four par-5 holes, even with her advantage in driving distance.
That's partly because Blair was so sharp. She missed only one green in regulation all day and never made a bogey. Blair was barely outside of 10 feet, if at all, with her approach shots on the first seven holes.
"Irons are one of my strengths," she said. "I'm not the longest hitter off the tee, but I feel like I'm pretty accurate."
That was certainly true Friday. On a spectacular, sunny morning that followed three days of clouds, rain and two weather delays, the tone of the final match was set on No. 1. Summerhays forgot to pick up a hole-location sheet and had to drive back to the tee. She ended up lipping out a par putt to lose the hole, and would trail throughout the match.
Blair never looked back, avoiding any worries about losing her lead. "I'm proud of myself for playing fearlessly," she said, right down to that last 6-iron shot to within 8 feet on No. 17, allowing her to two-putt for a clinching par.
She described herself as "definitely a different person" than the "little 17-year-old" who won at Bonneville Golf Course in 2018.
The 118th Women's State Am will be played at TalonsCove Golf Club. Blair is not sure where she'll be in a year. "But if this was my last one," she said, "I'll end it with a bang, I guess."
Written by Fairways Media senior writer Kurt Kragthorpe. Photos by Fairways Media/Randy Dodson.