News
Check out what has been happening in Utah Golf.
Women's State Amateur: Quarterfinalists include three former champions
Five-time winner Kelsey Chugg spoke for practically everyone involved with the Utah Women's State Amateur Championship. When she learned of her meeting with 2021 champion Lila Galea'i in Wednesday's round of 32, Chugg thought, "Oh, no."
Players, administrators and fans like to save the best stuff for last in these events. But pairings like this one can occur sometimes, especially with a format of one stroke-play qualifying round. The tiebreaking draws then conspired to produce a morning battle between the Women's State Am's last two champions, followed by Chugg's afternoon duel with 2019 winner Kerstin Ngakuru in the round of 16 at Jeremy Ranch Golf & Country Club.
The results? Quite similar, actually. Chugg's pair of 3-and-2 victories over the BYU golfers from Utah County sent her into Thursday's quarterfinals with some extra rest. Grace Summerhays also finished early, having played only 26 holes in two matches, while the other six matches were extended by a late-afternoon weather delay.
Thursday's quarterfinal pairings are Summerhays vs. Samira Salinas, Jane Olson vs. Chugg, Berlin Long vs. Tess Blair and Grace Williams vs. Faith Vui.
Chugg's challenging bracket and Galea'i's early exit were products of their qualifying performances: Chugg's 79, earning the No. 21 seed, and Galea'i's 76, good for No. 12.
Chugg was "disappointed" to see the draw, she said, "because I think we both had a rough day (Tuesday) and so we both would have wished this (meeting) was further along in the tournament."
As for her next assignment, well, Chugg had not even looked that far into the bracket. Informed that Ngakuru awaited her, Chugg said, "OK."
Apparently, nobody wins five Women's State Am titles and a U.S. Women's Mid-Amateur trophy without "trying to stay in the moment here," as Chugg said.
Her approach worked Wednesday, when she was "just a little more focused," she said, crediting her coach/caddie, Lynsey Myers, Willow Creek Country Club's Head Professional.
"It helped having Lynsey here, just talking through a few shots," Chugg said, "and the putter was better at times."
A closer look at the quarterfinalists:
Grace Summerhays
The Arizona State golfer is in the quarterfinals for the first time since her 2020 victory at age 16, having skipped the following year's event before being upset in the round of 16 last summer in Ogden.
She was overwhelming Wednesday, winning 15 (and losing three) of the 26 holes she played against Corinne Lillywhite of Utah Tech and Sunbin Seo of BYU. Summerhays and Chugg seem destined for a semifinal rematch of their 2020 final duel.
Samira Salinas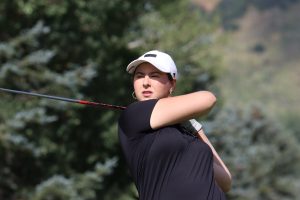 The Weber State sophomore is the lowest-seeded quarterfinalist (No. 25). She played in only one tournament for the Wildcats in 2022-23 and posted an 80 in stroke play, but the Texas native posted two upsets Wednesday, including a 2-up win over Utah Valley's Abbey Porter in the round of 16.
Jane Olson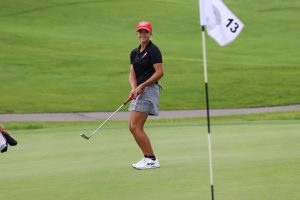 Olson, a Utah Tech sophomore from Riverton High School, is a steadily improving golfer. A rough round in April, when shot an 83 while playing in the Epson Tour's Copper Rock Championship via a sponsor invitation, may have served to alter her career trajectory in a good way.
She was proud to have bounced back with a 75 the next day and has performed as well as anyone other than Summerhays through two days of the Women's State Am. Olson earned the No. 4 seed with a 72 and played a total of 29 holes in two matches Wednesday.
Kelsey Chugg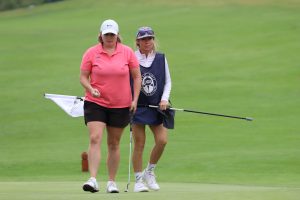 For the rest of this decade, if not longer, Chugg's chase of history will frame the Women's State Am. A sixth win would move her into a tie for No. 2 all-time. Chugg won the Utah Women's Stroke Play Championship two weeks ago in Park City.
Berlin Long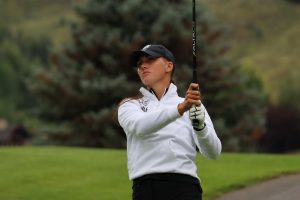 In a tournament that usually has a distinct BYU women's golf aura, Long is the only Cougar in the quarterfinals. The 2021 runner-up as a Lone Peak High School student, Long dominated her two matches Wednesday. She took a 4-and-3 win over Utah Valley's Pati Uluave, a friend from their junior golf days. Uluave had staged the biggest upset of the round of 32. As a playoff survivor, she earned a 1-up win over BYU's Adeline Anderson, the No. 2 seed and 2022 runner-up, as they halved the last seven holes.
Tess Blair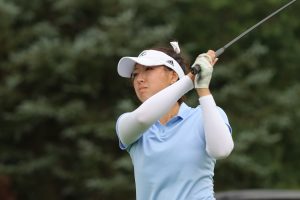 Blair, who is transferring from Sacramento State to Iowa State for her fifth year of college golf, is trying to make the semifinals for a fifth straight appearance in the tournament. In her first Utah Golf Association event of the season, the 2018 champion survived a scare in the round of 32. Blair was 2 down through 11 holes vs. Sydney Richards (Summerhays' cousin) before winning four of the next six holes.
Grace Williams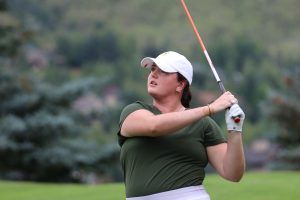 Williams, an Australian, gave Utah Tech a second quarterfinalist with her 1-up win over Aadyn Long, a Lone Peak junior. Williams was 2 down before winning Nos. 11, 12 and 14. In 2021, Berlin and Aadyn Long became the first sisters to reach the quarterfinals of a Women's State Am.
Faith Vui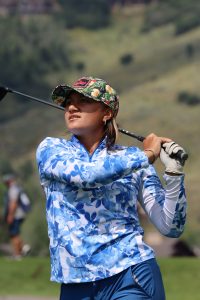 Vui is known as a golf star in her native Samoa, where she grew up as the youngest of four sisters, with a brother who played for the University of Nebraska men's golf team. Vui's UGA membership is through TalonsCove Golf Course, yet general manager Kareen Larson had never met her until Wednesday, when they staged a good duel in the round of 32. As the only senior golfer in match play, Larson lost 1 up (thanks to Vui's winning par on No. 18).
Written by Fairways Media senior writer Kurt Kragthorpe, photos by Fairways Media/Randy Dodson.