News
Check out what has been happening in Utah Golf.
Utah Women's State Amateur: Former champions Blair and Summerhays advance to finals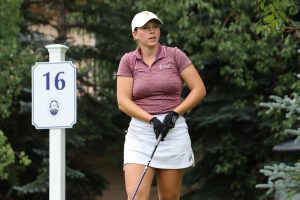 Tess Blair and Grace Summerhays were high school students with a lot to prove when each golfer won the Utah Women's State Amateur Championship. They're collegians at different stages of their lives now, with some unfinished business in this tournament.
Blair's return to the final match comes after her semifinal defeats in each of the past three years, while Summerhays remembers being upset in the round of 16 last summer. In that sense, just getting to this stage is "an accomplishment in and of itself," as Blair said.
Of course, they would love to hold the trophy again, and they'll have that opportunity in Friday's 18-hole match at Jeremy Golf & Country Club. Their shot at a second title comes after five-time champion Kelsey Chugg was upset by Jane Olson in the quarterfinals
The meeting of former champions in the final match is the first since 1956, when Marge Fillis defeated Bev Nelson in a duel of Utah Golf Hall of Fame members (the event was conducted in stroke play from 1962-2009).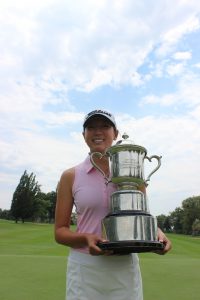 Blair was about to begin her senior year at Bingham High School when she won the title in 2018. Since then, she has played four years for Sacramento State and will enroll in Iowa State's graduate school this month and compete for the Cyclones in the Big 12 Conference.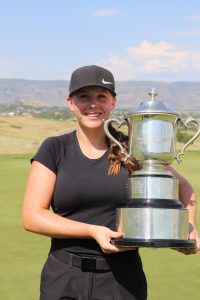 Summerhays had just turned 16 when she won in 2020. She graduated early from high school and has played for Arizona State in three semesters of school, while appearing in this summer's U.S. Women's Open at Pebble Beach. Her family is based in Arizona but spends the summers in her native state, and now she has a chance to join her brother Preston as a two-time State Amateur champion.
After semifinal matches that started and finished about 45 minutes apart with 4-and-2 victories over two Utah Tech University golfers Thursday, the winners stood near the No. 16 green and looked back and ahead.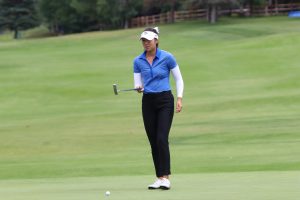 "I haven't been there in five years, so whatever happens, I'm just going to be excited to play here one more time," Blair said.
"It for sure bothered me," Summerhays said of last year's loss. "I think golfers are very competitive, so any loss, I feel like if you can learn something from it, it's great. So I think it definitely helped me this year. I think last year I wasn't as patient."
Summerhays responded well to a surprising test from Weber State's Samira Salinas in the morning quarterfinals. They were tied through 12 holes, before Summerhays won three of the next four. "I feel like in match play any time, you're going to get some type of challenge," she said."I knew I had to do something good, but I also knew these finishing holes kind of favor me. So I was happy with the way I finished."
Summerhays then won the first three holes in the afternoon and stayed ahead of Olson, who kept battling. Olson, a Utah Tech sophomore from Riverton High School, played a total of 32 holes vs. Chugg and Summerhays and basically ended up even with two of the biggest names in the field.
Blair topped Berlin Long, the last remaining BYU golfer in match play, then pulled away from Utah Tech's Grace Williams after being tied through 11 holes.
Williams, an Australian, had outlasted Faith Vui of American Samoa in 19 holes in the morning. Of the 30 matches contested so far, only that one has gone to extra holes.
Maybe that will happen again Friday, although merely reaching No. 17 would be more than Summerhays has had to do in four matches. Blair has yet to play No. 18.
Written by Fairways Media senior writer Kurt Kragthorpe. Photos by Fairways Media/Randy Dodson.