News
Check out what has been happening in Utah Golf.
117th Utah Women's State Amateur: Grace Summerhays is a first-time medalist
Grace Summerhays may be known for a long time as the youngest winner of the Utah Women's State Amateur Championship, and she added another distinction Tuesday.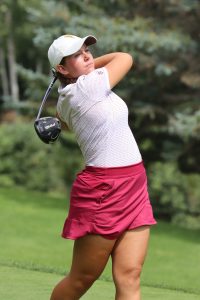 The Arizona State junior, whose famous golf family spends the summers in her native Davis County, officially became the stroke-play medalist of the 117th Women's State Am after the weather-delayed round ended late in the evening at Jeremy Ranch Golf & Country Club.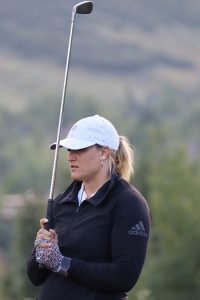 A 7-for-4 playoff to complete the  32-golfer bracket for match play was conducted Wednesday morning among golfers who had posted 10-over-par 82s. Tabiona High school teacher Mikayla Jensen (photo above) and Jessica Osden of Rogers State in Oklahoma advanced with pars on the par-3 No. 17; Utah Valley University's Pati Uluave (photo below) and Utah Tech's Corinne Lillywhite moved on with pars on the par-4 No. 18.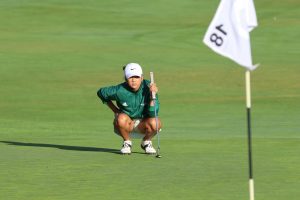 Summerhays, who had just turned 16 when she took the 2020 title at another Wasatch Back location, Soldier Hollow Golf Course, posted four birdies and two bogeys Tuesday for a 70 to begin her fifth appearance in the Women's State Am.
BYU's Adeline Anderson, the only player with a reasonable shot at catching Summerhays once the leader had finished in the early afternoon, bogeyed the par-3 No. 17 and ended up at 71. Anderson, last summer's runner-up to five-time champion Kelsey Chugg in Ogden, was the medalist in 2021 in Farmington.
The group at 72 includes 2018 champion Kerstin Ngakuru of BYU, Lone Peak High School junior Aadyn Long and Utah Tech sophomore Jane Olson (photo below).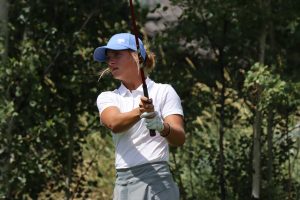 The round was suspended at 2:54 p.m. due to thunderstorms in the area, with 28 of the 78 contestants on the course. Utah Golf Association administrators resumed play 3 hours and 20 minutes later. The cut line moved to 10 over in that final phase of the round, amid difficult conditions that dropped multiple players out of the match-play picture.
The schedule calls for two rounds of match play Wednesday and two rounds Thursday, followed by the 18-hole final match Friday morning.
In addition to Summerhays and Ngakuru, three other former champions moved into match play: Tess Blair (74), Lila Galea'i (76) and Chugg (79). Julie McMullin (89) missed the cut.
The tiebreaking draws produced an epic pairing of No. 12 Galea'i and No. 21 Chugg, the last two champions, in the round of 32. What's more, the winner is likely to meet No. 5 Ngakuru in the round of 16.
Kareen Larson (81) is the only senior golfer in the match-play bracket.
Written by Fairways Media senior writer Kurt Kragthorpe. Photos by Fairways Media/Randy Dodson.