News
Check out what has been happening in Utah Golf.
Utah State Amateur: Peter Kim is medalist; David Jennings and Eli Rogers advance in playoff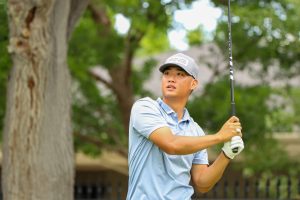 The most memorable shot of Davis Johnson's second round of the 125th Utah State Amateur Championship was an awkward stab that resulted in the ball trickling sideways, rolling into the bunker where he stood near the No. 17 green.
The last tee shot of Peter Kim's Tuesday round went too far, bouncing into the water at the end of The Country Club's No. 18 fairway.
So their endings of stroke play were imperfect, but Kim could feel more satisfied than Johnson about his finish. Kim, a recent Skyline High School graduate who will play for BYU, earned medalist honors by one stroke. Kim's 73-67 effort gave him a 2-under-par total. Johnson, a University of Utah sophomore from Scottsdale, Arizona, bogeyed the last two holes in a 68-73 showing. BYU's Zac Jones posted 72-70 for an even-par performance as the defending champion and 2022 medalist.
Read more from Fairways senior writer Kurt Kragthorpe in today's edition of Fairways Photo Journal from The Country Club.