News
Check out what has been happening in Utah Golf.
State Amateur Qualifying at Davis Park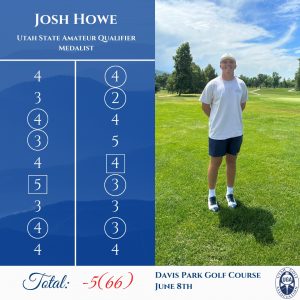 The 8th qualifier for the Utah State Amateur was held at Davis Park Golf Course on Thursday, June 8th. 84 players competed in great conditions for the majority of the day until a lightening delay put everything on hold in the afternoon. The field performed well as Josh Howe took home medalist honors with an impressive -5 (66).  The cut held at even par today with 12 spots and 2 alternate spots available at this qualifier. There was a playoff at +1 with 6 players playing for the two alternate spots.
For full results: click here
By Max Butcher