News
Check out what has been happening in Utah Golf.
Summerhayses' Qualifying Achievements
Boyd Summerhays was 12 years old the first time he qualified for the State Amateur, making his initial splash in Utah golf.
Three decades later, his children are succeeding on even bigger stages, giving themselves a rare opportunity for two siblings.
It is not uncommon for two sisters to play in the U.S. Women's Open, but having a brother-sister tandem appear in the United States Golf Association's most prestigious championships in consecutive months is a major achievement for one family.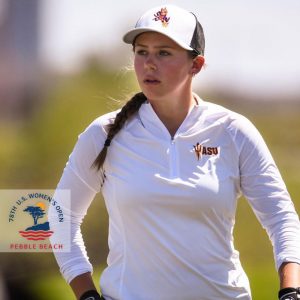 In 2020, Grace Summerhays followed her brother's consecutive State Amateur victories of the previous two years by winning the Women's State Amateur. This time, it was Preston's turn to match his sister's breakthrough. A week after Grace qualified for the U.S. Women's Open, Preston shot a second-round 62 and advanced via a playoff that was pushed back to Tuesday morning.
What's more, Joe Summerhays (Boyd's cousin) has qualified for the U.S. Senior Open.
Preston and Grace Summerhays, born two years apart in Davis County in the early 2000s, are Arizona State University golfers who continued to spend their childhood summers in Utah after their family moved to Scottsdale, Arizona.
Grace comfortably qualified at Gainey Ranch Golf Club in Scottsdale, posting 68-72 to earn one of two spots in the field at Pebble Beach Golf Links, July 6-9. Her morning round featured four birdies and an eagle.
"Qualifying for the U.S. Women's Open is so exciting and is something I have dreamed of," she said, via ASU Athletics. "It doesn't get much better than being able to play at Pebble Beach against the best in the world. I have gotten a lot better this season and can't wait to keep learning and gaining experience."
A video showed her brother enthusiastically congratulating her in a phone call, amid Preston's disappointment in Arizona State's just having lost in the NCAA quarterfinals.
His attitude of sharing in her sister's joy seemingly was rewarded this week, as Preston made a remarkable comeback in U.S. Open final qualifying at Hillcrest Country Club in Los Angeles. After making a double bogey, he stood 3 over par through eight holes. He proceeded to play the next 28 holes in 12 under, topped by an eagle on his last hole on the day (No. 9) to complete the second-round 62 with his father caddying for him.
That ultimately was just good enough for a three-way tie for fourth place, with five spots available. He survived the 3-for-2 playoff Tuesday, moving on to his second U.S. Open appearance, June 15-18 at nearby Los Angeles Country Club.
Summerhays advanced along with PGA Tour veteran Charley Hoffman by making pars as Josh Anderson struggled on the first playoff hole after driving into a fairway bunker.
"I'm a good match-play player, so you kind of take this as a match-play format," said Summerhays, via the Southern California News Group. "Once he was in the bunker … I knew that statistically you have the advantage."
Summerhays, who was named to the All-America first team as an ASU sophomore, played in the 2020 U.S. Open at Winged Foot Country Club in New York, via his victory in the 2019 U.S. Junior Amateur. He shot 72-77, missing the 36-hole cut by three strokes.
In between his younger relatives' USGA events, Joe Summerhays will play in the U.S. Senior Open, June 29-July 2 at SentryWorld in Stevens Point, Wisconsin.
All of this success for the family evokes memories of 1992, when Boyd Summerhays shot a 73 at Davis Park Golf Course to join his father, Lynn (who posted a 74) in advancing to the State Amateur at Hidden Valley Country Club.
"This was a lot of pressure, because it's so important to me," Boyd said that day. "It's just a dream. It's just a little beyond my ability, probably."
By now, such qualifying achievements for the Summerhayses should be less surprising.
Kurt Kragthorpe is a Fairways magazine senior writer and a frequent contributor to the Utah Golf Association website. Photos courtesy of Fairways Media and the USGA.