News
Check out what has been happening in Utah Golf.
Black Desert Resort to host LPGA in 2025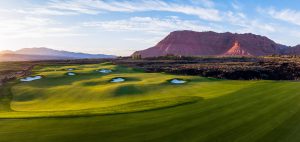 Black Desert Resort Golf Course in Ivins, Utah, near St. George, proudly announces being named the future host of an LPGA Tour competition in 2025. With emerald fairways carved amid ancient black lava fields and surrounded by Southern Utah's stunning red rock mountains, this Tom Weiskopf championship 18-hole golf course offers an unparalleled experience and presents an incredible opportunity for LPGA Tour athletes, the best female golfers in the world, to showcase their power and dedication in a new light.
"We are thrilled to welcome Black Desert Resort into the LPGA family as a tournament partner and title sponsor," said Ricki Lasky, LPGA Chief Tour Business and Operations Officer, on Tuesday at an announcement event at Black Desert. "This spectacular venue will undoubtedly provide an incredible test to our LPGA Tour athletes. We also greatly appreciate the dedication of the Black Desert Resort team to elevating the stature of the women's game by making this partnership a key element of their corporate platform as they welcome golf fans to their venue for the first time this week."
Click here to read more from the LPGA TOUR.