News
Check out what has been happening in Utah Golf.
Gaiotti/Cone, conquer Toana Vista at Women's Four-Ball Championship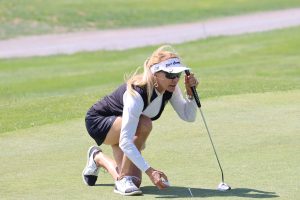 Perennial Utah Golf Association champion Annette Gaiotti was seemingly unfazed while playing the Toana Vista Golf Course for the first time and with a new playing partner as she added another UGA title to her win column.
Gaiotti and family-friend Lindsay Cone took home UGA medals as the overall gross champions of the Utah Women's Four-Ball Championship in West Wendover, Nevada May 25th, with a 36-hole score of (-2) 71-71 – 142, five shots clear of the runner-up team of Nuny Kham-one Khamken and Beatrice Peck.
"This is really a tough course and we've never played it before," said Gaiotti. "I wish we had played a practice round. This is the first tournament we have ever played together. We have only played five times together, including this week, but we played well."   
Gaiotti now owns a dozen UGA championship titles but this is her first Four-Ball win saying that typically the event doesn't match up with her spring playing calendar.
Rounding out the overall gross top 5 were Deborah Midgley/Karen Mitchell (+14) 158 who won the Flight 1 net division, Leslee Adamson/Lisa Johnson (+30) 174 and Brenda Paris/Lisa Eixenberger also at (+30).
Gaiotti now looks ahead to the Utah Senior Women's Amateur, a championship she has won seven times, including last year at Salt Lake City's Bonneville Golf Course.
"I would really like to win the Senior one more year," said 70-year old Gaiotti.
The 31st Utah Senior Women's State Amateur will be played September 20-23 on the Lake Course at Wasatch Mountain State Park.
Up next on the UGA's Women's championship calendar is the Mary Lou Baker Open at Springville's Hobble Creek Golf Course, June 2-3.
Click here for the Utah Women's Four-Ball Championship final leaderboard.