News
Check out what has been happening in Utah Golf.
Akina claims first UGA title at Utah Mid-Amateur Championship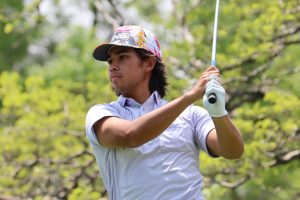 Coming on the heels of a U.S. Open local qualifier and just a few months after his 25th birthday, BYU golfer Keanu Akina added a Utah Golf Association championship title to his resume with a 5-under par performance in the 54-hole Utah Mid-Amateur Championship at Hubbard Golf Course.
Akina's 211 total on rounds of 73-71-67 was three shots better than runner-ups Derek Penman and Jack Holmgren. Last year's Salt Lake City Amateur and Open champion Justin Shluker finished tied for fourth place with 36-hole leader Devin Tovey and Gage Christensen (playing on his home course), at even par 216.
It's been a busy 10 days for Akina, competing in the U.S. Open local qualifier in Wyoming May 10, followed by the NCAA Morgan Hill Regional where his BYU teammates fired a 4-under-par 284 in the final round at The Institute Golf Club on Wednesday to earn a trip to the NCAA Championship at Grayhawk Golf Club next week.
After completing some late-night homework assignments, the BYU junior was on the tee early Thursday morning at Hubbard for his opening round of the Mid-Am.
"I didn't play good at all," he said. "Coming off of like four hours of sleep, so yesterday was just a long day for me. I didn't feel great. But last night, I got to sleep good and I just felt good all day today. Mainly, my short game was better, I was probably a little more focused."
With the win Akina received an invite from UGA Executive Director Easton Folster to compete on Utah's Pacific Coast Amateur team and an exemption to the 125th Utah State Amateur to be played at The Country Club in late June.
"Right after Nationals, I've got the U.S. Open Regional. I haven't got my assignment yet but my first pick is Washington. Then I'll go back to Hawaii for an event there and then I'm going to think about coming back to Utah for the State Amateur. I could just stay in Hawaii with my family for another month or I can come back and play."
This year's low senior medal was awarded to Brigham Gibbs. Gibbs shot (+6) 72-75-75 – 222, one shot better than 2022 Senior Player of the Year Shane McMillan and Brett Hess.
This year's Mid-Amateur Championship wasn't without issue. Golf course staff and tournament officials acknowledged a few final round front nine hole locations were not cut where previously marked by UGA officials, causing some frustration from many players.
Click here for final leaderboard results.
Story and photos by Fairways Media/Randy Dodson.