News
Check out what has been happening in Utah Golf.
Lila Galea'i: Feeling happy at the Copper Rock Championship
Lila Galea'i liked the way she finished the Copper Rock Championship. She also wished she could have kept playing golf this weekend.
The BYU golfer's trend was unmistakable in her Epson Tour debut as a sponsor invitee: 72-70-68, resulting in a tie for 29th place at Copper Rock Golf Course in Hurricane.
Those scores pretty much tell the story of a week when Galea'i improved and appeared more comfortable with her swing every day, posting numbers that could have been even better with more maximizing of birdie opportunities. Yet she minimized mistakes and showed she belongs in women's professional golf, when that opportunity comes after her senior year of BYU golf in 2023-24.
Her biggest takeaway? "Honestly, just that I have the game," said the 2021 Women's State Amateur champion.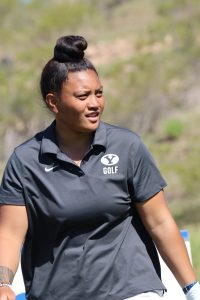 Galea'i even topped Saturday's score of the winner, Savannah Vilaubi, who posted a 69 for a 15-under-par total and outlasted Jenny Coleman and Therese Warner on the second playoff hole.
Starting the final round on the back nine, Galea'i eagled the par-5 No. 12 after knocking a 5-iron onto the green from 195 yards and making a 25-foot putt. She bogeyed the par-5 No. 16 after a rare, wild tee shot into the native area, but was otherwise steady all day. Galea'i birdied three par-4s on her second nine, mixing in another bogey to post a 6-under-par total for 54 holes. She finished in a T29 group that included defending champion Dottie Ardina and national amateur star Bailey Shoemaker, a Florida native who's headed to USC.
"I feel really happy about the way things things turned out this week for me," Galea'i said. "I had minimal mistakes, but still left a lot out there, but I'm not too angry about anything, just because I played some pretty solid golf this week."
The Epson Tour schedule resumes Friday in Garden City, Kansas, where former BYU golfer Kendra Dalton will try to get back on track after missing the 36-hole cut by one stroke at Copper Rock.
The tour will return to Utah in September for the inaugural Black Desert Resort Championship, hosted by Soldier Hollow Golf Course in Midway.
Galea'i intends to play in the Utah Golf Association's major women's tournaments in the spring and summer, while also hoping to qualify for some national events. 
Story by Fairways Media senior writer Kurt Kragthorpe. Photos courtesy of Fairways Media.