News
Check out what has been happening in Utah Golf.
Epson Tour Copper Rock Championship Round 2
BYU golfer Lila Galea'i knew she could, should and probably would play the par-5 holes better in Friday's second round of the Epson Tour's Copper Rock Championship. She mostly succeeded, birdieing three of them. Yet salvaging a bogey from a spot she never expected to see in Hurricane ultimately might be what enabled her to make the 36-hole cut.
Galea'i more than validated her sponsor invitation with a 2-under-par 70, advancing to the weekend by two strokes as the wind remarkably died down in the afternoon and the cut came at even par.
Being able to play the final round Saturday at Copper Rock Golf Course is "definitely satisfying," said Galea'i, whose junior year with the Cougars ended last weekend. "I played some pretty solid golf, which I'm proud of."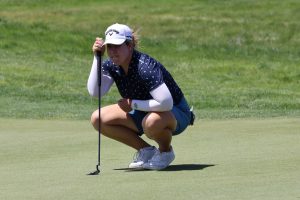 BYU graduate Kendra Dalton drove into the water on the left side of the fairway and bogeyed No. 18, causing her to miss her first cut in five events to begin her fifth Epson Tour season. Utah Tech freshman Jane Olson improved by eight strokes Friday, posting a 75 that left her feeling much more confident about her game.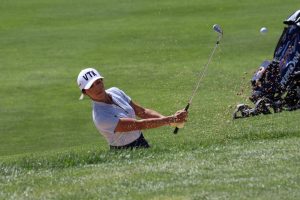 The leader remains Savannah Vilaubi, who followed Thursday's course-record 63 with a 69 for a 12-under-par total, playing in some windy conditions Friday morning. Gigi Stoll, who won the Epson tour's most recent event in Arizona, and Alyaa Abdulghany, who played the first two rounds with Galea'i, are one stroke behind.
Galea'i spoke after the opening round of learning about composure by watching the pros in her group, and she immediately applied those lessons Friday. That was true when she missed several birdie opportunities after excellent approach shots, and especially so when she regrouped after getting into trouble on the par-5 No. 16, her seventh hole of the day.
She displayed a lot of poise in big moments during the Utah Golf Association's 2021 season while winning the Women's State Amateur and the Women's Stroke Play Championship. Friday's round was another show of steadiness, as she joined Florida high school senior Bailey Shoemaker as amateurs making the cut.
Having made two birdies and experienced little stress through six holes, Galea'i hit a monstrous drive on No. 16 that barely rolled through the fairway on the left side, leaving her with a downhill/sidehill lie. She tried to go for the green with an iron for her second shot, but the result was a shank into the native area across the fairway from what she labeled "a pretty uncomfortable lie."
Her next position was even worse. She took an unplayable-lie penalty stroke, then successfully battled for a bogey, making a 10-foot putt. "I should have just punched it out, but I thought I could take a full swing on it," Galea'i said. "But I'm happy I could at least make a bogey on that hole. I think that saved me a bunch."
Galea'i birdied both par-5s on her second nine and made a clutch 15-foot putt for par on the par-3 No. 7, after missing a short par putt on the previous hole.
"I felt pretty composed today," she said. "There were a lot of moments I could have lost it. I just kept telling myself to be patient and just keep playing."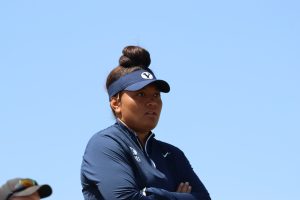 That's what she'll do Saturday with an 8:03 a.m starting time, while Dalton laments a couple of bad swings on the back nine, amid her rally with birdies on the par-3 Nos. 15 and 17 that temporarily got her inside the cut line. Dalton made five birdies for the second straight day, but a double bogey on the par-4 No. 14 and her errant drive on No. 18 made her settle for a 72 and an unpleasant departure from Hurricane.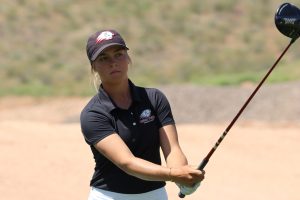 Olson was much happier as she stayed to watch the finish of Galea'i, her fellow sponsor invitee. Having bogeyed the first four holes of the first round, Olson looked far more comfortable Friday. Starting on the back nine, she birdied the par-4 No. 11 and remained 1 under par through eight holes. She was only 1 over through 15, before a couple of bogeys gave her a 75 that still restored her confidence, going into the UGA's summer schedule and looking forward to three more years in Utah Tech's program in St. George.
 Click here for the Epson Tour Copper Rock Championship 36-hole leaderboard.
Story by Fairways Media senior writer Kurt Kragthorpe. Photos courtesy of Fairways Media.