News
Check out what has been happening in Utah Golf.
Epson Tour Copper Rock Championship Round One
BYU junior Lila Galea'i really expected to feel more pressure. Utah Tech freshman Jane Olson was surprised by how much being nervous affected her game.
Those reactions to the women's professional golf environment of the Epson Tour's Copper Rock Championship pretty much explained the disparate results of the two Utah high school graduates in Thursday's opening round, playing as sponsor invitees. Galea'i birdied the last two holes for an even-par 72, giving herself a solid chance to make Friday's 36-hole cut. Olson bogeyed the first four holes and made three double bogeys, posting an 83 at Copper Rock Golf Course.
The leader is Savannah Vilaubi, whose 63 topped the course record by two strokes in the seventh round that the Epson Tour has staged in Hurricane over three seasons. The former UC Riverside golfer's 10 birdies included a run on Nos. 1-6 to begin her second nine.
Meanwhile, the current collegians' common theme was enjoying the chance to play at this level, as even Olson managed to remain upbeat. "This experience is very valuable," she said, "just having the opportunity to be out here and learn from all these girls that are so amazing."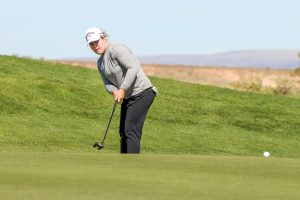 Epson Tour veteran Kendra Dalton's 73 was highlighted by what she labeled "beautiful" ball-striking that led to five birdies, but she also had some putting problems. She will have to improve Friday to go 5 for 5 in cuts made to begin the 2023 season.
The cut likely will come at even par, so Galea'i has a genuine shot at playing in Saturday's round, with these qualifiers: She'll have to deal with the wind in the afternoon, and she'll have to handle the par-5 holes better. Known for her long-hitting ability, Galea'i played the four par-5s in 1 over.
Missed opportunities? "Yeah, for sure," she said. "I'll stick to my game plan, attacking all the par-5s and hopefully just rolling some more putts in."
Galea'i, the 2021 Women's State Amateur champion, parred every hole on the front nine. She bogeyed Nos. 10 and 12, then hit two excellent iron shots to set up birdies on the par-3 No. 17 and the par-4 No. 18.
The strong finish earned Galea'i post-round congratulations from Penny James-Garcia, the Copper Rock Championship's event and volunteer coordinator, who really wanted to create more of a local theme by inviting two Utah college players.
Galea'i responded well, after an up-and-down spring season for BYU that ended with her tie for eighth place in the West Coast Conference tournament last weekend. As for Thursday's experience, "Honestly, I didn't have too many nerves," she said. "I'm surprised about that, because I usually get super nervous, but I felt pretty calm."
Not so for Olson. "The nerves kind of got me," she said.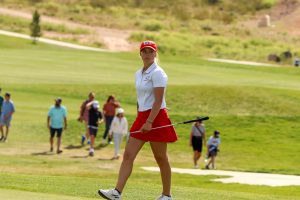 Olson had a quick turnaround from the Western Athletic Conference tournament that ended poorly for her Tuesday in Washington. "Being able to get over that fast was definitely a priority for me," she said.
But her struggles continued, at least until she regrouped and parred five of the last six holes Thursday.
Returning to competition after the Epson Tour schedule's three-week break, Dalton was disappointed to not extend her strong play of the first four events, ranking No. 19 on the money list. Having experienced some difficult weather conditions at Copper Rock the past two Aprils, she also knew that a 73 was going to be in the bottom half of the field Thursday.
"Yeah, I missed a bit of an opportunity," she said after a windless morning. "I really, for most of the day, hit the ball beautifully. I didn't putt well. I figured out what (the problem) was on the last hole."
Dalton will hope the solution carries over into Friday afternoon, enabling her to play the final round after missing the cut last year.
Copper Rock Championship Round 1 Leaderboard 
Story by Fairways Media senior writer Kurt Kragthorpe. Photos by Fairways Media art director Garrit Johnson.