News
Check out what has been happening in Utah Golf.
UGA Names Colin Clawson as new Director, Championships and Golf Operations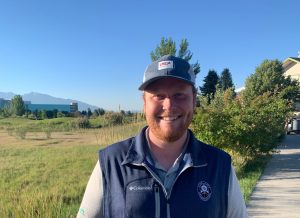 The last line of the job posting for the Utah Golf Association's director of championships and golf operations was cautionary. Candidates needed the "ability to work an extensive schedule during the tournament season."
That's exactly what attracted Colin Clawson to the position.
Clawson was promoted to that job within the UGA staff, extending a series of upward transactions that started when former executive director Jacob Miller moved to the United States Golf Association in May. After an extensive search, Easton Folster was elevated to succeed Miller in September, then Clawson moved into Folster's role in November.
"I had my sights set on it, really all year," Clawson said, hoping the sequence of promotions would materialize.
Clawson may be a beginning golfer, but "he is a fast riser in the golf industry," Folster said.
His ascent has happened quickly. As Clawson observed to his wife, Emily (photo above), he was a UGA intern only a year ago. He accepted a full-time job as operations manager in January, and was promoted within 11 months.
Two developments in 2022 made that possible: Clawson proved himself amid the UGA's temporary staffing shortage after Miller's departure, and the game continued to make quite an impression on him. He discovered how much he loved administering UGA events, while being primarily responsible for all of the women's championships.
In early August, a COVID-19 diagnosis sidelined Folster for the Women's State Amateur. That news came 36 hours before the stroke-play qualifying round commenced. Clawson realized, "OK, this is my show."
The production was a hit, as the 116th Women's State Am at the Ogden Golf & Country Club became memorable with Kelsey Chugg's fifth career victory. "Not necessarily because of me, but that was just the smoothest week," said Clawson, who experienced the satisfaction of having staged a successful tournament during a celebratory dinner with the UGA interns who helped him.
That week was one more example of how Clawson "quickly gained the respect of his colleagues," Folster said.
Later in August, on a cool morning in Parleys Canyon, Clawson was placing the markers on tee boxes as the sun was rising spectacularly over Mountain Dell Golf Course. He thought to himself, "This is my job?"
And it fully is his job now. He's responsible for the UGA's annual calendar of 12 championships, with the premier events of 2023 including the 125th Utah State Amateur at The Country Club in Salt Lake City and the 117th Women's State Amateur at Jeremy Ranch Golf & Country Club.
The job description covers USGA qualifying events in Utah, plus "site selection, registration, qualifying events, volunteer coordination, course marking and all aspects of tournament-day logistics" for the UGA championship schedule.
As a UVU student majoring in public relations, Clawson interned in the athletic department and knew he wanted to work in sports. Golf entered the picture when a friend encouraged him to apply for a UGA internship. He missed the deadline for 2020, but got that opportunity in 2021 and embraced it, asking Miller and Folster to mentor him. Clawson soon recognized that he liked "administering a game that brought people so much joy," he said. "It's not hard for me to wake up at 4 a.m., because I want to go to the golf course."
Feature written by Fairways Media senior writer Kurt Kragthorpe.