News
Check out what has been happening in Utah Golf.
116th Utah Women's State Am Champ: Kelsey Chugg
Kelsey Chugg's golf ball took a big bounce and struck the flagstick on the No. 2 green, settling 2 feet from the hole in what she labeled "a gift," after having struck her chip shot too firmly.
A few hours later, on the par-3 No. 18, Chugg's ball landed softly enough to stay on the ledge instead of trickling down the steep slope in front of the green, much to her relief.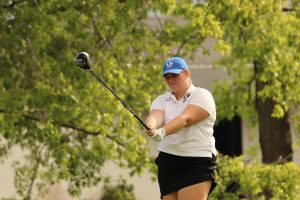 Chugg definitely earned her 1-up victory over BYU sophomore Adeline Anderson in Thursday's 18-hole final match of the 116th Women's State Amateur at Ogden Golf & Country Club. Yet some degree of destiny may have factored into her fifth title, an achievement that was made more satisfying by where it happened and how long it took.
She spent childhood summers in Ogden and played for Weber State, so the 31-year-old Chugg enjoyed winning on one of her favorite courses. Chugg aptly described her fifth championship as "elusive," considering that after her first victory in 2012, she won three more times in the next five years. No. 5 took four attempts, with two semifinal losses and a defeat in the 2020 final match (she didn't compete in 2019).
Chugg's first title in her 30s also was the first that required winning five matches, after the Utah Golf Association's expansion to a 32-golfer bracket. And in the last three rounds, she outplayed BYU golfers Kerstin Fotu, Berlin Long and Anderson.
Read more from Fairways Media senior writer Kurt Kragthorpe in Fairways Photo Journal, Click Here.