News
Check out what has been happening in Utah Golf.
Kelsey Chugg adds a fourth Mary Lou Baker Open title to her career win column
by Dick Harmon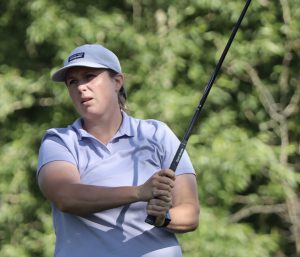 Kelsey Chugg, already a four-time Utah Women's State Amateur champion, fired a 2-under par 36-hole 144 to win her fourth Utah Golf Association Mary Lou Baker Open championship at Fox Hollow Golf Club in American Fork on June 14.
The former Weber State golf star and defending UGA Winterchamps champion won by five strokes over BYU's Adeline Anderson (photo below), who was playing on her home course.
Chugg had 11 birdies and 18 pars in the two-day event which was played on a par-73 layout from just over 5,800-yards.
Read the complete Mary Lou Baker Open feature from Fairways Media here: https://tinyurl.com/yc8j5jxp