News
Check out what has been happening in Utah Golf.
State Am Qualifying Begins at Sky Mountain
By Colin Clawson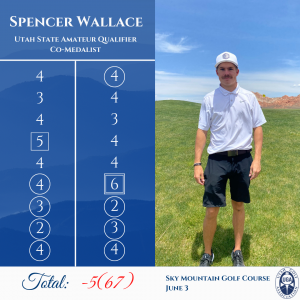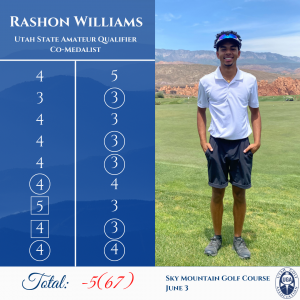 State Am Qualifying begins at Sky Mountain
The first of ten State Am Qualifiers took place at Sky Mountain Golf Course on Friday. SUU's Rashon Williams -5 (67) and Utah Tech's Spencer Wallace -5 (67) tied for medalist honors. Each player was able to get hot for a period which allowed them to pull away from the rest of the field. Williams was even par on the front nine and then had five birdies and no bogeys on the back. Wallace had five birdies in a row at one point and finished his round with three straight. The next lowest score in the field was -2 (70).
Another notable qualifier was Cam Summerhays, the son of notable professional Boyd Summerhays and the younger brother of 2-time State Am Champion Preston Summerhays and Women's State Am Champion Grace Summerhays. Summerhays was the youngest competitor in the field at 14 years old and qualified with a score of -1 (71).
The cut came at +3 (75) with 19 players qualifying for the State Am in July at Soldier Hollow Golf Course.
For full results, CLICK HERE.