News
Check out what has been happening in Utah Golf.
Wildcats, Fisher Win Big Sky Men's Golf Championship Titles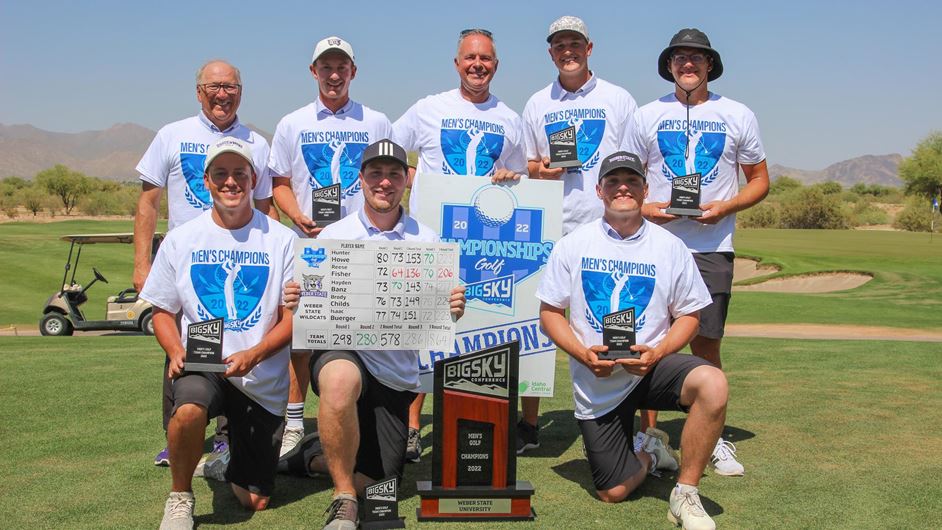 SCOTTSDALE, Ariz. – Weber State shot a final round 286 to hold off the field and win the 2022 Big Sky Conference Men's Golf Championship on Wednesday at Talking Stick Golf Club. Reese Fisher finished off the championship for the Wildcats on the final hole and finished with a 4-under par total of 206 to win the individual medalist title.
"I am so happy for this squad," said WSU head coach Scott Erling. "They have worked so hard all year and really deserved this. I couldn't be prouder to coach this team."
The Wildcats opened the tournament with a first round score of 298, and then surged to the lead on Tuesday with an even-par 280 for a two-shot lead over Idaho heading into the final day. Idaho faded to a fifth place finish on Wednesday, but Northern Colorado and Sacramento State each pressured for the lead, shooting final round 284's, while Binghamton shot the best score of the final round with a 282.
Weber State wrapped up the tournament with a final score of 864, one shot ahead of Northern Colorado and two shots clear of Sacramento State. Binghamton finished fourth at 869, followed by Idaho (871), Southern Utah (880) and Hartford (887).
Fisher became the first Wildcat to win individual medalist honors at the Big Sky Championships since Blair Bingham won the 2002 tournament, and the first Wildcat to win a conference individual title since Nick Despain took medalist honors in leading Weber State to the 2011 America Sky Conference title. He opened the tournament with a 2-over par 72 on Monday and then surged to the lead with six birdies in a bogey-free 64 on Tuesday. He then shot carded a single birdie against a single bogey for an even-par 70 to hold onto the lead. A bogey on hole 15 in the final round ended a streak of 33-consecutive bogey-free holes.
Fisher came to the final hole with the Wildcats leading Northern Colorado by a single shot and matched pars with the Bears' Blake Danni to give Weber State the win.
Hayden Banz joined Fisher in the tournament's top-10 with a 7-over par total of 217 to tie for 8th place. He shot rounds of 73 and 70 on Monday and Tuesday, respectively, before finishing off the event with a final round 74.
Hunter Howe shot his best round of the championship on Wednesday, offsetting two bogeys with a pair of birdies for an even-par 70. Howe finished the tournament with a three-round total of 223 to tie for 22nd overall. His final round 70 came after rounds of 80 and 73 over the first two days.
Isaac Buerger matched Howe at 223 and in a tie for 22nd place after posting rounds of 77, 74 and 72 for the tournament. Brody Childs, meanwhile shot rounds of 76, 73 and 75 for a total of 224 to finish in a tie for 24th place.
Binghamton's Justin Lane shot a final round 68 to join Idaho's Jose Suryadinata in a tie for second place on the individual leaderboard with a total of 212, six shots off the pace set by Fisher.
The team title is the 18th Big Sky Conference championship in the program's history and is the 20th overall conference title for the Wildcats as they twice won the America Sky title during the period when the Big Sky Conference did not sponsor men's golf.
The Wildcats will receive the Big Sky Conference automatic berth into the NCAA Men's Golf Regionals, which will be held May 15-18.