News
Check out what has been happening in Utah Golf.
The 7th U.S. Women's Amateur Four-Ball Championship Tees Off
Utah's Kelsey Chugg, a former U.S. Women's Mid-Amateur champion and a four-time winner of the Utah State Women's Amateur, heads to the Grand Reserve Resort in Puerto Rico.
By Kurt Kragthorpe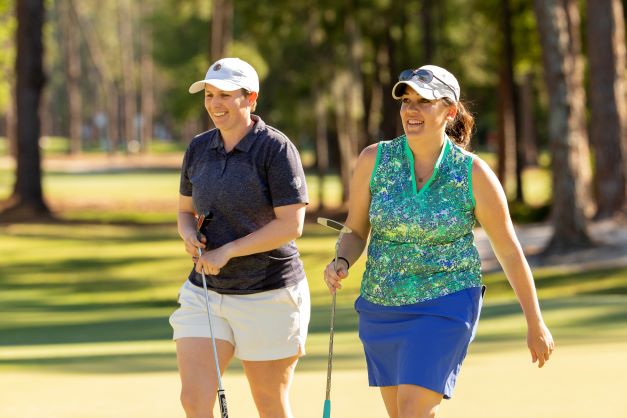 The story of how a baby boy altered Kelsey Chugg's golf schedule requires some explanation.
And while there's nothing wrong with playing in a Dallas suburb, little Auggie Bobb gets the credit for sending his mother to Puerto Rico this week to compete alongside Chugg again in the seventh U.S. Women's Amateur Four-Ball Championship.
Here's what happened: In October 2020, Chugg, the four-time Utah Women's State Amateur champion, and her friend Julia Potter-Bobb qualified in Illinois for the following year's Four-Ball, staged last April in Carrollton, Texas.
A few weeks later, Potter-Bobb announced she was pregnant. Her initial plan was to compete in Texas, barely more than two months prior to her due date (August David Bobb was born July 2). She checked with the United States Golf Association, though, and learned that a maternity exemption was an option, deferring their participation. The 2022 venue of Grand Reserve Golf Club in Rio Grande, Puerto Rico made that decision even easier.
Rain is in the daily forecast this week, but that's better than last week's snow that closed Forest Dale Golf Course, where Chugg occupies a clubhouse office as the associate director of Salt Lake City Golf.
"I'm just looking forward to playing, getting down there and being able to focus on my game for a few days," Chugg said.
Read the complete Fairways Media Photo Journal story here: https://tinyurl.com/2p9srsn5