News
Check out what has been happening in Utah Golf.
Utah's PGA TOUR Canada Qualifiers from USA West 2
Former Southern Utah University golfer Jake Vincent is fully exempt with a win at the USA West 2 Qualifier. Former Utah State Amateur champ Mitchell Schow will join him. 
By Randy Dodson, Laury Livsey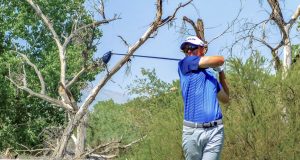 Jake Vincent was 20 strokes worse over his final 36 holes compared to his opening two rounds. What resulted, however, at PGA TOUR Canada's Qualifying USA West 2 Tournament at Soboba Springs Golf Course was a victory, by a stroke over Perry Cohen and David Kim. How he did it, while not always pretty with 72 holes that were something of an adventure, still got the job done. With the victory, Vincent will be eligible to play in every 2022 event.
With a final round (-8) 64 former University of Utah golfer Mitchell Schow earned half-season status with a guarantee of six starts before the mid-season reschuffle. Schow was the 2020 Utah State Amateur champion at Jeremy Ranch Golf and Country Club.
CLICK HERE to read the complete Fairways Photo Journal feature: https://tinyurl.com/3a63rr4m