News
Check out what has been happening in Utah Golf.
2021 UGA VOLUNTEER OF THE YEAR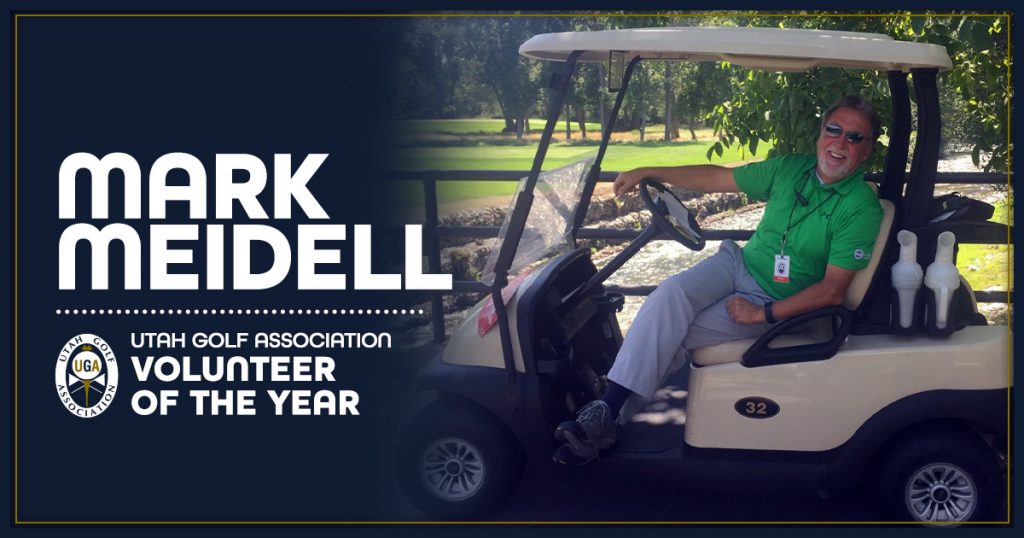 The 2016 Pac-12 Men's Golf Championship brought future PGA Tour players Jon Rahm, Collin Morikawa and Maverick McNealy to The Country Club for likely the only time they will ever compete in Utah. That's not the only lasting impact of the tournament.
After working as a walking scorer that weekend and noticing the presence of rules officials on the course, Mark Meidell was so intrigued about their role that he called the Utah Golf Association office and asked if he could get started.
Five years later, he's the UGA Volunteer of the Year.
Most volunteers can trace their entry to a friend who urged them to become involved. Meidell's origin story as a self-starter is unusual. So is the progression from rules official to UGA board member, thanks to his recent election.
The Alpine resident is a longtime golfer who grew up in Montana, graduated from the University of Utah and worked as a stock broker in Arizona and California. After selling his business interests in 2009, Meidell "just wanted to get involved in something I had a passion in," he said.
Initially, that was on the mountain as the supervisor of the Deer Valley ski school. In the summers, he wanted to be on the golf course. So he rode a fairway mower at Red Ledges Golf Club and worked as a caddie. Then came the Pac-12 experience that led him to become hooked on the Rules of Golf. "I don't know if I'm a geek or not, but I really enjoy the technicality of the rules," he said.
An official can go hours or even days without being summoned to make an intricate ruling, but Meidell already has experienced his share of interesting moments while working for the UGA, the PGA and the NCAA. He's been summoned to interpret cases of golf balls landing in a spectator's pocket, being shaken out of a tree by a fan and being picked up by a bird. "Almost every tournament, you get some really unusual, weird calls," he said.
Meidell keeps trying to learn more nuances of the rules and continues to impress UGA assistant executive director Easton Folster, who nominated him for the award.
"He encapsulates what it means to be a volunteer, always willing to go the extra mile to ensure the job gets done correctly and the UGA is well represented," Folster wrote. "If there is an extra assignment that needs to be done, he is always one to volunteer."