News
Check out what has been happening in Utah Golf.
2021 UGA SENIOR MEN'S PLAYER OF THE YEAR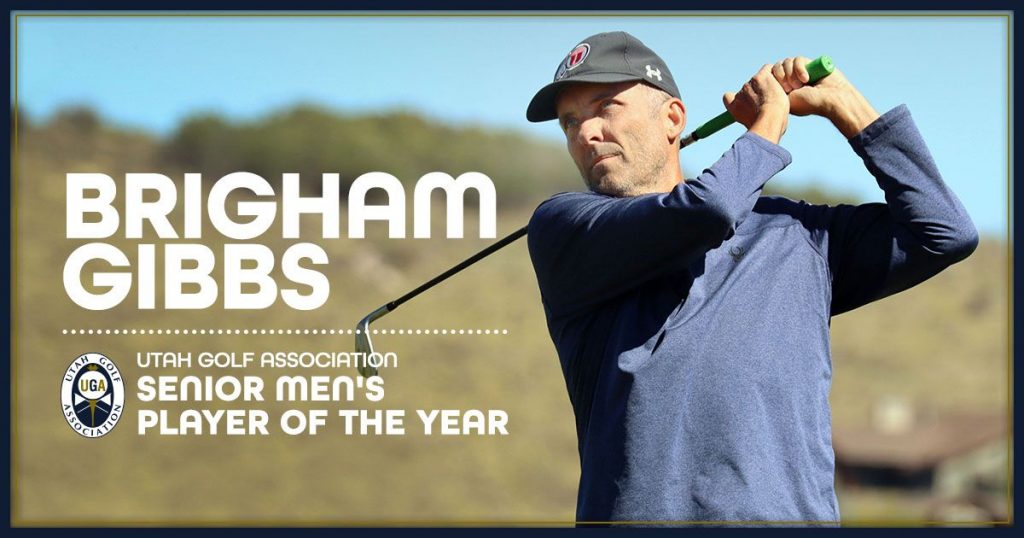 Golfers always think about missed opportunities. Even during an otherwise phenomenal 2021 season, Brigham Gibbs will remember the qualifying event he entered on his home course, The Country Club of Salt Lake City, as a favorite to advance to the U.S. Senior Amateur.
Yet coming up two strokes short of a playoff that day only drives home how impressively Gibbs performed in all of his other Utah tournaments. Any other year, Shane McMillan's consistency would have been the story of men's senior golf in the state. Gibbs became a runaway winner of the Senior Men's Player of the Year award with 400 points to McMillan's 311.66 total.
Gibbs added to his 2018 Player of the Year award by winning titles in the UGA Winterchamps, the Senior Stroke Play Championship, the Senior State Amateur and the Utah Four-Ball, with partner Jon Wright. He also was the low amateur in the Kean Ridd Utah Senior Open.
A former professional golfer, Gibbs gave up the game competitively for a long time before reemerging as a senior amateur. At 57, he still could have a long reign in Utah senior golf, much as Kirk Siddens did before moving to Arizona. Gibbs is a long hitter with a lot of talent in other parts of the game, as he showed repeatedly in 2021.
He made six birdies at the difficult Copper Rock Golf Club in the final round of the Winterchamps, overcoming six bogeys and maximizing the Modified Stableford system. Gibbs shot par or better in all three rounds of the Senior Stroke Play in the wind and cold at Glenmoor Golf Course, winning by four strokes. He again topped McMillan in the Utah Senior Open and won five matches in the Senior State Am, including an epic battle with Ron Davis in the quarterfinals and a 3-and-1 defeat of former champion Craig Wilson in the final match at Bonneville Golf Course.
Twice during that match, Gibbs' performances made Wilson say audibly, "Wow!"
The victory was meaningful to Gibbs for multiple reasons. He played Bonneville as a child, he was motivated to atone for missing the U.S. Senior Am that week in Detroit and he enjoyed learning that he joined Wilson as the only golfers to win both the Senior Stroke Play and Senior Am titles in the same year.