News
Check out what has been happening in Utah Golf.
2021 UGA SENIOR WOMEN'S PLAYER OF THE YEAR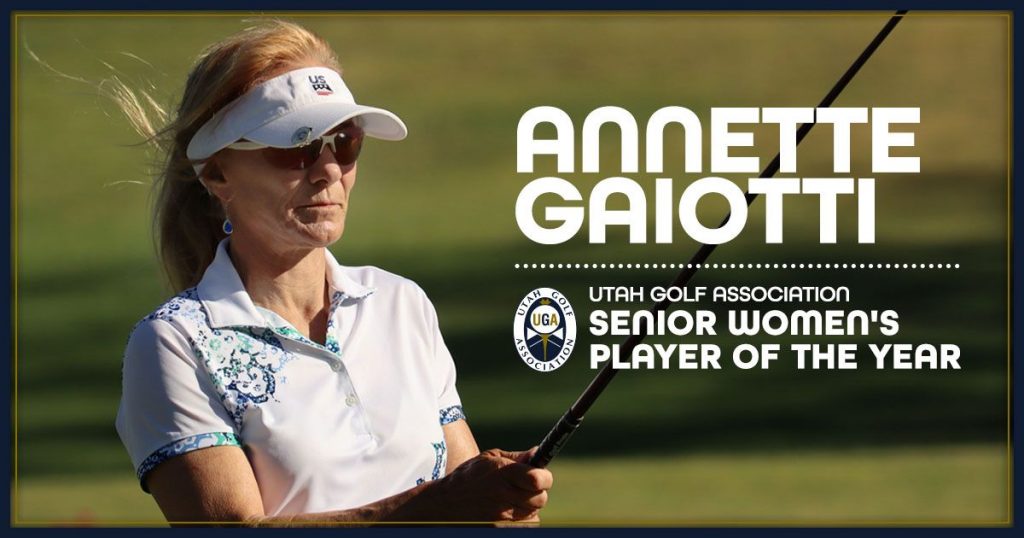 As she played an extra hole in a first-round match of the Women's State Amateur, Annette Gaiotti already had collected all of the points available to her in that event toward another Senior Women's Player of the Year award.
Yet the way she followed through in the No. 1 fairway of Oakridge Country Club further distinguished her 2021 season and showed why she remains a golfing marvel at age 68. Gaiotti used a hybrid club for her third shot on the par-5 hole, seemingly placing her at a disadvantage against Claire Whisenant, who's nearly a half-century younger. Gaiotti, though, won the hole with a par, likely becoming the oldest Utah men's or women's golfer ever to win a State Am match.
The irony of Gaiotti's sixth Player of the Year award in the past 10 seasons is she didn't win the Senior Women's State Amateur. Roberta Scott took that title, on the way to finishing second in the Player Performance Rankings. Just as in 2020, Gaiotti's success stemmed mostly for her willingness to enter tournaments open to players of all ages, and then emerging as the top senior performer. That was true in the UGA Winterchamps, the Women's State Am, the Mary Lou Baker Open and the Utah Women's Open.
"It's just a joy to play with a lot of these younger girls," Gaiotti said. "It's really nice to see the caliber of golfers improving."
She manages to compete respectably with the high school and college golfers, playing to her strengths and remaining consistent. "As my long game gets shorter, I keep working on trying to improve my short game," she said. "It seems to be a very good formula for me right now."
Gaiotti was the oldest player in the U.S. Women's Mid-Amateur field by six years. She missed the cut to match play by only one stroke in South Carolina. She wanted more, obviously. But that performance was further validation of her long-lasting golf game, enough for her to "keep going another year," she said.
Why not? And at this rate, she's sure to keep succeeding into her 70s.