News
Check out what has been happening in Utah Golf.
2021 UGA WOMEN'S PLAYER OF THE YEAR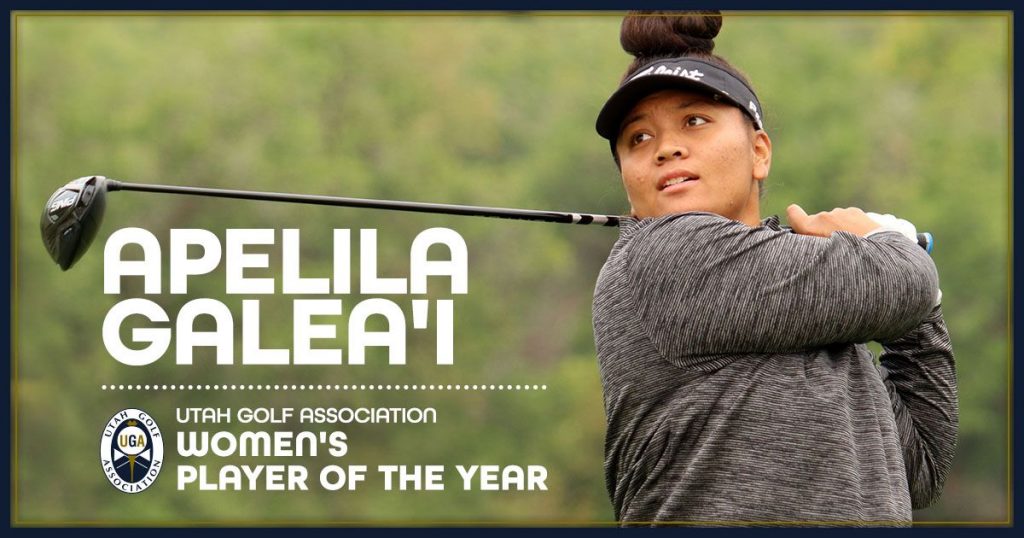 One theme of Apelila Galeai's summer of golf success was how much it apparently helped her to have graduated from Lehi High School one semester early and played for BYU during the spring season, sacrificing a senior year of basketball for the Pioneers.
Now that the Cougars have completed their four-tournament fall golf schedule, it is quite apparent that Galeai's showing as the Utah Golf Association Women's Player of the Year has carried over in much the same way. It all ties together in a year of remarkable improvement that makes her view the award as "not the end; it's just the beginning," Galeai said.
Anyone who watched her win three UGA titles in 2021 can only anticipate what's ahead for her in the game. Known by her nickname of Lila, Galeai is combining her long-hitting ability with improved feel and course management, responding well to coaching and always trying to get better. BYU coach Carrie Roberts has been a good influence lately, along with Seiko Matsumara, a California-based mental coach.
"She takes it all in, and she's so humble," said PGA Professional Tele Wightman, who coaches the Lehi girls team. "You can see she's starting to take it to another level."
That was evident throughout a highly consistent summer that added up to 225 points for Galeai in the UGA Player Performance Rankings, compared with 187.5 for runner-up Tess Blair, a Sacramento State star who was the 2020 Player of the Year. Blair's sister, Sirene, remains the youngest winner of the award, having earned it as a Bingham High School golfer in 2012.
Galeai posted two top-three finishes for BYU this fall, while losing in a playoff for medalist honors in New Mexico's tournament. "I've definitely seen changes in my game, what I've kind of done to make everything better," she said.
Galeai is now a BYU sophomore, but she was young enough to have competed in the 2021 U.S. Girls' Junior in Maryland. In Utah, she teamed with Kareen Larson to dominate the Women's Four-Ball, rallied to defeat Berlin Long in the final match of the Women's State Amateur and held off BYU teammate Kerstin Fotu to win the Women's Stroke Play Championship.
"Just looking back at how the summer went, I wouldn't change anything about it," Galeai said.
She credited her mother, Mili, with motivating her to keep battling in the State Am, as she won the last three holes to extend,, then tie, then win the match vs. Long. The Four-Ball was fun because Larson, who works at TalonsCove Golf Course, has always encouraged her and Galeai especially enjoyed the final round of the Stroke Play event, being paired with Fotu and incoming freshman Adeline Anderson.
"We still talk about it to this day," Galeai said of the friendly competition. "We put our game faces on, on the course."