News
Check out what has been happening in Utah Golf.
Utah Golf Association names 2021 Players of the Year and Service Award winners
FOR IMMEDIATE RELEASE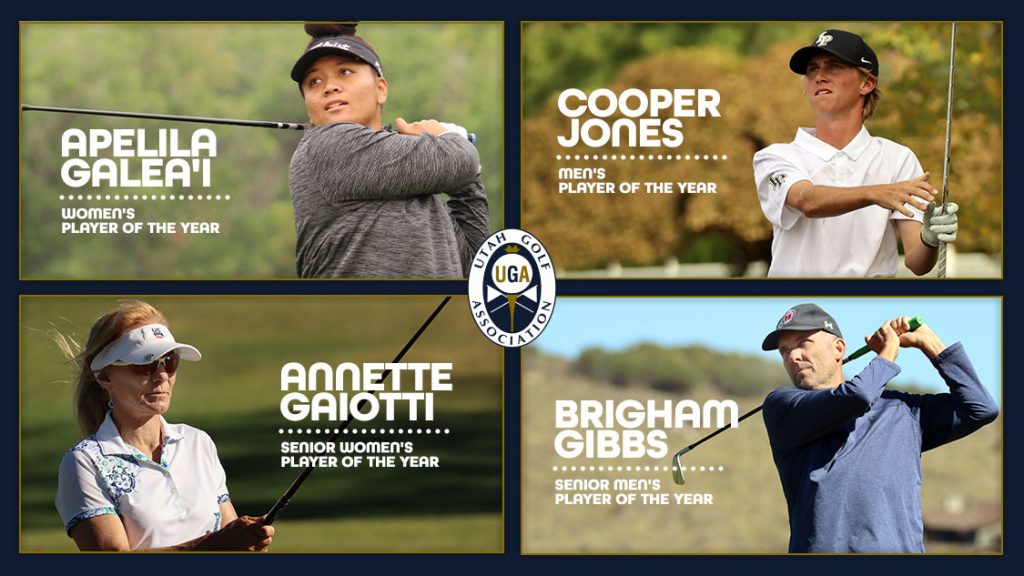 Amateur golfers and significant contributors to Utah golf, honored for outstanding achievement on and off the golf course. 
Salt Lake City, Utah (Oct. 21, 2021) – The Utah Golf Association, the governing body of amateur golf in Utah, has named the 2021 Players of the Year and Service Award winners today in its monthly digital magazine, Fairways 18.
Annually, men, senior men, women, and senior women compete in hopes of ending up on top of the UGA Player Performance Rankings in their respective divisions. Players at the top of the rankings at the end of Utah's golf season etch their name in history, earning the coveted UGA Player of the Year Award.
The 2021 Players of the Year are Apelila Galea'i, Annette Gaiotti, Cooper Jones and Brigham Gibbs. Galea'i is a freshman playing on the Brigham Young University Women's golf team while Jones currently plays for Lone Peak High School. Gaiotti, 68, has now won the Senior Women's Player of the Year for the sixth time. Gibbs, 57, is a long-time member of the Salt Lake Country Club. Each player won multiple times this year during Utah's amateur golf season including UGA championship events.
Wesley Ruff, a sports anchor for Utah's ABC network station, is the recipient of the UGA's prestigious Gold Club award. The UGA Gold Club award is presented annually to an individual who through significant achievement or unselfish service has contributed to the history and tradition of the game of golf in Utah, and whose personal integrity, sportsmanship, common courtesy, loyalty and friendship earn the love and respect of fellow golfers.
Annually the UGA recognizes one volunteer who has demonstrated outstanding commitment and contribution to the UGA with the Volunteer of the Year award. This year, Mark Meidell, a resident of Alpine, Utah and long-time UGA rules volunteer, has been chosen to receive the award.
Pat Dalpiaz, of Hurricane, Utah, has been chosen as the UGA Lady award recipient. This award honors a woman UGA member for giving back to the Utah golf community. This award is based on women's golf participation, giving back to women's golf, passion, love and respect for the game, teamwork that makes a difference and being a friend, leader and inspiration to peers.
For more information of this year's Utah Golf Association Players of the Year and Service award winners please visit: https://tinyurl.com/w7jy827m
Utah Golf Association: The Utah Golf Association (UGA) is a 501(c)(7) not-for-profit organization whose objective is to promote interest in the game of golf by encouraging, organizing, supporting, sponsoring and administering golfing activities and programs without regard to race, color, or creed and to engage in educational and good will activities that further the game.
Contact: 
UGA Executive Director, Jacob Miller 801-563-0400
Fairways Media President, Randy Dodson 801-360-2440
Award winner photos available upon email request: [email protected]