News
Check out what has been happening in Utah Golf.
Four former Cougars set to compete at 2021 US Senior Open at Omaha Country Club.
By Austin Rustand, BYU Golf Communications
Masters champion Mike Weir will see some familiar faces in the field when he tees it up this week at Omaha Country Club in the 2021 U.S. Senior Open.  Former Cougars, Eric Rustand, Steve Schneiter and Stan Souza participated in local qualifiers to punch their tickets to Omaha.
Weir played for the Cougars from 1988-1992 and has since had an illustrious professional career. He has played 450 PGA Tour events, notching 140 top-25 finishes, 69 top-10's and eight career victories including the 1997 Canadian Masters, 2000 American Express World Golf Championship, and 2001 TOUR Championship. Weir's flagship victory came at the 2003 Masters Tournament where he edged out Len Mattice in a sudden-death playoff to slip into the coveted green jacket. He is a six-time World Cup team member and a member of seven President's Cup teams, twice as an assistant captain in 2017 and 2019. Most recently, Weir won the Insperity Invitational in May 2021, his first career victory on the PGA Champions Tour.
Steve Schneiter of Sandy, Utah, who played at BYU from 1985-1987, shot a 1-under par 71 at the Colorado Regional Qualifier to earn his third trip to the U.S. Senior Open. Schneiter has played in 12 PGA Championships making the cut in 2005, is the winner of the 1995 PGA Professional Championship and the 2016 Senior PGA Professional Championship.
Stan Souza played at BYU from 1974-1978 where he was teammates with BYU All-Americans Jimmy Blair, Mike Reid and Bobby Clampett. Souza hails from Honolulu, Hawai'i and shot a 1-under 69 to earn his second trip to the U.S. Senior Open. In 2018, he qualified for the Open where he provided the highlight of the tournament by making a hole-in-one on the 4th hole of the Broadmoor East Course. During his career as a Cougar, Souza reached the semi-final of the U.S. Amateur which earned him the coveted trip to Augusta National to compete in the 1977 Masters Tournament making him just the fifth Hawaiian to tee it up in the Masters. Following his BYU career, he attempted to earn PGA Tour status before taking a career as a sales rep for IZOD and later with Hilton Real Estate.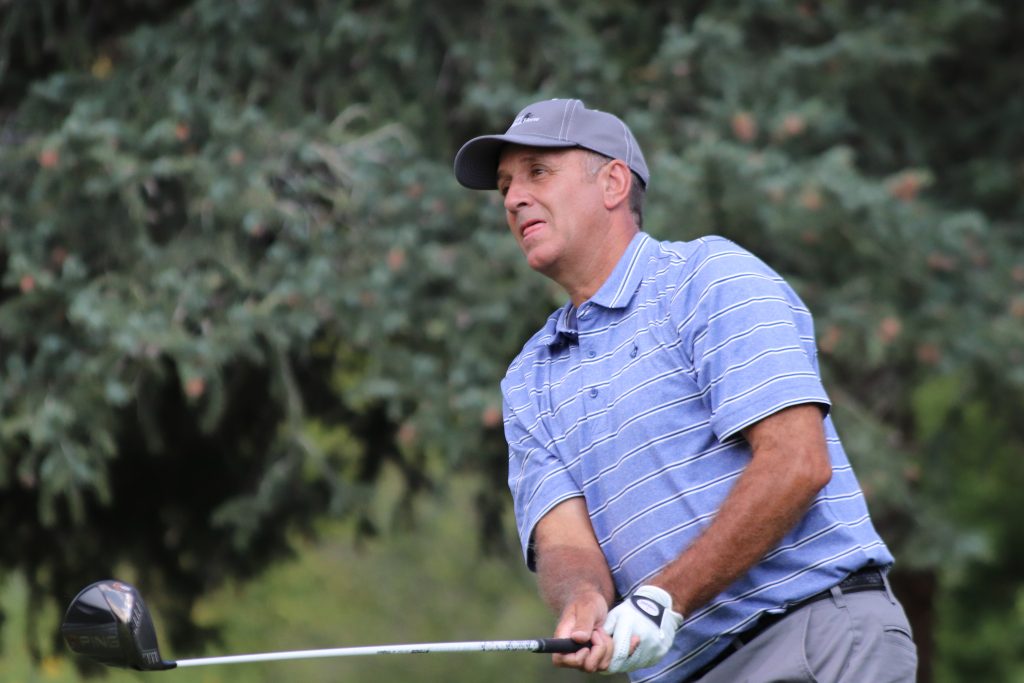 Eric Rustand currently lives in Tucson, Arizona and turned in a 3-under 69 to secure one of two invitations to Omaha at the Arizona qualifier held at Arizona Country Club. Rustand played at BYU from 1987-1988 and 1991-1994 and was named an All-American in 1994 before pursuing a career on the PGA Tour.  Rustand won the 1997 Pakistan Masters, played in 4 PGA Tour Events including finishing T-7 in the 1999 Touchstone Energy Tucson Open and has teed it up in 5 USGA Championships including two U.S. Mid-Amateur Championships and three U.S. Amateur Four-Balls. Unlike Weir, Schneiter, and Souza the 2021 U.S. Senior Open will be Rustand's first opportunity to play in a major championship which has been one of his goals throughout his golfing career.
This group of highly accomplished former Cougars each got their start at BYU under Utah Golf Hall of Famer Karl Tucker.  In their time at BYU each earned All-American honors and trips to the NCAA Regionals and NCAA Championships.
Tune in to the 2021 U.S. Senior Open, July 8-11 with live television coverage on Golf Channel, NBC and Peacock streaming.  Live scoring will also be available on usga.org.