News
Check out what has been happening in Utah Golf.
Happy Birthday Lorin Moench: Going Strong at 100 Years Old
By Kurt Kragthorpe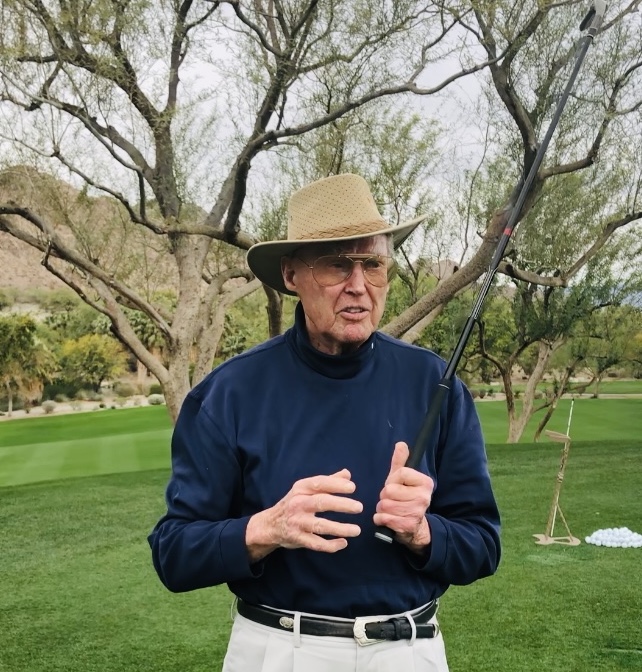 During a four-year period in the late 1960s, Lorin Moench annually qualified for match play in the State Amateur. He lost to a notable golfer in the first round each year.
The consolation for Moench is twofold. Those players usually advanced another round or two in the bracket, and he's still going strong at 100 years old.
Celebrating that milestone birthday June 24, Moench is likely the oldest living golfer to have competed in the State Am. Thanks to a first-round victory in 1960, there's a good chance he's also the only Utahn ever to have won a State Am match and lived to be 100.
And that's only one of the most impressive numbers associated with Moench. Here are a few more: At age 76, he shot a 64 at Jeremy Ranch Golf & Country Club – with a 29 on the back nine, featuring an eagle on the par-4 No. 15.
That's the No. 1 moment that comes to mind when Moench is asked about his favorite memories of golf. The most thought-provoking word that comes from a conversation with him about the game is "troubling." The challenge of golf, he explains, is what he loves most about it. That's because golf demands his full concentration and effort, pushing aside other problems.
Although he has not played a round of golf for a few years, Moench would spend "a good hour" on the driving range in California as recently as a winter or two ago, according to his son Mark. He tries to encourage the next generation by saying he played some of his best golf in his 70s.
Mark Moench said his father employed "intellectual powers" as a golfer, using the game as "a great source of stress relief" from his work in the investment business.
The son added, "I think of golf as rewarding persistence and attention to detail. My dad had a unique ability to focus and compete. He's also been a hopeful person … always moving forward, and not one to allow a less-than-perfect shot to hinder the next shot. My dad was also very quiet about his success in golf, but loved to talk about the swing and the game."
He certainly thrived on the course, as a club champion of The Country Club and an especially proficient stroke-play contestant in the State Am. In his late 40s, he made the 32-golfer field for match play consecutively from 1966-69, before losing to an impressive foursome: Keith Barton, Lynn Summerhays, Arlen Peacock and Terry Monson.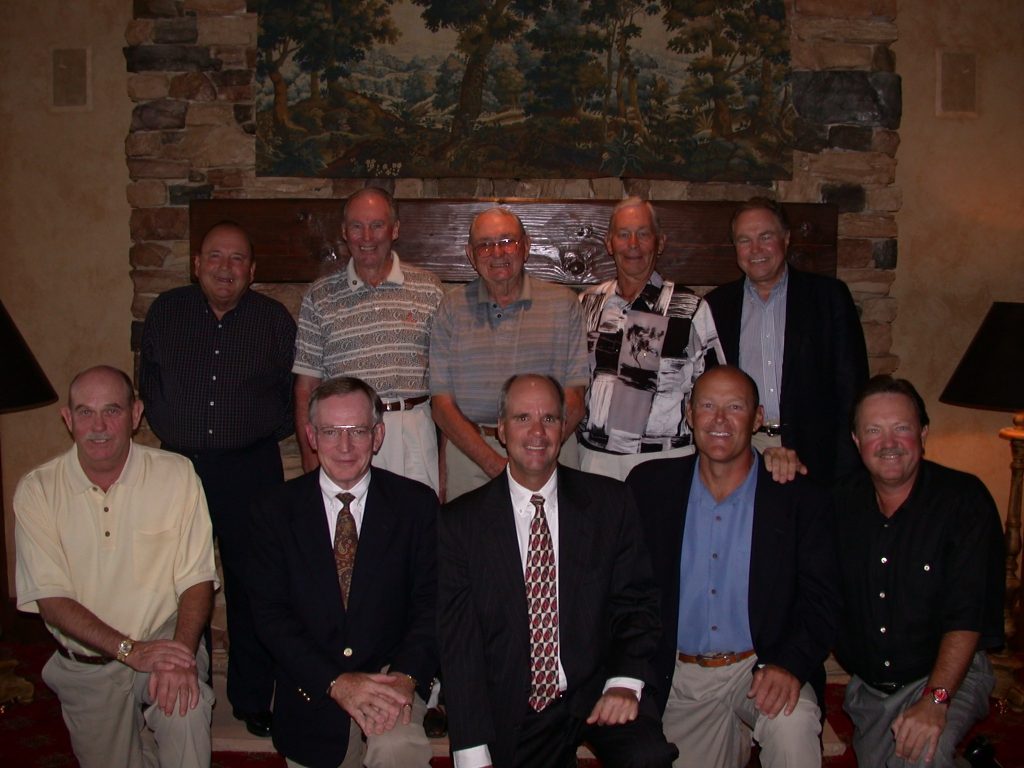 2002 photo of former Club Champions at The Country Club
Top row: Jimmy Dunn, Lorin Moench, Dick Reed, Jim Ellsworth
Bottom row: Jerry Knudson, Jay Gamble, Cliff Snyder, Kirk Blosch, Steve Brinton
Courtesy of Steve Brinton
He had an aura in Utah golf. The Country Club's Steve Brinton, who first played with Moench as a teenager more than a half-century ago, recalls him as "probably the sharpest dresser on the golf course, a gentleman, and one of the great players in this part of the world."
Moench became friends with Arnie Ferrin, a former NBA player, University of Utah athletic director and two-time State Am finalist. Ferrin, who will turn 96 in July, joined Moench in "probably playing more golf together than any twosome," Brinton said.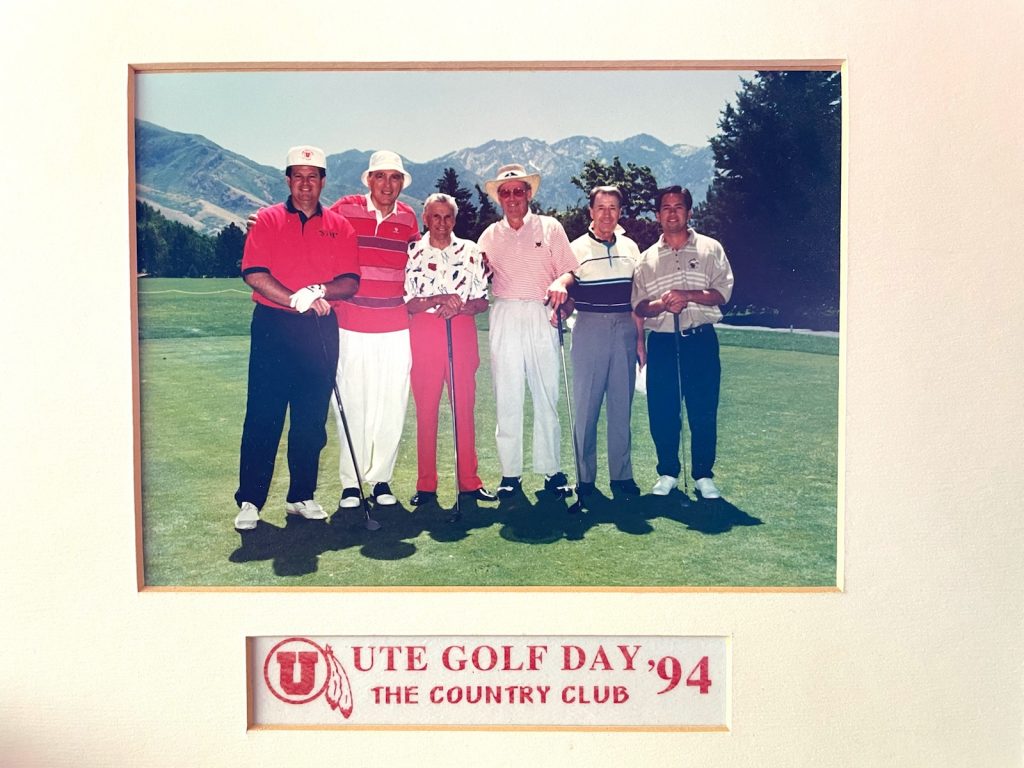 Left to Right: unidentified, Arnie Ferrin, Tee Branca, Lorin Moench, Bill Childs, unidentified
They even played Augusta National Golf Club together in 1977, with Moench posting a 77 to beat Ferrin's 78.
The late LaVell Edwards, BYU's legendary football coach, was another playing partner. Once asked to name his dream foursome, Edwards included Moench. To this day, Utah Golf Hall of Fame inductee Joe Watts, the Utah Golf Association's longtime executive director, labels Moench "one of my favorite people."
After all, he's a golfer.